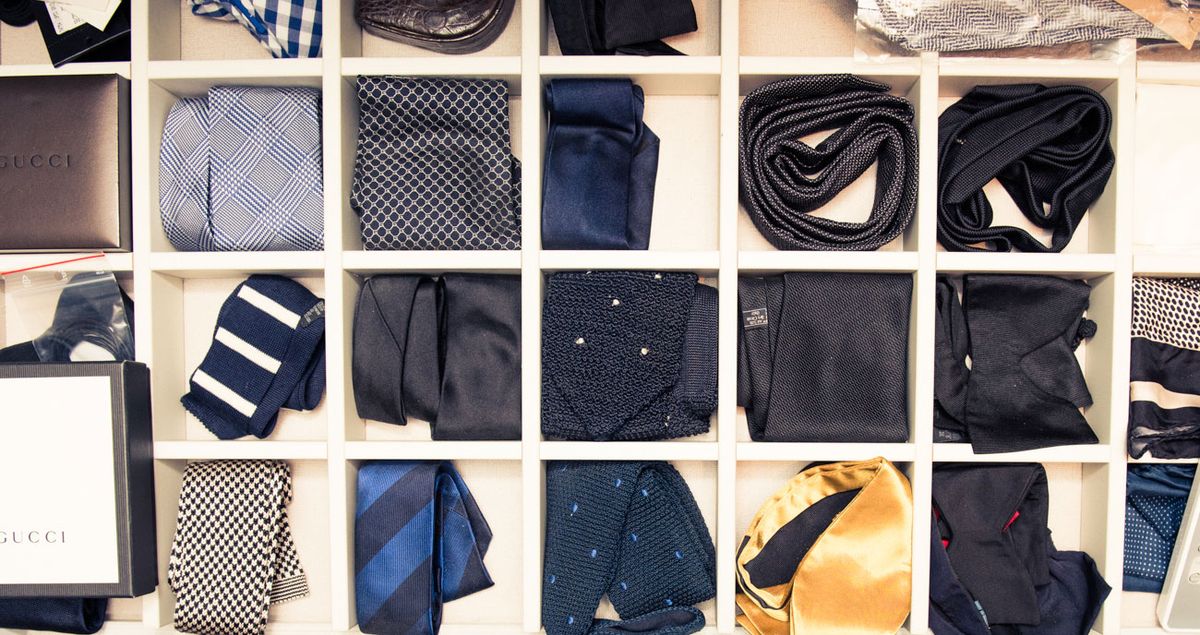 Fashion
Because there's no way he's going to pick a fancy wallet without you.
We're going to let you in on a little secret: your dad probably doesn't expect anything major for Father's Day. Maybe, if he's especially pared-down, he doesn't even really want anything. Aside from, like, you putting up with his dad jokes and sharing a beer (or bourbon) with him at some point during the 24 hours of the day deigned to celebrate all that he's done for you (it's probably a lot). But one of the best parts of becoming an adult (and getting paid like one) is that you finally have the chance to say 'thank you,' and pay your parents back for everything. And if you're anything like us, there's a lot—which calls for really going the extra mile. Here's how we plan to say thanks for all of those times our dads picked us up at weird places in the middle of the night as teenagers and endured sulking, silent rides back home. What, just us?
---



Emily Ramshaw



Senior Editor
As I said when back when we were talking Mother's Day, my parents live on a sailboat and are currently somewhere in the southern Caribbean Sea. On Father's Day, my dad will most likely be hiking a dormant volcano or having a beer at a beachside bar. Mostly, I'd just like to fly down and join my parents to wish him Happy Father's Day in person (and enjoy a Corona myself). Especially now that my dad is now deep in retirement, he has an aversion to all material things and gets fussy whenever I urge him to celebrate 'Hallmark holidays.' But, Dad, you'll have to accept this stuff: Kala Sea Salt hand cream to keep your calluses at bay; a fresh bathing suit to replace one of your many sunbleached and salt-stained ones; and an iPad with the capability to switch out the SIM card no matter your location. Skype me on it and I can pretend I'm on the beach with you.
Maybe it's because my dad grew up on a farm, but he couldn't care less about material things—he's more interested in experiences. Travelling (he spent years backpacking across Asia and North America in his 20s, and still goes to exotic places every year with my mom), snorkeling (he built his own 150 gallon saltwater aquarium. Yup.), skydiving (on his bucket list), and gardening (he built a pond oasis in the backyard!), are along the lines of things that give him joy. And since he's outside for the better part of the summer, I'm always making sure he's wearing his sunscreen—he appeases my nagging. So to keep with the theme, I'm going to stock him up with SPF (in sprayable form so he has no excuse), outfit him with a hat that doesn't read "Von Dutch" (guys, it's from my god-awful teen years and I giggle to myself every time I see him gardening in it—sorry, Dad!), and get him these cool-dad Tom Ford shades.
My dad is the stereotypical 'dad.' His list of hobbies include (but aren't limited to): cigar smoking, wine and scotch drinking...and of course, golfing. And while his hobbies may seem lackadaisical, don't be fooled…he is the epitome of a social butterfly and at 60 years young, I can guarantee his calendar is more jampacked than yours. When he's not at the aforementioned cigar, wine and scotch clubs or golfing in tournaments, he's out to dinners, events, and making all sorts of ruckus with his friends. He's also on the fashun radar, continually asking my brothers and me, "what's in?" And so his presents this father's day reflect Ken as a whole: a slim new wallet that carries just the essentials (credit card and cash for tipping), some whimsical socks (don't worry dad, these are very "in" rn), and an over-the-top-keep-forever ashtray he can smoke Cubans with and think of me while doing so.



Meagan Wilson



Editorial Manager
I feel the need to precede my shopping list by first assuring you: my parents are pretty great. Promise. They're both brainy, fascinating, with razor sharp (and occasionally bone-dry) senses of humor. That said, the whole 'parents-don't-really-want-gifts-or-material-things,' thing? It doesn't really fly in my household (as discussed here). Not that they're in the slightest way greedy—or would ever actually expect anything—they just really, really love receiving gifts. And giving—but also receiving. Especially my dad—also known as the person most likely to act like a child on Christmas morning. With that in mind, I present the following for consideration for Father's Day this year: a brightly-hued linen button-down, because he lives in them 365 days of the year; Stan Smiths, because he put in a request for a pair the last time I saw him and was wearing mine; and a new cologne, by Chanel, because what dad's fragrance game couldn't use an upgrade?