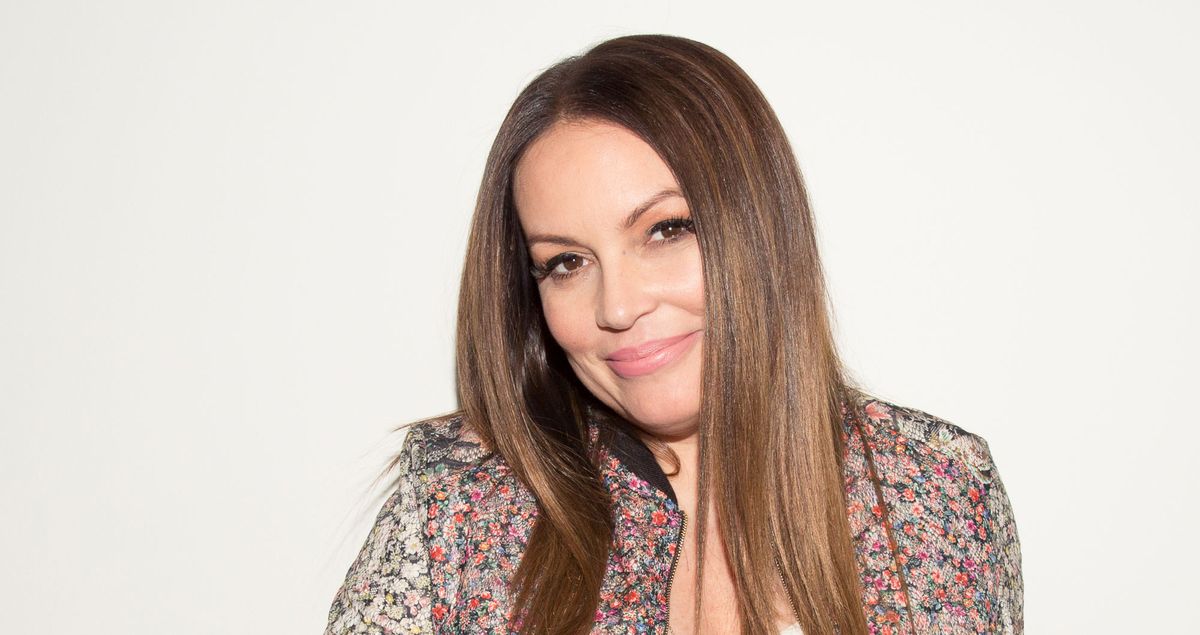 Career
The Voice of New York Has A Lot of Stories To Tell
We turned the mic on hip-hop's most famous radio host.
Leslie Kirchhoff
When you're famously known as the "The Voice of New York" and have spent the majority of your life interviewing some of the greatest superstars and influential people around—everyone from Barack Obama to Tupac, Mariah Carey, Jay Z and pretty much everyone in between—you have a lot of stories to tell. Twenty years of stories for Angie Martinez, the influential radio personality who ruled the hip-hop realm from her throne at New York's Hot 97 radio station for two decades, and then from Power 105.1—all while also counting the aforementioned stars as close friends. Where can you find these stories? All in Martinez's first (we say first, because we have a funny feeling there will be a lot more in years to come) memoir, My Voice. We recently turned the mic around on the radio host when we visited her New York studio in between book signings. We got a glimpse of what's in her memoir, but if you want the rest you'll have to read her book.
---
How she got her start in radio:
"My mother was in radio. When I was sixteen years old, I got an internship at the radio station she worked in, which was a pop and dance station. The music wasn't necessarily my favorite, but I did like the atmosphere. When I was 18, I started an internship at [Hot] 97 in New York and I grew up there. I worked in every department, I interned on the street team, I got coffee, everything."
Why now (two decades later) was the right time for her memoir:
"I started out during a time where an old-school station was starting and hip-hop was coming of age in New York. There was a lot of drama, there was a lot of growth… so things happened on my show! We were the center of hip-hop and a lot of radio isn't well-documented. We were all young, there was no video, so sometimes those stories get lost throughout the years. People remember if they're from New York, but in terms of the overall culture, it was not well-documented.
I wrote my memoir, [My Voice] for that reason, for wanting to share some of those stories.. After twenty years in any business, you learn a few things, and I feel like I did. I learned lessons and had something to offer. It was an emotional time when I was making a career change and I wanted to share some of the things that got me to that point.
Writing this book really made me see, 'wow, you work hard and try to do the right thing.' It showed me a lot about myself. It's just a good, therapeutic process—I hope to write another one. People say you only write one, but I don't think so! Not for me. In ten or twenty years, I hope to have a lots more things to share, I hope to tell another story. This is not the end."
Why she can't pick just one favorite interview (we can't really blame her):
"People ask me this all the time and it's hard to say, there have been so many people and so many years. The Tupac interview is a big part of the book and was a big learning experience for me. I had a great interview with J. Cole, that's one of my favorites. It's really hard to say! I'm enlightened and entertained all the time. There are too many conversations over twenty years of interviewing people. And every one is special for a different reason. Some are really funny, some are emotional, some are enlightening. It's hard to pick just one."
What she learned from her infamous interview with Tupac before his death:
"For a long time I didn't put [Tupac's interview] out until I could tell the whole story about why and what happened. Also how much it affected me and the trajectory of my career, how I would handle interviews and how I'd handle my voice and role moving forward. I would absolutely [handle it the same way today]. I would hope so. I think that's why it defined me. It made me realize that your moral integrity is more important than anything else and I led my career with that."

[Editor's Note: Martinez made the decision not to air her two hour-long interview with Tupac, which was conducted months before his murder, in its entirety, in an effort to diffuse the East Coast/West Coast rap war. Her memoir is the first time she's discussed it in detail.]

On how the industry has changed over the years:
"Radio has evolved like everything else has with social media. Everybody's attention span is shorter so everything is quicker, you have to have a presence on all the mediums. It's harder but also easier in some ways, because there are so many ways to get to your audience now and so many ways to interact with them. Social media is part of the business now. It's just different—not necessarily for better or worse." 
What it's like to meet with long-time fans:
"Meeting my listeners has been the best part. When you're sitting in your little room for hours and write your story, and then it actually touches people and people connect with your struggles, blessings, your life, and you get to meet them face-to-face and they tell you page numbers that resonated or made them cry...it's a crazy, surreal experience.
I get jail mail pretty often. Sometimes they just want someone to talk to, sometimes they want to thank me. I've used my voice to speak out for criminal justice reform and how the system is completely fucked up, so sometimes I get letters from people appreciating that. Sometimes they hear me on the radio or they heard something going on and wanted to congratulate me. If you're in prison and have a radio in there, there isn't much else you have, so you feel a connection. It's cool that they take time out of their day to write a letter."
Her daily reads and essentials:
"I'm all over the place. I read everything from Baller Alert to Huffington Post to The New York Times. I'll watch TMZ. I get a little of what I need from all over. It doesn't take much with Twitter now, I follow a lot of outlets, so when I wake up I just get online and see what's been happening in the last 24 hours. If you can't stay informed now, it's a problem.
If I'm in meetings and I'm in heels, I'll definitely have a pair of sneakers in my bag along with my laptop and a book because sometimes you get stuck somewhere for a while. And then two phones and my makeup bag. I keep Neutrogena wipes with me always, especially if I'm out all day, have press and full makeup on—I can't be in that all day. And hand sanitizer."
The career advice she'd give to others:
"Run your own race. It's easy to admire other people and be inspired by them. But sometimes you make the mistake of trying to walk their walk. That could take you off your own destiny and your own path. It's okay to be inspired and motivated by people, but ultimately you have to write your own way. Sometimes we get so busy looking beside or behind that it slows us up. That's the best advice, I've never really been one to pay much attention to ratings or things that are distracting, as opposed to pushing me forward.

I would especially say the same thing to those starting their careers. There are so many opinions everywhere you turn, especially with social media. Everyone has an opinion about everything you do. It's easy to get distracted, it's easy to be living your life based on what others think you should do, because someone else's opinion is in your face all the time. It's important to be centered and have your own vision of what you want your life to be and what is going to make you happy and stay focused on that."
Why everyone should write an autobiography:
"Even if doesn't get published or no one reads it, everybody should do a memoir a few times in their life. Just to take stock of the things you've accomplished until that point to give you a better understanding of how you handled things and remind you of the things you overcame and send you off into the next chapter. I really recommend it to everyone, even if you aren't a professional writer. Take a moment of your life to try and reflect on who you are, what you came from and what you've overcome. It's an amazing thing."
The one interview left on her bucket list:
"Oprah is the only one. She's the only one I haven't really had the privilege of sitting across from. There's so many amazing people, I have talked to so many great people but Oprah would probably be the one."

What she what's to be known for:
"I want to be known for being a good person. I want to be known as someone who isn't afraid to challenge herself and rise to the occasion and hopefully inspire—and continue to push herself and evolve. Especially with people who grew up in New York. That matters to me, nothing is better than that. We're all here for that. Some people affect five people, some people affect 100. It doesn't matter. What matters is that whatever voice you have been given, it's your responsibility to use it in a way that could change the world. Change somebody's life. one person, five people or 500 people. Whatever your voice is and however you use it, you should use it to hopefully inspire people. I hope to find new ways to do that all the time."