Elle MacPherson on Russian Baths & Indulging in Dark Chocolate
Plus trying out hip-hop dance classes, why she hates the gym and the one thing she must drink daily.
Get Well
We're going to assume that when you've been coined "The Body" since, oh, the '80s, and decades later it still holds true, you've been doing something right. Elle MacPherson is the holder of said moniker for good reason. And we're here to tell you *exactly* what she does to get that body. From drinking H2O (easy AND free), alkalizing your body (not as hard as it sounds—promise), and finding 45 minutes of solace, herein lurk dozens of MacPherson's wellness pearls of wisdom. Print it, Pocket it, bookmark it for repeated reads. Trust us when we say it'll be good for you.
---
Her definition of wellness:
"My definition of wellness is a holistic approach: A happy, healthy, thoughtful approach to a full life."
The one thing she needs to have every day:
"My
Super Elixir Alkalising Greens
 in 500ml of spring water in my hydrator bottle. I have it every day without fail, mixed with coconut water or plain iced water. It has helped me feel nourished from the inside out—my energy levels, sleep patterns and my skin. I love when my skin looks healthy because it
is
healthy, not because I've put something on the outside."
Her morning routine (which includes lots of H2O):
"[Conscious deep breathing]. 3 breaths in, hold, then out. I drink 500ml of room temperature water. Smile.
I then drink 500ml of water and lemon juice, get dressed, wake up my boys for school and make a healthy breakfast. I mix another 500ml of water and ice or coconut water with my Super Elixir Alkalising Greens and take it with me when I take the boys to school."
How she stays fit with moderation:
"I love sports. I don't believe in fad diets or excessive exercise plans.  I keep it simple, so it's easier to stick to. 45 minutes of sports a day; 45 minutes of quiet time a day.
I love swimming, paddle boarding, running, skiing (snow or water), surfing, hiking, spinning… I try lots of new things. I did a hip-hop class the other day—I was so out of rhythm but I laughed a lot."
 
On being well from the inside out:
"In my 50's it seems normal that my body is adapting to the next phase of maturity. I have decided to maintain a well body, but it has to come from the inside. [My wellness goals are:] Love, be loved, laugh, hydration, strength and wellness to do some outdoor activity, inner peace (balance the 'doing' and 'being' in the day), a well nourished body on a cellular level (thanks to
The Super Elixir
 and
The Nourishing Protein Powder
), scrubbed, soft, moisturized, and sun-protected skin."
How she makes time for mental health:

"Before I get out of bed and before the family is up, I take 30-45  mins for myself—no screens, no social media, just time to prepare for the day ahead.

I take time each morning to write, reflect, breathe, and meditate. I write a gratitude list in the evenings; what made me smile, what surprised me, what touched my heart. It's amazing how the 'little' things make a day beautiful."


On staying healthy while on the road:
"The Super Elixir travel packs are great for jet lag, and The Nourishing Protein travel packs for clean, plant-based nourishment. Easy and efficient. I maintain my meditation program and drink 3 liters of water a day. I also take time to explore and enjoy where I am; take photographs, record, write, observe, appreciate."
The strange things she's tried in the name of health and beauty:
"I loved the Russian baths at
South Kensington Club
in London.  Being beaten by Cypress tree branches in the steam heat, and plunging into a freezing pool after.
I've also tried lots of fad diets but I haven't found any that work in the long term (or even in the short term).
[I used] to do lash extensions, but they're so time consuming and irritating, I stopped. It seems so silly now."
What she cooks for herself:

"I'm pretty good at wraps! My favorite is goat cheese, avocado, tomato, and sea salt in a skinny wrap. Or grilled salmon steak with a barley, beetroot, and feta salad, or organic chicken with something fresh beside."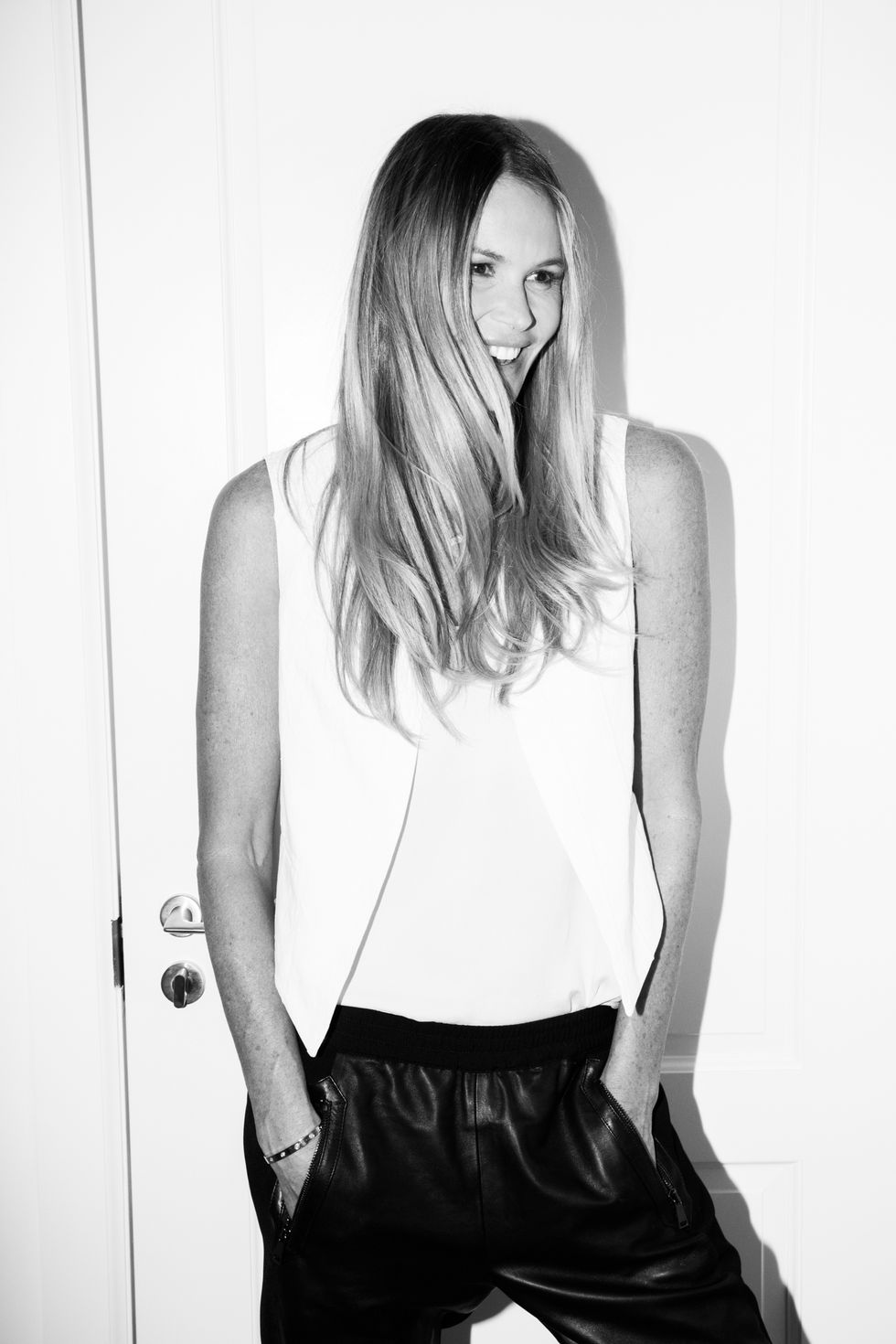 What she snacks on:

"Dark chocolate goji berries, a shake made of The Nourishing Protein with almond milk and a frozen banana, and almond butter on crackers. I also like a handful of almonds, dried fruit and homemade lemonade (water with cayenne pepper, lemon and agave.)"

Her ultimate indulgence:

"No guilt in my pleasure. I love dark chocolate and whipped cream—sometimes together!!"
On what she eats for breakfast:

"Nourishing Protein smoothie (almond milk, 1/2 banana, 1 scoop of Nourishing Protein) or fruit (papaya, peach, pineapple, kiwi). Sometimes chia seed pudding, or oatmeal, or an egg, or spelt toast."

Her beauty routine:

"I wash with NeoStrata Foaming Glycolic Wash, moisturize with Dr. Sebagh or Crème de la Mer, use Arianna Skin Care Collagen Boost Eye Serum, and WelleCo's Organic Cacao Lip Balm. And, I drink 3 liters of water."
How her opinion of your body changed throughout the years:

"I realize that beauty is a state of heart. It's not defined by measurements, numbers on a scale, or clothing size. I am most beautiful when I feel strong, healthy, relaxed, and at peace—it's then reflected in my face and body. Our bodies change, how I deal with the change is directly correlated to how beautiful I look."

On not believing in extremes:

"I'm a lot gentler with myself now—no strict regimes. I don't believe in extremes. My exercise is moderate, 45 minutes of doing something outside in nature every day (I don't like the gym). And no strict diets. I don't look at the number on the scale, I am more concerned with how I feel. I want to be energized and feel strong."