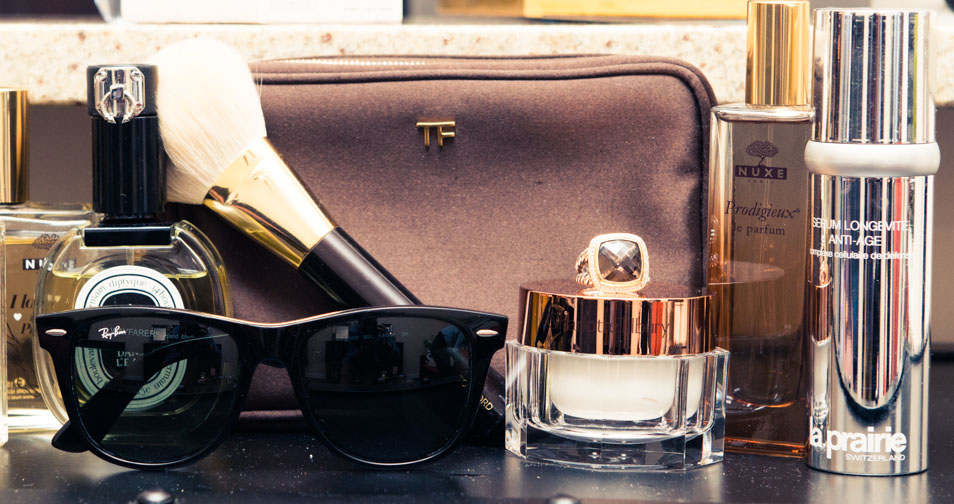 Our Summer Beauty Swaps
It's officially time to switch up your routine.
If we're being honest, dewy, glossy, shimmery (almost sweaty) looking skin is our goal year-round. But summer is when we can really use the elements to our advantage beauty-wise. While we know there are a slew of skincare problems that come along with hot weather (sunburns, ingrowns, chlorinated hair, and so on),we like to focus on the positives (bronzed skin, less makeup (which = more margarita time) and low-key wavy hair). To make our routines more low-maintenance and work with what nature's dishing us, we're replacing heavy creams with light multi-tasking products—from hair potions to nostalgic fragrances and lightweight sunscreens you can wear in place of foundation, here's what's in our summer arsenal.
1. Coola Setting Spray: Sunscreen is a huge part of my morning routine no matter the season, but now that UV rays and outdoor events have increased tenfold, it's time to up my game. I get pretty paranoid about my keeping my face protected from the sun, especially when I've applied sunscreen in the AM and find myself drinking al fresco by 3PM. Enter: Coola's Setting Spray. It has SPF 30, is packed with good-for-you ingredients, and it keeps your makeup in place.
2. Diorshow Eyeliner: As far as makeup goes, I don't change up my products that much for summer. But I have replaced my go-to black gel liner with this navy waterproof Diorshow version. It glides on surprisingly clean, stays put through ocean dips, and the color feels fresh for warmer days.
3. Glossier Balm Dotcom: With all the beach-going and wine-drinking happening, lipstick during the summer months is unnecessary. A glossy,barely-there pink sheen, however is not.
4. Living Proof Styling Cream: Warmer days call for hiding the hot tools and embracing my wavy hair (and the humidity) fully. Living Proof's curl cream makes this process a bit easier.
5. Jo Malone Cologne: Wood Sage and Sea Salt smells like beachy holidays, which makes spraying it on in my sweltering city apartment a new type of torture. Nonetheless it's still my go-to scent all summer long.
Emily Ramshaw
Senior Editor
1. Clinique Acne Solutions BB Cream: This shit is my jam all summer long. Not only does it have SPF 40, but the texture is super light and smooth. And while the BB cream provides coverage, it also makes it look like I'm wearing nothing.
2. Evo Salty Dog Cocktail Beach Spray: I wish I was actually swimming in the ocean daily, but spritzing this in my hair every morning is the best imitation of the salty hair look I've found.
3. Leilani Bishop Natural Fragrance Oil in Lilac: Summer, for me, should be uncomplicated, fragrance included, which is why I'm minorly obsessed with Leilani Bishop's floral fragrance oils. This one smells of lilac and lilac only, which is perfect.
4. Pratima Neem Rose Sunscreen: I've struggled with finding a sunscreen that goes on smoothly under makeup and is actually effective, but I finally did. This is it, guys!
5. Milk Makeup Face Gloss: Dewy (or sweaty) is my summer look goal, and this is the best face gloss out there.
Noah Lehava
Senior Editor
1. Karina No Crimp Hair Elastic: I almost always wear my hair down, but when it's hot and sweaty out, I'm a huge top knot advocate. These are my favorite elastics for keeping it in place all day long.
2. NYL Skincare Shimmer Scrub: Ugh, I have a confession: I'm a horrible moisturizer. My face, no problem, but my legs and my arms, well, I just can't manage to work them into my beauty routine. A body polish is my savior for the summer when limbs are out for everyone to see—especially when I forget to moisturize.
3. Yves Saint Laurent Nail Lacquer: I don't know if this happens to you, but the heat does strange things to my polish. Just like newspaper, my nails will turn a tinge of yellow (gross, I know) from the sun; or because summer activities usually (hopefully) include water, they chip fast. I've never had any said problems with YSL's nail lacquer and this color is neutral enough that a chip will be practically invisible.
4. Too Cool For School Dinoplatz Lip Balm in Peach Melba: I whittle down my beauty arsenal almost by half in the summer, so finding a product that can do two things is key. I love this peachy balm for my lips and cheeks, and I'm equally as obsessed with its packaging.
5. Ouai Wave Spray: For me, one of the best things about summer is I can be lazy AF with my hair. I have a natural wave, hair but since it's so subtle, a blow dryer always seems to flatten its curve. That's why I love a good wave spray to help enhance my natural texture. Here's to no blow dryers all summer!
Meagan Wilson
Editorial Manager
1. Tom Ford Neroli Portofino: All winter long, I was fixated over Maison Margiela's Beach Walk because it smells exactly like salty, SPF-covered summer limbs. Seriously, it smells like sunscreen (in a good way) to the point where I've had strangers on the street compliment me on it. When the season it celebrates actually rolls around, though, I swap it out for a bottle of Tom Ford's Neroli Portofino. It's basically a plane ticket to the Italian Riviera, only at a (significant) fraction of the cost. Plus, the azure-hued bottle makes me infinitely happy.
2. SW Basics Cream: When this landed on my desk, I was in the throes of coming to terms with a really unfortunate look for my legs: incredibly dry and scaly. As in, to the point where it looked painful. Having never had to deal with dry skin before, I was at a total loss when repeated applications of pure coconut oil wouldn't keep them hydrated. Then I tried this; it's a creamy blend of olive oil, shea butter and coconut oil that feels buttery out of the jar, but melts into an oil upon contact. The moisturizing powers keep my legs soft and smooth for days. Thank effing God.
3. Herbivore Coco Rose Body Polish: C'mon. Has your shower ever seen a prettier exfoliant?
4. Bumble and Bumble Surf Infusion: Bumble's update of their classic Surf Spray is pretty damn genius: all of the textured goodness of the original, only infused with oil to keep the dryness that often accompanies the look at bay.
5. Mizon Snail Repair Cream: I've spoken about my love for this stuff before, but come summertime, the thin, almost gel-like texture (thanks, uh, snail slime) is all I want on my face.