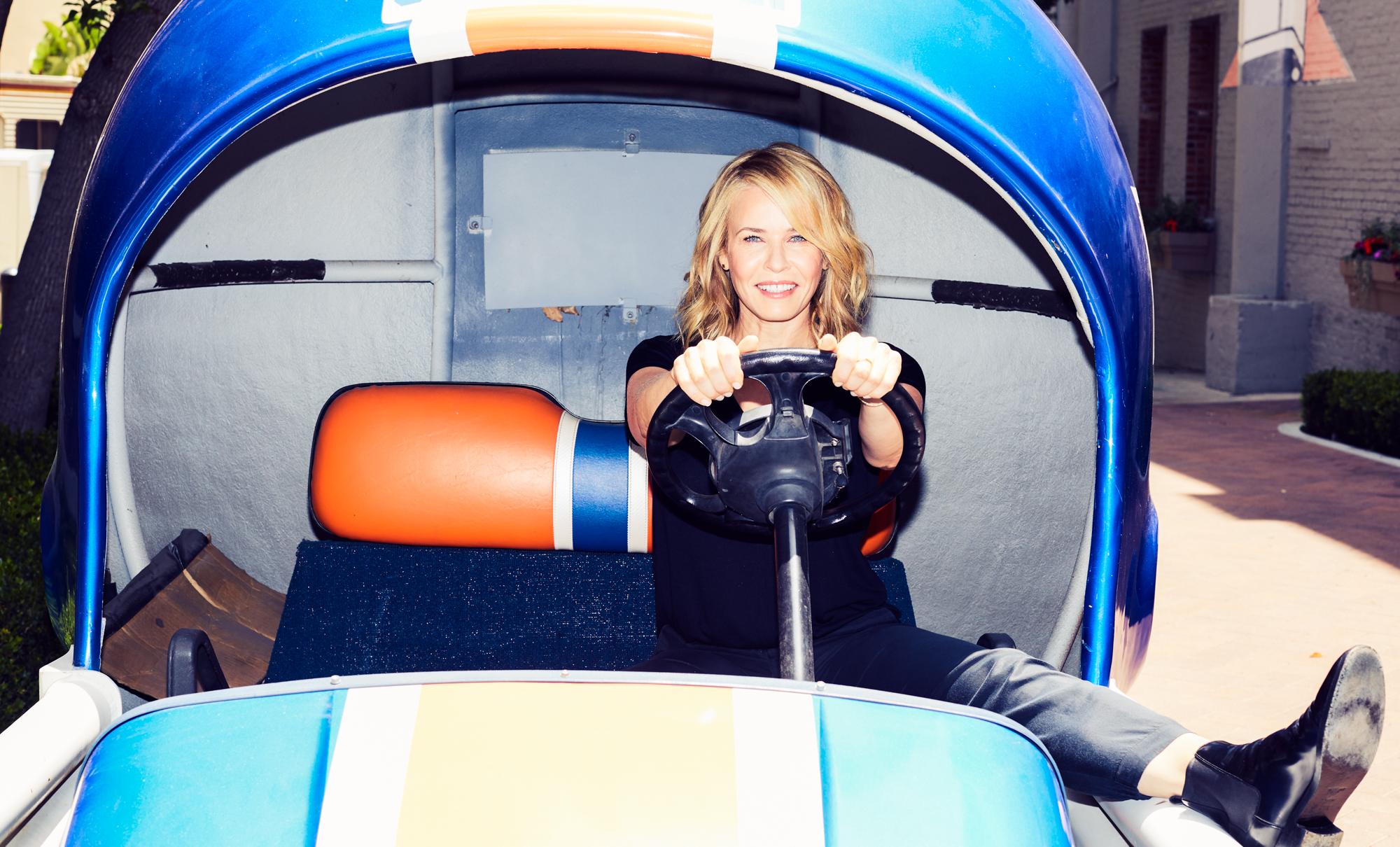 Chelsea Handler Has Some Advice For You
She has her own club and we want in.
Chelsea Handler is our person. She's probably your person, too. She does everything we wish we had the, uh, chutzpah to do. Case in point: she left her cushy network TV gig to work with Netflix, the company pushing television into the 21st century (and the source of all of our late-night binge watching sessions), on not one, but three different series, all of which showcase Handler's inimitable comedic genius and boldness. But, would you expect anything different? Right. So do like Chelsea does (see what we did there?), "Fuckin' be bold," and soak in all the amazingness below.
On working on three (!) shows for Netflix:
"When I ended my run at E!, I didn't know if I was going to move forward and do another talk show. I was just like, 'Eh, this is over, I'm done with this.' I thought maybe I'll just take a few years off and travel. As I made that announcement, people would come up to me and say, 'Come talk to us.' I thought, well, if I want to do another show, where would I really want to do it? I went to Netflix and we talked about it—we decided to do the talk show. I was just about to tape a stand-up special, and they said they wanted my special. I told them in the interim I wanted a year off—they also needed a year to figure out how to, technologically, distribute the show in 190 countries and translate it into 20 different languages. So, I said, 'While you guys figure that out, I'd love to do something I know nothing about,' which were documentaries. They teamed me up with two really astute documentarians and we were able to execute [Chelsea Does]."
The place to be:
"My future is with Netflix and Netflix is the future—streaming is where it's at. Hopefully, network television will never go away, but I feel like I'm sitting at the cool kids' table; finally at the age of 41, this is the place to be."
How she picked topics for Chelsea Does:
"I wanted to do topics that I was familiar with, like drugs, and then cover social issues that I didn't know anything about, like racism. I didn't really know how bad it was and still is. Doing that documentary spawned so many different ideas for this show."
The fine balance of education versus entertainment:
"I wanted to do something that was educational, while also being an idiot and asking stupid questions that people pretend they know the answers to. I wanted to be informative, which I think is exactly what I'm doing. Now that the show is up and running, and we're getting the kinks out, I'm getting comfortable. I couldn't be more fulfilled."
The importance of shifting focus and growing up:
"I think that, A) a lot of people pretend to know things that they don't. And B) why not use this as a platform for something that is at least a little bit good? Why not be a little bit more responsible with my career than I have been in the past? I'm growing up, I want to be better at what I do."
What a typical day is like for Chelsea:
"I'm up at 4:30 AM every morning because I'm so interested in knowing what I'm doing everyday—changing it up and trying new things. I'm working harder than I've ever worked. I've always done a bunch of things at once, but this is just one job that I'm doing 12 hours a day. I get home at 8:00 PM. At my old studio, I was never there until 8:00 at night."
The Netflix character she would be (other than herself):
"Robin Wright. She's got a pretty sick wardrobe."
On the Netflix boyfriend she would have:
"Will Arnett. But, not sober. He'd have to be off the wagon. Flaked is about being sober. And Will is sober."
How she starts and ends her day:
"First thing I do in the morning is snuggle with Chunk, my dog. I'm like, 'Chunky!' and I do this voice and he comes over and I kiss his face. The last thing I do before bed is put my eye shades on and close my blinds. I like to fall asleep while the T.V. is on, but I have to have the T.V. off. Sometimes I floss. I'm a little bit obsessive about flossing. But not obsessive enough."
The best piece of advice she's received:
"It doesn't matter how many people say 'no,' you just need one person to say 'yes.'"
The advice she'd pass on:
"Don't be distracted by rejection. One person who says 'no' means you're one person closer to someone saying 'yes.'"
The boy's club isn't the only club:
"There's a definite boy's club mentality, but I've got my own club and it's cooler than any boy's club. So, I'm pretty happy with it."
Women should always...:
"Fuckin' be bold. Don't let anybody tell you to shut up. Follow your passion. It's so important to be passionate about something, whatever it is—go after it and nothing can get in your way."