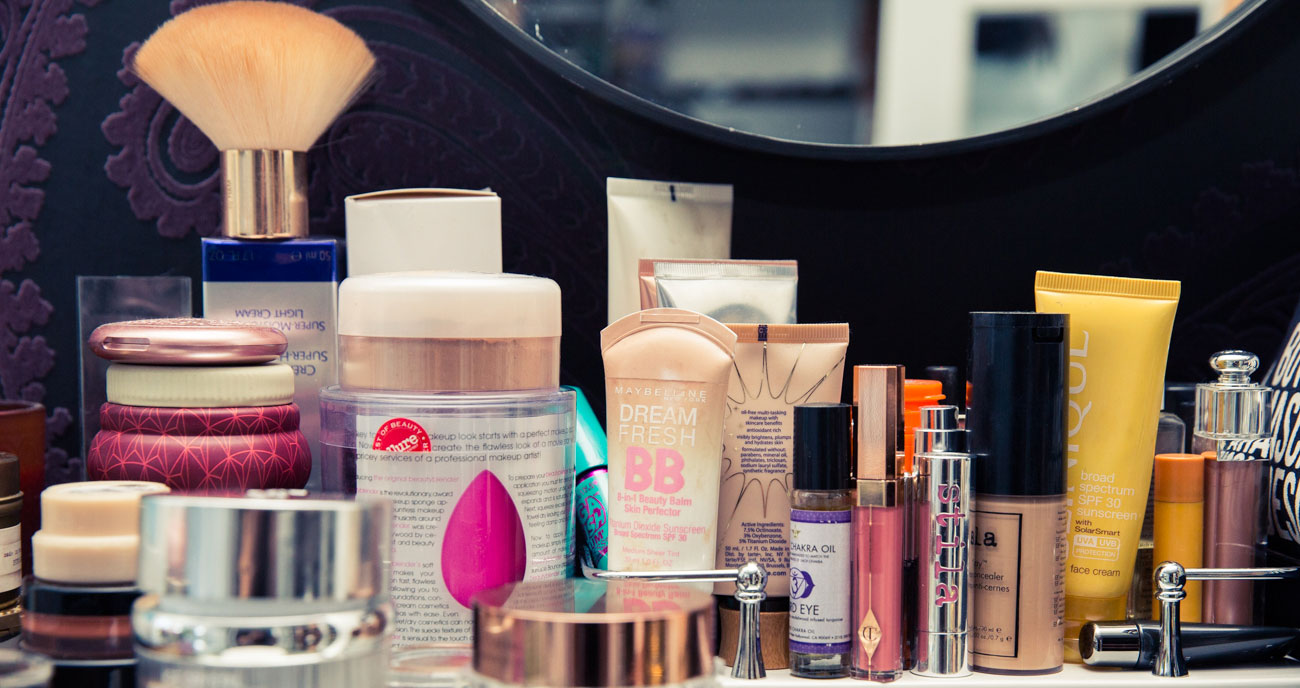 The Best Drugstore Beauty Finds
The drugstore beauty picks that go head-to-head with any department store's.
We're pretty sure whoever said money can't buy happiness never experienced the pleasures of loitering in their local drugstore, crisp $20 bill in hand, and leaving with a plastic bag containing new beauty goodies, a tabloid or two, and most importantly, a snack. The barrier to entry might be low, but the resulting high is like no other. In honor of the late-night and low-key weekend drugstore run, we're sharing our favorite beauty picks across all categories—skincare, haircare, makeup and body. After all, what's a little face wash recommendation between friends?
1. Yes to Tomatoes Charcoal Mud Mask: I can go on and on about gems in the drugstore skincare aisle—and I have many times on this site. So much so that I wasn't even going to bother mentioning the Cetaphil cleanser or La Roche Posay sunscreen that I use every. single. day. But I've yet to proclaim my love for this charcoal mask, which, when used as a spot treatment, dramatically shrinks any kind of acne issue you've got going on. – Alicia Cesaro
2. Neutrogena Oil-Free Grapefruit Face Wash: Pretty much nothing else fulfills the whole Prozac-in-a-bottle (kidding, kind of) olfactory beauty product thing for me quite like this stuff. From the pump bottle (ideal!) to the pretty pink hue and that synthetic citrus scent, I just can't quit it. Plus, it leaves your skin feeling soft, not all Sahara-like and stripped of moisture. – Meagan Wilson
3. La Roche Posay Anthelios Ultra-Fluid Lotion SPF 60: The absolute last thing you want in a face sunscreen is a greasy texture and an overpowering scent, and this one is perfection. It's so light and fast-absorbing that I can layer on my day makeup without feeling cake-y or like it's going to melt off before I finish my morning coffee. – Noah Lehava
4. Cetaphil Gentle Skin Cleanser: An oldie, but a goodie. It's recommended by pretty much every derm ever, and is the holy trifecta of deep cleansing, moisturizing, and gentle. – Laurel Pantin
5. Garnier SkinActive Moisture Rescue Actively Hydrating Daily Lotion: I'm perpetually looking for a great daytime moisturizer with SPF that doesn't feel sticky or greasy (as I find most SPF moisturizers do). This one actually achieves that goal—plus, it keeps my dry skin hydrated. – Emily Ramshaw
1. Batiste Dry Shampoo: I've since graduated from drugstore shampoos and conditioners (I've found that high-end shampoo and conditioner does make a difference) but the original Batiste will forever hold a spot in my arsenal. In my opinion it performs better than any high-end dry shampoos I've tried. – AC
2. Aussie 3 Minute Miracle: My obsession with this stuff is real. So real that I rarely leave a trip stateside or to the UK without a bottle or two (or three) kicking around in my suitcase. It's the ultimate conditioner if you have perennially dry and unmanageable hair like I do—or just a really great deep conditioner if you don't. – MW
3. Elnett Hairspray: I hoard these bottles and even have a mini version I lug around when I travel. It's the best hold I've ever found in a spray but without any crunch. – NL
4. John Frieda Frizz-Ease: Like Meagan, I too swear by 3 Minute Miracle. There's a formula that you can only get abroad (please, Aussie, bring it to the states!) that's unbelievable for curly/wavy hair. When I can't get my hands on it, I rely on old-school Frizz-Ease to keep my hair looking good. – LP
5. Head & Shoulders Shampoo: Maybe this is unnecessary info to share, but despite all the myriad expensive hair care and natural tea tree shampoos I've tried, the only thing that works to keep my dandruff at bay (I know, gross—but I can't help it) is the ultimate dad shampoo. – ER
1. Revlon Just Bitten Balm Stain: I turn to this $5 tube more often than the $50 department store versions hoarded in my medicine cabinet. It ticks all the boxes—long-lasting without drying; it fades well, so you don't have to obsess over touchups, and the color is dramatic enough to look put together without any other makeup on. – AC
2. L'Oreal Voluminous Mascara: C'mon. As if I'd mention anything else. I talk about this stuff ad nauseum for a reason: I've been using it since I could practically open a tube of mascara (thanks, Mom). It can go toe-to-toe (tube to tube?) with any pricey department store brand and imparts thick, long, inky, almost-falsie like lashes every single time. Trust me on this one. – MW
3. L'Oreal Lineur Intense Liquid Liner: I wear this every. damn. day. The color payoff is intense, shiny, smooth and lasts all day. It's exactly what you'd want in a liner. – NL
4. Sally Hansen Miracle Gel Top Coat: I like a thick, blobby top coat that makes my nails look shiny and (most importantly) expensive. This does just that. – LP
5. Aveeno Clear Complexion BB Cream: I don't even know how I first ended up trying this stuff, but for me it works as well as any pricey BB cream; and it has SPF. – ER
1. Neutrogena Norwegian Formula Hand Cream: Most drugstore body lotions and washes get an A+ in my book. But the true test is hand cream, since I have perpetually dehydrated hands and cuticles, this Neutrogena formula is so concentrated that just a dime-sized amount is enough to fix everything. I carry it everywhere and buy it by the dozens at Costco. – AC
2. Neutrogena Body Oil: If you're still using plain ol' body lotion, congratulations—you're playing yourself. All Khaled references aside, I'm a firm believer in skipping the slimy stuff in lieu of going straight to the source, which for me, entails slathering myself in oil every day. When I'm not on a coconut oil kick, I'm all about this stuff—it comes in an enormous enough bottle that I can really pile it on without sweating the price tag, too. – MW
3. St. Ives Oatmeal and Shea Butter Lotion: I've been using this lotion since before I wore mascara and I can't break the habit. – NL
4. Aquaphor Healing Ointment: While technically an everything product, not a body product, I love Aquaphor. I use it on my legs post-shave, my shoulders if I get a sunburn (god forbid!), and on my lips, elbows, cuticles, knees, feet—everywhere. It's moisturizing and healing, and also gives you a nice glossy shine all over. – LP
5. Aveeno Daily Moisturizing Lotion: This shit just gets the (scaly, very dry skin) job done. Better than almost anything else I've found too, no matter the price. – ER