Career
How Brother Vellies is Changing the Way We Think About Fashion
One-on-one with designer and CFDA/Vogue Fashion Fund winner Aurora James on producing one-of-a-kind pieces in Africa.
Brother Vellies has been on our radar for a while. There was the time Kanye showed up at the spring 2016 presentation. And the time the brand won the much-hyped CFDA/Vogue Fashion Fund in an unprecedented three-way tie in 2015. Oh, and the fact that the founder and creative director, Aurora James, shares our hometown (that would be Toronto). Needless to say, James, and the brand, are hard to ignore. But it wasn't until we spent time at her Brooklyn apartment-cum-studio that we really understood exactly what James was up to with her beloved accessories label (and we count ourselves among its fans—her furry, fuzzy shoes are high on our wish lists).
When we finally got to talking with the designer, we realized that beyond the crazy-good Gucci and vintage finds that fill her closet(s) and the tempting samples in her studio, James is one of those super-passionate, creative entrepreneurs who fully deserves the attention she's getting. ICYMI, the idea behind the brand was to produce accessories in African countries. James utilizes and supports the know-how, techniques, and economies of local craftsman—then brings the goods to people like us who are itching for fashion that's interesting and we can feel good about buying. All of that is why she's nominated again for a CFDA Swarovski Award for Accessory Design. Here, James explains how she got in to fashion, why using animal products doesn't have to be a bad thing, and what it's like to work in an industry that's still dominated by men, among many, many other things.
---
How Brother Vellies was born:
"I first went Nigeria with Darlene and Lizzy Okpo from [womenswear brand] William Okpo and I picked up a ton of stuff there. They used to work at Opening Ceremony, so when I started doing this shoe stuff, they were like, 'these are really good.' I guess they ended up showing them to Humberto [Leon] from Opening Ceremony, and that was how it kind of started."
Why she produces in Africa:
"Everything for Brother Vellies is made in South Africa, Kenya, Morocco and Ethiopia—depending on the style, we made them in different places. The babouches are typical to Morocco, so we make them there. A lot of people just take their inspiration from Africa, but for me it's really about being inspired by the people there and then working with those people to bring things into reality.
We're hiring more people in Africa because we're making more shoes now, which is amazing. For me, that was the whole point: preserving these jobs and creating new ones. It's great to be able to grow and finally make that dream a reality. Yeah, it's just another pair of shoes to a lot of people—but to me a woman made those shoes for another woman."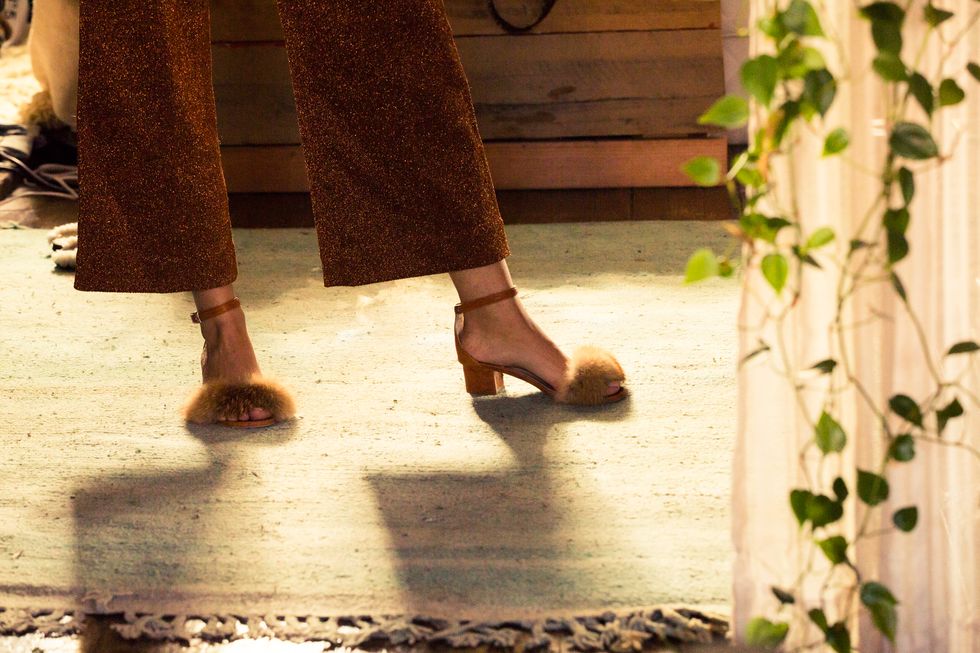 How Brother Vellies sandals came to be (and why fur isn't always bad):
"When I went to Kenya for the first time, I saw all the sandals that they were making there. I met with some local people who were utilizing the car tires that were being discarded from safari vehicles and making their sandals out of them. And there's all this leather around because they're all eating meat, right? But they don't have a use for that much of it. I started thinking about how can we use animal by-product materials. Fur has a really bad rep—fur is murder. No, sometimes fur is just about repurposing materials that are being discarded otherwise. Not all fur is created equal; not all leather is created equal. Vegan leather, which is fake leather, and fake fur is incredibly unsustainable. It's really bad for the environment. For me, it's about smart consumption."
How she chooses whom to work with:
"I like to work with workshops that are pre-existing and are potentially at risk, because of a lack of economy. For example, in Kenya, there is a workshop that was predominantly staffed by woman—I think it was 98% woman and a lot of them were single moms—and they had a real shortage of work and it got way worse when there were terrorist attacks that started in Kenya. The local market doesn't buy from them anymore because there's been too many donated shoes, which essentially sit in giant landfills. Even though we donate that stuff it actually gets sold to people in Africa, which we don't really realize. And it also kills their local manufacturing—70% of the manufacturing has died because of American donated goods. These women were at risk of having this workshop close and I thought what they were doing was amazing. So why not work together to make things?"
The challenges of producing with craftsmen:
"For fall I wanted to do this really crazy embroidered over-the-knee boot. We had found this group of women who were embroidering in Ethiopia when I was there in December. I work with a production manager from the United Nations who is based in Geneva, but she goes to Ethiopia and overseas with our production there. She was like, we have a problem. These woman are amazing at embroidering, but they've never had to embroider something someone has told them to do before; they only embroider from their imaginations. They also can't read and so it's really hard to even communicate. The concept, too, of recreating the same thing over and over—they've never done that before.
But if I say to my stores, 'hey, by the way, this is how this one looks, but the rest of them are going to be totally different,' the stores are like, 'you've got to be joking.' There's a little bit of disconnect there that makes it really hard sometimes. It's also part of the reason that very early on I wanted to open up my own brick and mortar store—sometimes there are really amazing things that we make that we can only make tiny batches of. I can have that in the store and it'll be special."
"I'm a coconut oil obsessive. I use coconut oil and Lucas' Papaw—I'm religious about this stuff. I've started using this Aesop oil, which is incredible. I use that at night. Then I use Origins—I have a bunch of different Origins moisturizers that I use during the day: A Perfect World, Make a Difference Plus+... I go for facials every four to six weeks. I go to this place called Audrey, on Bedford. It's random and super low-key. This makeup artist told me about it a long time ago. It's not fancy, but this woman's amazing. I go there all the the time, she's been great."
The philosophy behind Brother Vellies:
"We don't need any more crap out there, you know what I mean? I love making shoes and I'm always going to make shoes, and I'm always going to make handbags, but it has to be done in the right way. People say something is eco-friendly because it has less impact on the world, but it's like, can we get things to have no impact? Or better yet, can we get things that actually have a positive impact?"
How she fell in love with fashion:
"I grew up in Canada and my Mom travelled a lot when she was younger. She always had a huge collection of clothing and shoes. She had a ton of kimonos from Japan, clogs, a lot of vintage stuff; she had this really epic snakeskin Gucci dress that I used to salivate over. I would hang out in her closet and we would look at fashion magazines together. Some people watch a lot of Disney movies and I flipped through fashion magazines—that was sort of my dream world."
How she got her first internship (it started at the gym):
"When I was in high school I ended up interning at a modelling agency. Then I met Jeanne Beker [a Canadian media personality and former host of Fashion Television] at the gym. She would always come to the gym and look at me and be like, 'I really like what you're wearing.' And I would be like, 'I like what YOU'RE wearing.' One day she asked me, 'what do you do?' I was in school for journalism and told her I was a writer. She said, 'I'm thinking about writing a book, maybe we can do it together.' I was like, 'well, you know what would be really amazing? I want to intern at Fashion Television!' And she said, 'oh great, you should start tomorrow, send an email to this person.'
I think I literally started two days later. People don't realize this, and I always talk to younger people about it and our interns, but you know that girl you're sitting next to in your internship? You're going to be stuck with her forever! This industry's really small. When I was nominated for the Fashion Fund, Jeanne called me. We did an interview and we both just cried the whole way through it."
You must intern:
"I have so much advice. I feel for all of my interns because I'm always giving them THE MOST advice. I will never forget, there was a girl that sent me an email saying she didn't know what to do for an Instagram photo [I wanted her to do]. She was a photographer, but also wanted to work in marketing so I was like, why don't you work on some of our Instagram stuff? I literally wrote her back a novel and [laughs] and I was like, 'whatever you do creatively, never ask someone to put restrictions on you. You really were in a great situation here because I didn't give you boundaries. And now that you've asked for boundaries I'm going to give you boundaries. Always take advantage of those creative opportunities where you've been given free rein.'
I started interning before The Hills when people didn't know what interning was. At Next, the modelling agency I interned at, they were like, why do you want to do this? I was learning. I would rearrange all the model's portfolios and do the ordering of them, and I learned a lot. I can lay out my own lookbook like a pro. Intern! You have to. At your internship you're not going to be doing the most glamorous things and that's okay. It's also good to get criticism. If someone gives you criticism, take it constructively. It doesn't mean they're a hater. I had this whole conversation with someone last night at dinner about how if young people get criticism that person is a hater. No, maybe they just think what you did is not good. We can all always do better."
How you can learn from others' mistakes:
"Don't be afraid to work under someone. Everyone wants to just come out and do their own thing, but there's such value in being a photo assistant, being a PR assistant, being a design assistant. Because then you're learning from your boss's mistakes and making less of your own, too. I think there's a lot of pride that should come with being an assistant. It's a huge job—they're some of the smartest, most amazing girls I know. It doesn't mean that you're not going to be going for coffee a lot, because you will, but there's your opportunity to text your friends [laughs]."
On the fashion community in New York and the importance of working closely with other women:
"I feel like the energy you put out there is what you're going to get back. I've heard a lot of people say, 'New York and the fashion industry, the designers are always so catty and bitchy.' Really? That's not been my experience at all. When I was going through the Fashion Fund there was only one other woman, Becca from Chromat, and she's become one of my best friends. It was so jarring to walk in there, uper strange. I personally think that it's important for women to be part of the conversation of what women are wearing. I think that's something woman haven't really thought about before that—oh, is a man or a woman designing this? Is it a man or a woman that's creating this image of fashion and creating these aspirational images for us and what does that mean? It's very important."