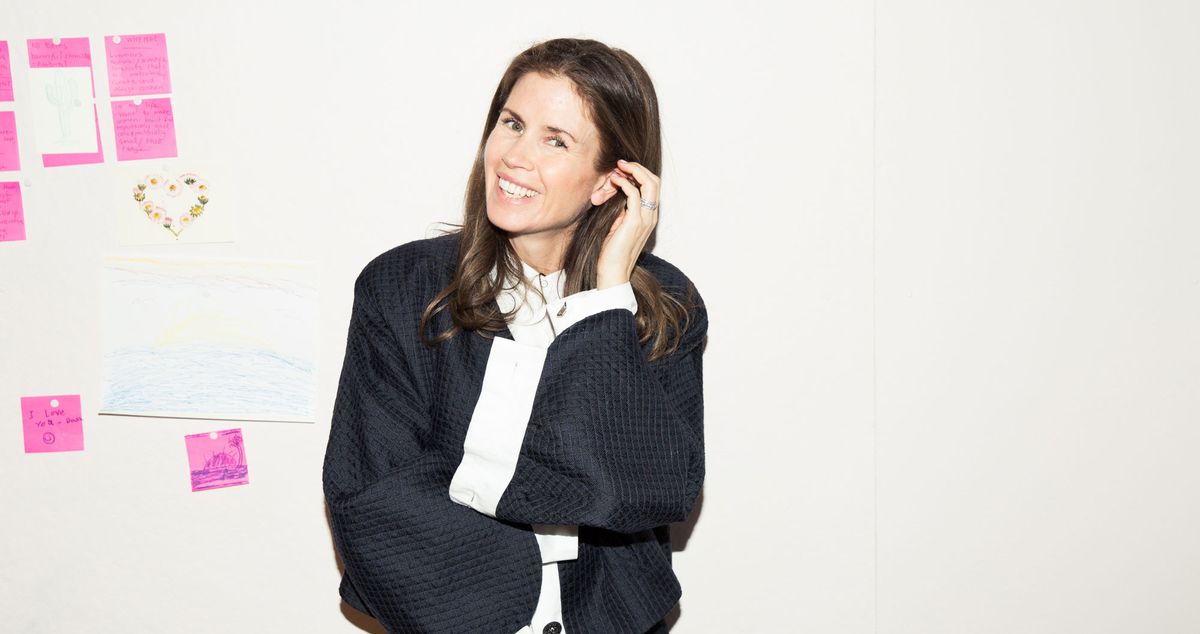 Career
On getting her start with Grace Coddington, never getting too comfortable & her advice to aspiring makeup artists.
Leslie Kirchhoff
In our parts, Gucci Westman's name is a household one. She's painted the faces of celebrities like Drew Barrymore, Gwyneth Paltrow, Taylor Swift, Cameron Diaz; she's also behind cover looks for Vanity Fair, Vogue, W, Bazaar, and collaborated with photographers like Annie Leibovitz, Patrick Demarchelier, Mario Testino, and Peter Lindbergh, and created runway beauty looks for everyone from Proenza Schouler to Vera Wang. It's safe to say that Westman's earned fashion-legend status.
Having newly partnered with SK-II (a TC HQ favorite—goodies from them incite the in-office equivalent of The Hunger Games), we figured it was high time we caught up with Westman (her closet is familiar stomping grounds for us) and get her side of things—from getting her start at a French makeup school in her 20s to her first big break (courtesy of Grace Coddington) to her advice for all those aspiring to follow in her footsteps, too.
---
How she got her start:
"I was an au pair in Switzerland. The mother in the family was a fashion journalist, and she would bring me to the shows. She didn't wear any makeup, so she gave me everything that was given to her. It was boxes of everything new from Dior, CHANEL, Saint Laurent… so I didn't get the scrappy stuff to start with [laughs]. I was romanced by going to shows in Paris; that whole world. I loved painting when I was younger, and then I started to do my friends' makeup on the bus going to school. We had a really long bus ride, and for some reason they all asked me to do their makeup. I wasn't allowed to wear it, but I snuck it sometimes."
When she realized she could turn her passion into a career:
"I didn't know. It wasn't until I was maybe 23, when I went to makeup school in Paris. I also loved language and figured I would do this makeup school in Paris in French. So then I wouldn't be wasting my time if I wasn't good at makeup—at least I would be doing it in French."
Leaving Paris for Hollywood:
"I found this makeup school called Ecole de Maquillage Christian Chauveau with the help of the au pair mom, which was really sweet of her. I waited a few years and then went when I was 23. That was supposed to last for a year, but I did a shorter version because I wanted to try my luck in Hollywood. I was born in California, and all these people were talking about this really great makeup school called Joe Blasco, which wasn't good at all. Terrible compared to the one in Paris! I'm one of the only makeup artists who went to makeup school. It was so bad, and it was all video instructions from the '70s. Terrible!"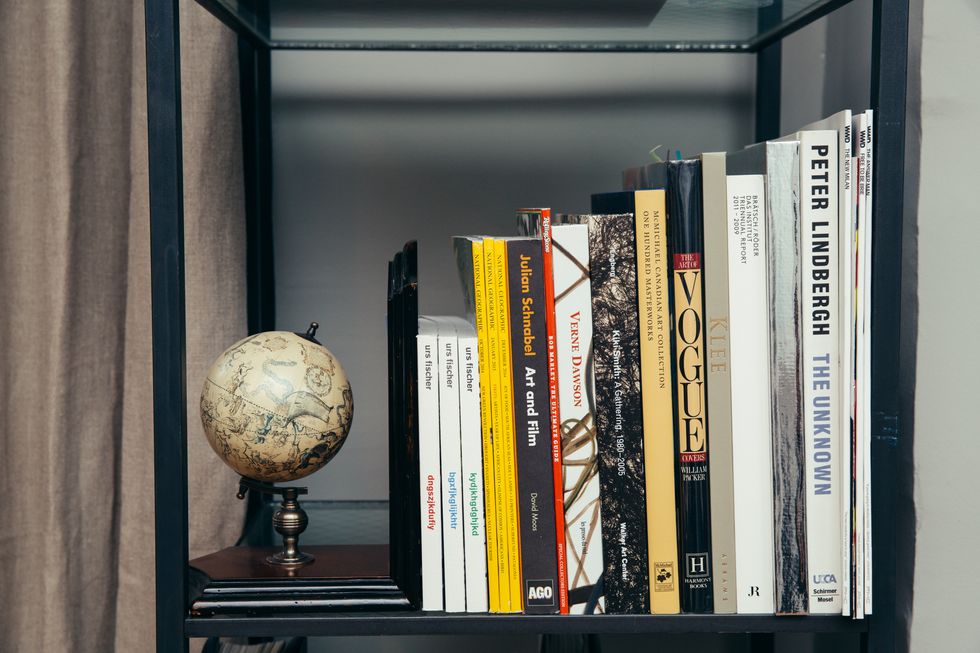 Meeting Spike Jonze & working with Bruce Weber:
"I met Spike Jonze, and was also introduced to Bruce Weber and Annie Leibovitz. I was lucky enough to get invited into Spike's world. Spike and his crew has remained the same for a hundred years, and I just kind of happened to get in somehow. We got on well and we're all friends, so I ended up doing everything with him for several years, which was great. That was a fun, character-developing experience. We worked on commercials with Nike and Coca Cola. It was never about the money for me. Initially it was always about the experience, and getting as much of it as I possibly could."
Her first big break(s):
"I did an Italian Vogue shoot with Bruce, that was my first job. I had just met Cameron Diaz, and I did some magazine that doesn't exist anymore with her. She ended up asking for me for some other things several months later and I ended up just developing all these relationships simultaneously that ended up being very long term. I was 25 years old at that point. Then, I decided at 29, that before I turned 30, I had to live in New York because I hadn't tried fashion. I felt like I wasn't getting my rocks off creatively in L.A., because it was a lot of actor stuff."
Being laughed at by celebrity publicists (!) & building character:
"I even did a lot of grooming when I started out. I worked with Vince Vaughn all the time. There were some publicists that always had me do grooming and I was like, 'I'd love to be one of the girls!' and they'd laugh at me. It was good to have some adversity, because it gives you some drive, I think. When you get everything handed to you, you don't really push yourself. I had plenty of character building moments and had to work really hard to get any type of anything."
Making that move to New York & "the perfect ratio":
"I did move to New York, which was scary. I remember feeling like, if this doesn't work, at least I tried and I would be proud of myself for that. I feel like everything is a combination of luck and timing and synergy and talent. But you have to have that perfect ratio of things in your favor. There's so many extremely talented people that never get that moment to shine."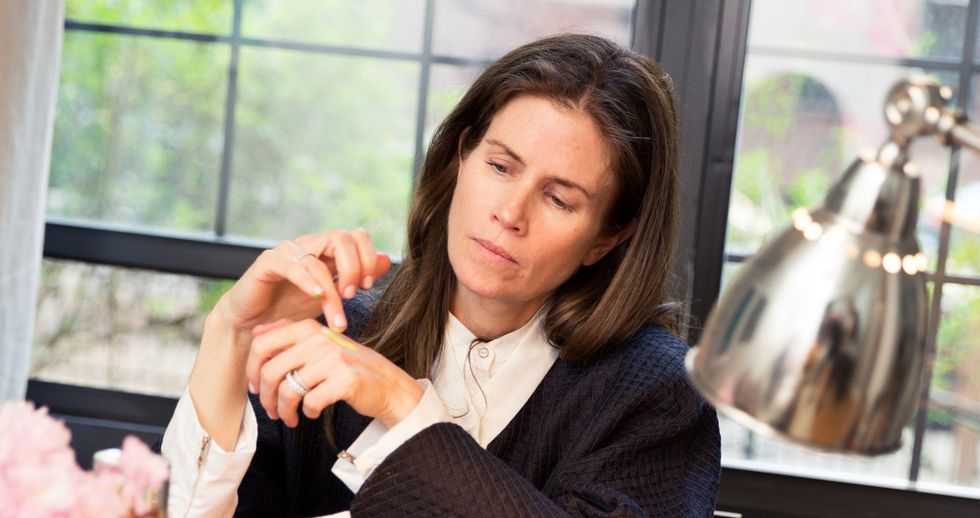 Working with Vogue for the first time:
"I don't know how this happened, but my agency wanted me to go to Vogue and meet the bookings editor. I remember that Grace Coddington had two options on me, because Bruce had told her about me. He wanted to use me for a story, and she wasn't sure because she hadn't met me. I went and met her, and then both of my options released, so I was like, 'I guess that didn't go so well'! But then I got two more jobs with her, one with Bruce, and the other with Arthur Elgort. They were both in the same week, and I was going from Florida to L.A, and they were both big stories."
Getting the stamp of approval from Grace Coddington:
"I remember being super nervous and thinking Grace didn't like me a lot. We were being given rides to the airport all together. I was the first one to get off, and I was thinking, 'I blew it, I sucked.' I was getting out of the van and Grace got out too, and she took me and said, 'I just want to tell you that I haven't seen something like that since I discovered Pat McGrath. I want you to be on my team.' I was very happy, I was over the moon! I have Grace to thank for a lot. I worked with Carter Smith a lot when I started, I did a lot of cool shoots with him. Same with Peter Lindbergh. I still work with Bruce and with Annie and Grace.. I had a dream list and I got to work with everyone because of her."
On never thinking she's "made it":
"No way José! I always say; you're only as good as your last job. You can never be that comfortable with yourself. You can feel like you nailed something and someone else feels like you didn't. You have to sort of accept that in this industry, there are a lot of highs and lows, which I think is a part of being a freelance hair or makeup artist. They have no commitment to you. You think you have relationships with people, but you don't know. That's tough."
Her signature beauty 'look':
"I know people think that I do a really good kind of makeup that's not like a mask. I think it's more enhancing. I think in terms of celebrity-driven and editorial, it's a bit different because you want to be able to do anything. But I think that I tend to like women. We get along well and I feel like we all have similar insecurities. Being a makeup artist on set, you have to be very sensitive to people, how you carry yourself, and how you handle certain situations. I think that helps when you're trying to make people feel better when you're doing things like, let's say, a magazine shoot with someone who is out of their element. Like an actress who has to play that they're a model. I try to be good at making women feel beautiful but also comforting—how I would want someone to be with me. You never get told about that part."
How social media's changed the industry:
"It is fascinating to me how quickly it's happened and how quickly people have latched on to the pace. It ends up feeling that maybe social media is where people might end up going for reference, rather than to a book shop. I think people respond to flaws, and what is real, and I guess that's from all this reality stuff taking over."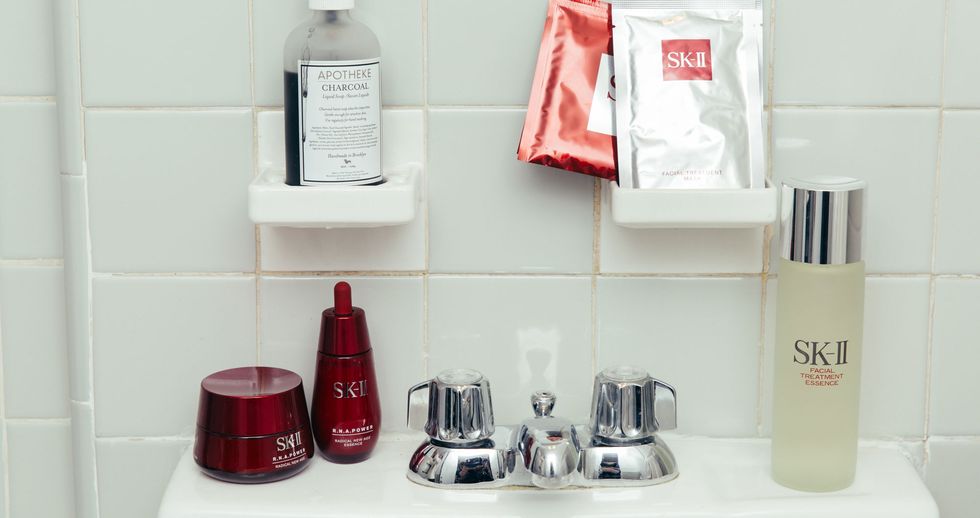 How she began working with SK-II:
"I've adored them for such a long time. Their whole message is about powerful women that are being empowered, not a lot of crap. They love for me to talk about other brands, which just is really amazing. They want everything to be as authentic as possible. They came to me, which I felt incredibly blessed for. I guess maybe some people know I love skincare! I feel so at home with them because I am so familiar with the products. Cate Blanchett approached them for her collaboration, because she was so impressed with the product."
Her hero products:
"My must-haves from SK-II are the Midday Essence and the Facial Treatment Oil. I'm mostly obsessed with the LXP products. Those are my jam. I do use the Facial Treatment mask when I travel.
I always have a pore minimizing cream from Clinique—it's like a makeup product, you can use it for a foundation. I love CHANEL's Le Beige foundation, it feels like a very youthful finish. I love the Clé de Peau concealer. I love the CHANEL eyeshadow cream pots. For lipstick, I tend to go to Yves Saint Laurent because I love the pigmentation. I like Bite Beauty also for good pigment, and they have a nice story. For body, we mix Becca highlighter with a Dr. Hauschka body cream for really nice, luminous skin for shows. I love Egyptian Magic for the body—I love NARS. They have a lot of great sticks for bronzer and highlight. I tend to go to different people for different things."
Her advice for aspiring makeup artists:
"In the beginning, it is most important to sort of be hungry. Go for as much opportunity as you can. Put yourself out there, and don't worry about being paid necessarily—that will come later, hopefully! It's all about the experience, expanding your portfolio, trying new things, pushing yourself and meeting as many people as possible. Sticking to what is your style, committing to something and not being all over the place."