Fashion
We have the minute-by-minute break down. In collaboration with Emporio Armani Watches.
Getting ready quickly for the kind of event that requires more than just a dash of red lipstick and a leather jacket thrown over whatever you happen to be wearing, is a practice honed and perfected over time.  Chelsea Leyland, though, is a pro. When your name is on the marquee of practically every event in the city as the featured DJ, you kind of have to be. But even when you're attending these sorts of shindigs multiple nights a week, the struggle to be on time is real—especially when you consider the nerves and preparation that comes with actually having to perform (rather than just station yourself close to the kitchen with a bottomless glass of champagne like we do).
Before Leyland's recent gig playing the Whitney's annual spring party, we popped over to her Williamsburg apartment with an armload of Emporio Armani looks (and watches, to keep her on track) to see how she actually preps. From getting out of the shower to touching up her makeup, and zipping into her dress, Leyland was checking her watch constantly and—gasp—actually made it out on time (30-45 minutes past scheduled arrival time is her normal—so that's saying something). Here's the minute-by-minute break down.
---
The Event:
DJing at the Whitney's 2016 Studio Party.
The Day Of:
"I stress over what I'm going to wear and how I'm going to look. Normally, I put anything on and get out the house. I'll try to drink a lot of water before I have a gig; I'll have a green juice; try to get a good night's sleep the night before. Sometimes I'll do a face mask, but most of the time it's all rushing and I don't have time. Time! It's always a problem in New York.
I listen to music. Sometimes I'll put English radio on if I feel homesick. Or I'll listen to all the latest music I've downloaded or the playlist I put together as my rough set list. It would be beneficial for me to play chill, calming music as I get ready but I don't always do that because I'm checking my beats per minute for each track I want to play."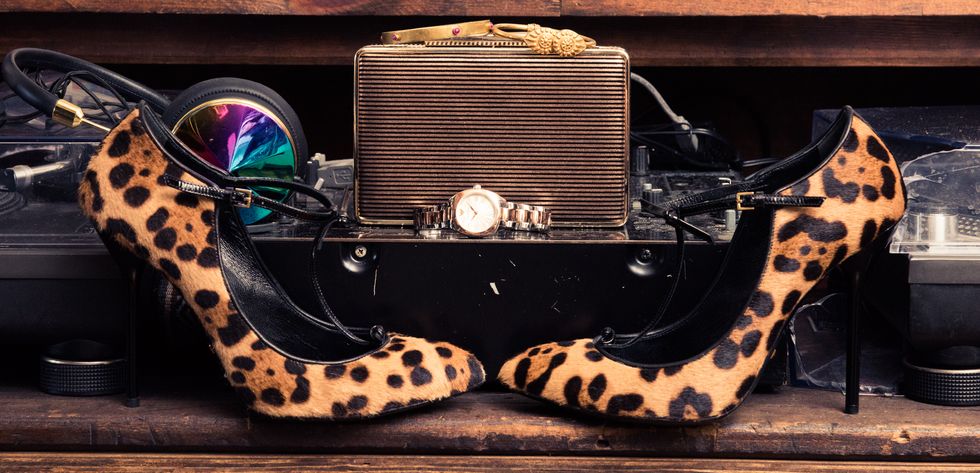 1.5 Hours to Go:
"I take a shower. If I'm washing my hair, I'll take a shower a couple of hours before, because it takes so long to dry my hair. I don't know how to use a blowdryer.
Sometimes I take my vegetables in tupperware with me to the gig. My stomach is sometimes bad and I can't digest anything. An hour or so before, I put my veggies in and roast them. By the time I'm ready, I'll put them in the tupperware. People look at me like I'm mental! It's not like I'm taking a sandwich, it's roasted vegetables..."
1 Hour to Go:
"My hair and makeup artists come [and we decide what to do]. I normally keep my look the same: I like dewy skin and a cat eye. I keep it simple.
Then I prep my skin—I use nice Pratima products. I'm all about the oils—it's more about smelling good and looking after my skin than anything else. Then I'll make golden milk, which is almond milk and turmeric, a bit of coconut oil and black pepper—that's my magic potion to make me feel good before leaving. That'll get my stomach, nerves and inflammation in order and put me in a state of social DJ-mode."
45 Minutes to Go:
"I have hair and makeup done, so for me it's about step-by-step mentally keeping it calm. I eat a lot of dark chocolate. I normally have some in my handbag for emergencies. That's one thing that gets me through anything."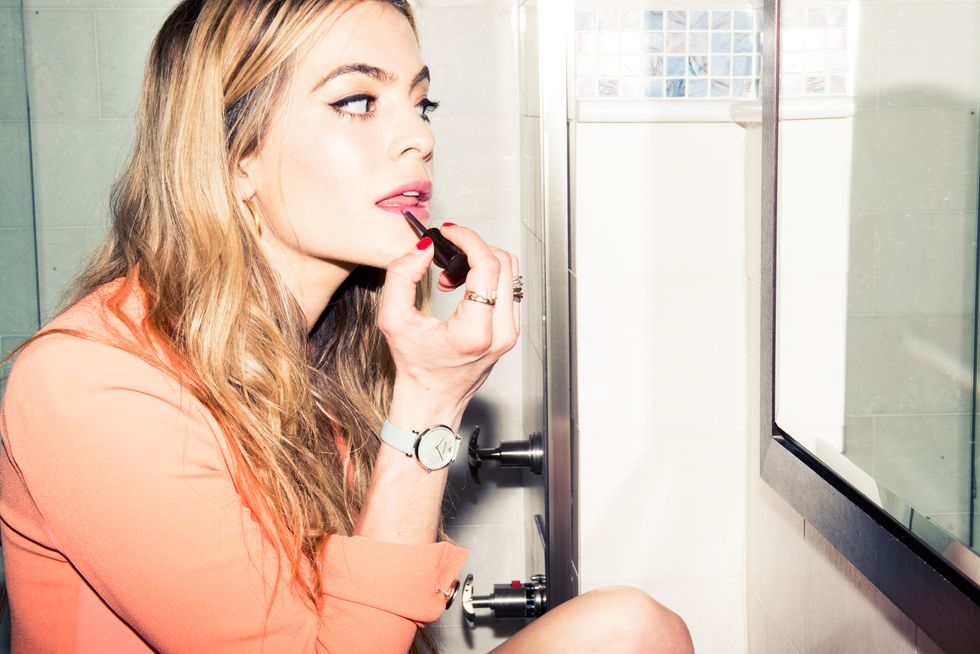 30 Minutes to Go:
"I make a lot of tea as well when I'm getting ready. For me, it's important that I'm fed and have had a yummy dinner so I'm not leaving hungry.
I'll prep my music. That involves coming up with a rough feeling or a vibe of where I want to go that night. That doesn't mean that I necessarily stick to it but it's the safety of knowing a set. Sometimes, I will think I'm playing deep house music, but I'll end up playing R&B or hip hop or reggae. It just depends how I'm feeling when I get there.
I still get nervous about it even though I've been doing it for years. In a way I think it's quite a good thing to get nervous because it says you still care about what you're doing. Nerves kill me, always—that's why I have the golden milk. I'll put some candles on, make it a little vibey. It's all about chilling yourself out."
15 Minutes to Go:
"I'm never really chilling. It's just rush, rush, rush, stress, stress, stress. I put on my outfit and pack my bag. I always make sure I pack chocolate. I eat up to two bars at once. I make sure I've got my [turntable] needles and my records and my music is prepared. I pack my lip balm and oils."
Go Time:
"I'm out the door and trying to do damage control on the way there because I am always so late. On a good day I'm a half hour to 45 minutes late. As long as I can make soundcheck! Sometimes I work on my music in the cab."