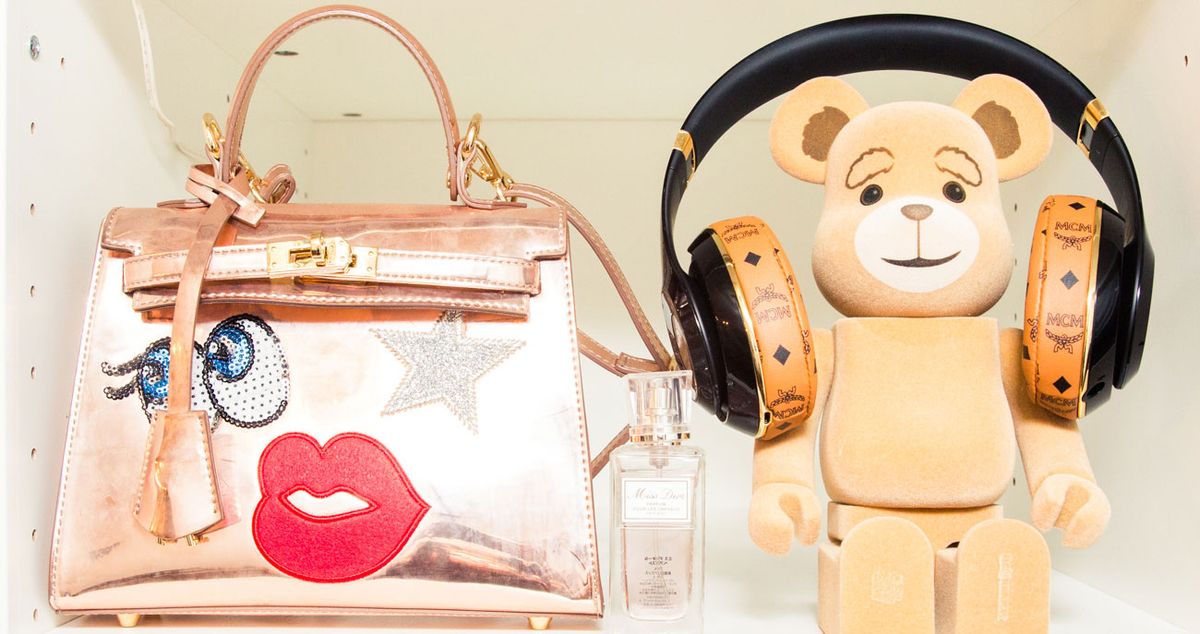 Living
A little haphazardly; a lot of ruffles.
You know that feeling on Thursday when it hits you that you're heading out of town the next day? It's not like you've forgotten entirely (no, you've been counting down the days on your jam packed iCal all week), but you've neglected the most crucial part of any trip: packing. Whether it's a quick weekend getaway, or a bucket-list trip to Europe (looking at you Meagan) packing—and packing smart—is a science. But sometimes these weekends call for a peacocking approach, wherein you throw all your favorite things into seven million tote bags and pray for the best. No outfit planning or "one skirt five ways" situations—it's all about dressing as the mood strikes, right? Herein, the myriad things we're bringing with us when we get out of Dodge.
---
1. Marni dress: I'm headed to Miami this weekend, and while I know this floral dress isn't the most South Beach, frankly, neither am I. So team ruffles it is. I'm especially excited to wear it while dining al fresco sans jacket (subtle middle finger to May in New York City).

2. Sunday Riley Treatment: Besides the fact that this serum seriously brightens my complexion, my favorite way to use it  is by piling it on as mask and letting the lactic acid eat away at all the dead skin cells. A very satisfying post-sun, bathrobe-chilling activity.
3. Gucci shoes: I may have reached a point where my infatuation with Gucci is borderline ridiculous, but I mean… they're metallic *and* lace up. You guys know how I feel about both those things.
4. Eligible: A Modern Retelling of Pride and Prejudice: I'm not justifying this read in any way, except by saying that sometimes you just need a silly, feel-good beach read,  y'know? 

5. La Ligne Tote: The most important part of any beach bound trip is obviously this bag from our friends over at La Ligne (who can do no wrong in my opinion, btw). In it, I'll throw all the abovementioned products, plus tons of sunscreen, lip balm and at least five pairs of sunglasses.
Emily Ramshaw
Senior Editor
1. Victoria, Victoria Beckham pants: I'm about to have the most exciting weekend getaway ever—going home to Toronto! (Can you sense the sarcasm?) But Toronto is cool now, what with Drake and Justin Trudeau (all off Canada, but still) and all the attention around how good the food scene is—so it still counts as a weekend getaway, okay? But as "cool" as the city may be now, the dress code is still decidedly casual. These Victoria, Victoria Beckham pants are ideal.
2. Lanolips Tinted Balm: Lanolips is one of very few beauty products I'll be bringing with me—mostly because I can't do without it. Otherwise, well, my friends and boyfriend know what I look like.
3. The Federal: The brunch at this restaurant is my all-time favorite, made all the more special because they serve what I think is the most delicious Ceasar (that's a Canadian Bloody Mary, it's served with a Dorito garnish) ever. If I could bottle it up and smuggle it in my carry-on back to New York, I would.
4. Nike Air Max Theas: No heels allowed. It's the weekend!
5. Views by Drake: If I didn't include this, it would be unpatriotic.
1. Sensi Straw Tote: In Toronto, sunny weekends equate to entire days perched up in Trinity Bellwoods park with an abundance of picnic snacks and stealth drinks. And this tote which doubles as a picnic basket is perfect for lugging around all the appropriate accoutrements.
2. Rosé: It's rosé season! My newest (okay, so I discovered it last year but can't wait to make it my staple) obsession is this fresh watermelon and wine concoction. Watermelon + rose + ice = summer-drink-on-crack. Life changing.
3. Dog collar: I'm about to sound like a crazy dog lady (because I have become one). Walter is going to be spending lots more time outdoors now that I can stand being outside for longer than 20 minutes. So I'm upgrading his current collar for one that's a bit more summer-appropriate.
4. Shani Darden retinol cream: The woman herself handed this to me last week when we stopped by her place. And trust me,she is the best human!, and she's responsible for the skin of the most beautiful women out there. We take any skincare word she says as gospel.
5. Chloé dress: Do I need an excuse for wanting this??