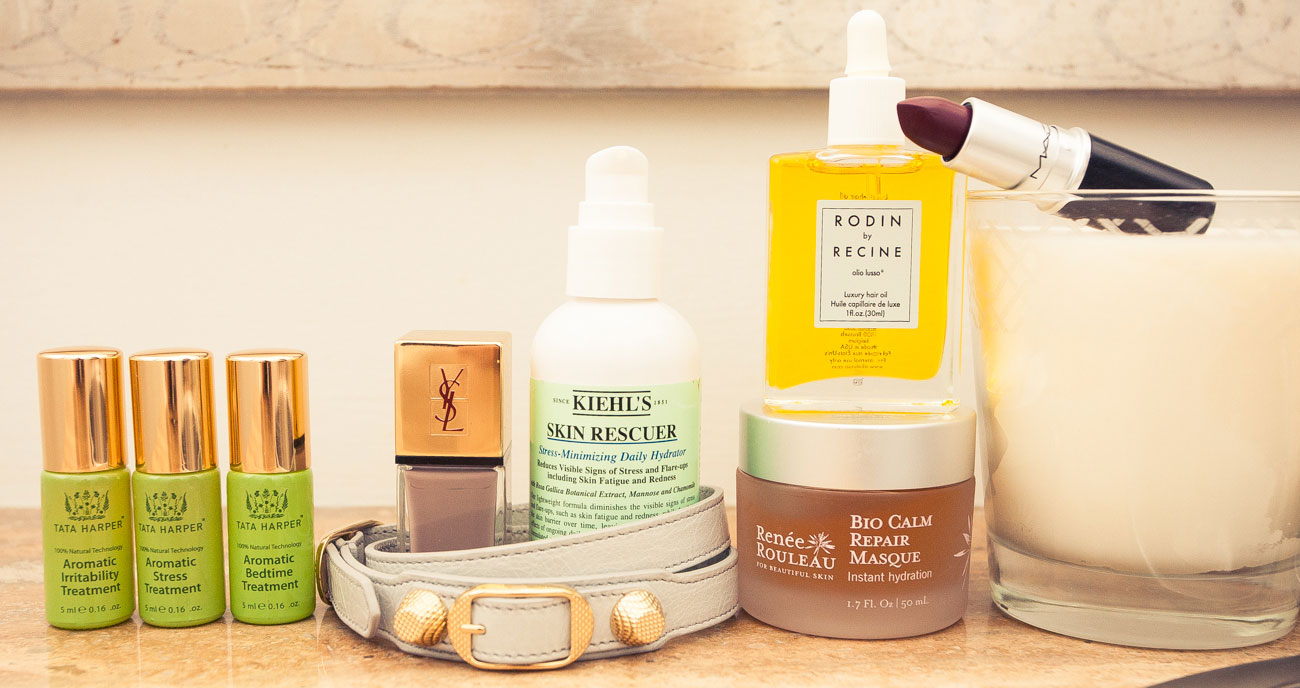 Never Travel Without These 7 Beauty Products
Arrive with better skin than when you took off.
We could probably talk about travel beauty routines forever. There's something fascinating about hearing how people turn their airplane seat into a spa, as though they aren't less than a foot away from a group of strangers who might not be used to the sight of a mask-wearing woman in full recline. And we're no exception to the rule—try a sheet mask on the plane and your travel experience will never be the same. After countless interviews about this very subject, and countless hours spent on layovers, lounges, and airplanes, we've refined our skincare products into a very TSA friendly (no more than 3.4 oz!), very utilitarian group. Of course there's far more that we stash in our carry-ons when it comes to beauty—this list doesn't touch hair, makeup for de-boarding, or things like rollerball fragrance—but put the below to work and you might just arrive with better skin than you left with. Maybe.
The airplane is one of a few places where it's totally appropriate to let you inner germaphobe play. Go all-out and wipe your entire area down with hand sanitizers (we've been there), or spend the entire flight with T-Rex hands, trying not to touch anything with your elbows painfully tucked to avoid sharing the armrest. If you're going to apply skin products (which necessitates face touching) you're going to want to sterilize what little personal space you have.
If you're one of those who's able to wash your face with proper cleanser in an airplane restroom sink, we salute you. But if you're like the rest of us and would prefer to minimize any time spent in those closets, face wipes are key. Usually we would say to pick a formula for your skin type, but when it comes to flying 30,000 feet in the air, moisture is the name of the game. We're obsessed with Yes to Coconut Cleansing Wipes—they get everything off without stripping your skin.
Forget personal space, if you're the person bold enough to whip out a sheet mask (and it needs to be a sheet mask—again, airplane bathroom problems) while the dude next to you is watching Captain America, well, you deserve the best skin on your flight. The holy grail is the SK-II mask as sworn to by industry professionals like Gwen Flamberg and Shiona Turini. So harness your inner beauty editor, pretend you're in first class, and welcome the second (and third) glances from the flight attendants. A healthy glow at 37,000 feet is worth it.
This is the stuff you'll want to slather on every hour or so. If you're really hardcore about moisturizing (like we are), Charlotte Tilbury's Magic Cream is quite literally, um, magic. You can't put enough on, and if you really layer it and let it soak in, it's like the most luxurious mask ever.
Face oils are particularly great for travel because they typically come in small bottles—and, because a little goes a long way. A few drops every few hours will keep your skin from getting parched.
We love mists as much for their moisturizing capabilities, as we do for how generally refreshed they make our skin feel. Mario Badescu's affordable Rose Water Spray is our low-key favorite for every day—and it feels great mid-flight when all you can taste and smell and feel is plane food grease.
The moisture mission doesn't stop at your face! Neglect your hands and risk cracking cuticles, and scratchy knuckles. If you want deep moisture (and can keep from touching anything for the 45 minutes it takes to absorb), go for the cult classic Elizabeth Arden 8-Hour Cream.