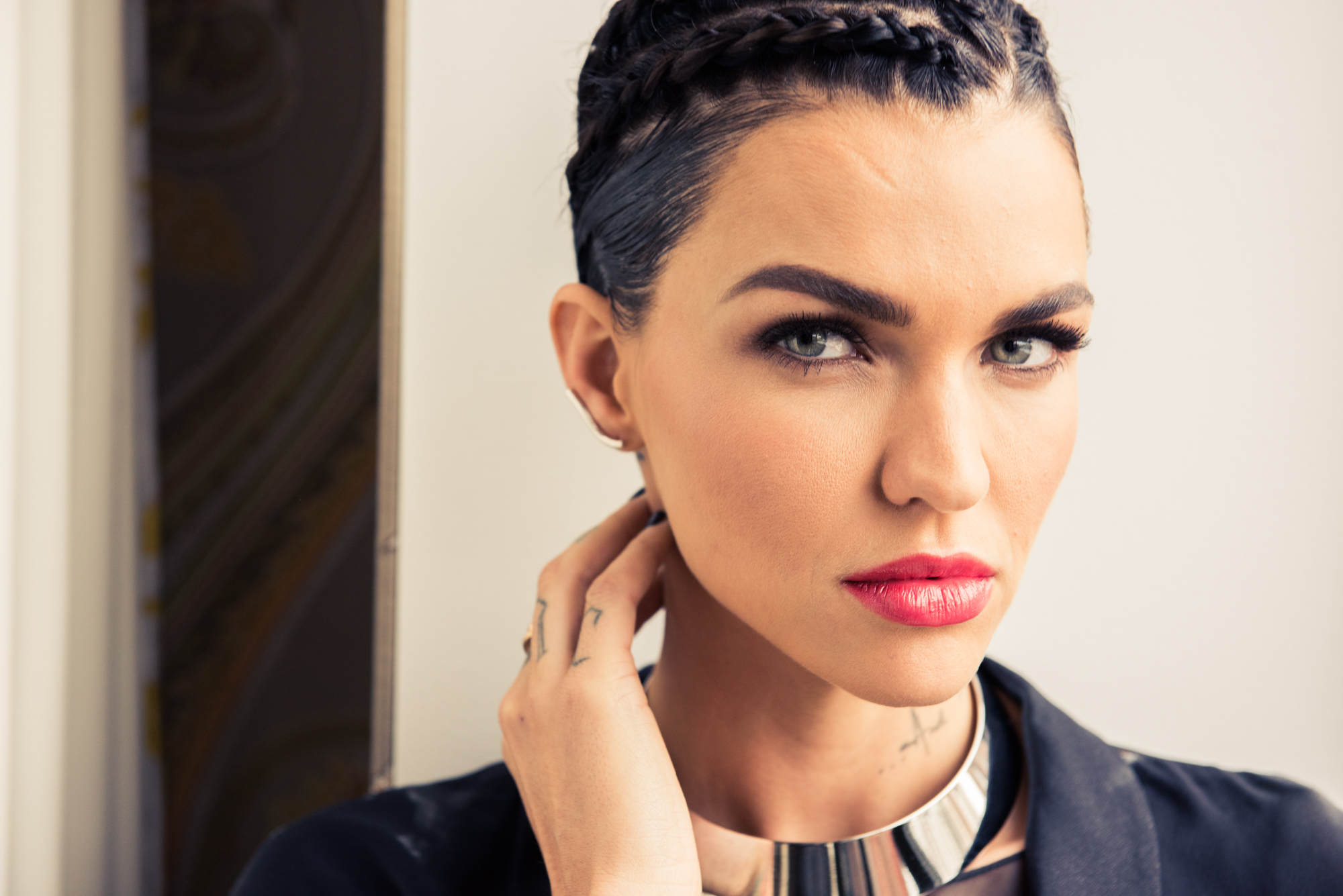 Ruby Rose Never Plucks Her Eyebrows
Turns out the actress has genius beauty advice.
We've already fallen for Ruby Rose once, about a year ago, when we hung out with her at her L.A. home, dug through her closet and learned all about adopting pets. So when we heard that she was coming to New York with Urban Decay, for which she is the stunning (seriously, though) new face—most notably of their new Vice lipstick (launching next month with a whopping 100 new colors)—we hit her up at her hotel. This time, we commiserated on plucking our eyebrows apart in high school, experimenting with lipstick, and why inner beauty and self-care will inevitably lead to outer beauty, too. Rose is one of those aberrations who is not only extraordinarily and naturally beautiful (and extremely healthy), but also isn't afraid of a good silver eyeliner or contrasting lip liner. Bow down.
Her super simple daily beauty routine:
"I use Cetaphil and put on a serum, moisturizer. If I'm doing something relaxing for the day, I'll use Urban Decay Naked Skin One & Done, which is lightweight so it's not a full-on foundation. It's like a BB cream but with a little more coverage. It's got SPF in it and I need to wear sunscreen all the time. I'll do brows and some mascara and that's kind of it."
Her brow saga:
"I don't do much with them. I'll either tint them or I'll use the Brow Beater pencil, and I'll just fill them in a little bit. Aside from that, I leave them alone. I grew up when Mariah Carey and Christina Aguilera had, like, one hair that they gelled, so I copied. My mom tried her best to hide the tweezers—she's like, trust me, you don't want this. Be more like Brooke Shields! And I'm like, what? No, it's about Christina Aguilera and Mariah Carey, Mom! I had really thin eyebrows, and then I went through an East 17 stage where I shaved three lines in my brows, and to get real precision I tweezed those lines. I really tried to ruin my brow life and I was lucky enough that they somehow grew back. So now my trick is doing as little as possible."
On beauty experimentation (and regrets) in high school:
"I loved a good lip liner, but one that completely contrasted the color of my lipstick: a red lip with a blue lip liner. That was the cool thing. And having a different color eye pencil—doing blue on top and having green underneath. I had so many colors happening at once: it wasn't appropriate for high school. I had the slits in the eyebrow and henna in the front of my hair. It was really something else."
Her beauty obsession started early:
"The first thing I got really into was mascara, then it was lipstick. I used lipstick as everything—it was on my cheeks, as eyeshadow, on my lips. The first thing my mother bought me would have been an eyeliner. But I think it was metallic silver or something. I was going through a real Blade Runner stage. Back then it wasn't what people were doing in school—I wanted to be different."
Face wipes = life
"I'm very thorough about getting everything off. I use the Cetaphil face wipes or any kind of face wipe—I just love them. When I use face towels, I really scrub, but to the point when my skin gets really red and irritated. By using the wipes I get a much better result. I have a lot of different cleansers. I travel so much and I do all these different films and whenever I'm on a different film I discover a different kind of product for taking off makeup at the end of the day."
The tips and tricks she picked up on set:
"I've learnt a lot about using highlighter and contouring that I definitely never knew existed. And that helps if I want to do a red carpet, but also helps if I want an androgynous style and pronouncing my cheekbones by doing very little—using bronzers and contours in the right way to make myself look more androgynous. Also, learning how to apply mascara correctly. My makeup artists have taught me to do a zigzag: starting from the bottom, zigzagging out and then letting it dry. I'm obsessed with lashes, I used to keep applying and it just becomes a hot mess. You have to zigzag it, let it dry, do the other eye, and then zigzag again for another coat."
Always sheet mask on the plane:
"On a plane I'll always put a sheet mask. It's so mortifying for people to walk past—I look like some sort of crazy Freddy Krueger-type person. The thing I find about flying is that I get so dehydrated and sheet masks are the best because they're easy. If I'm in a cheeky mood I kind of enjoy the fact that a flight attendant will walk past and double take. And I drink a lot of water."
Her (very literal) desert island products:
"If I'm doing something but I've only got two seconds and I want to feel special I always go for mascara—the Perversion Mascara. But you need the waterproof mascara because it's like a desert island. I was like, oh you're right! She's really thought about this. So it was the mascara. At first, when asked what I would bring to a desert island, I was like, water. But for beauty product, I would probably go with the mascara. Or maybe One & Done because it has SPF. That'll save my skin. But let's be real, I'll just ask for a care package from Urban [Decay]. I'll be like, guys I'm stuck on a desert island, don't save me, just send me products!"
How her perspective on beauty has changed as she's gotten older:
"Probably around 25 or 26 [years old] was when I found that I really started to feel like I belonged—when I really started to love myself properly and truly. I think your teenage years are the hardest, and then early 20s isn't exactly a walk in the park. After that I think that you start to really blossom into who you are and realize that you are the only person who can be you. When that shift happened, and I started to be more comfortable with who I am, it changed the way I viewed beauty and makeup and skincare—how I wanted to look and how I would style my hair, and my fashion sense and everything! Trends come and go, but my staples has stayed the same."
Why inner beauty (and health) is the most important thing—even when it comes to makeup:
"It's about inner beauty. It's got to do with confidence, with health and well-being. I'm a super healthy person, so I'll always feel the most beautiful when I've had the most rest, which is not always easy; when I've exercised. I drink a lot of water and green juices. I eat really organic food and I don't drink coffee, I don't drink coke, I don't drink alcohol. All of those things allow me to feel more beautiful, even when sort of realistically—I've done a fifteen hour day and I've only had four hours of sleep—I should feel terrible. When I'm taking care of myself I'll always feel the most beautiful and the most confident because I'm doing my best to take care of my inside well-being. And, really, it makes everything else better: makeup applies to your face easier—even with your lips, the lipstick will moisturize better and last longer. Because I don't drink I don't have to worry about it, but when my friends are hungover and they're trying to apply faces of makeup they're like, the foundation isn't sitting on my face, what's wrong with it? I'm like, it's because you're sweating and unhealthy and the makeup is trying to run away from you."
Her makeup philosophy:
"Makeup is about embracing your true self and letting it be something that represents you, not something that's hiding flaws. It's bring out your best version instead."