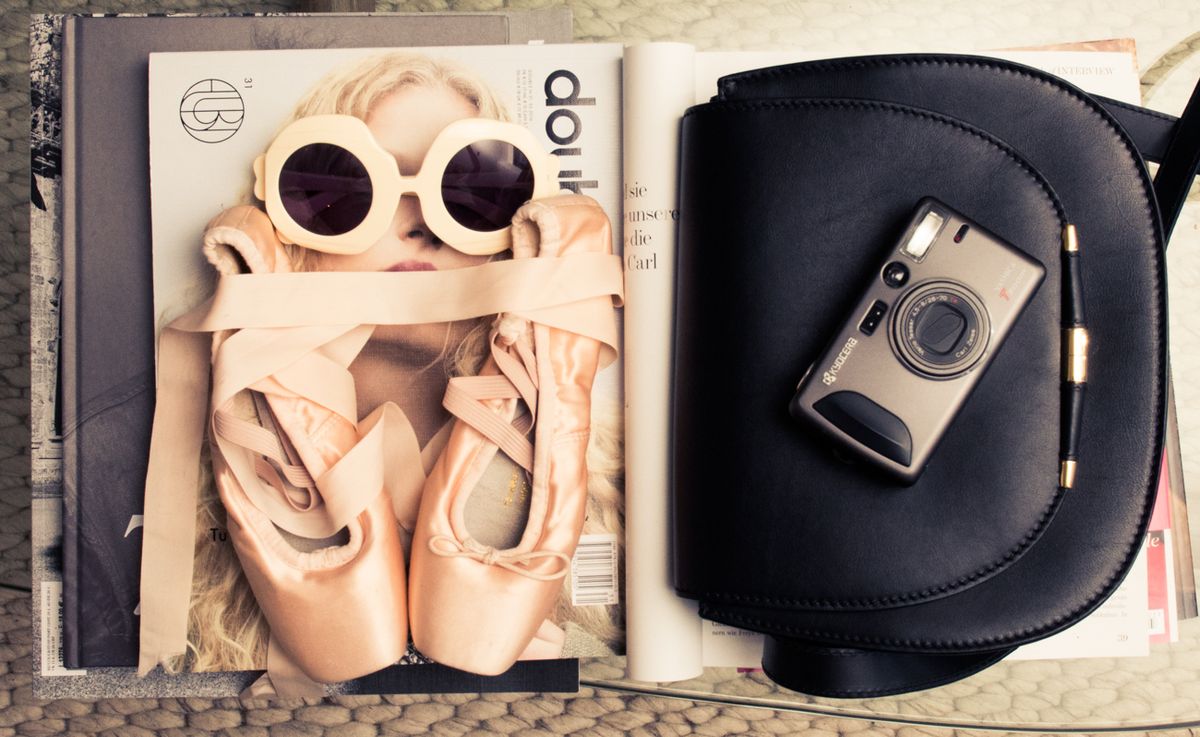 Living
In which we embrace our inner Girl Scout.
If travel has taught us anything, it's that occasionally, travelling means shit gets weird, fast. Between shoveling in airplane snacks (calories don't count in the air), bawling at the Kleenex commercials between in-flight entertainment segments, and stumbling inside the minuscule restroom, only to find an entire solar system of breakouts have emerged across your face; it can be rough, and unpredictable. In order to deal, we've found it helps to develop an exacting routine and packing list that manages to address just about every potential issue that might pop up along the way. Here are a few favorites (that, for the most part, don't involve pharmaceuticals, that is).
---
1. Double Sided Tape: This has saved me so many times, I can't even begin to recount them all. Popped buttons, broken shoe straps, non-wardrobe related malfunctions, you name it. I also rarely leave the house without it. Okay, does that make me a freak?
2. Nail Polish Remover Wipes: I stopped doing shellac a few months ago because it was making me nails too brittle. Plus, I have commitment issues and 2-3 weeks is just too long for me to stick with one nail color. And since I'm using good ol' regular nail polish, I always have to pack nail polish remover in case of chips and fades. 
3. Quick Dry Polish Drops: Like I said, I regularly paint my own nails. Usually 5 minutes before I have to run out the door, and often before I remember I need to button up my pants. So, these quick dry polish drops are literally a godsend. 
4. My I <3 Pho Tee: Please don't judge me for this, but I literally pack my verrryyy worn-in kitchy tee that I bought in Vietnam, oh, say, 8 years ago, everywhere I go. Sometimes I wear it to bed. Other times, I'll wear it out (freshly washed and steamed, of course) with a pair of skinny jeans and a red lip (you know, to keep it classy).
5. Eye mask: Not to sound SO basic, but a good eye mask is essential for travel IMO. If not only to make the whole sitting in coach thing feel just a bit more luxurious.
Meagan Wilson
Editorial Manager & Social Media Manager
1. Tatcha Classic Rice Enzyme Powder: As much as I wish I was the type who can pack with just the very bare necessities; in reality, at least in the skincare department, I'm the very opposite. That means I travel with a fairly rigorous range of products in the event of, well, just about anything—and this adorable version of Tatcha's cult Rice Enzyme Powder has saved my complexion from post-travel dullness more times that I can count.
2. Illesteva sunglasses: Sunglasses are a non-negotiable necessity for early morning flights where it just doesn't make sense to wear makeup (I'm all about a Uber-from-the-airport backseat beauty beat). Or longhaul legs in coach that call for absolutely zero eye contact as any sense of humanity ceases to exist. 
3. GlamGlow Mini SuperMud Clearing Treatment: Another skin saver: GlamGlow. One application absolves your face of literally any issue. It's a game changer the night before
4. Aquazzura Block Heel Pumps: A super girly, magpie-y block heel pump is the key to dressing as comfortably as possible without looking, or more importantly, feeling like a slob. A sweatshirt, pair of jeans, and choker with a pair like these are quickly becoming my daily uniform for that exact reason.
5. Frends headphones: If I'm en route literally anywhere, I have a pathological need for headphones. When I'm flying, though? It's on another level. I have a severe, very real, very embarrassing fear of flying (this does the trick for me, too), and listening to music during takeoff is part of an extensive in-flight ritual I've developed for myself.
1. Gucci Slides: The airport hustle is real and as a naturally impatient person, I'm not one for TSA lanes. Hence why I'm that person with shoes and jacket off, and clear pouch and laptop at the ready, before I even get to the bins. Gucci slides make process a lot easier and chicer. There's nothing worse than that chick who wore lace up shoes. Just don't, guys.
2. Bose QuietComfort Headphones: I've been traveling with these for years and now I actually refuse to fly (or go anywhere, really) without noise-cancelling headphones. The sound of absolute stillness and calm when you click them on, makes flying 1000x better.
3. WelleCo Nourishing Protein Travel Set: There's nothing like being on set with supermodel Elle Macpherson to encourage you to get your shit together. Since then, I've been swapping in the Nourishing Protein Powder and Super Elixir whenever I can—the sachets make for any easy breakfast/lunch whenever I'm traveling (and taste way better than airplane food). 
4. Lipstick Queen Lip Color: Along with the usual suspects in my inflight beauty bag (face mist, masks, Aquaphor, tons of hand cream), the one thing that saves me upon landing is a natural wash of lip color and some rollerball perfume. Throw on some sunglasses to hide dark circles and nobody will notice anything else. 
5. Anya Hindmarch Pouch: I've mentioned my bag inside bag obsession before. But I use pouches for basically everything on the day-to-day—when I'm traveling it's even more necessary. One for my passport and IDs, one for cords, skincare, etc. And I even keep a separate bag in my bathroom with travel-sized items of products to grab on the go. Obsessive maybe, but totally essential.
Emily Ramshaw
Senior Editor
1. Passport case: I use a brightly-colored leather passport case largely because it makes my passport much easier to find inside the bottomless chaos that is my bag. But I also stick all my other important visa and ID information inside it, so that they're all in one place. And then I check that everything's there about five times on the way to the airport (eye roll).
2. A scarf-cum-blanket: Even if I'm traveling from one hot place to another, I absolutely have to have a wool or cashmere supersized scarf that I can use as a blanket on the plane. These days my favorites are from A Peace Treaty and Acne Studios.
3. Charlotte Tilbury Goddess Skin Clay Mask: Post-flight is one of the few times I reliably use a face mask, and Charlotte Tilbury's is my favorite. 
4. Rodin Luxury Face Oil: I slather oil on my face and on the tops of my hands as often as I remember when I'm in-flight. That, and drink as much water as I can, which amounts to a liter every two hours or so. 
5. Tomato juice: Here's a weird thing: if I'm not downing a glass of red wine with a sleeping pill and passing out for the entirety of the flight, I've developed a habit of drinking tomato juice when the refreshment cart comes around. I think it came out of someone telling me a long time ago that it settles your stomach, but now it's something I actually look forward to.