Living
How Zanna Rassi is Empowering Women This Mother's Day
There's really no better way to celebrate.
Renée Rodenkirchen
ICYMI: this Mother's Day, it's not all Hermès diaper bags. We're teaming up with The Adventure Project, a charity that helps women in developing countries become entrepreneurs, and help their own communities in turn. Cool, right? It gets better: For Mother's Day, we're helping TAP raise money for medical kits that women in Uganda can use to provide healthcare for their communities.
To speak to the effort, we turned to a few of our favorite women—ahem, Aerin Lauder, Bobbi Brown, and Zanna Roberts (NBD)—to show us the contents of their bags, and what empowers them on the daily. Even better? IfOnly.com is auctioning off that same bag, plus its contents to raise money for the project. Bid on insanely chic stuff, empower women around the world? We'll take it.
---
When we visited Zanna Rassi at her home in New York and photographed her with her twins earlier this year, we were quick to recognize her as one of those do-it-all types. Why? Because the fashion editor, stylist, consultant and TV personality has umpteen jobs at any one time, plus she's raising Rumi and Juno, her two adorable, personality-filled and very well-dressed (of course) toddler twins with her husband Mazdack. In other words, she gets what the phrase 'working mom' really means. Which is why, as far as we're concerned, she was the perfect candidate to talk to us about female empowerment, why projects like this one are so important, and how being a mom is just about the most special thing ever.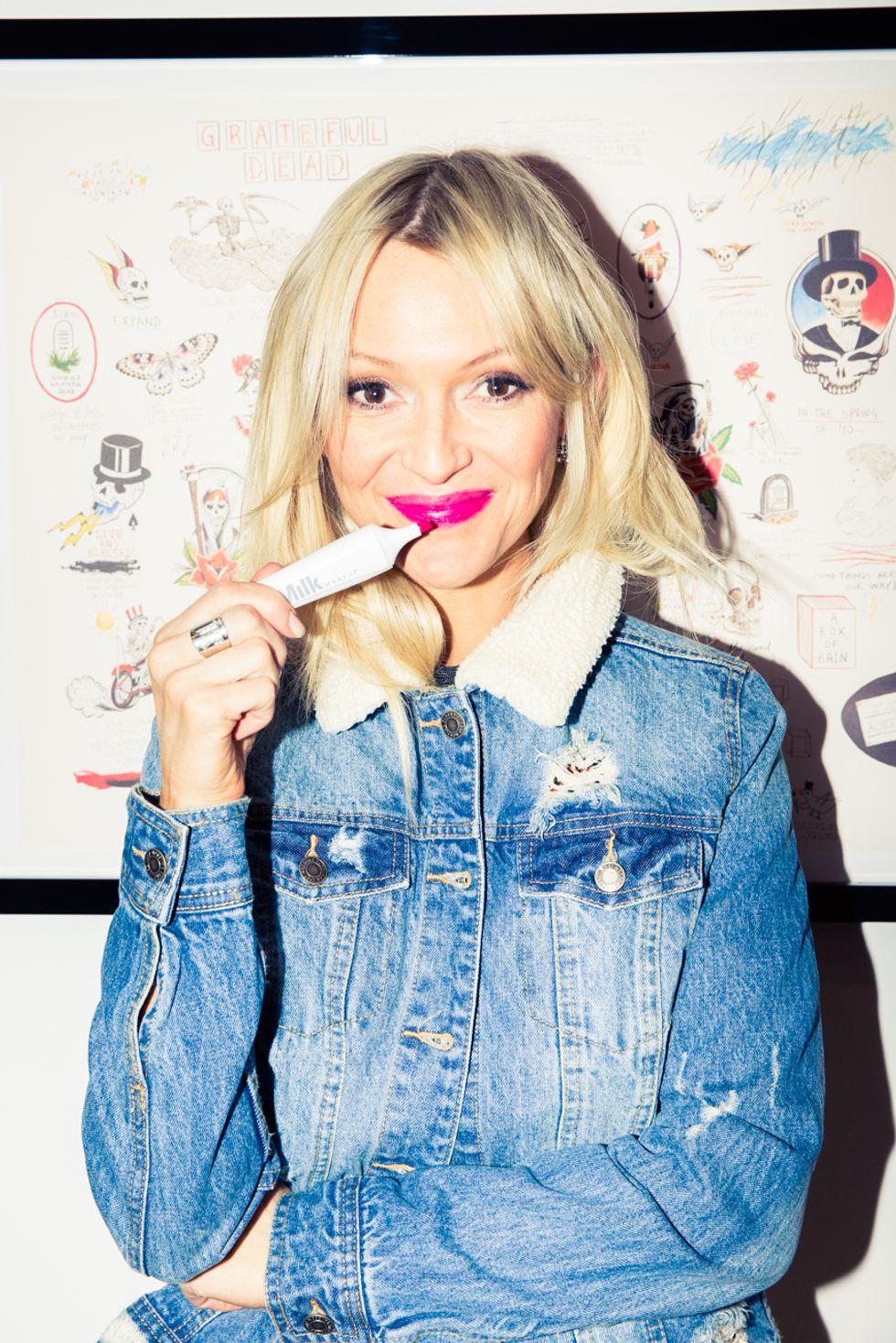 Why she's donating to The Adventure Project:
"I was honored to be asked to be involved in The Coveteur's first charity campaign. The Adventure Project offers a unique approach to poverty alleviation. It's a proactive and sustainable movement aimed at empowering and enabling women to create jobs to provide a longer term solution to poverty. The grassroots movement provides a smart and measurable long term way for women to serve their community and fill a critical role."
Why female empowerment is so important to Milk Makeup:
"I am where I am today (personally and professionally) with thanks to women believing in me and giving me the opportunities to succeed. I believe all of us are at our best when encouraged, and motivated to believe we can do anything. Throughout my life, women have given me the tools mentally and physically to succeed and because of their belief in me, I did. Milk Makeup was built by spirited, strong, ambitious, fun girls for spirited, strong, ambitious girls. We built the line asking ourselves, what will help girls? Not, what can we sell girls? We are providing girls (and guys) the powerful tools to express themselves. To feel amazing in their own skin and, as such, flourish!"
How female empowerment has changed her life:
"I grew up as one of three girls with an amazing, nurturing, and smart mother. I have twin girls. I have three nieces. I've worked in magazines for the majority of my career (99% female staff). I am now one of three female co-founders of Milk Makeup where the staff is 99% female.
Women have been my leaders, mentors, colleagues, employees, best friends. I've been surrounded by strong women since I was born. They have taught me almost everything I know."
Why giving back is so important to her:
"We have the opportunity and the responsibility to do so. Plus, it feels great! As the great Winston Churchill said, 'We make a living by what we get. We make a life by what we give.'"
On Mother's Day traditions then and now:
"[As a kid], we'd all climb in bed with our mum with handmade cards, English breakfast and flowers picked from the garden. That was followed by dressing in our Sunday best, church with our Gran (a formidable and very chic woman), and a special lunch out."
Now, we don't have any traditions as of yet! This is my second year—here's hoping! But generally, the simple things become magical when you experience them as a mum: reading a book at night to excited toddlers, putting Elmo to sleep before they go to bed, singing songs, waiting for the night fairies to come."
Her perfect Mother's Day present:
"That all mothers are as happy as I am."
How having twins actually made her work harder:
"I'm more focused and edited with my time, and more efficient as a result. The year I had twins was the best year work-wise. Amazing what you can do when you put your mind to it."
The secret to traveling with toddler twins:
"Honestly, Elmo and Peppa Pig! And very organized bags with lots of compartments. I'm into 7AM INFANT and Baggu bags."
The biggest surprises of becoming a mom:
"How much simple joy the smallest little thing they do can bring—it's pure, unadulterated JOY. And when the girls give me a hug and I don't expect it, it makes me tear up every time!"
How she manages it all:
"I take a breath and remember how lucky I am; also, how quickly time passes, so to enjoy it. Oh, and the odd glass of wine."
Her donation for The Adventure Project, decoded:
· Rag and Bone bag: "I'm a huge of this saddle bag. It's perfect for every occasion and will stand the test of time!"
· Skinny Dip London Phone Case: "Most all my fashion friends are rocking a skinny dip case these days."
· Preen Sunglasses: "I live for Preen. And sunglasses. Insta chic!"
· Fitbit: "Got to get those steps in, people!"
· Caeden Headphones: "Keep myself plugged in.
· Stella Travel Fragrance: "I've worn this fragrance since I was 20!"
· Maltesers and Cadbury Mix Ups: "I'm fanatical about my English candy."
· Small notebook: "Because sometimes you need to scribble thoughts down."
· I Am Malala: "One of my heroes. The most inspiring and empowering of all."
· Milk Makeup products: "These are my fav items from our Milk Makeup collection. They are multifunctional products that see me through the day, from running out the door in the morning, to work, and though to nighttime. They include a Milk Makeup holographic bag, Milk Makeup Sunshine Oil,Hero Salve, Lip + Cheek, Matte Bronzer, Highlighter, Blush Oil, Ubame Mascara, Eye Vinyl and Micellar Water Makeup Remover Wipes."
What she carries in her bag every day:
"I carry Milk Makeup Hero Salve, Milk Makeup Matte Bronzer and Highlighter, Milk Makeup Ubame Mascara, and I never leave the house without Tic Tacs."