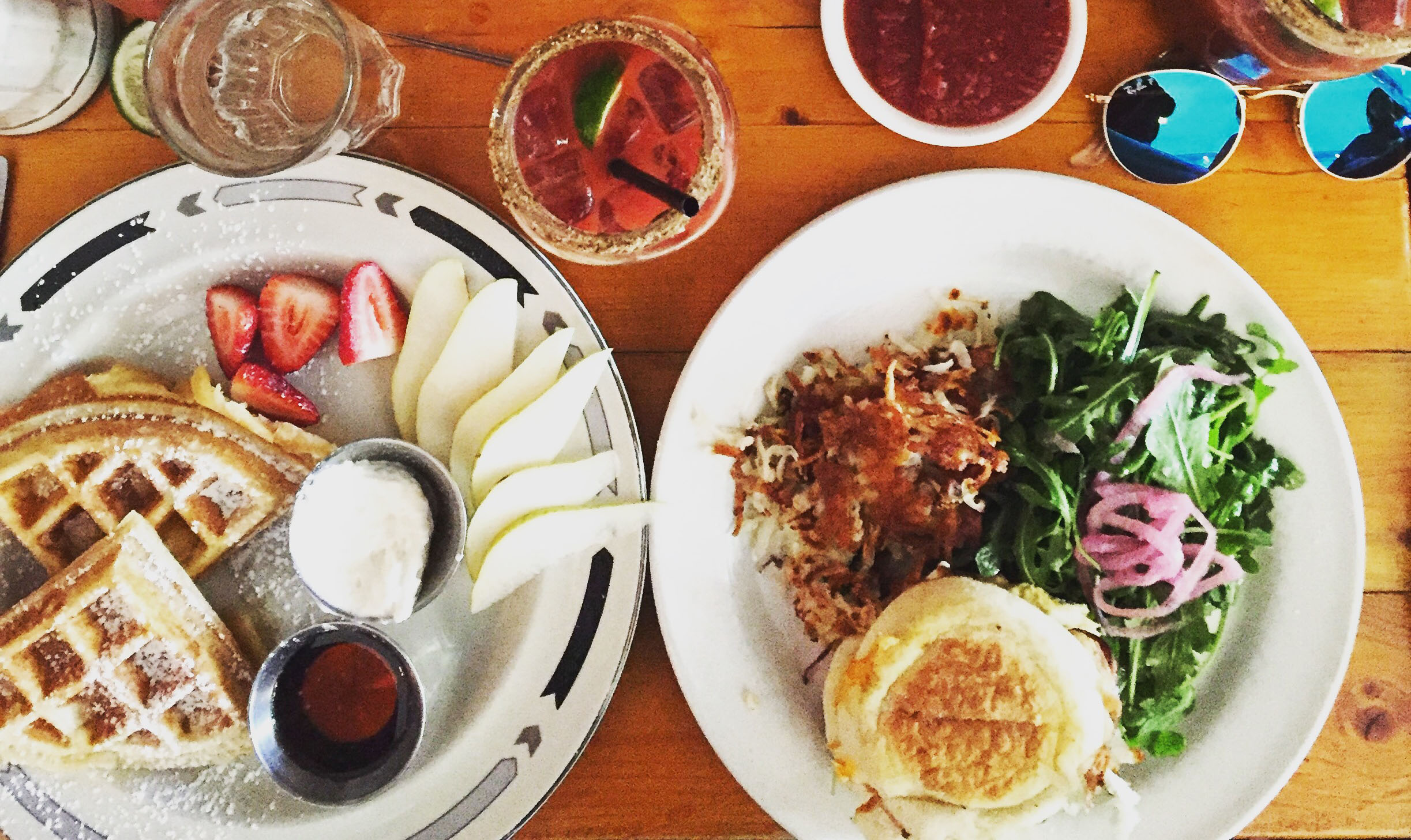 What You Should Wear to Brunch, According to Your Hangover
Day drinking? Watching Netflix & Napping? Never drinking again? We got you.
On a scale of 1-10, how hungover are you right now? Whether you're nursing a headache from too much tequila and Lemonade (the Beyoncé kind) or spiraling into a hole of despair, you need brunch. Like, now. Why have abs when you can have eggs benedict? JK. We're definitely all about ordering healthy at restaurants , but it's the freakin' weekend and you deserve it. So even though you feel like garbage, that doesn't mean you have to look like it. Here are the quintessential morning-after outfits based on the v. scientific hangover scale. You know, so you can make it out the door to enjoy the momentous occasion that is brunch. It's called an AmeriCANo, not an AmerCANTo.
Congrats! You're actually a fully functioning human being, in spite of watching the sunrise from the backseat of an Uber. Maybe you're born with it, maybe it was the Gatorade you chugged when you got home. Regardless, this means a cute brunch outfit is totally achievable; and, bonus: you're able to drink again, too. An airy mini dress like this off-the-shoulder striped stunner from Chloé will bring those I-woke-up-like-this vibes, and platform wedges like these from Rachel Comey are the perfect way to brush off that texted-my-ex-last-night embarrassment. This calls for a red lip to match your Bloody Mary. Why not, right?
4-6:
Hung AF, but Rallying
You've hit snooze 80 times and now you have about three minutes to get ready. First, try these quick fixes for how to deal . Now that you have approx. two mins, apply a few strokes of Benefit's Fake-Up; it's super hydrating (your skin is just as parched as your mouth) and it'll cover up those party-girl bags (the only kind of bags we don't like). Your fave black ankle boots and a cozy sweater will do the trick.
The struggle is all too real, so brunch/your friends/your life will have to wait while you enter the Netflix-nap-repeat cycle. Finally, when the seedling of IDGAF has been planted, slip into something more comfortable (and also socially acceptable to wear in public) like these fancy Vetements sweatpants. All that's required is a spritz of Byredo hair mist to freshen up and cover up the slight scent of vodka. And, why bother with an actual bag when you can use a super chic and convenient wallet on a chain, you know?
So you passed out in your clothes, with all your makeup on, and your contacts have become one with your eyeballs. You're also most likely suffering from PDA, in which case your best option is to grab your trusty leather jacket, throw on a pair of sneakers and hide your face/shame with a massive pair of designer sunglasses.