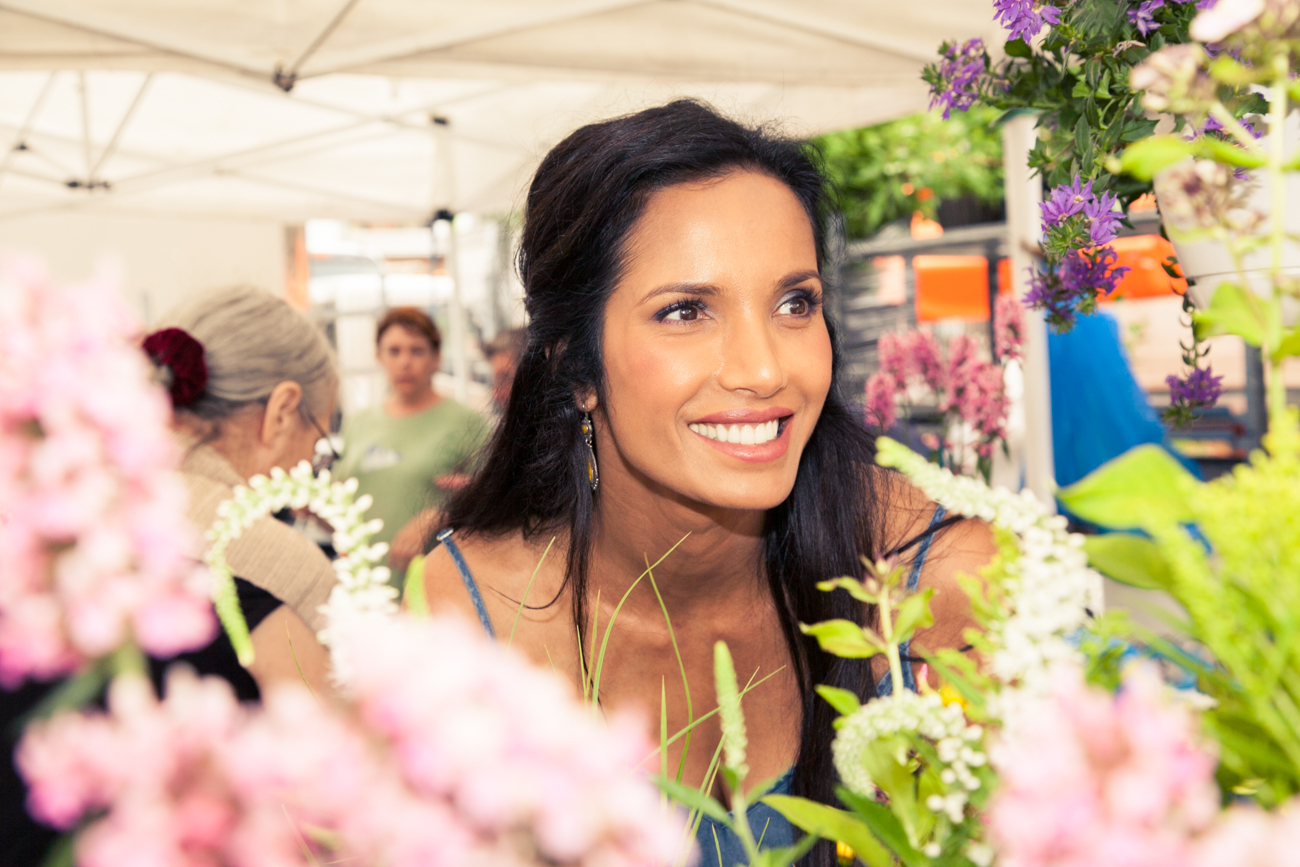 Padma Lakshmi on Balance & Detox Tea
She also turns her hotel rooms into kitchens for the sake of avoiding room service.
Padma Lakshmi, in our eyes, has gone and accomplished what we thought was impossible as a public figure (especially one who's not, let's say, unfamiliar with the tabloids. Feel us?). For one, we're pretty damn sure she lives the unequivocally gooooood life: you get the feeling that she never says no to dessert, goes to sleep with her hair wrapped in an Hermes scarf and never wakes up with pillow face. And yet, she manages to be unabashedly open and honest, as in her recent memoir, Love, Loss and What We Ate, in which she's very vocal about her life, ranging from growing up between New York and India, divorce, her experiences with endometriosis—fittingly, all told through the lens of food. And as it turns out, she's picked up tricks to getting through just about everything along the way, from living out of a hotel for months while avoiding room service, to healthy nachos, and one mean in-flight beauty routine—all of which she broke down for us here.
Her definition of wellness:
"For me, wellness is mostly about consistency; just thinking about all your actions. Whether they're how you eat, how much you exercise, how you chose to use your words when you speak to your family, your friends, your co-workers, or even a stranger on the street. I think wellness is more than just taking supplements or doing yoga. Although those things are good, too!"
Her personal wellness goals:
"I think my goals shift depending on what my schedule is like. Am I gearing up for Top Chef? Am I just coming off Top Chef? My system takes a beating filming the show, but my overarching wish for myself, and my daughter, is that we're always thinking a little bit about how to be healthy, physically and emotionally."
Why boxing is the :key: to maintaining mental health:
"It's really hard. I'm not an expert, but I think having a physical outlet is really good. I love to box, and I've been boxing for fifteen years. It's a great workout—nothing works the body like boxing—but I also think that it's great for you mentally. It makes you focus in a way that is unlike most other exercise, you know? I've always found that whether I want to go to the gym or not, when I walk out of the boxing gym, I'm always thankful and happy."
How she deals with her insane schedule:
"I try and wake up a little bit earlier every day. My daughter goes to school at 8:30. If I can walk her to school I do. That hour and a half before she leaves is really important, it's our time to just be together, alone. We usually have a breakfast picnic on the floor—it's just a little sweeter. We get ready, we brush our teeth, I brush her teeth. Our ritual is me braiding her hair and getting her dressed, and then even if I can't take her to school because I have a meeting or a phone call or something, I at least spend that one and half hour with her. I try and make sure I have that ritual because my schedule is quite erratic and there's not a lot of consistency. For me, being healthy is also trying to infuse as much consistency in our lives as possible to make up for the fact that I don't have a normal and predictable schedule."
Why she's vocal about her endometriosis:
"I was just flabbergasted that it fell through the cracks and didn't get proper treatment until I was in my mid-30s. I thought that was abominable, considering I lived in a major urban developed city, I had health insurance, I had access to good doctors. I just didn't want anybody else to go through that. I didn't want any young woman to have any roadblock or obstacle to her accomplishing what she wanted, to achieve her full potential, and also just leading a happy, healthy life."
How things changed when she started listening to her body (and eating carbs):
"For me, health and wellness obviously extends beyond just keeping your waist trim. It's about getting checked, being your own advocate for your health and listening to your body. That's a huge thing! For a while there, like everybody else probably, I'd avoid carbs because we were told that they're bad for you. But my system is one that's been raised on rice, and I love rice—for me, it's appropriate to have some healthy starch in my system. I never feel full if I just eat protein and salad or vegetables, I always need a little something.
I'm not really one for packaged foods, but I do have a line of frozen rice, Easy Exotic, because the natural medium of cooking rice is through steam, so it reheats beautifully. They're gluten-free, vegan, organic and very pure. I know exactly where they come from, I did the recipes over a long period of time and chose the few seasoned rices that are in there. But I think the biggest challenge for most people in this country is to have a nutritious, clean meal with your family on a weeknight after having a busy day at the office."
How planning ahead changes everything:
"The best tip I can give you is to be prepared and plan ahead. Sometimes on the weekend I have a day—especially if I know I'm going to have people over—where I just chop vegetables. I keep them in little Tupperware containers in my fridge. I know I'm going to use onions; I cut up some peeled garlic and some chopped ginger; tomatoes and bell peppers. That way I can come home, kick off my heels, put my hair in a ponytail, sauté a fillet of fish, shrimp, chicken, some veggies and put it over some rice and at least that's wholesome and easy. I mean, that's how the company was actually started, it was born out of my kitchen."
Her in-flight beauty routine:
"One of the simple things I do for my skin is I never wear makeup when I travel. I may have my makeup bag, and because I get paparazzi'd a lot, I may have a little makeup that I just dab on—some concealer and lip balm—right before I land. But I try and let my skin breathe as much as possible. Even if I have to get on a plane right after a shoot and don't get a chance to wash my face, I'll carry some Neutrogena makeup wipes with me. I'll wipe off all the foundation and I'll just leave my eyes [laughs]. And I just make sure I get as much rest as possible. I carry a sleep mask, packets of vitamin C powder which also have electrolytes, and I try and sip at least 500 milliliters of water every hour. I also use a lot of body butter—I have a small travel little container of it that I fill before I go on a trip."
Her travel essentials:
"I try not to drink unless I'm going on an overnight flight, and then I'll probably have, like, one glass of wine, just so I can get to sleep with my dinner. I carry a small cashmere blanket, like, it's kind of like a little bit larger shawl, and I make—I know this is going to sound terrible, but—I actually make what I call my own sarcophagus. I will literally sometimes put the blanket over my head and create my own little ecosystem under that blanket. Because I travel so much, and especially with the book tour, I've been on planes a lot and I'm desperate not to get sick. I tend to wash my hands more than normal, hence why I also need the body butter, because my hands get dry from all the cooking and boxing and everything."
The sneaky tricky she uses to avoid room service:
"I was very, very adamant that my daughter Krishna eats healthy, even when we were on the road five or six weeks at a time for Top Chef. We would actually get a conference table from the hotel, push it up against a wall, get the culinary department from Top Chef to bring in a little plug-in hot plate and have a sauce pan, a pasta pot, a frying pan, a strainer, some labels, and a little dorm fridge put into our hotel suite. So I would actually be cooking in our hotel room, in whatever hotel it was [laughs]. I didn't want Krishna to have to eat room service for six weeks. You don't want to eat that food! You end up ordering a lot of french fries that way, and I don't want to do that. I really believe—and I mention this is my memoir—that whatever you feed a child first, those flavors really imprint themselves on your child's palette. You need to set that child's eating patterns within the first three or four years of their life."
On that infamous Cranberry Drano recipe:
"[When I'm filming], I have to eat a lot of crazy things on set; I'm tired; I don't get as much sleep as I should. That's really not good for your system. So I was always taking Vitamin C and I began drinking green tea in an effort to cut down on my coffee. I switched to green tea, and then I know cranberry juice has helped me in the past, just to keep my system clean. It sort of works like Drano through your pipes, and so just as a function of being on-the-go all the time, I put them all in one glass together. I don't have time! Then I add fiber powder to that, too. It helps get my digestive pipes clean and keep everything moving. The electrolytes and the vitamin C and the B complex in the vitamin powder also keep me hydrated and boost up my immune system."
How it all starts in the gut:
"What we don't realize is a lot of our health has to do with our gut health. I'm also a big fan of taking a lot of probiotics or eating a lot of live, cultured yogurt. It's something that I grew up with. In fact, another recipe in the book is a recipe for savoury yogurt and rice, like salty yogurt and rice. I actually made it on Ellen!"
Her favorite indulgences:
"Nachos. Nachos, pizza and fried chicken."
Her secret to making said favorite indulgence healthy-ish:
"Last night I was really hungry, and I hadn't had the chance to have a proper dinner and obviously I was hungry again in two hours, so I made myself nachos. I had boiled black beans from taco night, and some blue corn chips. I threw some black beans over it, a little bit of cheddar cheese and tomatoes, and some tomatillo salsa that we have left over. I ate the nachos, but I made them at home, I knew where the products were coming from. It's finding a little bit of a healthier alternative to some of your indulgences, and just not eating certain things that are just outright nasty for your system."
Her tips to leading a healthier lifestyle:
"Don't keep things that are bad for you in your house. Just don't buy them. I have to have some level of snack-y foods that are hopefully healthier, like baked Goldfish, for my daughter, because obviously she needs a different diet than I do. But I don't keep artificial things in my house, because if it's there in your pantry, it's going to stare you in the face every time you're hungry and you open that pantry door."