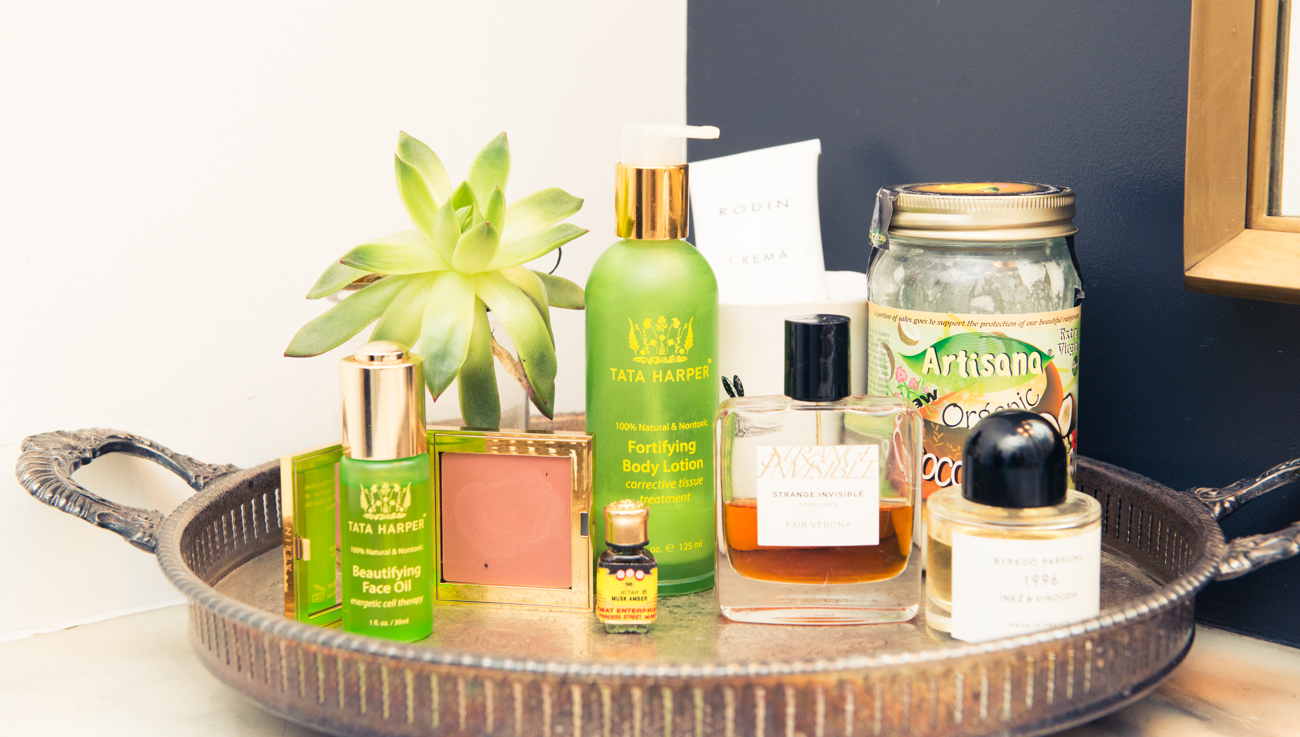 Editor Picks: Earth Day
Go on. Give Mother Nature a little extra love today.
Just t in case you needed an excuse to do something nice for the planet (hopefully you don't, but you know, reminders never hurt) today is Earth Day. If ever there was a chance to reassess our purchasing habits (exactly where and how were all of our approximately seven hundred pairs of jeans made?) and beauty products (do we really want to slather on so...many...chemicals....?) today is it. And while we'll be the first to admit we're not exactly angels when it comes to purchasing green, we're taking steps in the right direction. And like all things around these parts, it aaaaall starts in the closet.
Meagan Wilson
Senior Editor
1. Stella McCartney Trousers: These pants are everything, but let's get one thing out of the way first: shout out to Stella McCartney for doing the whole eco thing since the beginning of her career, and doing it well. For me, finding sustainable, ethical, well-designed anything to feature this week was way more of an impossible task than it should be, and the retailers didn't exactly make it easy, either. Just saying.
2. Herbivore Botanicals Lapis Oil Balancing Facial Oil: If you haven't spotted Herbivore Botanical's stuff in every put-a-bird-on-it-worthy boutique near you, well... look harder? The prettiness of their stuff alone has a fan in me.
3. Brother Vellies slides: Think of these, from Brother Vellies, a brand that supports artisanal jobs across Africa through its line of traditional-tinged footwear (this pair was handcrafted in Kenya) as the super special sustainable version of Rihanna's Puma slides. Plus, at that price point? How could you not?
4. Heritage Store Rosewater: This brand's psychic founder background gives me weird cult-y vibes, but this rose water spray? There's nothing like it. Maybe because the water "has been vortexed and magnetized to raise the energy to a higher vibration"? It's probably that. 
5. Stella Jean Kimono: Surprise! Your favourite Jean not only works with the Ethical Fashion Initiative and collaborates with African and Haitian artisans on her pieces, buuuuut you also get #designedbyher points. I think that's what they call a hat trick?
Noah Lehava
Senior Editor
1. Reformation Gia bodysuit: I already own two Reformation bodysuits and I'm about it make it three.
2. Re/Done shorts: I'm the type of person who loves distressing a pair of vintage denim but when someone else can do it for you, and can do it much better, it's worth of an investment. Plus, this pair of reworked Levi's looks like it's been through the dirt—fitting, no? 
3. One Love Organics Vitamin C body oil: I've slowly been converting my skincare regime to all-natural (and organic where possible) products and this body oil, which is so incredibly moisturizing, checks off both those boxes. Plus, vitamin C is a great barrier against a whole slew of natural elements like the sun.
4. Stella McCartney sandals: IMO Stella trailblazed the whole responsible-luxury-brand initiative that's currently picking up steam. And I just love, love, love these wooden, vegan leather platform sandals.
5. Kitx Kimono Shirt: I love Moda for intro-ing me to some amazing new comers like Kitx whose flowy collection is ethical and insanely cool. Pre-o'ing right now. K, byeee.
Emily Ramshaw
Senior Editor
1. Tata Harper Volumizing Lip & Cheek Tint: This stuff is the absolute best for a natural looking flush. Plus, I totally buy into the Tata Harper lifestyle—this is a woman who makes all-natural skincare on a farm in Vermont. Can you say #goals? 
2. Greenpoint Farmers Market: This market is one of my favorite things about my neighborhood. All the local fruits, vegetables, meat, fish, baked goods and flowers you would ever need, every Saturday.
3. A Peace Treaty choker: A Peace Treaty makes all of their amazing pieces in places like India and Peru with artisans and craftsman who are practicing centuries old, low impact techniques. Plus, I've been drooling over this choker forever. 
4. Illesteva sunglasses: Did you know that Illesteva's frames are 100% biodegradable? One more reason to be obsessed with this brand.
5. Ryan Roche dress: Ryan Roche makes the dreamiest knitwear ever—I would literally wear this dress 24/7 if it was socially acceptable to do so. She produces her pieces with a women's collective in Nepal and in New York and swears by sustainable techniques. So maybe it would be socially acceptable then?
Laurel Pantin
Editorial Director
1. Cienne NY Mick Pant: Cienne NY is one of my favorite new brands. They source their fabrics from artisans all over the world, and work with low minimum suppliers, which minimizes waste. That, combined with the fact that the clothes are chic AF, make this brand a win for me.
2. Amour Vert Shae Tee: Amour Vert uses all sustainable materials for its clothing, which feels nothing like the "green" clothes I grew up seeing. Everything is unbelievably soft and luxe feeling.
3. RMS Beauty Un-Cover Up: RMS Beauty is one of my favorite makeup lines, organic or not. The concealer or "un-cover up" is a hero in my medicine cabinet. It's made with nearly all certified organic ingredients, and feels amazing on.
4. Weleda Wild Rose Creamy Body Wash: All of Weleda's products are excellent (if you live in a cold climate, you must purchase Skin Food for your hands next winter!), but my favorite is the rose body wash. I'm really into anything Rose, but the fact that this is certified natural is a super bonus.
5. Van Court Nail Salon: Van Court is my absolute favorite nail salon in New York! It just opened, but they only use polishes and removers that are free of potentially toxic chemicals, and all of the creams and oils they use are natural, and some are totally organic. They stock brands like RGB, Deborah Lippman, and Ginger + Liz, so you know they always have fun colors.
1. Dr. Bronner's Soap: Showering with this lavender soap every day is my version of meditation, actually. Besides giving off a super calming scent, the organic formula has 1000-in-one uses (I use it for everything from bath oil to stain remover) and because it's so concentrated, one bottle lasts forever. Also, get after their hand sanitizer.
2. Reformation Jumpsuit: Reformation = everyone's favorite eco-friendly fashion choice. Amiright? Besides the all-important factor of being good for planet earth, this linen number features an back and halter neckline. Win. 
3. Plant an Olive Tree: Taylor's Swift's boyfriend planted an olive tree for her in the backyard... regardless of this having anything to do with Taylor and/or Calvin, it's maybe the cutest thing I've heard. I live with a serious olive obsession everyday, so if you're listening, boyfriend, I'd love an olive tree (and a backyard?) for Earth Day.
4. Stella McCartney Flats: Will I live in these cotton poppy embroidered flats this summer? Probably.
5. Milk Makeup Lip Color: When we shot Zanna and Rassi's closet a few months back we were introduced to their new line of eco-conscious, paraben-free, but still actually wearable (and cool) beauty products. Including this super pigmented—and long-lasting—crayon.