Living
Because you totally don't need a full renovation to have a killer apartment.
Maybe it's because Team Cov recently moved into a shiny new office, or maybe it's the spring cleaning vibes, but lately we're feeling the urge to turn our focus away from our wardrobes (a little bit at least), and start investing in our living space. To be totally honest though, redecorating is expensive, renovations are stressful, and this is exactly the type of project we begin with wholehearted enthusiasm, then drop when we realize exactly how much time, money, and effort it's going to take. No more! Today we stand committed to having homes worthy of our CHANEL stash, without driving ourselves crazy in the process. With that in mind, we tapped mega-star wunderkind interior designer Ryan Korban (he's designed spaces for the likes of Alexander Wang, Balenciaga, and Altuzarra—NBD) and asked him about the six things you need to take your apartment from 0 to 100 real quick—so we can avoid all that hair-pulling.
---
"The number one thing you can buy to refresh your space is a can of paint. My favorite brand is Farrow & Ball—I love their color Pavilion Gray. It's a really beautiful neutral: elegant, but not too dark. Painting your room this color makes a huge impact, and makes your space look chic immediately."
"I'm really obsessed with statement lighting. I go crazy with lamps—the right light creates ambiance, and can completely transform a space space. I love floor lamps, sconces, table lamps...If you can't install sconces, go for a really beautiful shaded lamp. My favorite place to buy them is Phoenix Gallery in Manhattan. They specialize in rock and quartz crystal lighting. It's a big ticket item, but makes a huge difference. A more affordable option is Thomas O'Brien's collection for Visual Comfort. The lamps are beautiful, and they're a little more reasonably priced."
3.
Reupholstering & Refinishing
"I'm a junkie for reupholstering! If you want to make a quick change but keep your furniture, you can reupholster it or refinish It. I'm a big believer in keeping what you have and transforming it, or even if you find something vintage or at a flea market you can get it recovered and make it look great. I'm obsessed with textiles and fabrics, and this is a great way to bring them into your home. It doesn't even have to be anything complicated, just having your furniture repainted can make a huge difference to the things you already own."
"I love candles; I'm also a junkie for fragrance [laughs]. Candles add decoration, but also help to create an immersive experience in a room. I'm really into creating a rich environment, and florals also can also help and will really transform a room. I'm into getting arrangements rather than one single type of flower, but I also love decorating with branches. A lot of florists will carry different types of branches throughout the year, and they can very be dramatic, especially in a small space."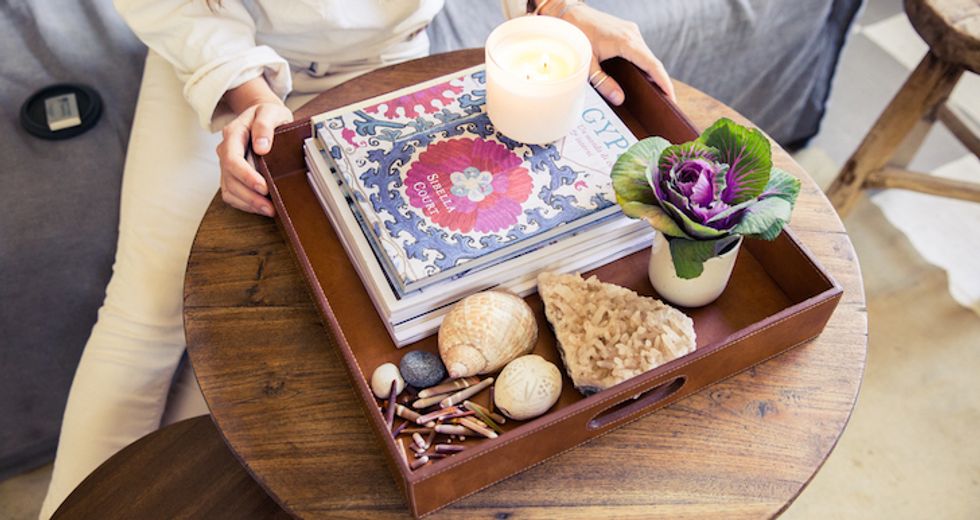 "Trays are really great items, I love big lacquered trays, and I use them a lot to help organize clutter, and to help compartmentalize things and help everything look neater."
"Sometimes I use coffee table books like trays—I like stacking them, and then arranging objects on top of them like trays. I also use them as surfaces and put candles, or flower arrangements on the. I have my own book, and love to use that as well!"
In need of more space-transforming coffee table books (not to mention endless style inspiration)? We've got you. We've also got a book! Pre-order The Coveteur: Private Spaces, Personal Style starting today. Consider it an investment for your future self's happiness, and your apartment's future chicness.