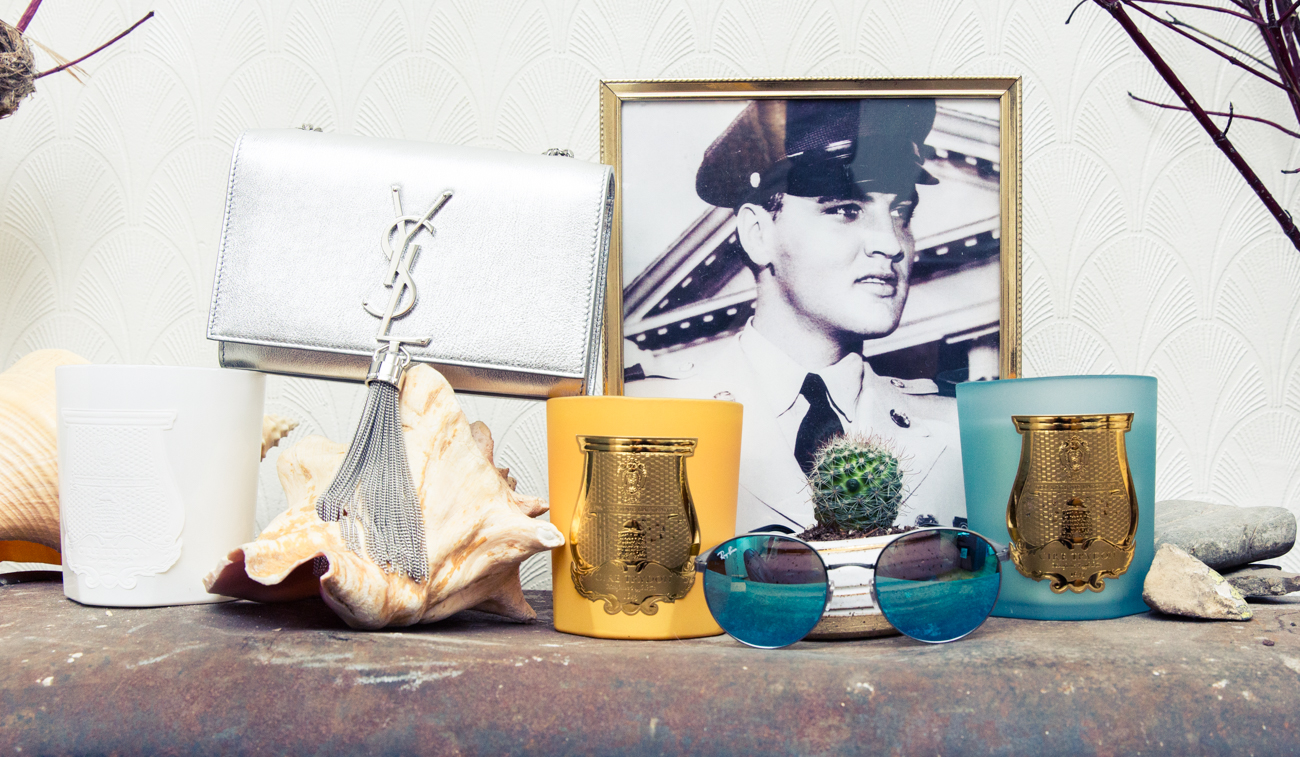 Editors' Picks: Our Spring Splurges
If our credit card bills could talk.
We're beginning to notice a pattern in our spending habits. There's the Friday treat (payday) and the January impulse buy (winter blues), and then there's the change of seasons (which, full disclosure, usually leaves quite a mark on our Amex statements). But, in our defense, we can't help ourselves! With spring cleaning comes a hole in our wardrobe that must be filled immediately. And thus begins the justification game: Like, how we really need to replace our worn-out Zara denim with all-over-sequin pants (in maroon!), our dried-up drugstore sunscreen with an antioxidant-packed serum version and old backpacks with more grown-up YSL totes. And, perhaps the most spring-ish of all, some fresh, new white sneakers. The bonus? The songs we're listening to while going through the keep, donate, toss routine. Spring cleaning at its finest.
Meagan Wilson
Senior Editor
1. 'Ultralight Beam' by Kanye West: Currently on repeat.
2. Maybelline's Brow Drama Pomade Crayon: As someone who's a little fatigued by all the recent hubbub around brows, I'd kind of abandoned dealing with them on a daily basis unless I had copious time to get ready. Something about filling them in with a skinny little crayon suddenly felt tedious, you know? Then I bought this on impulse at a random CVS in L.A. recently. Maybe it was Gigi and Jourdan's brows beaming down at me from the display, but I fell hook, line, and sinker for this thing. I bought it one shade lighter than usual (blonde), which really makes all the difference in avoiding that scary, obviously-drawn-on Instagram eyebrow thing. Plus, just running the tip over your brows fills in and keeps hairs in order all in one motion. Into it.
3. Superga XO Jennifer Meyer sneakers: Have you ever seen something so perfect? I'm planning on living in these all spring long.
4. American Crime Story: The People v. O.J. Simpson: There's not much I can say about this show that hasn't been said, but if you haven't been following along (it's one of the rare few shows I've been making a point to watch every week rather than just binge-watching at the end), get on it, ASAP.
5. Ana Khouri ear cuff: The things I would do to have this little guy hang out on my ear. 
Laurel Pantin
Editorial Director
1. Drunk Elephant T.L.C. Framboos Glycolic Night Serum: Maybe I made this up, but I feel like someone told me you shouldn't make multiple major changes in your life all at once. Did I listen? No. I had a milestone birthday, started my dream job (hi, Coveteur team!) and am getting married—all in the span of six weeks. Inwardly, I'm overjoyed, overwhelmed with happiness, radiating joy! Outwardly, I'm exhausted, stiff from wedding workouts and my skin is freaking out. I've tried everything to curb my breakouts, but the only thing that seems to be happening is Drunk Elephant. Of the six products I've tried, I love all of them, but the exfoliating night serum is my fave.
2. Tory Burch sandals: The first thing I've picked up on my honeymoon shopping list is this pair of sleek sandals. A minimalist I am not, but I appreciate a pair of grown-up sandals and their ability to help tone down an otherwise OTT outfit. 
3. Tibi culottes: The previously mentioned OTT outfit? It includes these sequined culottes. How chic will these look with my fun new sandals? 
4. Staedtler Triplus Pens: As I started to decorate my new desk, the first thing I brought out is my obsessively organized rainbow-colored pen set, which I use to obsessively color-code my notes.
5. Love + Radio podcast: I'm probably really late to this, but my brother introduced me to Love + Radio podcast, and I. Can't. Stop. I walk the half-hour from my apartment to work every morning, and the stories are so interesting I usually don't want my walk to end!
Noah Lehava
Senior Editor
1. iPhone SE: My iPhone 5 has been through a lot—three years of hell, I suspect it would say, if a piece of technology could. Finally, after dropping it twice in one weekend (just to be clear, it's probably been dropped 100+ times during its life with me), the screen finally cracked. That, I can live with, but—and maybe this is because I totally read into iPhone conspiracy theories—I just upgraded the software and it started freaking the eff out. As in, it freezes all the time and drops calls, and I fear that on the day when I finally decide to shut it off, it will never turn on again. And, guys, the saddest part: I don't think it will make it until the iPhone 7 rolls out. So, alas, I'll likely be getting the newest iteration of the 6 very, very soon.
2. Filles à Papa skirt: Our e-comm manager, Kelly, sits riiiiight beside me. So we occasionally break to creep on what the other is working on. Hers, well, it always involves some insanely cool product like this amazing skirt she showed me literally two minutes ago. NEED.
3.Caudalie massage: If you watched the season finale of The Walking Dead, you get it.
4. Saint Laurent bag: I've been wearing a backpack to work for three years now. And while it's leather and a bit more grown-up, I still sometimes feel like I'm going to school while wearing it. Plus, it's not all that approps if I have to go for a nice dinner post-work. So a bag that's big enough to throw my laptop in is something that's been on my to-do list for a few weeks now. This one is perfect!
5. Trind Keratin Nail Treatment: Don't let the packaging fool you—the liquid inside is worth its weight in gold, IMO. It's the only thing that's saved my nails.
Emily Ramshaw
Senior Editor
1. Manu Atelier bag: I thought I didn't need another cross-body bag, and then Manu Atelier walked into my life. Plus, I don't have a navy bag yet. So, definitely necessary on all fronts.
2. A Little Life: Angsty-yet-intellectual college grads attempting real life—this book is right up my alley.
3. Jo Malone London Blackberry & Bay: Someone told me this week that whenever they wear this fragrance they get compliments from all sides. We'll see if it's just her.
4. Frankel's: This place just opened up across the street from me. Smoked salmon and endless bagels, and I might even be able to get away with fetching the goodies in my pyjamas. Win, win, win.
5. Anti by Rihanna: I'm still listening to this album on repeat. And last weekend, when I was cleaning out the last corners of my Toronto apartment, it did me good. An antidote to chore boredom—pun totally intended.
1. Saint Laurent bag: This may sound ridiculous, but you know how your mental wish list can be full but then your birthday rolls around and everyone asks what you want and you have zero answers? Yeah, that's me right about now. At the moment, this YSL bag seems appropriate because it's covered in stars and I can't justify buying it at all. Totally open to other suggestions though, because I'm completely embracing a "forget your fuck-off fund and buy the bag" mentality for my entire birthday month.
2. "With Her" by Banoffee: I saw Martha Brown (aka Banoffee) perform in Melbourne, and now listening to her album back stateside has me feeling all the feels. Perfect addition to your wish-I-was-sitting-on-a-stretch-of-sand playlist.
3. Supergoop! City Sunscreen Serum: So if you follow us on Snapchat, you'll know I recently Fraxel-ed my entire face (which was real scary, but stay tuned for the whole breakdown). It sufficiently erased my freckles and a forehead scar I had, which in turn has me seriously obsessive about sunscreen again. This one is key: lightweight *and* anti-aging. Bam.
4. Marni dress: New York City may be freezing again (but really, why??), but the end is so near I can just picture this floral ruffle dress and long walks to work sans coats.
5. Where to eat pizza: Okay. Let's talk about this. Or do we even need to? It's a guide to the best slices around the world. Which, if I'm being honest, is really the only food I care about.