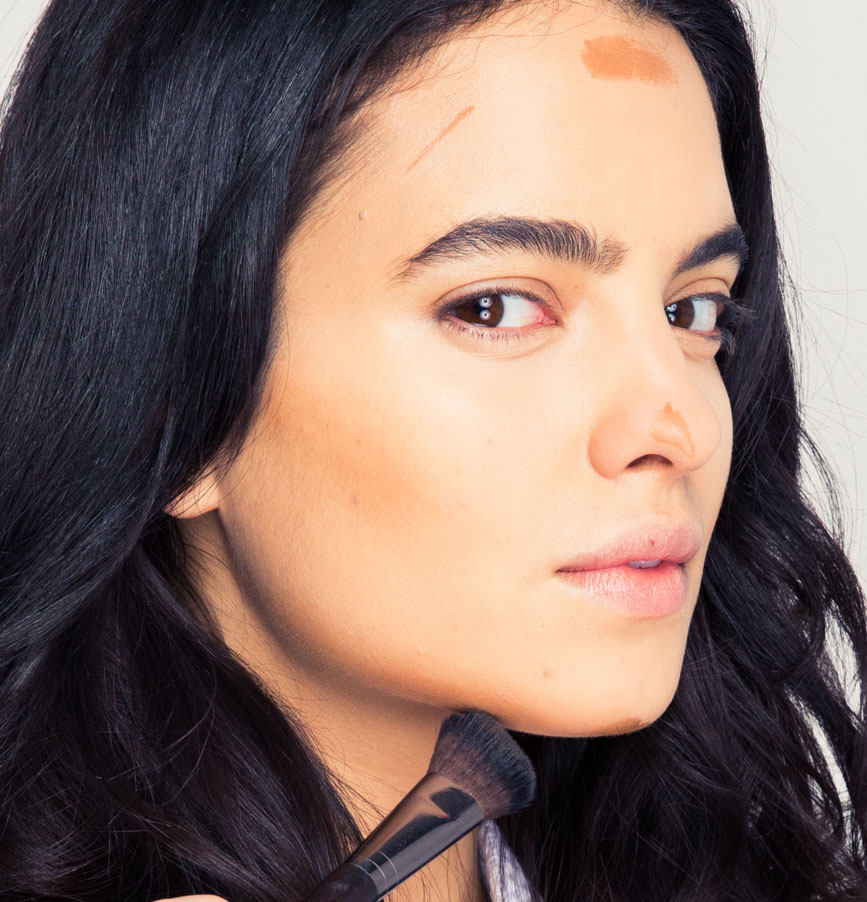 Makeup Artists' Favorite Contour, Highlight, Blush & Bronzers
A handful of pros share their (and soon to be your) favorites for every skin tone.
It's spring. And just like a woodland creature waking from hibernation, for us, it can take a little getting used to—and occasionally it shows. As in, we'll wake up and feel incredibly haggard. The cold weather and short days just do something to you, and it's not pretty. The easiest solution that (unfortunately) doesn't involve a stretch of time day-drinking in Tulum to get re-acclimated? Things that go on your face—or, more accurately, some form of blush, bronzer, contour or highlighter. So we tasked five makeup artists (Robin Black of Beauty is Boring, Huda Kattan, Harper, Tasha Brown and Wayne Goss) with sharing their favorites for every skin tone. We suggest you get thee to the closest Sephora, stat. 
"General rule for all skin tones: Shadows push and highlights pull. Keep this in mind when applying contour and highlight. Contour should sit just under your cheekbone and highlight should sit just above. Highlighter is also amazing on other parts of the face where the sun would naturally hit. You can also use highlight and contour as a corrective means. Blush should be placed where you would naturally flush on the apples of the cheeks and blended slightly back. Look for shades that mimic your natural flush." - Tasha Brown
"I believe you can mix many products, as long as you watch your pressure when applying and blend, blend, blend!" - Harper
"I think it's always important to make sure that the undertones go well together. If I want to use something that's warm, I'm going to go for warmer colors in the products I use. If I'm going to do a cooler eye, I may go for a blush which has a bit more coolness in the undertones. It's just important to make sure everything has the same type of family." – Huda Kattan
"When applying, I tend to prefer to use highlighter first, then bronzer, then blush. The reason for this is that I like the highlighter to blend more beautifully into the bronzer and blusher, rather than just sitting on the skin causing 'extreme strobing.'" - Wayne Goss
"I am hooked on Le Blush Crème de Chanel in Chamade—it's this intense, warm pink shade. It looks really bright in the package, but when blended it leaves a gorgeous flush that works on many skin tones. The cream formula is very smooth and has great lasting power.
There are too many great colors of NARS blush for me to name them all, but Exhibit A (amazing on super-dark skin tones), Mata Hari (great for medium tones), Taos (looks good on everyone), Liberté (no, it doesn't look orange on the skin) and Deep Throat (my go-to for fair skin) all have permanent homes in my studio.
Dior Blush in 889 New Red is vibrant and easy to blend. This bright coral red is surprisingly natural-looking on the skin. It gives a gorgeous pop of color to fair through medium complexions.
Tata Harper in Very Popular is 100% natural, non-toxic and easy to apply. It's a lip-and-cheek tint that adds a warm rose glow to the skin and looks great on a wide range of skin tones. It's easy to blend and I always have one tucked away in my bag. It's perfect for a mid-day touch-up or a Sunday brunch.
Charlotte Tilbury Cheek to Chic in The Climax is a duo of peachy coral and warm bronze shades. This cheek color compact gives an instant youthful glow to the face. I apply the bronze shade under the cheekbones and the coral on the apples of the cheeks, then I blend them together for an ideal flush. This duo comes in six shades that suit fair through medium/dark skin tones." - Robin Black
"Chanel's Soleil Tan De Chanel Bronzing Makeup Base is a classic bronzer that's best on fair to medium skin tones. The creamy formula can be used as a subtle tan on the whole face, as a gorgeous summer cheek color or even smudged on eyelids.
Tom Ford Bronzing Primer is for if you want an instant dewy, been-in-Ibiza-for-the-past-month look. Best of all, it does double duty as an all-over bronzer and primer. It's part of the Soleil Collection for S/S 2016, and the peachy-golden shade works on most skin tones (very fair and very deep might have issues).
No list of top bronzers would be complete without Guerlain Terracotta Bronzing Powder in 08 Ebony. Luminous and lightweight, this velvety powder gives the illusion of a week spent on a tropical island and it comes in shades that range from pale to dark. The #08 Ebony works wonders on deeper skin shades—it has a reddish undertone that creates a natural sun-kissed look." - RB
"My favorite bronzer of all time is the Little Black Book by Too Faced. It has around eight to nine different colors. It is fantastic, as it has a color that can work for all skin tones. This can be taken everywhere, and it's a great palette to keep with you. I am a big fan of palettes." - HK
"I prefer matte bronzers, so I tend to use Bobbi Brown's. They look really realistic!" - WG
"I've only recently started using Burberry's handy Face Contour Pen, and I am addicted. It makes contouring quick and easy—you don't even need a brush. Just draw it on and blend it in. I prefer the Dark 02 shade, even on pale skin, because I find the Medium 01 to have a bit too much orange.
NARS' Casino Bronzing Powder is a rich bronze shade of this finely milled powder and has a subtle golden shimmer, making it perfect for medium to dark skin tones. Ideal for creating a natural-looking contour or an all-over faux tan, it's my personal go-to." - RB
"Burberry Fresh Glow Highlighting Pen is the companion product to Burberry's Face Contour Pen—this product makes applying highlighter a snap. I throw it in my bag for touch-ups during the day, and it's one of the products that the models always want to take home.
RMS Living Luminizer is a sheer, pearly highlighter that instantly creates the look of glowing, luminous skin. Plus, it's an organic product with ingredients like coconut oil and rosemary extract so you can feel good about dabbing it on repeatedly throughout the day.
I have a very specific way of applying NARS Illuminator. Once I have finished doing the makeup, I rub a small amount of this light-reflecting liquid into my palms and then place them gently on the model's face. This gives a subtle shimmer to all the high points of the face without moving the makeup under it. It comes in six shades, so this illuminator works for just about every skin tone." – RB
"Hourglass has an Ambient Lighting Powder in six shades that will work with every skin tone. It highlights while it reflects light to blur skin imperfections." - H
"If you prefer to have your contour and highlighter in a set, then Charlotte Tilbury's Filmstar Killer Cheekbones is brilliant. It comes in two shades: one for fair to medium skin tones and another for medium to dark skin tones. The contour colors also work perfectly as bronzer.
Tom Ford's Shade & Illuminate is another cult product. This extremely dewy contour/bronzer/highlighter is basically supermodel skin in a chic compact. I tend to use Intensity Two on just about everyone because although it's deep enough for darker skin tones, it's so sheer that you can also blend it down for a subtle look on fair skin.
NARS Contour Blush is ideal for anyone who doesn't like a strong blush color but wants definition around their cheekbones. The duo compact includes a deeper shade for contour and then a pale shade that is meant to be used as a sort of highlighter/blush combo. It comes in three shades so it works for fair to medium dark skin tones." – RB