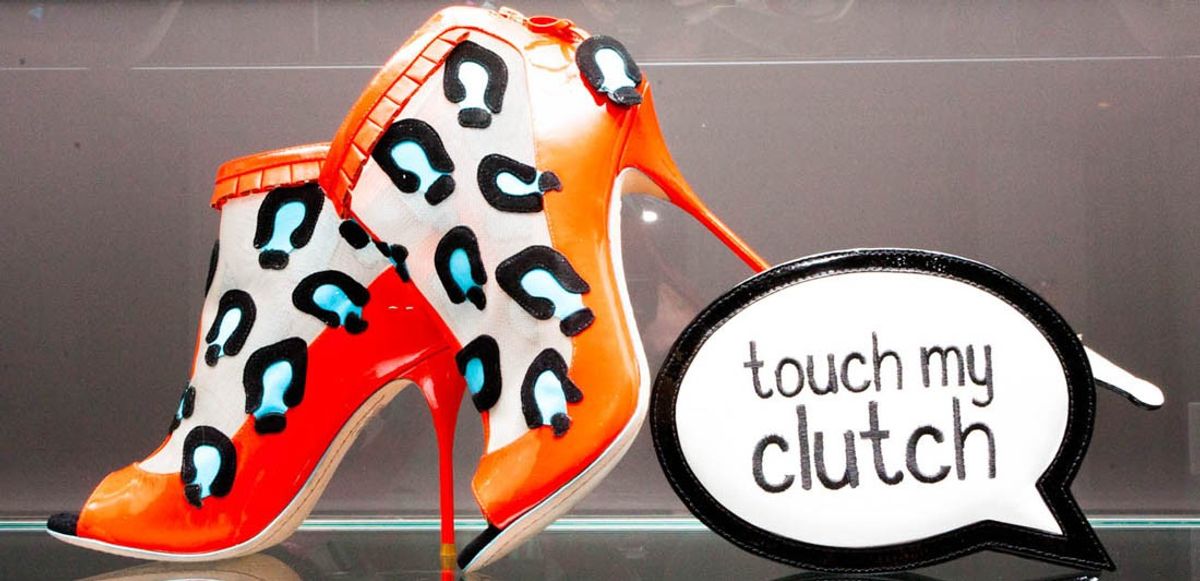 Fashion
...and how you can shop 'em, too.
Impulse purchases happen to the very best of us. But factor in generous discounts, gifting and a certain pressure (ahem, fashion week), to constantly be in head-to-toe new new, and chances are that your "to toss" pile during spring cleaning season is a whole lot more intimidating if you work as an editor or stylist. And so when word (or more accurately, email) got out that a handful of Cov-alums and industry pals were doing just that (and ahem, selling everything over at The RealReal), you know we had to be the first to find out exactly what's up for grabs (if anyone asks, we're strategizing for our own major clean-out, k?).
(PS: thinking about doing the same? Hit up The RealReal here.)
---
Stephanie Mark
The Coveteur
"I am consigning my beloved Christopher Kane dress with the cosmic skirt. I LOVED that dress and wore it to so many special events. Unfortunately, the skirt is a bit short for me now and I haven't worn it in a couple of years. I think someone else would wear it and enjoy it and I also get to make room for something new!"
"I am consigning a pair of Sergio Rossi over the knee boots. My sister calls these my 'vagina boots' because they go up that high. Listen, I love love love these boots, but over the years I have amassed so many over the knee boots that these have been getting less and less wear. They are still amazing and in great condition so someone that doesn't own five pairs of over the knee boots should probably own these. Look! In every one of these photos I am wearing an over the knee boot. I have a problem!"
Laurel Pantin
The Coveteur
"I'm consigning a pair of Sophia Webster heels, which I love, but sadly, don't fit. I'm not great in heels, so it's time for me to part with a few pairs to make way for more fun flats."
"I was obsessed with the Jimmy Choo Anouk heels when they first launched and I had to have them, in a gorgeous turquoise suede. They make your legs look a mile long. But I can't run for a taxi in them. And that's just not sexy."
Celine Kaplan
Celine Kaplan PR
"I am saying good bye to my first ever Céline bag. I bought it years ago when Michael Kors was in charge and was all the rage. It's a vintage beauty, I loved it so much, it was my trophy bag; but like past relationships, I need to move on and hope it will find a new home where it is loved and cared for. It's not the bag, it's me. I have accessory ADD."
Ruthie Friedlander
ELLE Magazine
"This Kate Spade kitty cat bag is absolutely the cutest thing in the world. So cute that I received it as a gift from two different people. I can't be selfish."
"I'm consigning my Louis Vuitton monogrammed wallet and agenda cover. They were the first luxury items I ever received and were a gift from my parents after begging for something Vuitton. For a while they reminded me of the sacrifices my parents made to give me all the things I ever wanted, no matter how unreasonable my dreams and desires were. I know they have saved up to buy those items, so for over 10 years I've had them sitting in a drawer. I want someone else to feel how happy I felt when I first got them. I did, however, keep the bag I got to go with it. I'll cherish that LV bowling bag for a lifetime."
Us, and some of the most stylish women in all of New York. You see, they're cleaning out their closets—and they need your help taking a few things off their hands. You can do that, right? Thought so. Especially when you have a $1000 to aide you in the cause of snapping up new-to-you CHANEL. It could be you: just enter your email for a chance to win and it could be you.