Career
Our career advice oracle talks LinkedIn, pet peeves & whether you should lie about Photoshop skills on your resumé.
There's a scene from Legally Blonde that's impossible to not conjure up whilst working on your resume: Elle Woods spritzes her CV (printed on pink paper, because duh) with perfume. While we've never quite pushed things that far, we're pretty sure everyone feels their IRL selves and their quote-unquote professional selves being increasingly conflated, especially in creative industries: is your Instagram supposed to serve as a brag board for your professional accomplishments? Is your Tumblr really just a portfolio? If you tweet that, is the hiring manager for your dream job going to cross you right off their list?
---
Loizides breaks down how your resume should differ from your LinkedIn, self-censoring on social media and why you should think twice before attaching that headshot to your CV.
When Lydia Loizides, founder and CEO of Talentedly, the subscription-based service that helps the masses get their professional sh*t together, mentioned she runs a regular resume reboot program, our interest was piqued—for admittedly selfish reasons. We'd be lying if we said the aforementioned questions haven't run through our brains during the occasional social media purge, and we figured we likely weren't alone. As Loizides explained to us over the phone, "Your resume shouldn't be something you work on when you are out of a job. A resume is something that is a living, breathing document that you pay attention to all the time. It's really scary when you're out of work; it's overwhelming and can be daunting. When you're in a job that you're not happy with, your energy is low and you're struggling to get through the day; you're generally not in the mindset to sit down and objectively build something that is really strong. If you get your resume to that place; how much more confident are you going to feel applying on a whim to that job that you saw?" Point taken. Here, Loizides breaks down how your resume should differ from your LinkedIn, self-censoring on social media and why you should think twice before attaching that headshot to your CV.
ON THE FIRST THING EMPLOYERS LOOK FOR IN THAT INITIAL E-MAIL:
"One of the things that a hiring manager is going to look for right off the back are the basics—do you have spelling mistakes? Are there grammar errors? That's one of the first things people look for and it's going to be one of the first things people notice. It's really important to tackle that stuff. Get your mom, get a friend, get a teacher—I don't care who you get, but get someone to read that resume first before you send it anywhere. You need an editorial buddy."
ON TAILORING YOUR RESUME FOR THAT GLAMOROUS FANTASY JOB OVERSEAS:
"Most employers will post the eligibility requirements in the job description, meaning its only open to current citizens or certain status holders. If specifically the job posting is somewhere where they don't have that information, the best place to address that is actually in the cover letter. Stating that upfront, 'I'm a so-and-so citizen' or' I have status to be able to work in the country', that's the easiest place to put that in; so you don't keep that in the standard resume you're going to submit."
ON THE PORTFOLIO VERSUS THE RESUME & DIGITIZING THEM BOTH:
"Being able to combine both the portfolio as well as the standard resume is critically important in creative industries. Driving the reader to your online CV or to your online portfolio is a great way to showcase that. Being able to push them somewhere where they can see visual representation of the work you've done is critically important. What you want to highlight, for example, if you did a shoot for ELLE, or worked for major brands or retailers, you can list those inside the resume document itself. Then provide links to an online portfolio where you can showcase, visually, what it is that you helped to create or what it was that you participated in. There's many great tools now to build a website in literally minutes, so there's really no excuse not to have that. You can use Instagram if you want to, if your Instagram feed is properly formatted. You can use Instagram, Tumblr, Wix, Square; a lot of different really wonderful tools to visibly represent the work you've been able to create."
ON INCLUDING SOCIAL HANDLES ON YOUR RESUME:
"There really is no separation between that old school, standard paper resume and your social media channels. Your social media channels are a reflection of your professional self. Understand that every single recruiter and hiring manager is mostly likely going to check your LinkedIn profile, is going to look you up on Twitter and Facebook. Over 80% of all hiring managers will do that right off the bat, and they're going to make a judgment about what kind of person you are and what your capabilities are based on that. You can include it [on your resume], but make sure if you do, there's no pictures, no comments or statements that's going to cause someone to go, 'hmm, I don't know if that's the right person for the job'."
ON WHETHER TO SELF-CENSOR OR NOT SELF-CENSOR ON SOCIAL:
"There's no way for you, as a job-seeker, to know the personality of the person who is reading your resume. Be true to you. If you are politically active in an organization of if you have political views or if you link to an article that potentially has a divisive position, think about tweeting it or maybe think about positioning it as 'this is an interesting take on a really hot topic.' You're not taking sides, but you're talking about the debate from the standpoint of, 'let's have a conversation lets not necessarily pick sides.' I always use this example: if you're a vegetarian and you're applying to Oscar Meyer, then that's going to be an inherent moral conflict. You can't work for a company, nor should you want to work for a company that goes against your core values and your core values are often reflected in the causes you support."
ON SETTLING THE PAGE NUMBER DEBATE ONCE AND FOR ALL:
"For individuals who are early on in their careers, up to three years, do include those internships, do include projects, events, anything you worked on in college, any extra curricular activities, as part of that resume. Try to keep to about a single page that includes both your personal summary, your statement at the top, your experience in the centre and then you can list your education or causes you support at the bottom. Once you start to move into the 4-8 year range, that's where you can start to move from a single page to a second page. Once you've reached the 8 year mark, take the internships and things you did in college off the table and just focus on the core, primary positions that you held."
ON HOW LINKEDIN CHANGED THE RESUME GAME:
"You can really use LinkedIn as a portfolio. There's no excuse for you not to do a ton of customization; you can upload documents, presentations, images. There are really specific things you can do with LinkedIn in terms of putting the right words and keywords, making sure that you're updating and driving traffic to your resume. You as a user see the profile, but the backend of LinkedIn is this huge search engine that hiring managers and recruiters are using to find candidates. The same way you would use a search engine to search for information, they're using LinkedIn to search for you. Taking the time and effort to explain is going to help your profile come to the top of those search results."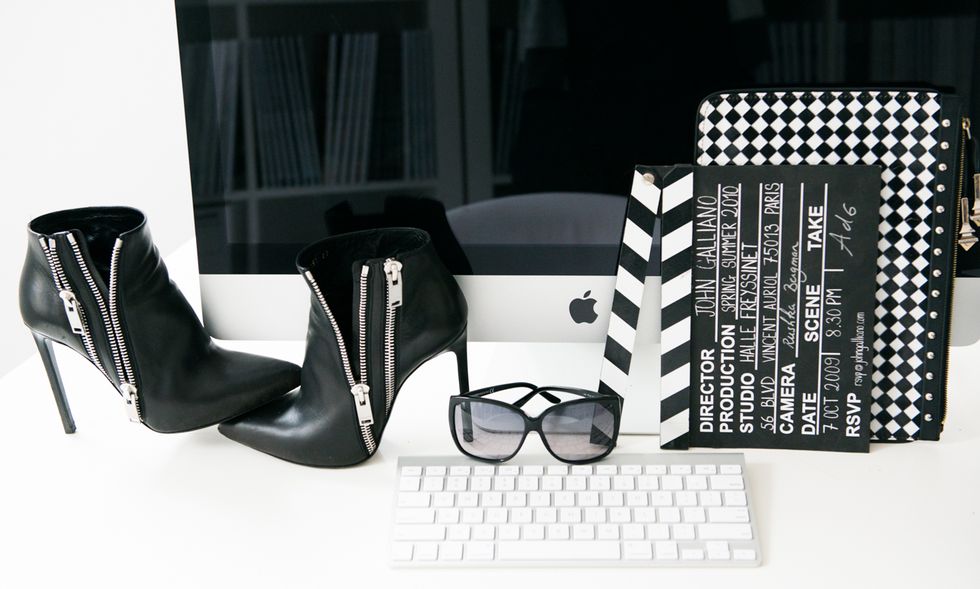 ON WHY THOSE BUTTERFLY GRAPHICS PROBABLY AREN'T A GREAT IDEA:
"It's less about the design and more about the function. Use the paper version of your resume as something to focus on your hard skills, by which I mean how many people were on the project, did you come in under budget, what was the budget, talk metrics, data... the stuff that is related to hard skills associated with the creative process. Then, use your online portfolio to show the output, the work."
ON EVERY EMPLOYER'S RESUME PET PEEVES:
"No Hello Kitty paper, never do that! One of the things we have found through research and talking to recruiters, is consistency. Make it consistent. Think about your reader, don't introduce font changes; if you're going to list it by title and city and year, make that consistent through every single job you list. Make it easy for the reader to very quickly find the information that they are looking for. To invite you to the next step. Think of your resume as a book, or as a story, be respectful to your reader and make it easy for them to find info by making the information presentation consistent. It's my biggest pet peeve."
OBJECTIVES ON RESUMES: YES OR NO?
"Yes, with the caveat of, [make it] less about getting the job but describing the job that you want: "my objective is to find a position in marketing in a forward thinking fashion startup". I think that's very different than saying I want to work in marketing. Get specific. Make sure that when you send that, you're actually sending it to a forward thinking fashion startup. Be clear about your intentions."
'ABOUT' SECTIONS: YES OR NO?
"No, don't care."
WHITE LIES ON RESUMES: YES OR NO?
"NO! No! No! No! There's no way you're not going to get caught. There's no way in the digital age that is today, with our entire lives on social media, you're not going to get caught. It's the second most reason as to why people get fired. No! 
...BUT WHAT ABOUT PHOTOSHOP?
"And when you sit down at your desk and you don't know what you're doing, then what? No, no, no, no!"
PHOTOS ON RESUMES: YES OR NO?
"No! That's what LinkedIn is for. With LinkedIn your profile is 76% more likely to viewed if you have a profile picture than if you don't."