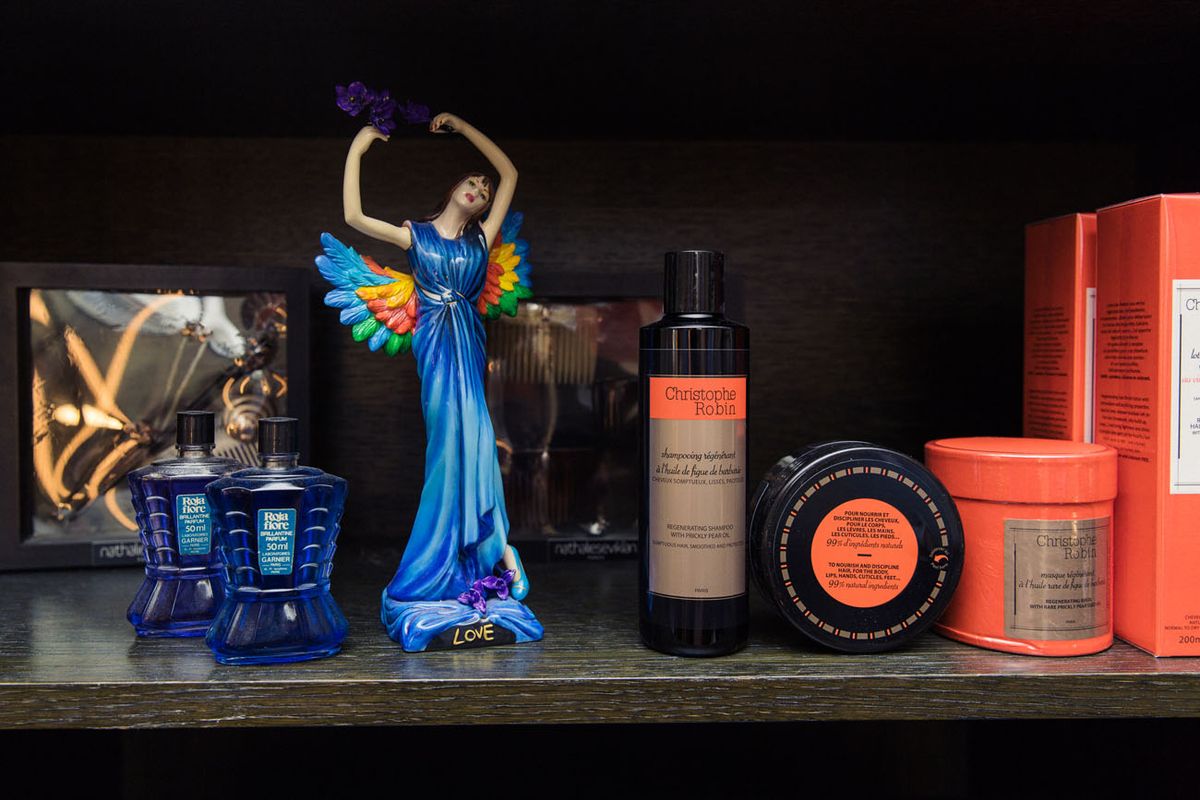 Makeup
Colorist Christophe Robin talks '90s supermodels & bottling his magic so you can get the look at home.
Leslie Kirchhoff
Ever envied the kind of immaculately highlighted, champagne blonde or impossibly rich and multi-tonal brunette that usually comes with a lilting accent and French passport in hand? "Yes," said every woman ever. "But how do we get it? Where did it even come from?" Two words: Christophe Robin.
It's true: Robin is the kind of industry legend who you can actually attribute entire beauty movements to—he's more or less the man when it comes to effortlessly French with a capital F hair. His client list ranges from Catherine Deneuve to Kristen McMenamy, Tilda Swinton, Jane Fonda, Linda Evangelista and then some; and his salon calls Le Meurice home. Not bad for a colorist hailing from a village of less than 200, huh? 
---
WHEN HE KNEW HE WANTED TO WORK IN THE BEAUTY INDUSTRY:
"I grew up in a little village of 150 people in the middle of nowhere. You had to drive 60 kilometers to get to a hair salon, so my mother used to join her friend on Sunday mornings. She'd color her hair from the same boxes that I do now for L'Oreal Paris, actually [laughs]. I was amazed and enchanted by the transformation. You know, I didn't come to the land of the beauty industry knowing that for sure I wanted to be a hair colorist. At first, I wanted to be a hairdresser but when I started at 13 years old, the lady I started with told me, 'you should be a colorist, there are just a few, but there are tons of good stylists.'"
HIS FIRST JOB (& BIG CELEBRITY BREAK):
"My first job when I was 14, as an apprentice in the closest city to the countryside where I grew up. Afterwards, I left to a bigger town called Troyes, which is in the Champagne-Ardenne area and I worked for three days at Jean Louis David. He was gaining popularity at the time. It was very different over there, because the salon where I was an apprentice was artisanal, and she'd have a lot of friends, taking good care of their hair—otherwise, she told me, you will never be an ultra beautiful colorist if you don't take good care of the quality of their hair. That sort of changed when I arrived at Jean Louis David because the thing was to be quick, fast, to not use a lot of product. That was very different for me, but right away I moved to Paris and then worked for Jean Louis David Paris, as a trainer.
At the same time I was doing that—I was 17 years old—someone from the salon called me on the shoot with Stephanie Seymour. He said to me, 'her hair is not shiny, you should color her hair, make it more shiny and alive.' It was the beginning of all of the top models—Tatjana Patitz, Claudia Schiffer—all of them used to have their natural hair color. So I did Stephanie Seymour's hair, she loved it and afterwards she talked to Elle Macpherson, and after she talked to the other girls… then I was doing all of these girls."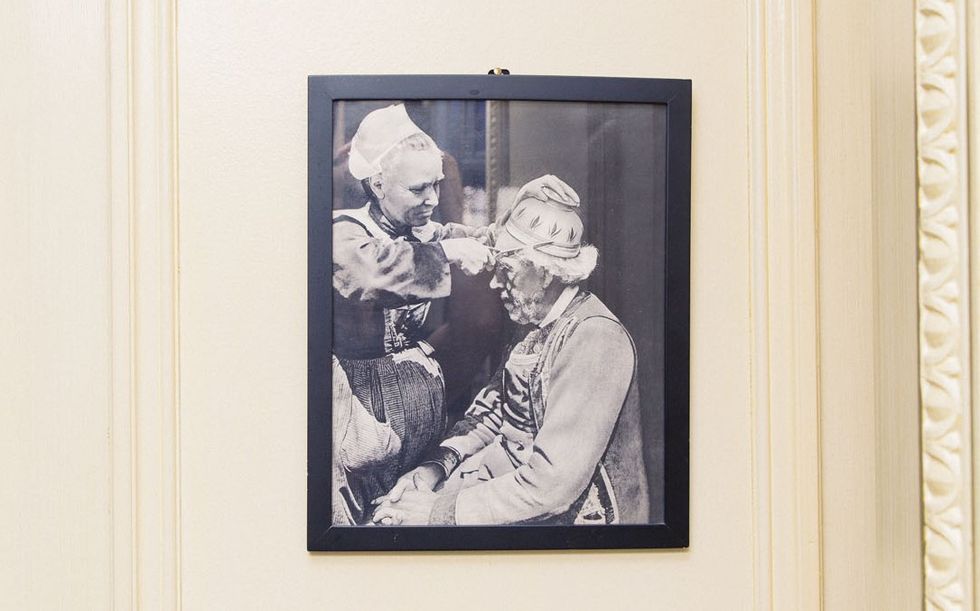 HIS FAVORITE CLIENT:
"If there's model that I adore, it's Kristen McMenamy. We've done every kind of color, from red to black, from blonde to strawberry, from black roots, yellow ends… everything!"
OPENING HIS FIRST SALON AT 24 (!):
"When I first opened my salon, I was 24. No, [It wasn't intimidating] because I'd been working for ten years already. I didn't think that it was fast, but [in retrospect], it was so quick. I was just working in fashion like crazy: all day and all nights, all the shows. It was a crazy time for fashion. Karen Mulder, Catherine Deneuve and all of the industry came to the salon."
HOW HE LAUNCHED HIS OWN (INCREDIBLE) EPONYMOUS PRODUCT LINE:
When I first started my salon, I had to do so many color changes on the models—at the time, three colorings a week—and I was scared to ruin their hair. There was a lot of product on the market for dry hair, but not too much for colored hair. So 20, 30 years ago, I did one of the first moisturizing hair oils with lavender, and one of the first cleansing masks. The first Lavender Oil and Cleansing Mask with Lemon is still my best seller. So those two products, I laid them out right at the beginning of the salon because I needed them."
WHAT WAS IMPORTANT FOR HIM IN LAUNCHING HIS OWN BRAND:
"At first the product was just to serve my own use, my ambition was not to sell it around. And then Colette, which is a trendy, perfect store in Paris, close to my salon, loved the product and wanted it in their stores. They still carry the brand to the day actually and we are one of the best sellers."
HIS AVERAGE WORKDAY:
"Everyday is different; everyday is really different. Usually I start the day, I try to sort through my email. I work on [my] product company, and then I work for L'Oreal Paris, too, you know for 12 years, so I have some work to do for them that I do very early in the morning. Then, usually at 10 A.M., I go to the salon."
WHY HE'LL NEVER BRANCH OUT INTO STYLING PRODUCTS & USING HIS OSCAR-WINNING CLIENTS AS GUINEA PIGS:
"It's true that my product was made by a colorist, not by a hair stylist. I'm not creating styling products for my brand because I can't do it. I just can't do it, because all the alcohol and everything else you have to put in styling products. I don't like it for the scalp, I don't like it for the hair color. It doesn't feel brand new, you know? My line is more technical, but it works. It makes the color last much longer, especially on an actress who's going to have to keep the same color for three months. I test the product on them, because I need something that's not going to weigh down their hair, something that's going to keep the shine, something that is going to keep their hair clean. If she's an actress, she doesn't wash her hair everyday; it's too much trouble for her, or maybe she has to be on set at 6 o'clock in the morning. She doesn't want to have to wash her hair and waste half an hour. What I like do is try to keep the color longer, keep their hair clean for longer and to keep the best quality of hair. It's the same thing as makeup you know? You can have the best makeup, but if you don't take care of your skin, the best makeup won't last."
THE DAILY ESSENTIALS YOU'LL FIND IN HIS KIT AT ANY TIME:
"Those two products I first started with: Moisturizing Hair Oil with Lavender and Cleansing Mask with Lemon. I can't not have them. The lavender oil to prepare the hair before coloring, and the cleansing mask with lemon after coloring. It's so good, because it's locking the moisture inside their hair. Even the most powerfully destroyed hair will feel better after that."
THE MOST CHALLENGING MOMENTS OF HIS CAREER:
"Everyday is a challenge, especially when you have a reputation. People expect so much out of you. Whether it's a big movie production, or a problem on set and the manager comes and you have to phone the producer right away. I'm always networking with people. When you meet people, you speak to them and really try to understand who they are, what they like, what they want. The challenges would be to get the team together, because we have a big team now. You know, sometimes you're moody or you're tired, but you can't be—as soon as you walk in, you have to be in the best mood! You know that if you're not in a good mood, then everyone is going to be in a bad mood."