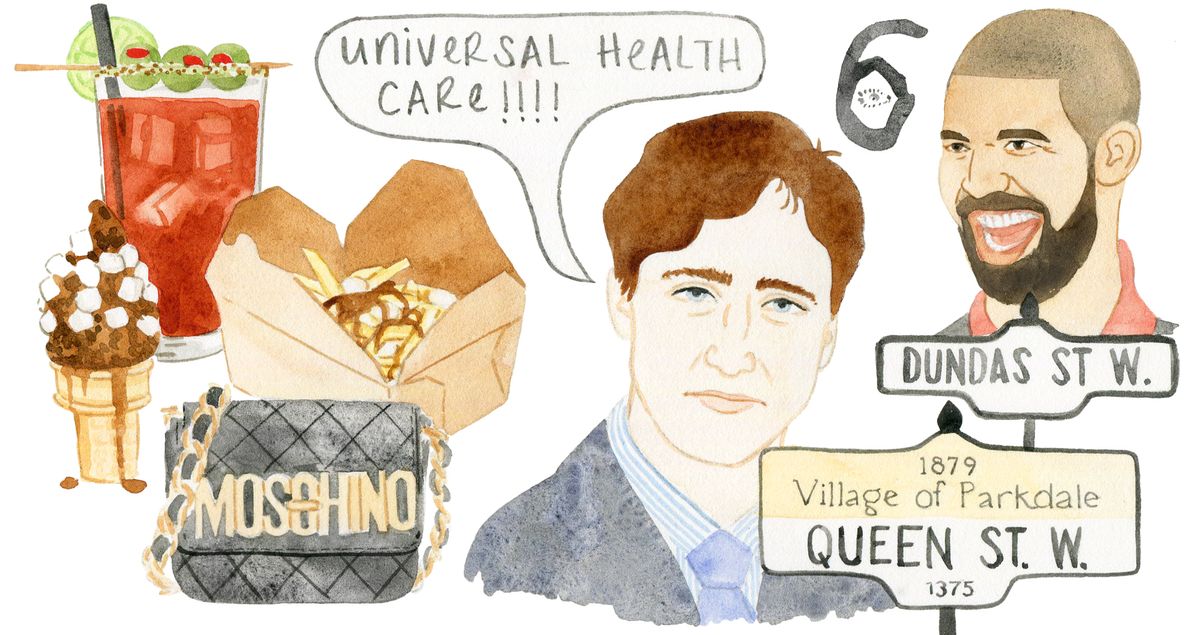 Travel
Open in case of emergency (you know, like if a certain someone is elected president).
Illustration
Meghann Stephenson
By now, you've probably heard trumpetings (pun intended, always) of the mass exodus going down if a certain presidential candidate and his Golden-Girls coif take the Oval Office.

At least according to Google, Trump's recent status update from full-time billionaire caricature to legitimate maybe-president has Americans threatening to run for the hills (or at least the Canadian side of the Rockies).
---
Before all you city-dwellers grab the nearest Canada Goose jacket and resign yourself to a lifetime of dogsleds and butchering French words, we wanted to give you a local's eye view of the city The Coveteur calls our hometown: Toronto.
In case you slept through your Canadian history course (because y'all totally had to take that, right?), not only is our population made up of approximately 84% pop stars, hip-hop stars, and people who guest starred on Degrassi: The Next Generation, Toronto is also home to a few creature comforts no Los Angeleno or New Yorker would relocate without.
Here's our Coveteur guide to moving to The 6. Because it takes more than a citizenship test to become a true eh-lister (and by that we mean knowing the exact coordinates of the best fish taco in the city).
Instead of SoulCycle,
Try Barreworks.
This bright, airy studio is our go-to for an ass kicking of the SoulCycle variety (especially now that ClassPass has made its way north of the border).
Instead of Kith,
Try Sweet Jesus.
In case you aren't already following them on Instagram, Sweet Jesus serves up soft serve in the most excessively Instagrammy way possible (and trust us, they're as dreamy-decadent as they look).
Instead of Kirna Zabete,
Try The Room.
Regardless of which side of the border you're on, you're still going to need a place to drop your entire paycheck on a perforated leather jacket. Because why get a suburban mortgage when you can have a closet full of impractical outerwear?
Instead of Shake Shack,
Try P&L Burger.
For all that gourmet Big Mac goodness, minus the shame. But only because they don't post the calorie counts on the wall (another Canadian bonus).
Instead of Santa Monica Beach,
Try Centre Island.
Okay, it's still Canada. We're not going to try to convince you we have palm trees. But if you're looking to cruise around on a bike and get some semblance of a tan, grab a ferry (or a sailboat, if you're feelin' fancy) out to Toronto Island for the day.
Instead of Rosie's or Petty Cash,
Try Grand Electric.
A loud-and-proud Mexican joint with what has to be our favorite Baja fish taco in the city. Plus, you'll love the bourbon list and the fact that you can't hear anyone speak over the hip-hop.
Instead of Jack's Wife Freda (& a Bloody Mary),
Try The Federal

(& a Caesar).
For hangover brunches. Get the burger, because it's the best, and also because Canadian healthcare. Also, major key: this is where you'll find the city's best Canadian version of a Bloody Mary: a Caesar (just trust us that is simply way better). The Federal knows how to do it because they dress it up with Cool Ranch Doritos and it doesn't get any better than that.
Instead of Juice Press,
Try Greenhouse Juice Co.
We too are very picky about where we drop our dollars on something called a Chia Seed Hydrator. If you bleed cold-press, Greenhouse is the way to go. 
Instead of Palm Springs or Montauk,
Try Prince Edward County.
At just two hours outside the city, PEC is almost edging out Muskoka as the Toronto-dweller's go-to weekend getaway—vineyard hopping, concerts in barns-turned-bars, and dinners on the lake (not sold? Just Google the Drake Devonshire and you'll be punctuating with "eh" in no time).
Instead of the MOMA or LACMA,
Try the AGO.
Where to go when you need a little culture. It's exactly like the Met, except if you sit on the steps to eat your lunch like in Gossip Girl, you will be accosted by a homeless woman shaking a Tim Hortons cup in approximately 13 seconds. #Glam.
Instead of Barney's Coop,
Try The Narwhal.
For your Mara Hoffman, Acne and Eberjey fix.
Instead of Williamsburg or the Arts District,
Try West Queen West or Ossington Avenue.
Because Vogue called it one of the coolest neighborhoods in the world and we will never, ever forget it.
Instead of The Ace,
Try the Gladstone Hotel.
For those times you just really need a trendy staycation with a photobooth in the aforementioned Coolest Neighborhood in the World.
Instead of SLT,
Try Studio Lagree.
Grab your least nip-slippy sports bra and pray to the 6 Gods you're using the equipment right. 
Instead of Central Park,
Try Trinity Bellwoods.
Paper-bag that pilsner and ride your Linus to Bellwoods, which is basically the Never-Never Land we all frequent in the summer to lounge around on a picnic blanket all day and pretend we don't have jobs.
Instead of Odin,
Try Working Title.
For when you need to drop serious coin on a designer bucket hat.
Instead of New York Vintage,
Try The Cat's Meow.
Quality consignment for when you just want to go to one goddamn wedding without wearing the same shift dress as another guest.
Instead of Battery Harris or Gracias Madre,
Try the Drake Sky Yard.
As many of you know, Aubrey Graham is the sole proprietor of Toronto. However, here we're talking about a different Drake—this one being a rooftop bar adorned with string lights, bonfire pits and an assortment of eclectic things to sit on. Because, like Drake-Drake, they know what the people want.
Instead of Bleecker Street Pizza,
Try Maker Pizza.
The pillowy, sesame seed crust is enough spur global gluten redemption, we swear. Bring on the wheat belly.
Instead of the Knicks or the Lakers,
Try the Raptors (obviously).
Call them the Raps and get that zoom lens ready, because Drake (yes, that one this time) sightings are inevitable.
Instead of the Chelsea Market,
Try Kensington Market.
Wander through corner cafés. Day-drink on one of the many patios that tumble into the street. Pick up some well-priced produce. Grab a Seven Lives taco or Otto's Berlin Doner for the road. Wave to the top-hatted gentleman on his homemade unicycle.
Instead of Intelligentsia,
Try Sam James

(or Tucana. Or Boxcar Social).
Because 'tis the season to run out of the Starbucks cards you got for Christmas. From Sam James' polished concrete stoop to Tucana's tropical wallpaper backdrop, there's always a Snapchat opp-filled café a stone's throw away (please, we know you're not going for the pour-over method).