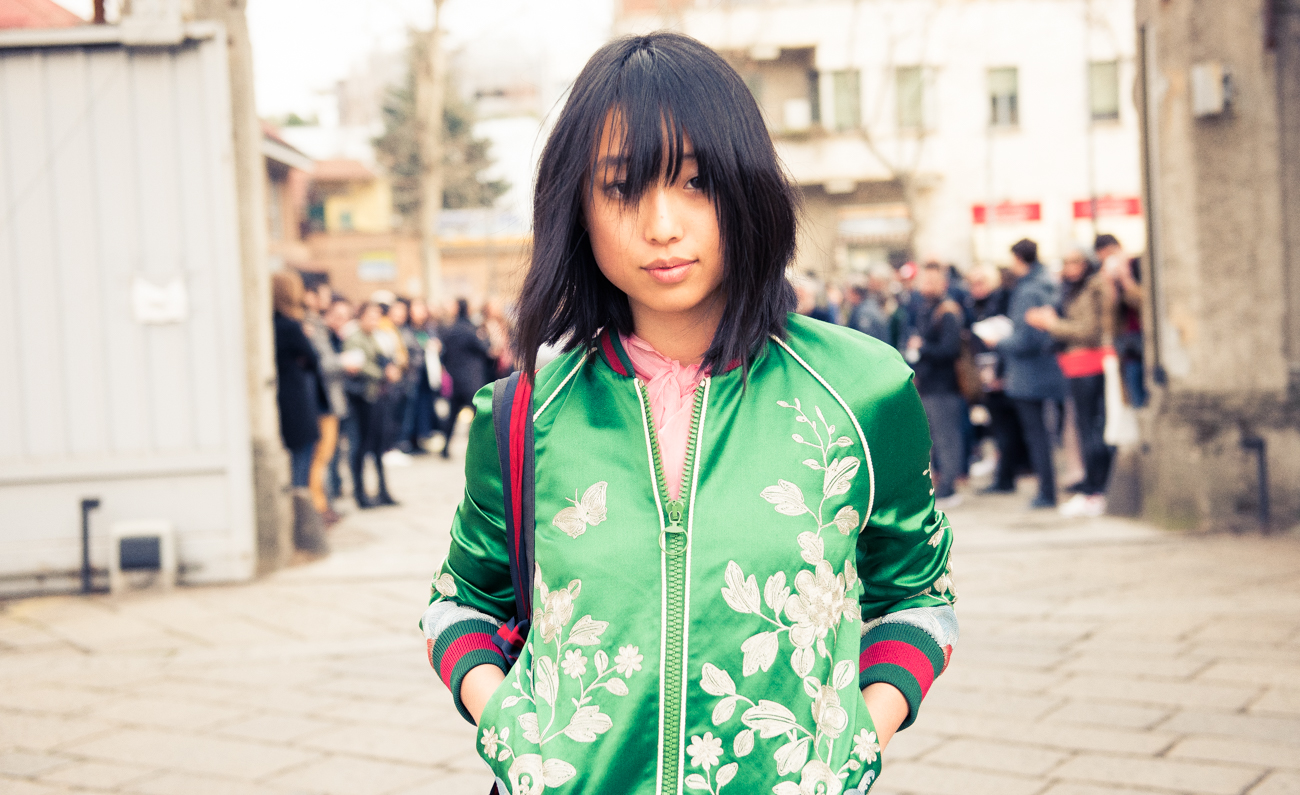 What Fashion Week is Like for Margaret Zhang
Shows. Shoots. Meetings. Travel. Repeat. In collaboration with Gucci.
Cut to us paling around the Piazza Duca d'Aosta in the center of Milan with our favorite Gucci-clad Australian quadruple threat, Margaret Zhang. A little refresher: Zhang is one of those people who has the ability to make you question your life choices. Let's see... she's not only perfected the art of an edited Instagram (serious stream envy, over here), starred in or photographed campaigns for major luxury brands and consulted for heavy-hitting clients, she's done all the aforementioned while simultaneously building her personal empire and finishing law school. And, somehow, she lives her brimming life as if perpetually ready to be in front of a lens. Ours included.
So back to us standing in front of the iconic Milano train station for a quick photo opp—post-brunch and primping session at Zhang's hotel room, where we had her give us the real deal on how she manages to get it all done, before heading to the Nina Due Gallery for our midday art fill. A quick change and some backseat quick-time editing (like we said, she does not stop) and Zhang was off to Via Valtellina where Alessandro Michele's highly anticipated fall 2016 Gucci show was set to take place. Cue the flurry of street style paps outside the venue. 
By the end of it all—sartorial hangover included—Zhang pretty much affirms we still aren't making the most of fashion week. If there's such a thing as doing it all, this might just be it.
On the first thing she does in the morning:
"I would like to say that I drink a cup of warm water with lemon, or something healthy like that, but realistically I think I check my e-mails when I'm half asleep in bed. Also my alarm is really aggressive rap music. [Laughs]"
On an average day during fashion week (for her):
"My day starts really early—generally around 6 AM because of the time difference with Australia. I need to take calls and make sure that I'm on top of everything at home. Then the day is vaguely structured around shows; I'm editing pictures in the back of a car for Vogue China in between shooting shows and then fitting meetings in-between with consulting clients or with brands that I would otherwise not be able to chat to in person but for being in the city."
On what inspires her:
"I love being in Europe because I'm so inspired by architecture and music. I have a musical arts and performance arts background, so I'm always listening and looking at visual elements—the monuments and amazing, intricate architecture. Being in Europe is really exciting for me because it has such a deep cultural history for me to absorb. Even show locations are in the most incredible, beautiful spaces—that doesn't really happen in Australia, or even the US, or even London, actually!"
On how she pushes herself creatively:
"I guess to stay innovative you have to try and be observant of what's going on in the industry by focusing on what you want to do and your aesthetic. [And focus on] your skills, and developing your skills, rather than paying too much attention to what everybody else is doing, which can kind of cloud your vision as to what you're really capable of doing.
I just try to cram as much into all the hours of the day as possible, so that I'm always kind of doing something different and I'm never bored."
On how she's practically going to take over the world: 
"I'd love to play a part in revolutionizing the way consumers engage with digital media, print media, retail and information at large. There are so many moving parts that people don't know how to digest, and I'm truly passionate about the strategy behind addressing that need in the market."
On how being a ballerina defined her first fashion moments:
"I grew up training to be a ballerina, so all my first fashion memories are kind of costume-based. A lot of leotards and tights and layering—it's very Yeezy Season 1. [Laughs] I like a lot of silhouettes, like big tutus and large costumes. So that's probably my earliest fashion exposure."
On what dictates her style:
"I definitely dress according to my mood and the weather. I like to err on the casual side and then dress it up with heels and dark lipstick."
On being a practical dresser (sort of):
"I work so much on different things throughout the day, so I feel like I have to be at least a little practical. If not with shoes, at least with upper body mobility to be able to shoot with a big camera or be moving around and styling. Comfort is important, except with your feet! [Laughs]"
On how she describes her aesthetic:
"Man-tailored with a feminine twist."
On the blue skirt that'll never go:
"A $30 vintage blue skirt that was the first thing I ever actually saved up for and bought for myself, when I was 13. I would never wear it again now, but I'll never get rid of it."
On the pieces she always goes back to:
"I am constantly wearing these black leather drop crotch pants that I got probably four years ago and have worn every second day for the past four years. They're so beaten up and I can't find another pair and it's making me a little bit panicked. [Laughs]. For ages, I was wearing this kind of long line tailored blazer coat—it's black, which kind of just makes everything look good. And then probably like a lazy camisole to kind of balance out the boyish element and angry Alexander Wang boots."
On what she always packs while travelling:
"Beauty-wise I always travel with coconut oil, which can be a pain because it can melt in your suitcase—use an airtight jar and double bag that! Always coconut oil. I always travel with a clay face mask, which is good especially if you're flying a lot and you're severely dehydrated. Tech-wise, I always have my camera on me, laptop, my phone, chargers, card readers, and multiple phone cords because I seem to lose all of them in every city. Fashion-wise, I guess as long as I have at least two pieces of really beautiful outerwear—a couple of good blazers—to dress up a daytime look if I need to; a good kind of pointed pump—I have a really good Kurt Geiger pair that I'm burning through because I wear them so much. They're just classic, super pointed suede with a gold heel pump. And like a good pair of boots and comfortable trousers. You can kind of mix and match!"
On what is always stashed in her bag:
"Phone, credit card, passport in case of last minute travel, Lucas' Paw Paw ointment, chargers, all of the backs to earrings that I can never find, and cash in at least four different currencies."
On her dream living scenario:
"I'm moving to New York this year—I'm excited! I always think I'll end up back in Sydney because it's such a great lifestyle and has amazing weather, amazing produce and food, and a great economy—good healthcare and good education. But, in terms of career development, I think New York is the place to be."
On the most photogenic place she has ever been to:
"Definitely Morocco. The colours in Morocco are just… it is like a #nofilter situation. The colours are so insane and the architecture is so beautiful, and there's so much contrast that you can play with. The light is really beautiful and there are so many elements that you can fit into one frame."
On the stores she always visits:
"I don't shop a lot, but I love Parlour X in Sydney, and the Aesop store in Berlin."
On her favorite eats around the world:
"Miss Lily's is the most colourful and delicious Jamaican place in New York, Bondi Ramen in Sydney is my favourite hole-in-the-wall comfort food and the vegan big breakfast at Kawa (cafe on a leafy street in Surry Hills, Sydney) is my go-to, post-exams/post-work stress breakfast meal."
On her indulgences:
"Gelato Messina is famous for it's bizarre gelato flavours e.g. 'Crackajacks': caramel peanut butter popcorn with peanut praline. My little brother actually makes the sickest Japanese green tea cheesecakes, so home is a pretty good place to get dessert."
On what she would do on her (hypothetical) day off:
"Honestly I don't think I'm going to have time to unwind, but if I could…I would get out before sunrise and do the Bondi to Bronte run, the coastal walk, in Sydney. I would get breakfast at Bronte beach, go for a swim in the ocean pool there, and then I would probably take a nap! There's a great cafe called John Smith around the corner from my office in Sydney that has the most amazing lunch salads and avocado toast—so I'd do that! And honestly I'd probably exercise more, for the rest of the day, because during fashion week it's so hard to fit in the time to be active and I just feel like a sloth. So it would be really good to get in a workout and just catch up with my brother and see my parents, and appreciate Sydney."