Fashion Week
On pulling all nighters and being the only person backstage with a head lamp. In collaboration with MCM.
Renée Rodenkirchen
Emily Ramshaw
This fashion month we wanted to take a closer look at how people working in all different parts of the industry experience the insanity, whether they're front row, behind the scenes, shooting on the street or working in the studio. We already got the buyer, designer and fashion publicist's perspective. Here, the lead manicurist for everyone from Stella McCartney to Phillip Lim and then some breaks down what her month looks like.
---
It's widely recognized that the once iron-clad curtain on the fashion industry has officially been lifted—or more accurately, thrown wide open—for everyone to peek into what was previously a bit of a mystery. And for us, that means a whole lot of borderline mind-blowing tricks of the trade are ours to uncover—right down to the fact that the manicurist behind the nail designs we're still attempting to DIY some six months after the shows stayed up until 5 AM and pillaged craft stores to create them. As longtime fans of Madeline Poole's work, we found her approach to fashion month fascinating—right down to the fact that she wears a head lamp backstage, or that she sometimes only has the time to whip up some one thousand individual press-on nails the night before show. Poole shared with us everything from what you'll find in her MCM Patricia Visetos (she has "seventeen kinds" of lip products in there, just like us) to her fashion week horror stories. Two words: been there.
Her creative process:
"I try to avoid using [press-on nails] because you don't know how big people's fingers are; you have to make twenty [nails] per model because you just don't know. After a test, there is a lot of shopping. You might have to get weird supplies at an art supply store or an Office Depot or something like that; you have to go all over looking for little things. And you have to get the kits ready for, sometimes, twenty assistants.
Then, in my office, I'll do a tutorial for the look. I write a quote about the look, I make a set of fake nails and photograph them, edit the photo. Then I make nail trees, which are the display for the next day. Without a doubt, you're up until like 3AM before the show and then a lot of times, they start really early, too!"
What it's like to collaborate one-on-one with designers:
"When I go to the [beauty] test [before the show], I bring all my colours that I have to work with. I usually bring some kind of sample guide, or this thing called a nail tree, which is all these nails and stems. You can shoot yourself in the foot by being like, 'let's do this really complicated thing!' and then if you do that it's really hard to accomplish backstage, so I try to do things that are achievable. Based on that meeting, you have a look at the clothes, you talk with the designer."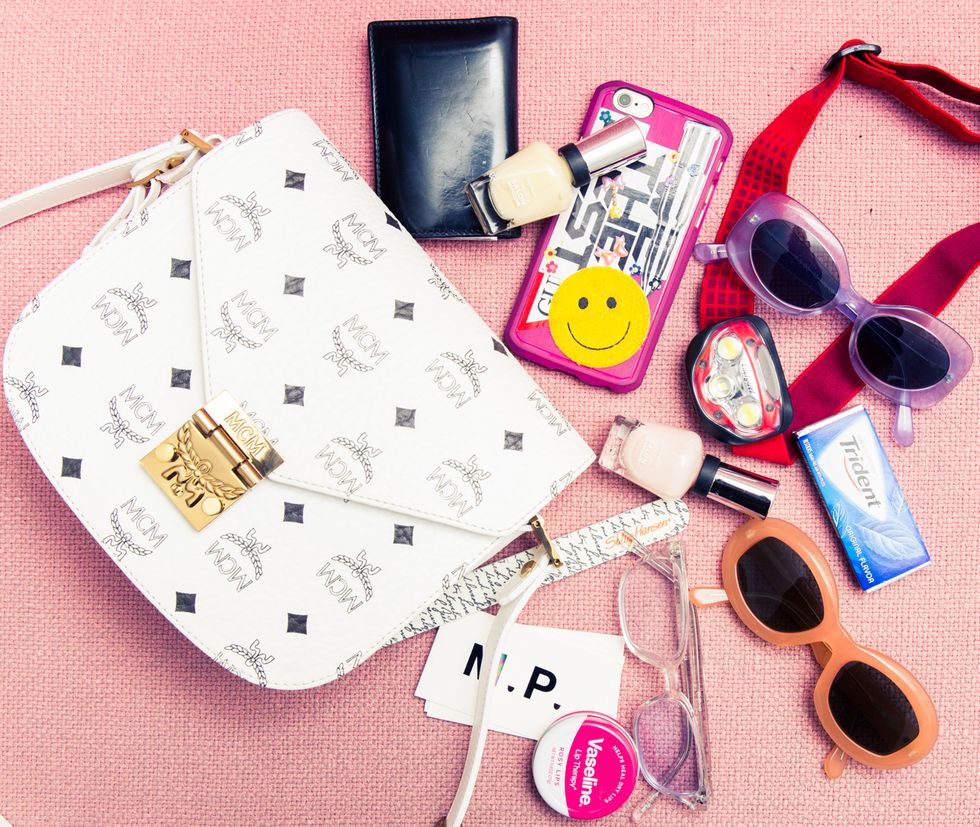 How fashion week is all about burning the midnight oil:
"For big shows, often the test is the day before, or two days before. Sometimes it's over at 5 PM, and then you might have, like, 12 hours of work to do until the show. Even the Phillip Lim show–I had a day off in between fortunately–I had to make these [nail] transfers that were on wax paper and they were circle decals. It took me and two other people all day long, like into the night. But with Philip Lim last year the test was the day before, and then I had to make a thousand fake nails that night. I had like eight or nine people helping me and we worked all night long."
What you'll find inside her bag during fashion week:
"I have a big sunglass collection, so I always bring sunglasses. Sometimes I'm like, 'I can't bother looking cool right now' so I just put some sunglasses on, and they make you feel fancy. I always have, like, seventeen kinds of Chapstick with me because I lose them all the time. I have an on-the-go charger that I broke this week, because my phone is eternally dying. I have three sets of earbuds, incase I lose one.
I have my vision glasses, because I'm blind as a bat. What's funny that's not in here, but I do have it, is a headlamp. I have an Energizer headlamp for wearing under the table.
I always have a nail file in my bag and one of those to-go nail polish removers because my nails get so disgusting from doing other people's. I'll pick something up and break them, or I'm cleaning people's fingers and have nail polish all over my hand. So always those, because when I'm getting photographed I don't want to have blue nail polish on the inside of my hand."
Why MCM's Patricia Vistesos is the perfect bag for fashion week:
"I really like white accessories–I like white shoes, white baskets, white sunglasses–and I just feel like it makes me look sharp. Sometimes I have kind of like sloppy old grandma sweaters on [laughs] so it's nice to have something to balance that out and make me feel more fly. It reminds me of early 90's, which is definitely a time period that I enjoy. I love gold hardware as you can see, and my name starts with an M!
It's small but you can fit a lot of stuff in here. It's sturdy, so you're not crushing your glasses. Or your headlamp! You have compartments—maybe you have your beauty and really important stuff section, then your head lamp, your business cards, your gum. Things you don't really need. [Laughs]"
What it's really like backstage:
"[I'm there] usually like three hours or three and a half hours [early]. I try to fight for a table for nails because it's always the last thing people think about. Then I set it up, get the girls ready with all their equipment, explain the look, show them the step by and step. At, DKNY, I had to assign every girl a different look. We did four different nail styles, so we assigned everyone different designs. Then you have to fight your way through backstage, which is always, as a manicurist, you're on the floor, or literally under the table with a foot in your face."
Fashion week horror stories:
"One of my horror stories was when I was going to the DKNY test. I was late, because my car was stuck in traffic, and I was like, 'I'm going to walk'. I had huge bags, one is this paper bag filled with nail polish, but it's raining and the rain melted the bag! The bag busts open on Times Square. I was like, 'Oh my god! I'm so embarrassed AND I'm late!'. I run there, and of course nothing has started yet, no one noticed, for like 45 minutes. Why did I even do that to myself?"
The art of the extravagant, (very) late brunch:
"Everyday this week I've eaten breakfast at 6:30pm. On a regular day I'll eat breakfast, but I get really nervous [during shows] and even if there is catering backstage, I'm like, 'I can't eat it!'. I'm so relaxed afterwards, I never eat until after the show because I just can't stay still. I have like a ritual of like going out to a lazy, really extravagant brunch at like 6:30."