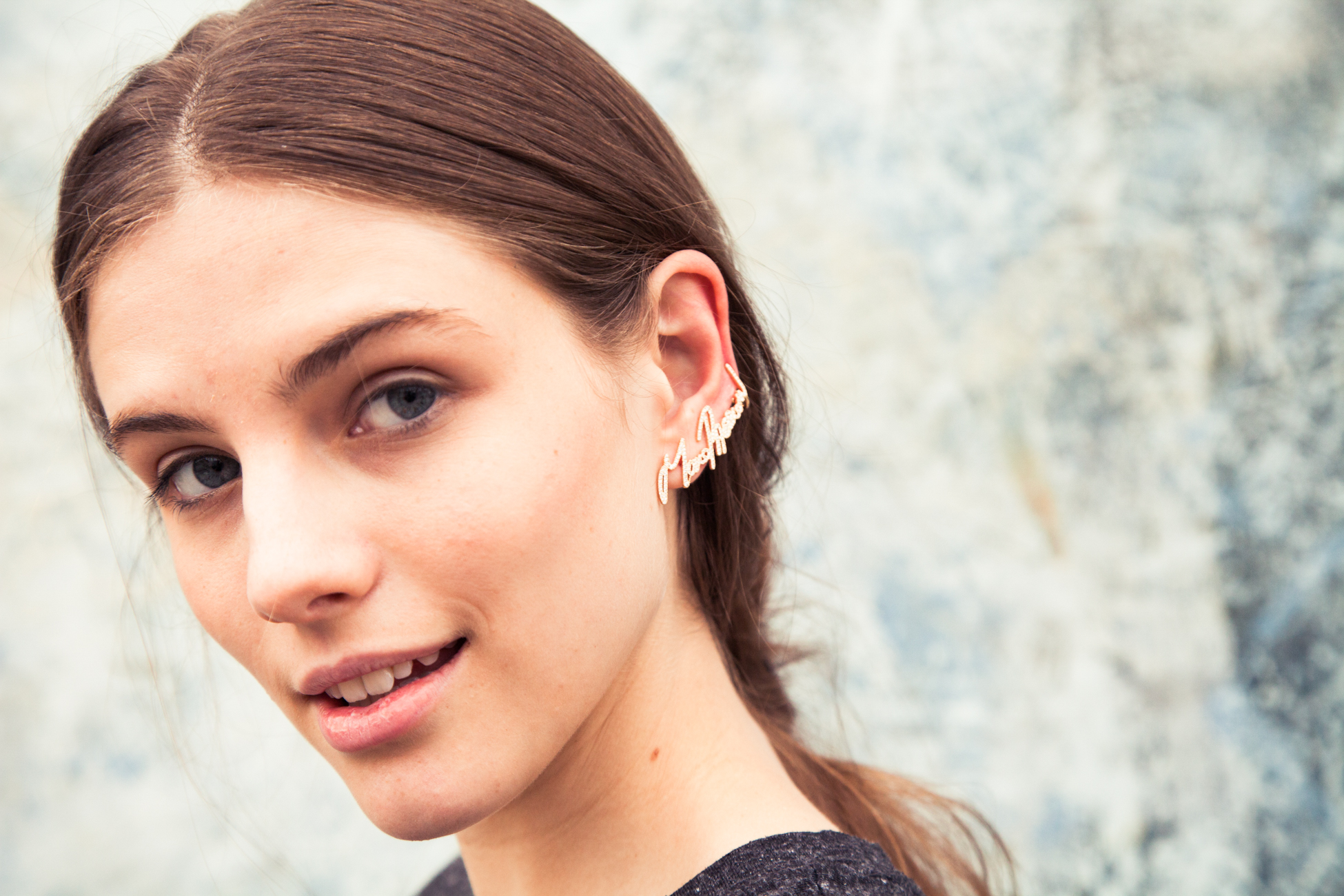 3 Hairstyles to Show Off This Season's Statement Earrings
The easiest (& prettiest) ways to show off our new obsession.
Has anyone else recently developed a fetish for decorating their ears? Not that earrings are anything new, obviously, but when Céline and Louis Vuitton started making those supersized, single earrings the cornerstone of their accessory games, well, we sat up and paid attention. Since then we've amassed a collection of glittery and metal cuffs, danglies and studs from all over the place (Topshop to Jennifer Fisher to Charlotte Chesnais). But our typical dry shampoo-and-down daily "hairstyling" routine doesn't exactly work when it comes to showing off our new investments. So, we enlisted Chelsey Pickthorn, to come up with three easy-to-replicate-at-home hair styles with some of our favorite earrings for spring—two by Louis Vuitton, and a particular fabulous "More Passion" ear cuff by Stephen Webster—which we photographed on The Society's Sterling Jensen at Chelsey's cult, namesake Pickthorn salon in Brooklyn. Bonus: now that we have these down, we can get back to the important task at hand: collecting even more earrings.
Davines Oi Oil
Davines More Inside Finishing Gum
Davines Your Hair Assistant Perfecting Hairspray
1. "Section your hair at the nape, middle, top and sides."
2. "Prep each section before blow drying it with Davines Oi Oil by applying dime size amounts evenly from mid length to ends."
3. "Blow dry each section smoothly and down in the way you want your hair to lay."
4. "Find your part and finish your blow drying session with the top section [around the part]."
5. "Blow dry top section away from your face to create pushed back effect."
8. "Use a rat tail comb to smooth any fly aways or create added texture."
— The Undone Pony —
Davines Your Hair Assistant Definition Mist
1. "With your hair already prepped, blow dried and smooth, section into three at ears and nape."
2. "Make a low ponytail with the middle section."
3. "Take front hair sections and wrap around the pony."
4. "Use hair pins and bobby pins to secure and fasten to the base of the pony."
6. "Keep it loose to create the 'undone done' pony."
— The Ponytail —
Label M grooming brush
Davines Your Hair Assistant Volume Creator
1. "With hair already prepped, blow dried and smooth, using a Label M grooming brush, brush hair to smooth into ponytail."
2."Pull ponytail back using hooked elastic bungee."
3. "Take a small piece of hair from the underside of your ponytail."
4. "Wrap the hair cleanly around the band to disguise it."
5. "Use a hair pin to secure the end of the hair at the based of the pony."
6. "Gently use a flat iron to smooth the ends of your hair, create a tight look."
7. "Pull out front wisps around temples and hairline."