Wellness
On balancing cookies with green juice & how she gets her hair to look like *that*.
Not going to lie, as we approached her suite at the Ritz Carlton, we totally expected that Katie Holmes would be the same way we always imagined her to be: all cool, composed and immaculately manicured. So when she greeted us, massive cookie in hand, we were immediately thrown off—and endeared to her. And seriously, can you think of a better icebreaker? On the eve of her new film, Touched with Fire, we quizzed the former Joey Potter on everything from the art of the at-home blowout (girl has it down pat), her beauty essentials and how she balances that cookie habit (hint: it involves a whole lot of green juice).
---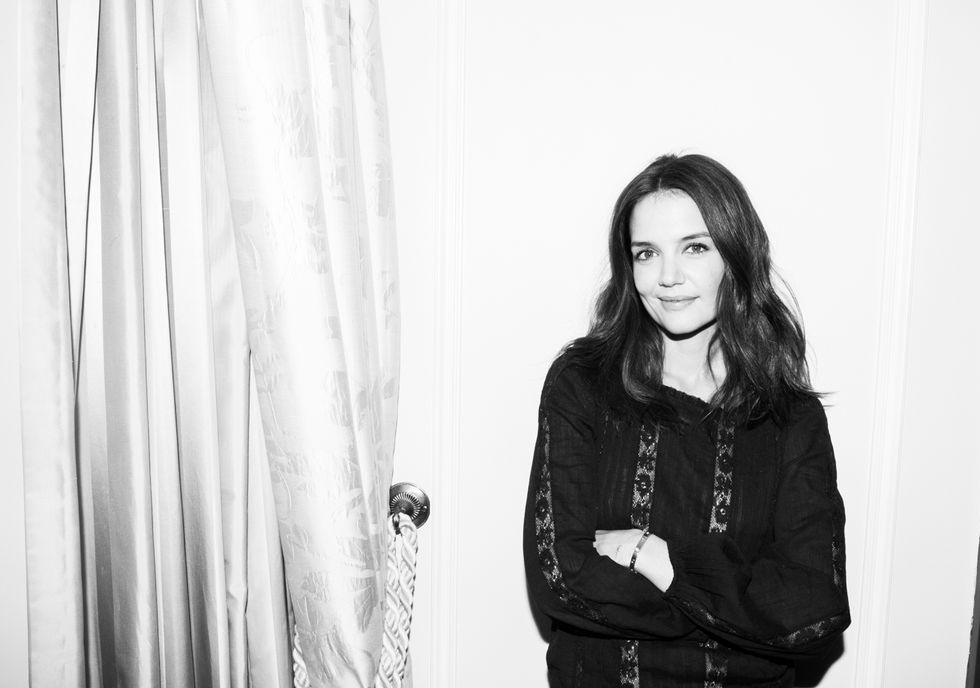 On staying healthy on the road:
"I drink a lot of water and a lot of vegetable juice. I watch what I eat."
Her biggest indulgences:
"Cookies! I [also] love getting a facial or a massage."
On her everyday beauty essentials:
"I drink a lot of water, and a lot of green juice. I use Alterna's Caviar Replenishing Shampoo and Conditioner that maintains the shine and keeps the hair healthy. I also do the Caviar oil, and I'm obsessed with their new Anti-Aging Volume Mist, too. Those are my essentials."
On her approach to the at-home blowout: 
"A really crucial thing when you're doing your own blowout, is you have to make sure your hair cuticles are going in the right direction. At times it's like, 'why doesn't it look as good as when I get it done professionally?' and it's really about taking that time [to make sure you're drying it correctly]."
On her go-to at-home meal:
"I love a good kale salad and a good pasta. Pesto, fettuccini."
Her coffee order:
"Black, with cream."
Her favorite healthy spot in New York:
"I love Souen on 6th. We actually got a lot of food brought in from there when we were shooting this movie. It's vegetarian food."
On her go-to workouts of choice:
"Yoga and spin. I do a lot of spinning at home, I have a spin bike at home. I like hot yoga."
On her first beauty memory:
"My sisters were perming my hair when I was about six years old. It would be an all-day home perm. I was like their doll. My oldest sister was 12 years older than me, next was 10 years and the next one is five years older. They would just tell me to sit, and they would spend all day doing this. It usually didn't take, but they would curl my hair. I spent a lot of time watching them get ready and learning about beauty and style from them. I wanted their approval, so I would do it. [Laughs]"