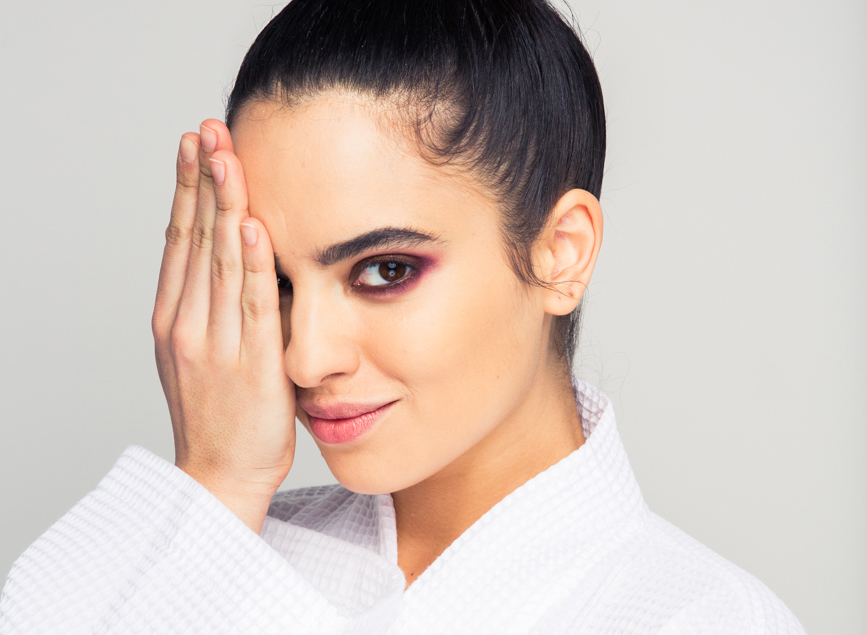 How to Stand Out at a Black Tie Wedding
Starting with the most flawless skin ever.
A black tie wedding is probably the event where priority number one is being totally flawless overall (not that that's not our goal every morning, but a girl can only do so much while barely awake at 7:30 in the morning). And nothing says flawless like velvety, even, um, flawless skin. So we start there—always. To stand out among all the ball gowns and tuxes? Nothing will do it like a smoky eye that treads outside the black boundaries all the way to burgundy. Trust us, this is a winner.
1. "For matte skin, start with a mattifying primer that reduces shine. Press Step 1 Skin Equalizer Primer in with a sponge and then apply foundation all over. It's a really great way to have a matte look and not have it be cakey or patchy."
2. "Ultra HD Concealer is great for brightening under eyes and creating luminosity. Applying concealer after foundation is best because you can get the brightest look. Apply once before eye makeup and once after when you're doing a smoky eye to prevent product fall out. 
For an instantly flawless complexion, choose from the peach color correcting shades to neutralize dark circles—in the mirror, drop your chin to see exactly where the circles are. Then, use a concealer shade to brighten the inner and outer corners of your eye. 
Apply HD Powder on any overly shiny areas of the face."
3. "For eyes, use the Aqua Matic eye shadow pencil in S-60, a chocolate brown. Apply a messy, thick eyeliner all over the eye. Blend it out with a flat, firm brush. To incorporate color into the smoky eye, apply the sparkly brown from Artist Palette Volume 1 with the same firm brush, using a tissue to cover your face. Tap the shadow in, using a consistent intensity across the entire eyelid.
If you want, you can be done now. But to bump up the look, add in a burgundy shade, which works well when you attach it to a neutral base. Burgundy (M-844) looks amazing on blue, brown, green and hazel eyes. Use the same brush as before and press it about three-quarters of the way into the center of the eye on both the top and bottom. Use a fluffy brush to smudge the color.
Remember to touch up under the eyes with concealer to remove any residual color. And don't forget mascara—two coats of Smoky Extravagant Mascara finish the look."
4. "For the lip, use a peachy color to compliment the burgundy. Use Aqua Lip Lipliner in 3C all over and fill the lip in. Finish by layering lip gloss onto your lips—you can make your lips look a little bit fuller by 'over lining' with gloss."