Nutrition
New Year's Resolution #2: Cook at Home More Often
With 5 really good salads you'll actually want to make.
Scrolling through Uber Eats or Seamless is kind of the easiest way to have dinner. We totally get it. Going out for tapas and wine with your girls is something you'll never, ever give up. We get that, too. But what you're about to read (deep breath) is an argument to counter both scenarios. Bold, we know, but just hear us out.

Chances are one of your resolutions in 2016 is to be a whole lot healthier (ditto), and you're probably aware that eating out means you don't really know what goes into your food—even if it is from your favorite organic, locally-sourced salad place. And we're going to go out on a limb and bet that your second resolution has to do with spending less frivolously (again, ditto), which, if you're eating out upwards of four times a week is more wallet-crushing than not. So it only makes sense that you make a concerted effort to make your meals at home more often. See, two birds, one stone.

To that effect, we asked Natalie Uhling, Cov-alum and trainer, why she (almost) always eats at home—and then begged her to share her easy, go-to meals. Plus, we had Chef Lucero Martinez of our favorite Mexican restaurant, Pampano, whip up five not-so-typical winter-appropriate and EASY salads that will actually have you wanting to stock the fridge. Bon appetite, friends.
---
Pot of Gold
"Get yourself a crock pot! Best kitchen appliance you can own! You can make so many amazing things and the crock pot does all the work! I love making vegetable soup in my pot. You place all the ingredients in the crock pot and let it simmer all day long. Once you get home from a long day at work dinner is ready. Now you don't have to order in and you can eat REAL FOOD."
Ingredient List
"You have no idea what they are putting in your food. Restaurants use so much salt and butter to help mask the taste of poor quality food. Eating at home allows you to really understand what you are putting in your body."
Fave Meals
"I love making stuffed green peppers, soups, parchment paper fish, vegetarian burritos, juicy salads, grains, roasted vegetables etc. I usually will make a smoothie if I am tired. Grab your Vitamix and blend away!"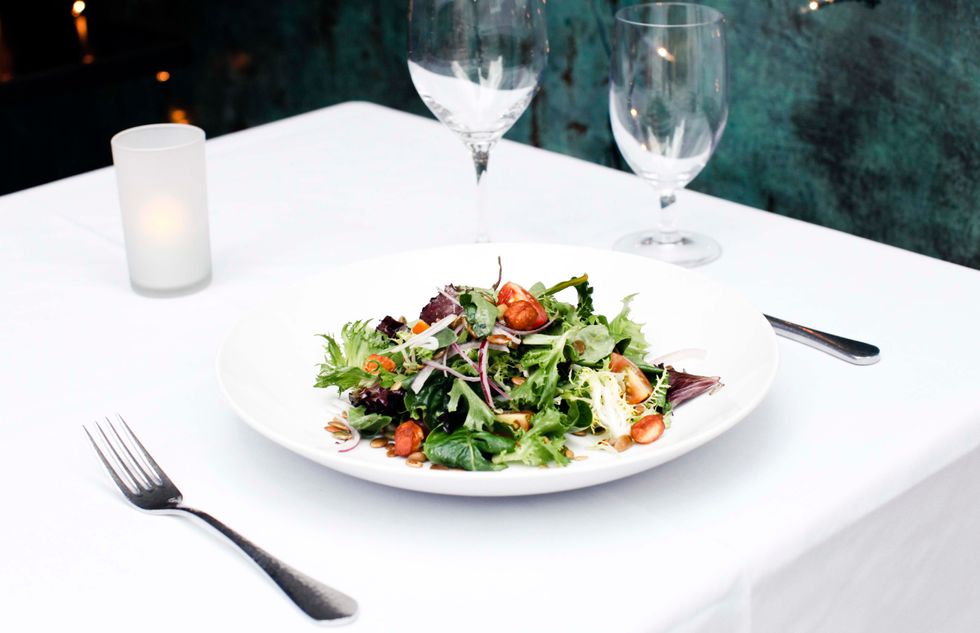 — Ingredients —
1 chayote, cut into ¼" pieces
12-15 cherry tomatoes, cut into fourths
¼ red onion, sliced thin into half moons
8-12 oz queso fresco, cut in ¼" cubes
8 oz roasted corn, kernels removed
4 oz toasted pepitas (pumpkin seeds)
Procedure:
In a large bowl toss all salad ingredients until equally distributed. Toss with dressing (recipe below) and serve.
— Serrano Dressing —
1 Serrano pepper
¼ cup tablespoons of lemon juice
1 shallot
1 garlic clove
1 tsp of Dijon mustard
1tsp soy oil
1 cups of olive oil
½ bunch of cilantro
1 tsp of honey
Procedure:
Combine Serrano pepper, lemon juice, shallot, garlic clove, dijon mustard, cilantro and honey in a blender or food processor. While blending, slowly pour in soy and olive oil until dressing emulsifies or comes together.
WINTER CITRUS SALAD
Serves 2 - 4
— Ingredients —
10 oz skinless chicken breast
1 orange, peeled and sliced
1 blood orange, peeled and sliced
1 radish, thinly sliced
¼ bunch of cilantro, finely chopped
¼ red onion, thinly sliced half moons
1 ripe avocado, diced
2 oz toasted cashews
Procedure:
Preheat oven to 350 degrees Fahrenheit. Bake chicken breast on a lined baking sheet until it reaches an internal temperate of 165 degrees Fahrenheit, about 20-30 minutes. Once cooked through, let cool slightly and slice. On a serving platter or in a deep bowl, combine oranges and radishes. Arrange sliced chicken slices on top, drizzle with dressing and garnish with red onions, avocado slices, cilantro, and cashews.
— Dressing —
1 ruby red grapefruit, juiced
1 TBS honey
½ habanero pepper, sliced and seeds removed
1 clove garlic
½ cup olive oil
salt to taste
Procedure:
Combine grapefruit juice, honey and garlic in a blender, slowly add in olive oil while blending, continue blending until emulsified. Season with salt to taste.
ENSALADA DE ALMENDRAS
Serves 4-6
— Ingredients —
7 oz mesclun
3 oz dried cranberries, chopped
2.5 oz dried apricots, chopped
2.5 oz goat cheese, crumbled
5 oz candied almonds
Procedure:
Toss all salad ingredients in a large bowl with dressing (recipe below) and serve.
— Spicy Balsamic Vinaigrette —
1/3 cup balsamic vinegar
2 TBS honey
1/3 cup lemon juice
2 TBS rice vinegar
1 TBS chile chipotle puree (canned chipotles)
2 TBS cup soy sauce
salt, to taste
1 cup olive oil
2 tsp sesame oil
Procedure:
Combine balsamic vinegar, honey, lemon juice, rice vinegar, chipotle puree and soy sauce in a blender or food processor. While blending, slowly pour in sesame oil and olive oil until dressing emulsifies or comes together.
ENSALADA DE HIGOS
Serves 4 - 6
— Ingredients —
12 figs, cut in half
2 oz turbinado sugar
1 oz mixed greens
1.5 oz frisée
4 oz Valdeon cheese (or an blue cheese) crumbled
12 figs, cut in half
8 oz Jamon serrano ham, sliced thin and pan fried
Procedure:
Preheat your oven to 425 degree Fahrenheit or set to BROIL. On a baking sheet, placed sliced figs and sprinkle with sugar. Cook until the sugar caramelizes (about 5 minutes), remove from oven and let cool. In the meantime, combine mixed greens, frisée, cheese and dressing (recipe below). Once figs cool, garnish salad with caramelized figs and ham slices, serve.
— Dressing —
¼ cup sherry vinegar
2/3 cup olive oil
2 tsp rice vinegar
½ shallot, minced
2 tsp honey
1TBS chili bean paste
salt to taste
Procedure:
Whisk together all ingredients, season to taste.