New Year New You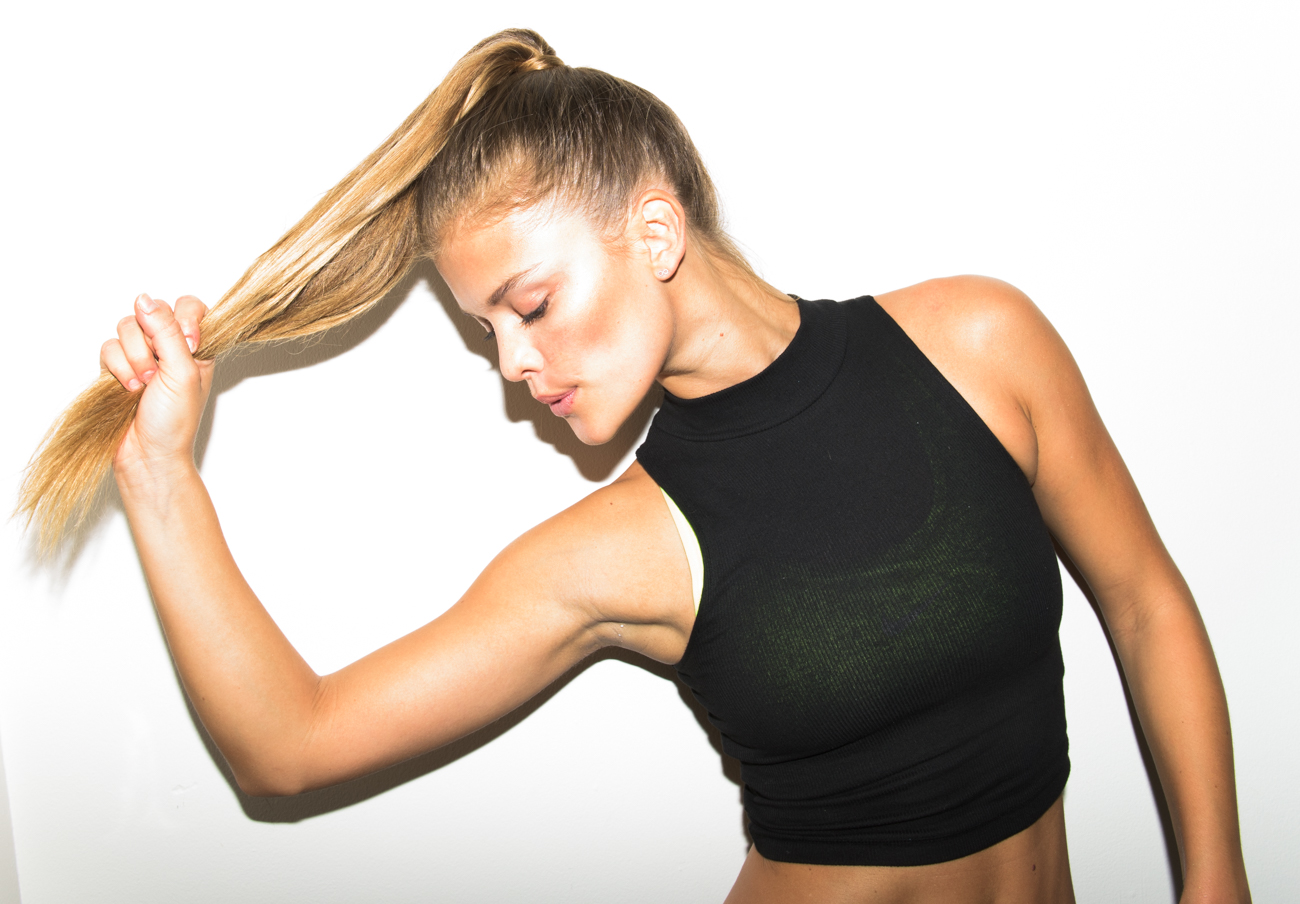 Your Pre, During and Post Workout Beauty Plan
Because skincare's a sport, too, guys.
Okay, so you've spent the last few days nursing that post-NYE hangover, strategically "forgetting" your aspirationally planned gym membership that activated on January 1st. But, like, baby steps, right? You can't just jump into working out on the reg without first getting those new Nike tech pants, or mastering your impeccably planned workout beauty plan. We mean, hands up if you've ever moisturized pre-workout only for your legs to turn into a sweaty slip 'n' slide? Or spent your lunchtime elliptical ride making (unknowingly) raccoon-reminiscent googly eyes at that cute trainer? Or worse, the post-workout pimple? Not the post-workout pimple!
Given our current New Years-inspired relationship with a Tylenol bottle, we decided to turn to our trove of more workout-willful (read: less lazy) and expertly informed friends, to dish on everything from proper pre and post cleansing and moisturizing, to mugwort and sea whip soothing agents—because yes, apparently those are things.
"Truthfully, it's actually more important to wash your skin after than before working out, since oils, bacteria, and sweat have accumulated on the skin. But, if you are wearing a heavy application of foundation, it's good to wash your skin pre-workout with a mild, non-drying cleanser followed by an alcohol-free toner and lightweight oil-free lotion like Renée Rouleau Skin Recovery Lotion." —Renée Rouleau, celebrity esthetician and founder of Renée Rouleau Skin Care
"I always wash my face prior to working out. I then use a toner and finally slather on EltaMD SPF 45. I wear sunscreen every day and only brands that have zinc. I don't want my face to have sun damage later in life, so sunscreen is key." —Natalie Uhling, Creator of NUFit®; Under Armour Athlete
"If I workout in the morning, I don't wash my face before I workout, only after." —Hannah Bronfman
"When you exercise, your skin loses water due to evaporation, leaving it dehydrated. So don't skip moisturizer after a pre or post-workout cleansing. Dehydrated skin increases surface lines as well as dead skin cell build up that can cause pores to clog. Renée Rouleau Sheer Moisture is an oil-free formula that is perfect to use pre-workout, as it won't cause the skin to feel greasy, yet it has excellent humectants to hold water in the skin. If you are exercising outdoors and will be exposed to daylight or sunlight during exercise, it's best to use a very light moisturizer with a sunscreen that dries to a matte finish when applied, like Daily Protection SPF 30. You can also dust on an SPF mineral powder for additional sun protection.
Generally Aquaphor is not needed [on your feet] while running, since perspiration in socks gives you enough moisture. It's at night while sleeping that the air is dry that it's best to use." —Renée Rouleau
"I like to fill my water bottle with BCAAs to help with muscle recovery, and spritz my skin with rose water." —Hannah Bronfman, Founder of HBFIT; DJ
"Coconut oil is made up of very small fatty acids that absorb into the hair much faster than regular conditioners. The natural heat your body creates when you workout allows the oil to absorb into the hair and scalp much deeper. This is a great way to multi-task your deep conditioning treatments with your workouts, all you have to do after is just rinse and style!
Hair oils, deep conditioners and UV protecting products are all effective depending on the type of workout you are doing."—Justine Marjan, Editorial Director, Mane Addicts
"Dusting on an SPF-infused mineral powder like one from ColoreScience is excellent when out in the sun. Since it contains physical sunscreen agents, it gives immediate protection, rather than chemical sunscreens that you have to wait twenty minutes to take their full effect. As for the cold and wind, you want a protective barrier over the skin to provide a shield so your skin doesn't get chapped and irritated. Over sunscreen, you can add a few drops of skin oil like Renée Rouleau Pro Remedy Oil, as it contains a blend of the best barrier-repair natural oils to protect and provide comfort to the skin. This is also excellent to use post-workout." —Renée Rouleau
"[Use] sunscreen with zinc! This will protect your skin from all those harsh rays; especially [good for] people who live in places of higher elevation. Also, make sure to wear sunglasses. Eyewear helps protect your face too." —Natalie Uhling
"Your skin acts as an excretory system, so when you work out, sweat and sebum (oil) are being secreted out of the skin. If someone is wearing a heavy coat of liquid foundation, then there could possibly be a blockage in the pores if sweat and oil can't get out easily, which could cause congestion and bumps over time.
As for blush and powder-based foundations, there aren't any negative consequences. Tinted moisturizer or mineral powder are fine to wear, as well as eye makeup and lipstick."—Renée Rouleau
"I have been using Tom's deodorant for years now. Once something works, I tend to be a loyal user." —Natalie Uhling
"I swear by Schmitt's deodorant in sage." —Hannah Bronfman
During
"Avoid touching your face when working out especially when using cardio and weightlifting machines. The machines do breed bacteria, so it is best to keep your hands off of your skin. You don't want to introduce bacteria that can possibly result in new breakouts, or spread existing breakouts. Always wash your hands before and after working out." —Renée Rouleau
"I love a low bun at the nape of the neck. Loosely secure the hair with an elastic, but only let the hair come halfway through the elastic the last time you pull it through. This will create a perfect bend in your hair when you workout, so that when you take the 'bun' out you've got a nice wave. I also suggest working out in braids or hair twists. You just have to uncoil and add dry shampoo post workout."—Justine Marjan
"Headbands, hats or bandanas across the forehead are not recommended, as they can cause a backup of oil and perspiration in the pores. This results in little clogged bumps or breakouts. If your skin is not prone to breakouts, this may not be an issue. Otherwise, if clogged pores begin to show up, try to keep the headband or bandana further back in the hairline but not directly across the forehead." —Renée Rouleau
"I love using wipes from Cetaphil or Mio Skin to get excess sweat off my face and chest. I also live by Clinique's 3-step system post-workout." —Hannah Bronfman
"Post-workout, especially for oily, combination, and acne prone skin types, wash with a mild gel cleanser, as this will help to thoroughly remove oil, toxins, and sweat. Be sure to avoid cleansing gels that contain sodium or ammonium lauryl sulfate. These ingredients will pull water out of the skin cells leaving it dehydrated. For drier skin types, wash with a lightweight cleansing lotion. After cleansing, wipe your skin with an alcohol-free toner over the skin and immediately apply a moisturizer for your skin type. If it's still daylight and your skin will be exposed to this, be sure to apply a moisturizer with sunscreen or dust on SPF mineral powder.
After a workout, when I get home, I like to wash my skin because I've been sweating. I love my Luxe Mint Cleansing Gel. It has spearmint, peppermint and rosemary botanicals, which feel cooling and refreshing." —Renée Rouleau
"I wash my face with Origins cleanser, tone with Clinique, apply special serum from my dermatologist, and finally end with EltaMD SPF 45 sunscreen. My favorite products would be my serum from my dermatologist. He created his own line of products that I love, and the EltaMD sunscreen." —Natalie Uhling
"As for facial wipes, I believe they are not the best choice for the skin—for post-workout or anytime. This is because cleansing wipes don't effectively clean the skin. Instead they just smear dirt, bacteria, oil and makeup across it. Essentially it is like applying cleanser to your face with soap and then not washing it off. The cleansing agents are designed to break down debris, but it's the rinsing action from water that actually removes it.
Clean skin is healthy skin. If you really must use a wipe, limit their use to rare occasions. No wipe will ever be as effective as a proper cleanse." —Renée Rouleau
"Make sure to exfoliate! This keeps the skin looking fresh." —Natalie Uhling
"You're better off exfoliating post-workout because it can remove any makeup residue, sweat and oil that might be blocked in the pore lining." —Renée Rouleau
"After working out, for many the skin can be flushed and red due to the heat from exercise that dilates the capillaries and raises the internal temperature of the skin. Since I'm a big believer on PREVENTION of dilated and broken capillaries that come with age, for most skin types, you will want to calm and soothe the skin (and constrict capillaries) to take the pressure off of the capillary walls. Renée Rouleau Phytolipid Comfort Cream is my go-to after working out due to all the soothing agents it contains like algae, mugwort and sea whip." —Renée Rouleau
"If you experience a lot of redness in your skin after your workout, look for moisturizers or skin serums with soothing ingredients like white tea, sea whip, azulene, chamomile and bisabolol to help calm the skin down by taking the pressure off of the capillaries. If time allows, apply a thin coat of a gel-based mask, like the Renée Rouleau Bio Calm Repair Masque. This will cool heat-activated skin and infuse water deep into the cells. If you keep it stored in the refrigerator, it will calm the skin down even faster." —Renée Rouleau
"Post workout, which I consider a whole day—not just the 45 minutes after when I consume a vegan protein shake with either hemp or pea protein—I love to take a bath with salts, especially after an intense workout." —Hannah Bronfman
"Water and sleep should also be at the top of your list. When you are rested and eat well, your skin shows it." —Natalie Uhling