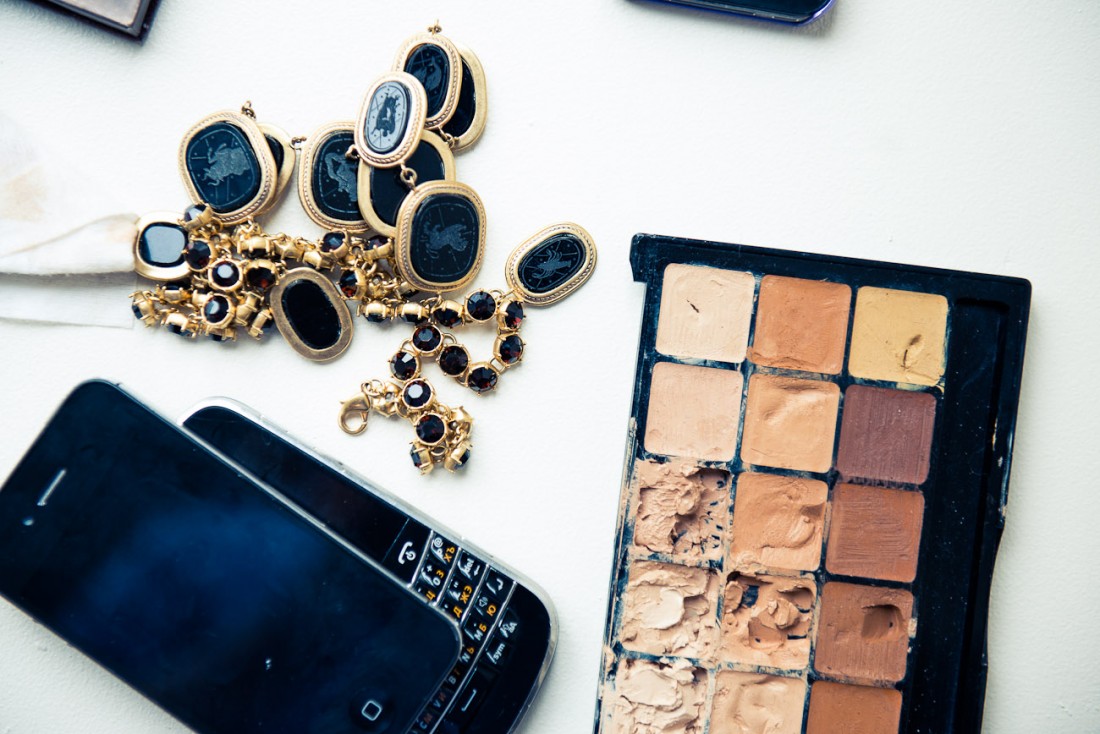 Makeup Artists' Favorite Light, Medium & Heavy-Duty Concealers
Road-tested by the entire Kardashian family, so you know they're good.
A Parisian makeup artist once told us that her advice for even the most die-hard foundation addicts is to hide the Diorskin bottle for a day, and only apply concealer where needed. Even if that's under the eyes (dark circles), around the nose (broken capillaries) and basically the entire chin area (acne spots). In doing so, you'll probably notice that you look just a fresh-faced (we think you look great, makeup or no makeup, but we get it) and you might even grow to love the freedom of having those freckles and minor imperfections show through. We took her advice, and we're all about it. Because while yeah, some nights call for heavier makeup, on the day-to-day we probably only need some (artfully applied) concealer. So we quizzed these makeup artists and they gave us all their secrets and favorite formulas… from the lightest (you're tired) to the heaviest (you're effing exhausted) of coverage. Grab your concealer pots and read on.
Light: Yves Saint Laurent Touche Eclat. A luminizing pen that brings light and radiance to the skin, immediately erases any signs of fatigue, and brightens the complexion. Loved by models, makeup artists, celebrities, and women everywhere, it's like eight hours of sleep and an instant pick-me-up in a magic wand. With a few strategically placed strokes the complexion immediately looks rested, rejuvenated, and radiant. It banishes shadows and tired-looking eyes by adding light and creating an instant lift to the eye area. It also widens eyes when used between the eyebrows and along the sides of the nose, and creates fuller looking lips when used in the hollow of the chin and around the contour of the lips. It's formulated for all skin types and for anyone who wants instant radiance, luminosity, and lift.
Medium: Clé de Peau Beauté Concealer. A perennial makeup artist favorite, it's highly editorialized and continues to win major awards year after year. It blends sublimely to expertly conceal dark circles, spots and imperfections. High-performance powders ensure flawless skin in any light, providing maximum coverage with a smooth, even finish that does not crease. Tip: for lighter skin tones, the honey shade can be used underneath your matching concealer as a color corrector for truly dark areas. Pat lightly. Apply your matching concealer on top and blend.
Heavy: Amazing Cosmetics Amazing Concealer. My all-time favorite,tThis highly pigmented, super-emollient, water-resistant formula blends seamlessly into the skin, creating a flawless complexion that looks and feels natural. The ultra-concentrated concealer only requires pin-dot amounts to erase flaws, compared to the amounts needed with traditional concealer. Follow these steps to ensure a flawless, undetectable application:
Dot, Blend Repeat until all your flaws have vanished
Dot: Using a Concealer Brush, apply pin-dot amounts of concealer on any and all flaws.
Blend: Using ring finger, gently tapping into the skin until it disappears.
Repeat: Where you need it! If you need more on those stubborn dark circles or sun damage spots, apply again in pin dot amounts until desired coverage is achieved.
Light: Nars Radiant Creamy Concealer & Giorgio Armani High Precision Retouch. Nars offers a pretty decent coverage but adds a touch of radiance to the skin, great for under eyes! For extra brightness, try Giorgio Armani high precision retouch over top to just in the hollows of the eye socket which will help to optically move the receding areas forward.
Medium: Cinema Secrets Concealer. It'is really both a foundation and concealer in one. Although I never use it all over the face, it's great for larger areas of redness. I apply it with a domed eyeshadow brush which feathers it perfectly into the skin.
Heavy: Laura mercier Secret Camouflage. Great for covering what needs to be covered without adding texture. The secret is to really work it into brush and spend time tapping it in where extra coverage is needed to make sure it blends properly.