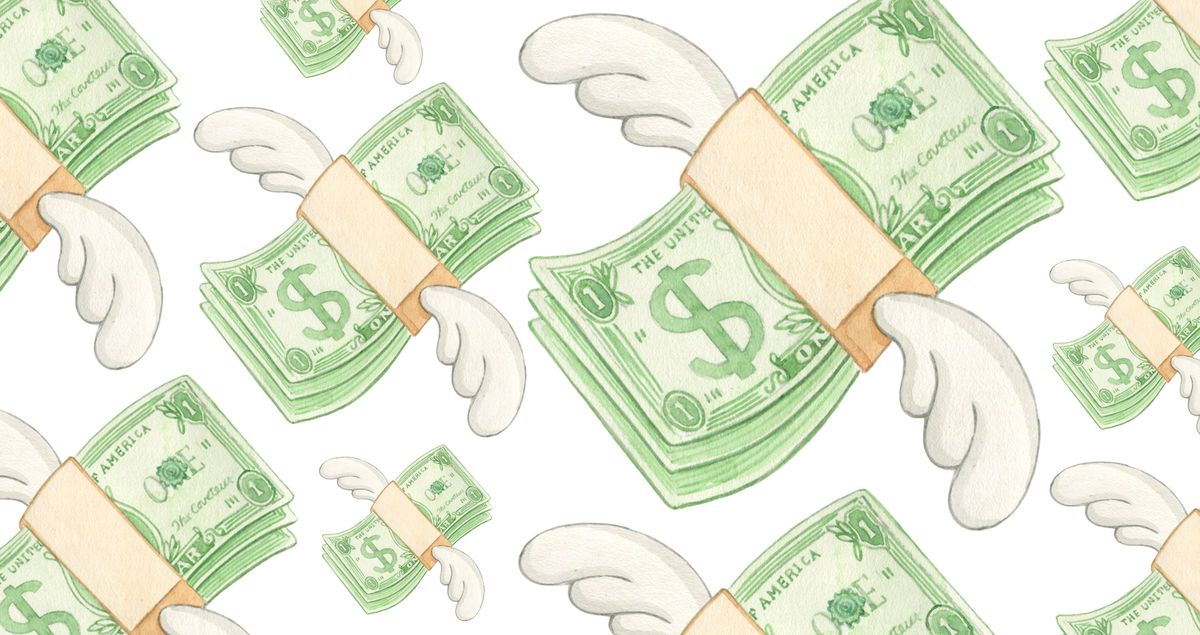 Career
Or, how not to pull a 2014.
Illustration
Meghann Stephenson
Let's all take a quick stroll together over to our closets, shall we? Peer into its depths, past a year's worth of sleeveless jackets, Lurex pleats and blanket capes. Do you see it? There, glinting under a mountain of chunky knits?
 
It's the Holiday Outfit Graveyard. That pile of 11-to-14 sequined frocks, merlot-stained mini-dresses and velvet sheaths, all in various states of one-time-only wear.
---
We're not sure who initiated the oh-so-pervasive tradition of buying a holiday version of all the sh!$ you already own (pajamas? Throw a snowflake on 'em! Dishes? A gold cursive "be merry" stamped onto every plate should do the trick. Shoes? Make sure they're just embellished enough to ensure you'll never wear them again), but he/she must have both a trust fund and have a massive basement. These things don't store themselves. 
 
If you're anything like us, spending way too much around the holidays is as much a tradition as an eggnog-mustached Aunt Mary hitting on an in-law. The gifts, the travel, the food, the booze, the godforsaken "semi-formal" stamped on every invitation… It's enough to make a broke girl, well, even broker.   
 
Here's how to get through the next month with positives—both in attitude and account balance.
— Baby got Backpayments —
It's just a fact of life: The older we get, the less acceptable it becomes to give the gift of "a coupon for hangs!" And, by consequence, the more wine we need to accept that unfortunate reality. Start by taking a good look at your finances (cringey, we know) and figuring out how much you can reasonably afford to spend on the holidays.
 
"The most important thing is not to put purchases on your credit card that you know you can't pay off come January," says personal finance educator Kelley Keehn.  "That's a financial hangover that can last all year—[think] double digit interest charges."  
 
If that sounds easier said than done, download a personal finance app like Spendbook just for the month of December. Input your budget for the month and use it to track every single holiday-related purchase to catch all those extras (like wrapping paper and inappropriate Santa mugs) that usually slip under the radar.
— Make you list —
(and check it twice)
If you're a chronic December Overspender, the next step is to make three lists of to-buys: one of presents, one of any personal purchases (outfits, other outfits, etc.), and one of all the additional holiday-related paraphernalia you can think of—Hotline Bling Christmas sweaters, gin advent calendars, et al. Keep the lists in your phone so you never so much as set foot in a Saks without them.
 
"Retailers are counting on you getting emotional and buying more than you need or last minute," says Keehn. "It's like grocery shopping—don't venture out hungry out without a list of what you need."
 
Divide each list into two columns, essentials and extras. (For the confused: a train ticket home for the holidays? Essential. A limited-edition holiday NARS palette in a slightly gold-er shade of gold? Extra.)
 
And if your list is inching too close to your max budget?
 
"Get creative—do a Secret Santa, volunteer or vow a giftless Christmas for one year."
— Change your mind —
(and keep the change)
Take it from those who've received a store-credit-only gift receipt from a store called Master Bait & Tackle (wish we were kidding)—always, always make sure you and the person you're gifting to can make an exchange.
 
"The most important tip [is to] buy only at retailers where you can get a 100% refund," says Keehn. "That way, if you do overindulge and feel bad the next day, you can take some or all of the items back."
Seriously, though. When are you going to wear that lavender beaded slip again? Does that red burnout velvet crop top really"work under a blazer?" (Spoiler alert: no, it doesn't. You look like a Rockette on a smoke break.) The good news is that baroque don't need to make you broke. For those of us with a million and one holiday parties with a million and one holiday party photographers to attend, our secret weapon is to—gasp—rent.
 
Sites like Rent The Runway let you borrow designer dresses, clutches and shoes for the night/week/Instagram for a fraction of the retail price. So your wardrobe can look all Confessions of a Shopaholic while your wallet can look all Rich Bitch. Best of both worlds, right?