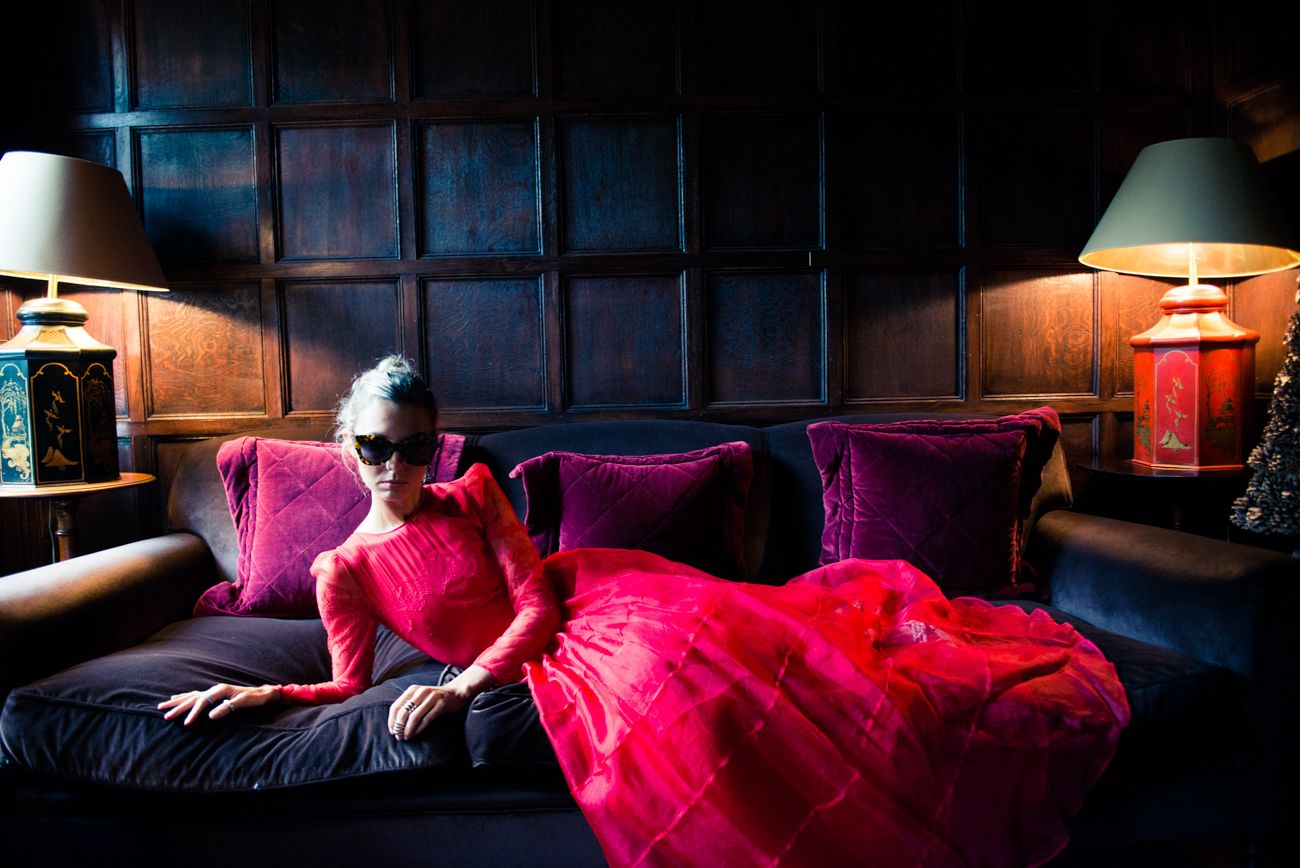 Hair
Stock up on specific products that target the season's vices: dry skin, tired eyes & a whole lot of booze.
Ah, the Holidays. What was once the prized season of my youth has become a never ending ring of parties, extra-late nights and eggnog hangovers. (Or is that just me?) Not that I'm complaining—because complaining about eggnog would be blasphemy—but I am admitting the havoc December wreaks on my body.
Never again will I spend the holiday season as a dull, lifeless version of myself. Like an actress mid-awards season, I will rise above and power through. And that means stocking up on specific products that target my—I mean, the season's—vices: dry skin, tired eyes and a whole lot of booze.
As a
beauty contributor
to a handful of publications, one can assume I've sampled a lot of products. (Again, not complaining.) And so I've gone and compiled an arsenal of my favorite standbys to fight winter—and its woes. With everything from the best longwear lipstick, to eye masks, to necessary post-party tricks—consider this my gift to you.
---
1.
Line Your Eyes In White
(Yes, White!)
My pick: Jane Iredale White Eye Pencil
No one wants to look like (or, honestly, be) they were the last person at the party. But if you, like me, struggle to conceal that final glass of Scotch, reach for white eyeliner in the morning. Wiggle the pencil along the inside of your bottom lash line, carrying the line into the inner-corner of your eyes. Your hangover will still feel like the Cruciatus Curse, but at least your boss won't notice.
2.
Find A Longwear Lipstick—And Marry It
My pick: Osmosis Longwear Lipstick
Lipstick is the product to buy organic. If the average woman eats seven pounds of lipstick in the course of a lifetime, at least half of said nomming takes place in December. And while most natural lipsticks struggle to maintain the color and pigment of their chemically-enhanced counterparts,
this line
from Osmosis is my favorite exception. (Pair with lip liner for longer last than Grey's Anatomy.)
3.
Apply An Eye Mask While Finishing Hair
My pick: Rodial Dragon's Blood Eye Masks, SK-II Signs Eye Mask
If the first appearance of fine lines are as terrifying as, say, waking up to realize you hooked up with your Uber driver, then eye masks are your best friend. These hydrating power pods fight wrinkles and caked concealer, helping you look like less of a sub-saharan crocodile. Pop 'em on while giving yourself a blow dry, using the remaining product as pre-concealer eye cream.
My pick: Pssssst
The combination of cold weather, over washing and over styling means one thing: dry, brittle hair. Also, the perfect excuse not to shower. Stick to washing hair every other day, using dry shampoo as a faucet-free supplement. I admit this one's packaging leaves a lot to be desired, but Psssst can out spray any salon counterpart. Pair it for Oribe's Moisture Masque on the days you do wash so hair stays hydrated and strong.
5.
Use A Light Retinol To Dissolve Makeup At Night
My pick: Shani Darden Retinol Reform
Jessica Alba once told me to use Shani Darden's light retinol on days when I wear heavy makeup. So, I do it. (Although, to be fair, I'd slather garbage on my face if Jessica Alba suggested it.) Beloved by everyone from Chrissy Teigen to Emma Stone, this retinol is the perfect post-party exfoliator. Just remind your drunk self to remove makeup first, and skin will be supple by morning.
My pick: One Love Organics Vitamin C Body Oil
For most people, winter means cream—anything thick and luxurious enough to blast flaking cells with hydration. Counter to this belief, however, body oil is where it's at. Whereas creams are known to stain clothes and cause clinging skirts, oils absorb instantly into the skin. I suggest one with Vitamin C to keep skin as happy as Pharrell with a huge-ass hat.
My pick: Nunzio Saviano Anti-Frizz Sheets
Kate Moss may look great with it, but not all of us can pull off mussed morning-after hair (or winter static). These single use sheets are the ultimate way to look styled without styling, or to keep a blowout lasting for days. Hold hair between your fingers and drag Saviano's sheets along the ends. Coconut oil gives great shine, and polymers mask ragged, dry ends.