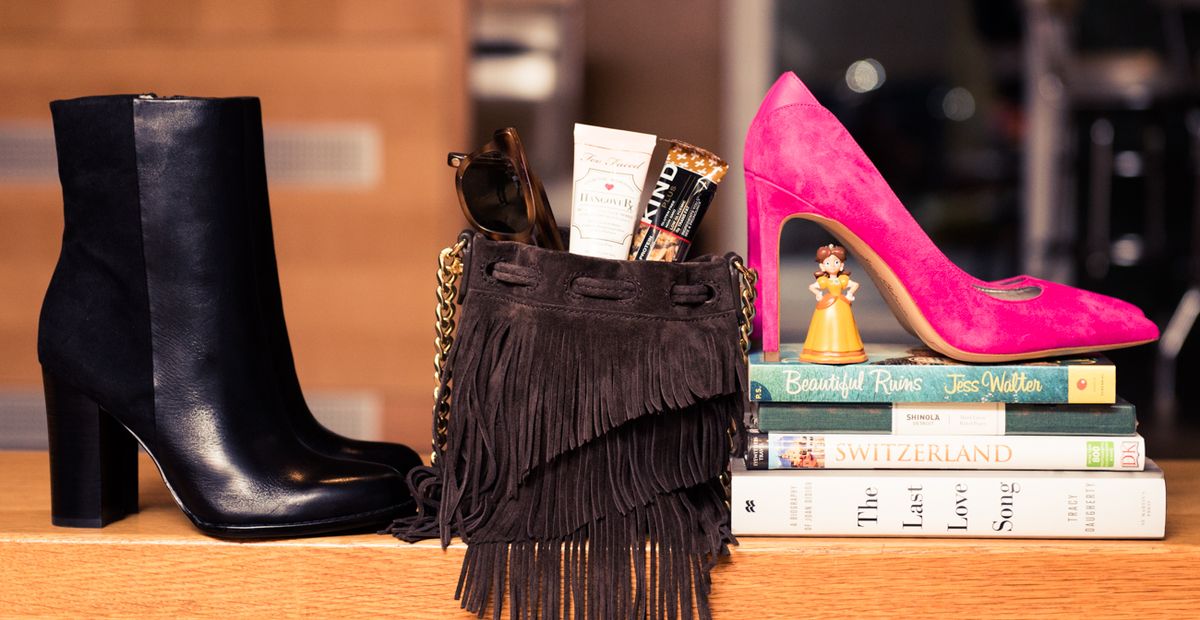 Fashion
It's the real most wonderful time of the year. In collaboration with Sam Edelman.
Hands up if you're like us and save alllll your holiday shopping (and some inevitable treat your self purchases) for Black Friday :raising_hand: :raising_hand: Some of you brave souls out there will be up before the break of dawn and get in with the IRL crowds :clap:, others (mostly us!) will be holing up at our parentals' with a cup of coffee and leftover dessert, scrolling through our browsers to fill virtual shopping carts sans crowds to :heavy_check_mark: our gift list. Either way, we're all getting shit done. Herein is what we're wearing (think day-off runners and totally holiday approps chunky heels care of Sam Edelman) and buying (practically everything we've been eyeing all season long) post-turkey dinner.
---
Emily Ramshaw
Senior Editor
To be totally honest, physically going shopping on Black Friday is my idea of hell. I can't even handle your run of the mill sample sale. What can I say? My competitive streak doesn't go as far as shopping. That's not to say, however, that I won't be taking full advantage of sales - I'll just be doing it over a post-feast turkey sandwich, feet up (in these over-the-knee seasonal staples), over-fed stomach constrained in skin-tight Saint Laurents from my handy-dandy iPhone. It's my version of the Black Friday high road.
My ideal post-Turkey day activities include staying as far away from Black Friday crowds as possible. In the interest of avoiding any consumer FOMO though, I'm spending my dollars on the Interweb in the form of these items :point_up_2: And yes, they're all for myself because that inevitably happens when you're constantly shopping for everyone else on your list, right? I sincerely believe this Pucci top fell (that's my excuse) into my shopping cart to solve each and every festive outfit conundrum. As in, it's black, kinda formal but still cool, and doesn't scream holiday. The Sam Edelmans are exactly what I hunt for every couple of years: black leather, realistic heel height, tight ankle, etc. I have a sweet spot for Charlotte Tilbury and her entire line so if there's anyone I trust with the deep blue smokey eye thing, it's her. I'm officially surrendering my black liner for this intense duo, consider it an early beauty resolution.
Meagan Wilson
Senior Editor & Social Media Manager
I've recently been fully called out (rude!) that this is maybe the eight-millionth editor's pick where I've chosen this bag. But after visiting it IRL at Loewe's Mount Street store last weekend, I can officially say it's worth all of the inclusion in the world: plus, this one's bubblegum pink and officially my favorite. Sale or no sale, it's all I can think about it, Black Friday be damned. This Christopher Kane sweatshirt is another pretty predictable pick from my end: I buy one of his on sale pretty much every season without fail. Finally, these half glittery, half tweed-y plaid Sam Edelmans are the boot version of business in the front, party in the back. Only, uh, reversed.
I went to the mall on Black Friday, once, way back in the day and vowed to never do it again. Instead I'll be doing some intermittent virtual shopping while visiting some hometown friends for a leftover brunch. I'll be wearing these leopard print Sam Edelman runners, a cozy cream knit (nothing new here, guys), and plan to throw these uber-adorbs safety pin earrings in my shopping cart between pecan pie helpings.