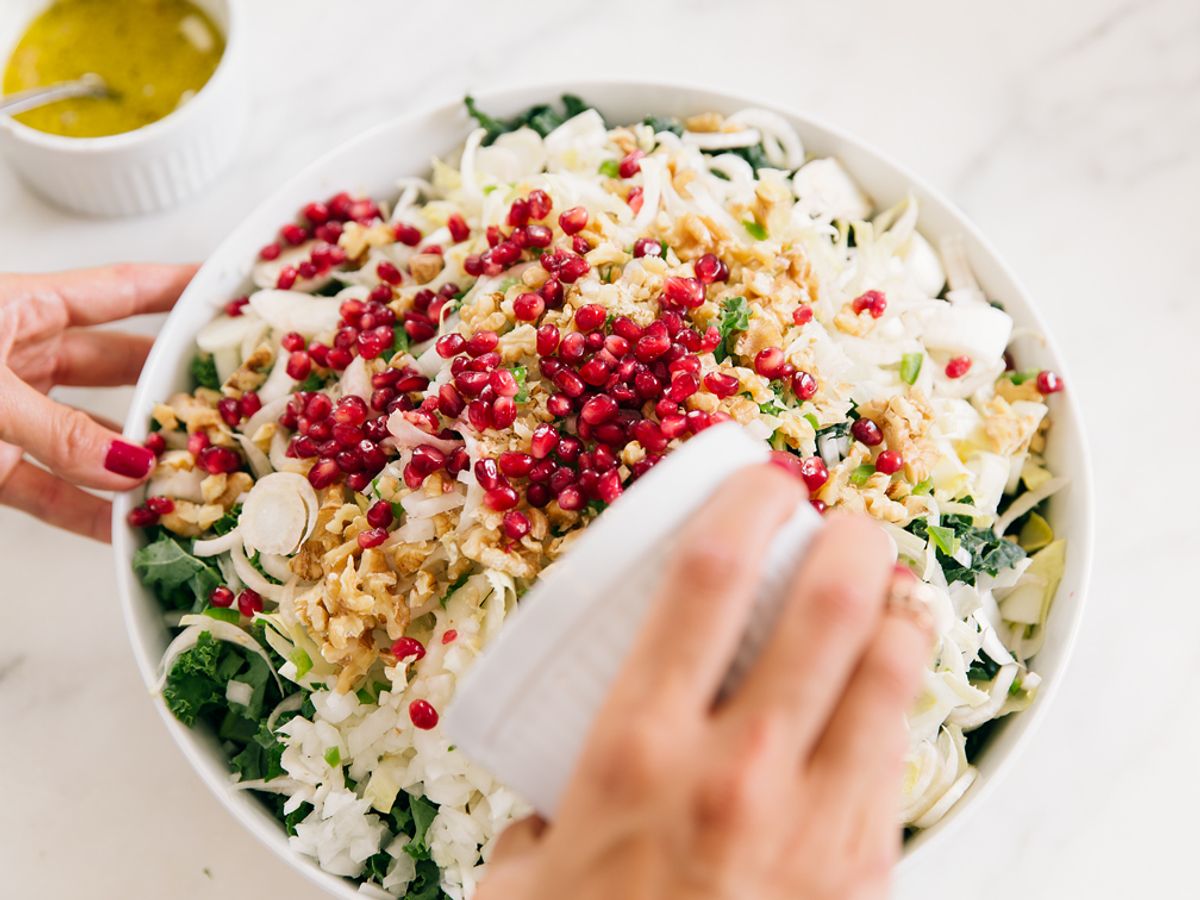 Food
Because nobody has the willpower to turn away cheese & champagne come mid-December.
There comes a time—nearing the tail end of December in that sweet spot that follows Christmas but precedes New Years—when your body will inevitably quit on you. Regardless of what or how you celebrate, there's something about that last, little bittersweet stretch of the year that screams: f*ck it. As in, even the most rigid and relentless of vegans are reaching for a little extra cashew cheese to top their black bean burritos with. Maybe it's the daunting resolutions to come or the ubiquitous presence of wine and cheese plates, but we almost always find ourselves throwing caution to the wind and saying yes not only to, uh, life, but also to second helpings and anything fried.
Rather than fight human nature, we aptly figure that the best defense is a good offense. And in order to avoid feeling like a human trash compactor, a "cleanse" or concentrated efforts to eat healthily pre-the crash course in gluten consumption of all kinds that is the holidays is the best course of action. Given that we've followed plans by
bonberi
founders
Nicole Berrie and Vanessa Packer
to (admittedly surprising) success before, we figured, who better to hit up for a little pre-holiday meal plan? Yup, no one. Herein, a week's worth of recipes that will cleanse your body, right before you start polluting it again with all those carbs and booze. Right about now's where we let them take it away to lead us into the holiday season...
---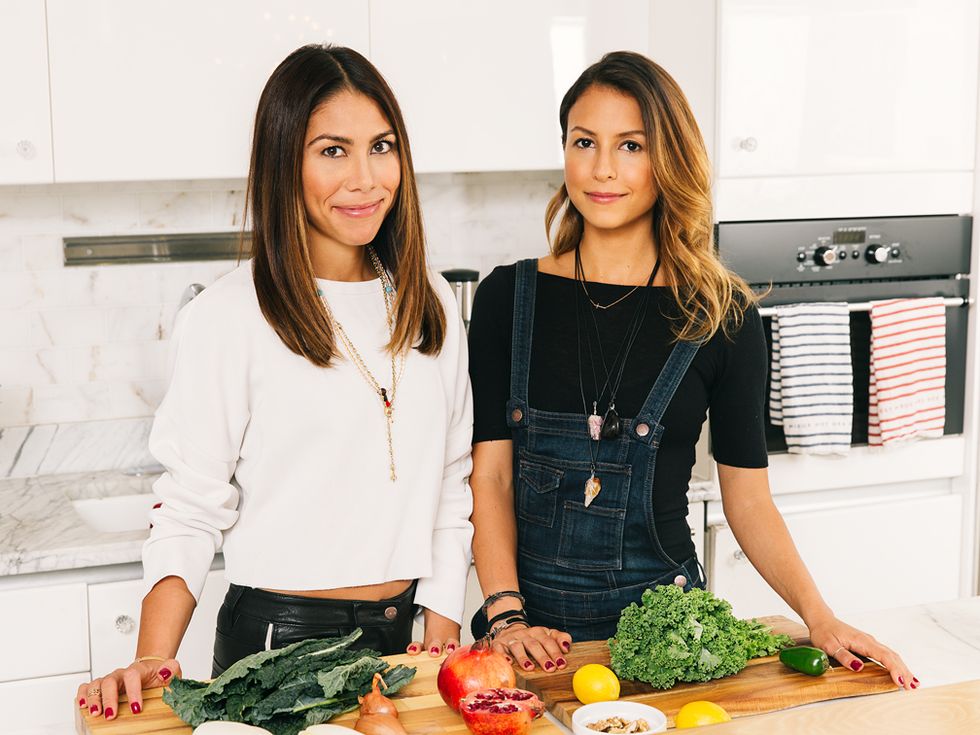 As the holidays approach, there is nothing we enjoy more than partaking in the endless fall festivities—and yes, that means indulging in all our favorite foods and the occasional cocktail. That said, it's essential to reboot our system prior to the season of good tidings in order to ensure a healthy 'blank slate.' Below, we've tailored a week-long plan packed with digestive enzymes, superfoods and antioxidants that will help you maintain a healthy holiday season without needing much recovery time come the new year. (Read: no winter sniffles, energy dips or dreaded bloating so you can rock that backless Reformation jumpsuit with panache.) In this exclusive pre-holiday bonberi x Coveteur plan, we focus on vegan protein, seasonal foods and hearty but cleansing soups while removing all sugar (including fruit), meat, nuts and dairy to guarantee a tip-top clean week so that you can help yourself to one (or three) slices of mom's pumpkin pie, guilt-free. Enjoy!
Note: While these meals emphasize whole foods, which will ensure satiety, if you feeling a bit more ravenous, feel free to supplement any of these options below to any meal except breakfast, which should always be a vegetable-based juice or fruit-free smoothie. Also, for the soup, dip and puree recipes, feel free to make big batches and store in the fridge or freezer for when you're feeling peckish.
-1 baked or steamed sweet potato w/ a pat of coconut oil
-1-2 pieces of sprouted grain toast
-½-1 avocado
-½ cup of organic chickpeas, kidney beans or cannellini beans
-Dash of cayenne, cumin, turmeric, cinnamon or fresh lemon juice to boost flavor
With Love,
Nicole & Vanessa
Thursday
November 20th
Morning
Winter Warming Green Juice
Bunch of Lacinato Kale
4 Celery Stalks
Dash of Turmeric (or 2 fresh roots of turmeric)
1 knob ginger
½ deseed jalapeno
1 bunch of romaine
Optional: 1 Green Apple
Lunch
Wintry Mix Salad
1 cup of baby kale or baby spinach
Handful of raddicchio, sliced thin
 -½ cup shaved fennel
½ cup celery, sliced thin
Mix and dress with lemon and olive oil
Simple Parsnip Puree
Dinner
Kale Pomegranate Salad
Butternut Squash Soup
Friday
November 21st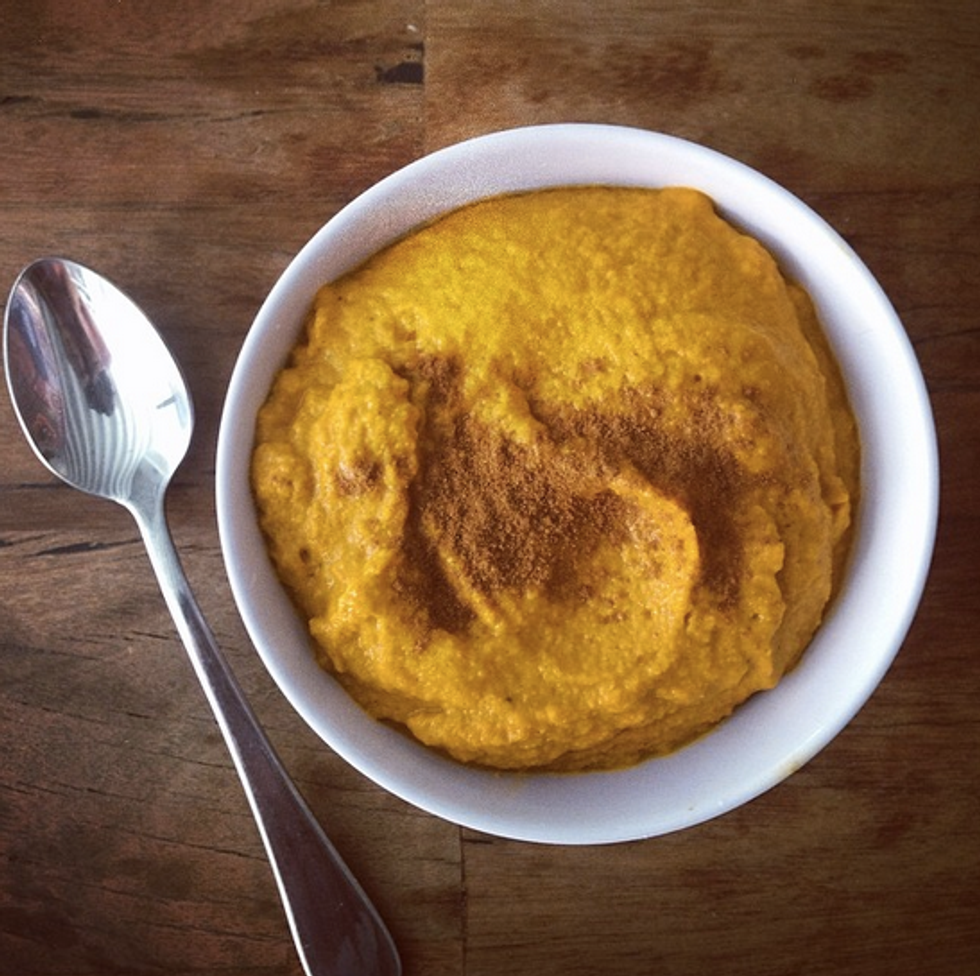 Morning

Pumpkin Pie Bowl (Add Bunch of Kale Leaves or Fresh Spinach)

32 ounces of fresh carrot juice
1 cup of raw sweet potato, peeled and cubed (Jewel yams work best)
1-2 packets of stevia or drops of liquid stevia to tatse
1/2 avocado, pitted
1/2 teaspoon of pumpkin pie spice

Place all of the ingredients in a high-speed blender and blend until smooth. Enjoy right away or store in airtight container and enjoy within 36 hours.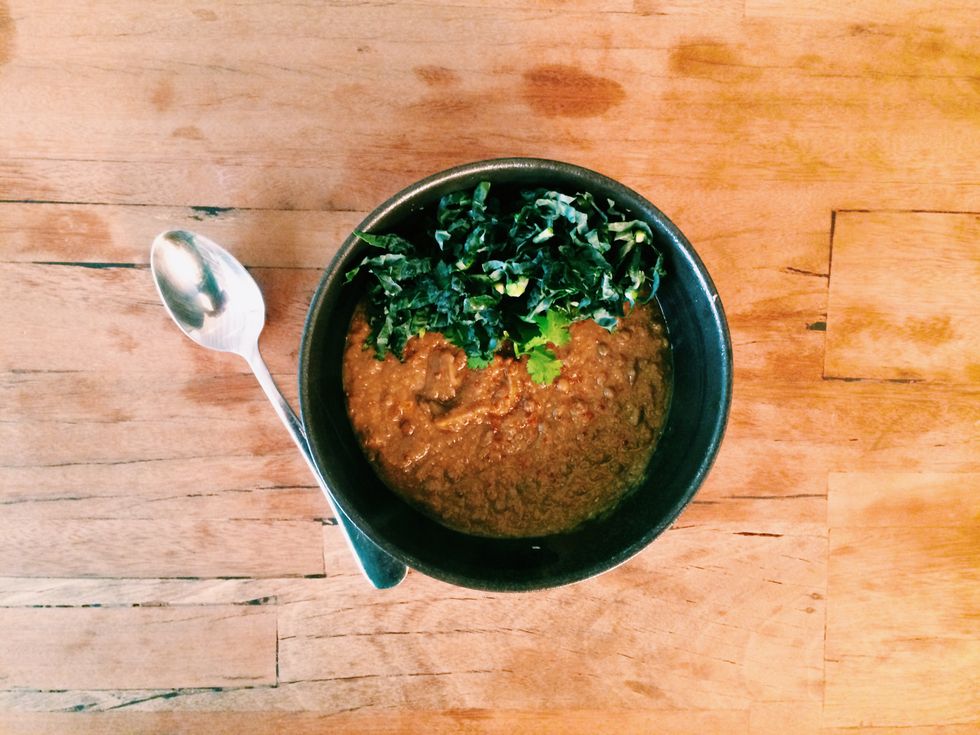 Saturday
November 22nd
Morning
Holiday Cheer Juice
4 large carrots
½ red beet
1 knob ginger
½ lemon
4 stalks celery
1 bunch of romaine leaves
2 stalks of fennel
Lunch
Wintry Mix Salad
(see recipe above!)
Leftover Butternut Squash Soup
Dinner
Massaged Kale Salad
1 Bunch of Curly Kale, sliced thin
1 Bunch of Lacinato Kale, sliced thin
1 red bell pepper, sliced thin
-1 handful of alfalfa or broccoli sprouts
1/2  teaspoon of toasted sesame oil
1 tablespoon of gluten-free Tamari soy sauce
Juice of 1 lemon
Massage kale with dressing so kale softens. Add red pepper and sprouts.
Slow Cooker Vegan Chili with peppers, black beans and sweet potato
with Vegan Cornbread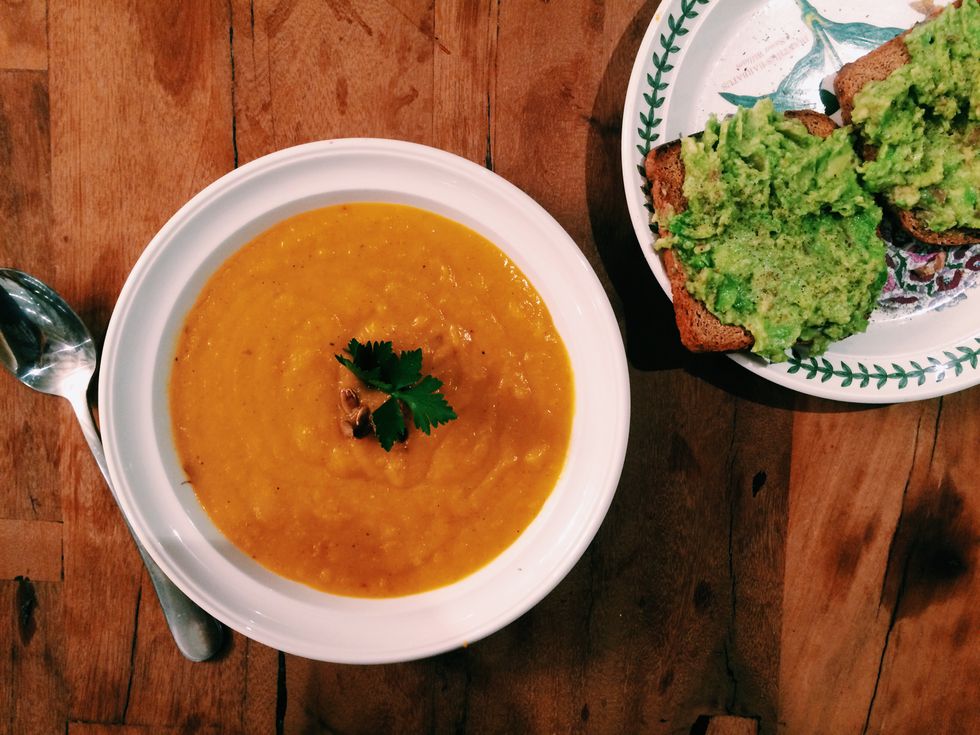 Sunday
November 23rd
Morning
Winter Warming Green Juice 
(see recipe above!)
Lunch
Warm Asparagus Salad
1 Bunch of Asparagus
2 Bunches of Spinach
1 Clove of Garlic
1 Handful of Cilantro
1 Avocado
2 Limes
Sea Salt
Black Pepper
Cut the white ends off asparagus and place in steamer basket until soft, but still with a bit of a crunch.
Finely chop the garlic and rub around the inside of the bowl evenly. Add in chopped spinach, chopped cilantro and cubes of avocado. Chop steamed asparagus and add to the the bowl. Squeeze in lime juice, sprinkle sea salt and fresh black pepper. Mix gently so salad is well combined and avocado doesn't get too smushed. Serve and enjoy!
White Bean Hummus with Crudite and/or Brown Rice Cakes
 (see recipe above!)
Dinner
Crunchy Tahini Kale Salad
Kabocha Squash and Sweet Potato Bisque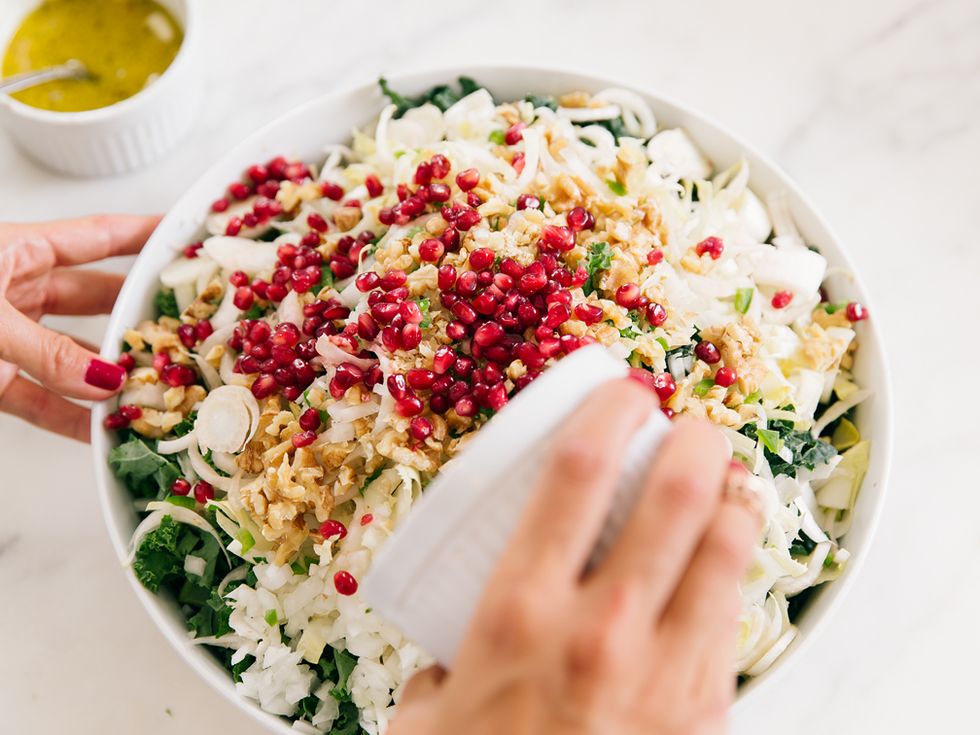 Monday
November 24th
Morning
Winter Warming Green Juice
Lunch
Simple Green Salad with raw vegetables (dressed with lemon, dijon mustard and 1 teaspoon of flax oil)Cream of Cauliflower Soup
Dinner
Kale Pomegranate Salad with lemon, olive oil, dijon mustard and apple cider vinegar dressing
Stuffed Acorn Squash
1 cup brown rice
1 large acorn squash
4 strings of saffron
coconut oil
grapeseed oil
2 bay leaves
shaved coconut
vegetable broth
paprika
sea salt
fresh black pepper
Pre heat the oven to 375F. Cut the acorn squash in half, remove seeds and inner strings. Lightly drizzle grapeseed oil over each half of the squash, sprinkle paprika, salt, and pepper. Wrap each half separately in a square of tin foil, but not too tight, leave a little opening at the top for steam to get out. Bake for about 40 minutes, or until fork tender.
Follow instructions for cooking brown rice on the stove top. Sub in coconut oil for 'butter or oil' as directions say, usually one tablespoon. Cook in vegetable stock, bay leaves, and saffron strings. Once rice is cooked, remove bay leaves and stir in a large sprinkle of shaved coconut.
On a plate, take half the cooked acorn squash and spoon in rice to make a small mountain on top. Serve with Crunchy Kale Salad and enjoy!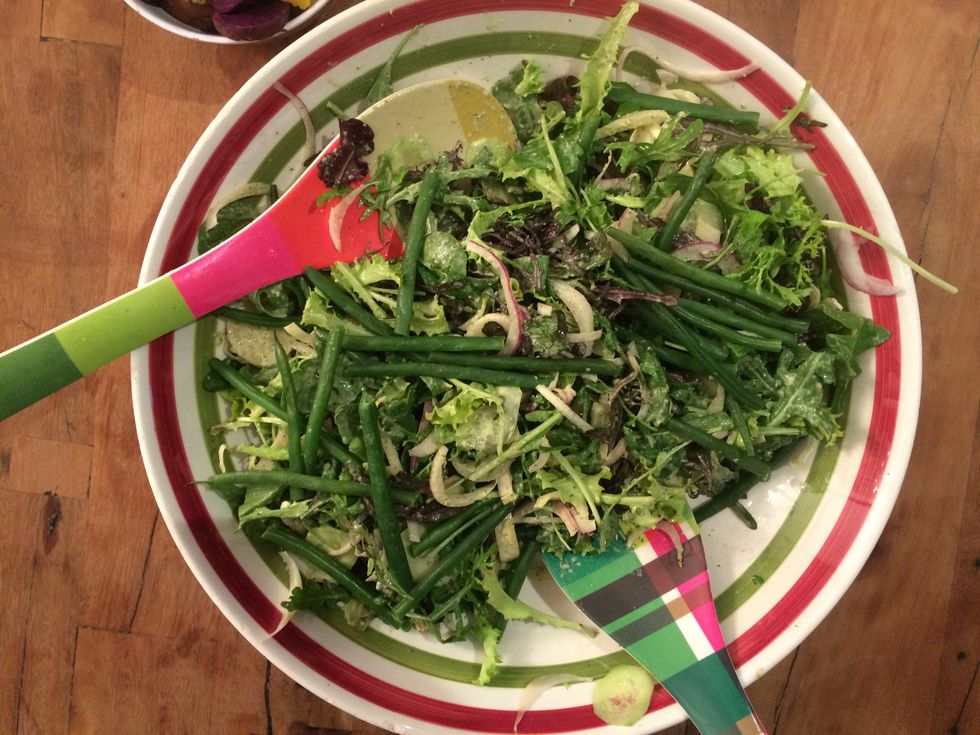 Tuesday
November 25th
Morning
Coco Green Juice with spinach, kale, lemon, ginger, apple and coconut water
Lunch
Simple Green Salad with Tahini Dressing
Kale Farro Soup
1 Cup Whole-Grain Farro
1 Bunch Chopped/Destemmed Lacinato Kale
1 Large Onion
2 tablespoon Extra Virgin Olive Oil
2 Garlic Gloves
4 Cups Vegetable Broth
1 Bay Leaf
1 Tablespoon Finely Chopped Rosemary
3 Springs Fresh Thyme
3 Carrots, cut 1/4 Inch thick
Parsley
Salt
Pepper
In a large pot, add in chopped onion, garlic and olive oil and allow combination to brown. Add in vegetable broth, farro, carrots rosemary and thyme, bring to a boil. Once the farro and carrots are soft, about 20 minutes reduce heat and add in kale, salt and pepper to taste. Add water as necessary throughout. Allow kale to cook for 15 minutes. Serve with a sprinkle of chopped parsley on top.
Dinner
Massaged Kale Salad (See recipe above)
White Quinoa Pesto with Fingerling Potatoes