Get Well
Jewelry Designer Waris Ahluwalia on Why Philanthropy is Part of Wellness
The most well rounded routine we've ever heard of.
As much as we'd like to think that a session at SoulCycle and regular vitamin consumption makes for a complete health routine, it took talking to Waris Ahluwalia (the jeweler has a way with diamonds and emeralds that initially endeared him to us, not gonna lie), to remind us that there's a wee bit more that goes into fulfilled wellness—at least in the broader sense of the word. See, here's a man, someone who can usually be found in the wilds of New York nightlife and Wes Anderson movies, who, upon hearing that Indian elephants were in danger of extinction, organized a fundraising road trip through India (and he's still raising, too, through CrowdRise). Of course, in typical Ahluwalia fashion, this wasn't a typical road trip—it was a rickshaw road trip. But what does something like this, that sounds, well, uncomfortable, have to do with wellness—well, friends, as became very clear once we started talking to Ahluwalia himself, beyond helping the world (never a bad thing), it's causes the kind of internal gratification that, frankly, does a body (and mind) good. And when you have that, you can say, like Ahluwalia, "There's no guilt in my pleasure," and actually mean it.
---
General Wellness

"This is a path of self discovery guided by my quest to find balance in a world that moves forward at the speed of light. It is an idea that is intrinsically tied to the way I live my life. It's being mindful about what I put in my body as well as what I put on my body; being mindful about how I spend my days and who I spend them with; being mindful of finding space and time to get lost in thought.

Living healthy is a process that's always evolving. I was a vegetarian for about 17 years. Recently I've come back to meat—organic, farm raised and local whenever possible. I needed to add that balance back in my life."
Mental Health
"My days can be hectic and my nights unpredictable. So each and every morning is a moment to gather myself for the storm ahead—both the one that's external and the sometimes the more furious one on the inside. So the day begins with meditation."
Philanthropy
"Philanthropy is staying true to yourself and your values, demonstrating kindness and thoughtfulness in your actions, and above all taking responsibility for your actions and surroundings. It's a simple concept but it's all about the execution. If we were each 10% more thoughtful in our actions we could change the world one person at a time. It's how it's always been done.
On his work with Elephant Family and his rickshaw ride across the Indian countryside:
India is the land of my birth and is ingrained in my soul. It is in everything I do. India is a land of beauty, myth and great splendor. The Himalayas, the lush forests of the south, The Great Thar desert, Bengal tigers, the Indian elephant [represent] a richness far beyond of anything manmade.
It all seems like a land apart from our lives here. Yes, as we all know so well, it's all connected. What happens there, affects us here. We're part of a dynamic system in which everything and everyone is in flux.
It is so hard to believe that within our lifetime one of the most magnificent species on the planet may cease to exist. The good news is that we are not doomed, but the reality is that we're not in the clear. We are creating the future with every word, every action, every thought.
As for my thoughts, I don't want to live in a world without elephants, rhinos or tigers. Many moons ago I came across a great organization called Elephant Family founded by the late, great Mark Shand. His vision lives on in Ruth and Mary Powys, who head the organization, and in each of us who believes in imagination and magic.
You understand that when you protect these creatures you protect a larger ecosystem and all life both grand and tiny.
The craziest thing that happened on our journey was that there were 40 teams of beautifully decked out auto rickshaws on rural roads in India, which are some of the most dangerous roads in the world. The craziest thing was also the most magical thing—a sight to behold in fact. There was so much love, laughter and thoughtfulness on this adventure. That combination doesn't occur naturally so often.
My favorite thing was being behind the wheel, waving to the children in their school uniforms on the roadside, heading towards Kipling Camp to meet Tara, the elephant Mark rode across India. I captured the whole journey in my first attempt at social media, @houseofwaris. We're using it as a vehicle to continue fundraising with Crowdrise. Hopefully this doesn't ruin my mental health.
The journey was for 500 kilometers across rural Madhya Pradesh, a region of India I had never been to before, over the course of five days. We raised money, approximately 2 million pounds, and raised awareness across the world about the dire need for conservation. The money goes to protecting the elephant corridors and the villagers who live amongst the wildlife. We're working to create a world where wildlife and humanity can co-exist."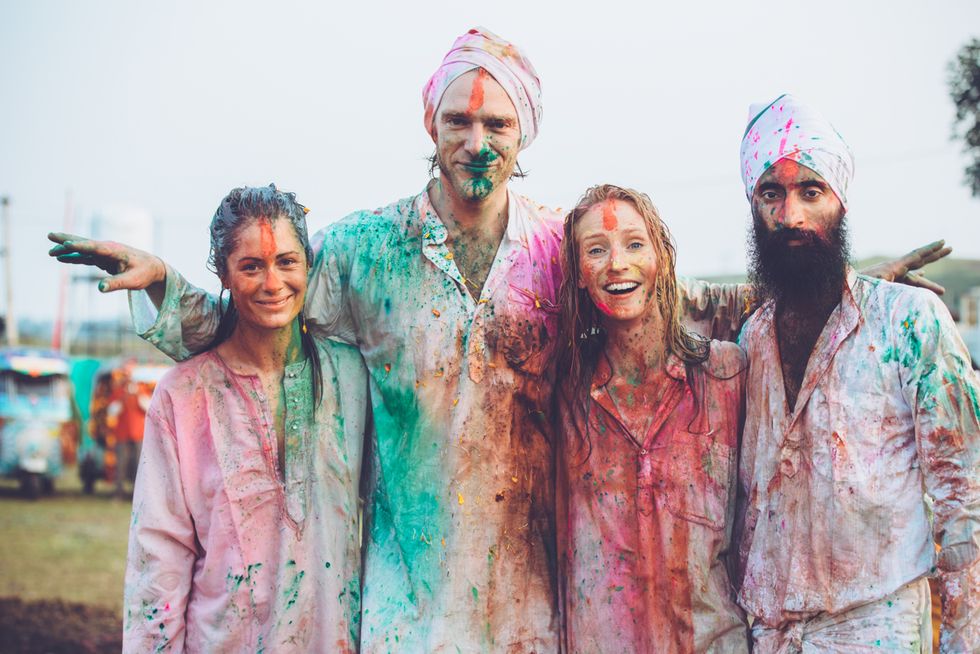 Travel

"On the road I try to maintain the same routine or as close to it as possible to my life at home. The key word there is try. It's not easy, but I do what I can. The diet remains the same and I try to figure out some form of exercise. If there's no gym then push-ups, running, swimming. Keep the body moving. Of course I'm human so somehow more desserts get eaten when I'm traveling."
Eating

"Drink water. All day. Everyday.

It's not so much that it was weird as much that I was a pain to be around: last year I quit sugar and all wheat completely. I've come to realize it's all in the balance that's the secret. Eat, drink and be merry—in balance.

My favorite snacks are almonds, mulberries, walnuts, dark chocolate, smoothies and a hot cup of tea—never coffee, only tea, preferably oolong.

I eat an apple before I workout. And after a protein shake with almond milk, bananas, protein powder and blueberries.

For breakfast I eat papaya with lime, an omelet, sheep's milk yogurt with nuts and an organic white tea.

Souen is a trusted favorite restaurant when I'm feeling especially healthy. Other than that you can find healthy options on most menus. It's all in how you order."
Fitness

"My favorite way to stay fit is swimming in a warm sea. Sadly we only have a cold river at our disposal.

So my other favorite is to work out with my trainer—I've been with Stephen Cheuk and S<10 before it was S<10. It's a slow and steady process, but it's great to work out with someone who understands your fitness goals and brings knowledge and care to the table."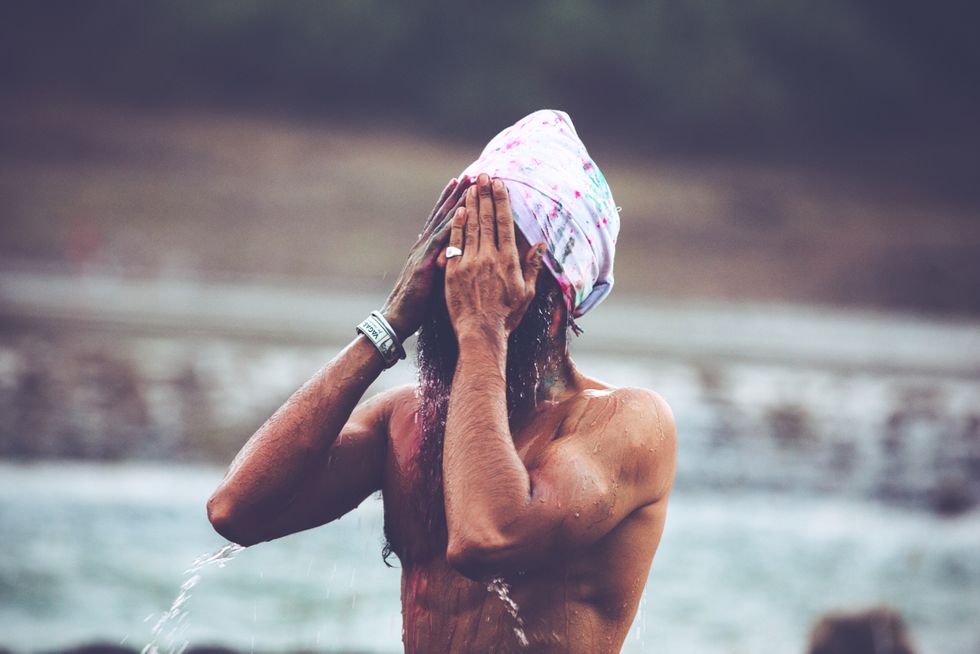 Advice for anyone looking to be healthier

"One must think about why you're doing it. The first step is understanding your reasoning, which is almost the most important. If you're doing it for yourself and a better world then you have a better chance of sustaining the lifestyle.

I do it because it feels great. It gives me focus, clarity, energy and drive. It keeps my mind and body working together like a well-oiled machine. It's a better life."
Photography: Christian Lamb