Career
This is What It Takes To Put On A Couture Fashion Exhibit
Designer Iris van Herpen on 3D printed dresses, invisible inspiration and working with NASA.
Noah Lehava
There has never been a more true and complete fruition of the relationship between art and fashion than the abstract creations of Dutch designer and couturier Iris van Herpen. And the superstars of any given best dressed list agree—everyone from Beyoncé and Taylor Swift to Cindy Crawford and Bjork have taken the plunge with Van Herpen's, um, clothes. But it's not only the visual appeal of the designer's works that draw attention, but her singular use of technology to create fashion that is quite literally out of this world, as in trying to wrap your head around the optical illusions that are her garments is a bit of a surreal pursuit. Take for example how Van Herpen used 3D printing for her fabrics back in 2008, when the idea was so new that no one had ever thought to use it in fashion before, or, say, how she fabricated her own stainless steal thread, so pliable and soft it could pass for crinoline. Or how she worked Swarovski crystals into bodices and under sheer fabrics for varying degrees of shine. Or, you know, used robots to print a dress onto a live model. Yeah...
But you might not expect anything less when the artist had her start working under Alexander McQueen (she's since been heralded as his prodigy), going on to hold countless exhibits in some pretty major museums. And there's a good reason for it, too, because her pieces really must be seen to be believed. Which is exactly why we made our way to Atlanta's High Museum of Art to see (and feel) her work for ourselves, and to grill the designer on what inspires her, her dream collaborations (it's not what you think) and what it takes to put together a museum exhibit.
---
On how she utilizes technology for her work:
"I think technology is not necessarily an inspiration for me, but it's a tool. It makes me realize the structures and the textures that I have in my mind. So when I start on a dress, I often see my chances, like 'Can I 3-D print this? Can I make this by hand? Can I laser cut this? Can I mold this?' It's like a journey of having everything that is in my mind into the creations that you can see here. So technology is just a tool for me to achieve what I have in my mind. It's not that I necessarily find inspiration in it; I think inspiration much more comes from art and architecture and dance and even science. But technology is really a tool to me."
On how she first discovered 3D printing:
"I saw it with some of the architects in Amsterdam that were using it to make modes. At that time—I think it was 2008 or something—I didn't know how I could use it myself, because it's a very computational process, but I did sort of fall in love with the technique. I could see how complex and how three-dimensionality could go. And I think three-dimensionality has always been a very big influence in my work."
On where she draws inspiration from:
"I think in general, invisibility—like life and daily life is so based on the few senses that we have, but there is so much more going on around us that we don't see, that we don't feel, that we don't hear. And I think a lot of the collections that you see here are very much inspired by that. Like the Radiation collection that is inspired by all the invisible radiation around us; or the Magnetic Motion, that is really about all the magnetic forces that are there; or Voltage, all the electricity we are using to create all our needs. I think a lot of the collections tell this invisible story that I try to visualize in my own very abstract, unique ways."
On using laser cutting and 3D printing:
"I think the technologies that I use mostly are laser cutting and 3-D printing. Laser cutting is really good to create intricate structures, and I often make them 3-D after the laser cutting process. For example, the big dress—these are flat, acrylic plates that we laser cut into little cuts, and then we put them in the oven and then they become warm and we push them out. So they look 3-D printed, but they are actually handmade and laser cut. There is a lot of laser cutting."
On discovering new technologies and techniques:
"It's one big laboratory in my atelier.  All these different structures that we are trying, it's really a process of trial and error. A lot of experiments don't work out. You don't see them here. But some of them don't work at that moment—the Infinity Dress is a really good example of that. I developed this material a few years back, and then it didn't work the way I wanted, and had it [but] I let it rest, and then two or three years later, I continued it again. And I think that is very much what is happening in the atelier; we do experiments, they don't work, but I don't necessarily see them as a failure, because some things need time, and then I continue that story later."
On the designs she's most proud of:
"Hmm that's difficult to say! I think the pieces that you see here, all have a very big story to me.  They all are journeys and that's how it's strange for me to be here because I know for each dress how it was envisioned, and how it's been made, so it's difficult to choose. I think in each collection I have my favorites of course, but choosing one favorite in general, that's too broad."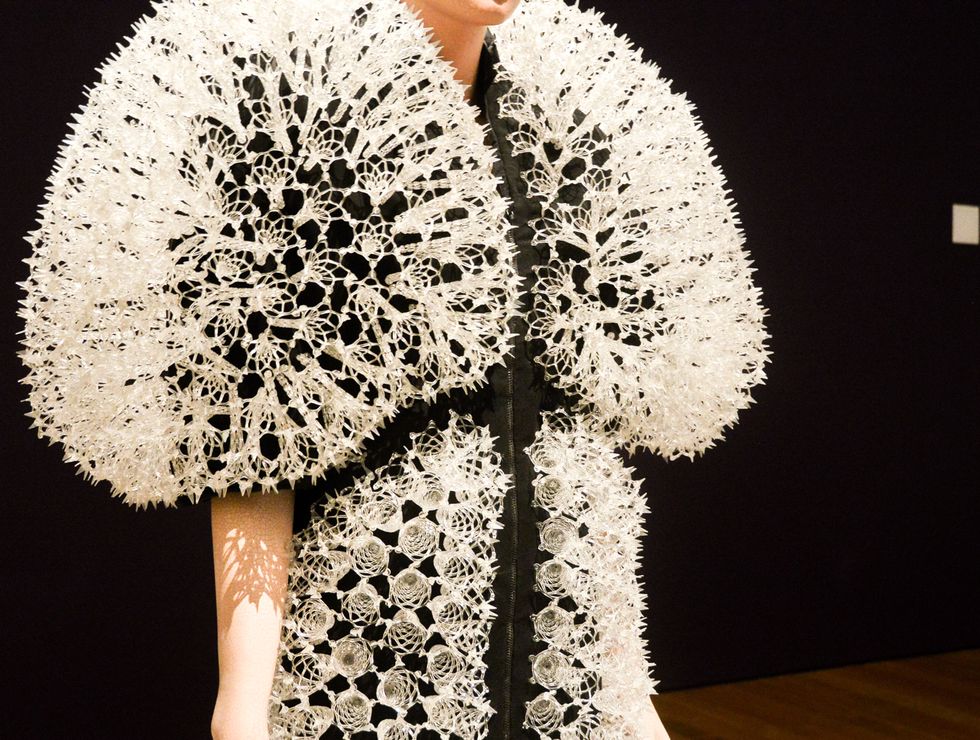 On the most challenging and painstaking dress to create:
"Well, there are many! [Laughs] There's a lot of blood and tears in it, but the Mirror Dress is definitely the most time-consuming. If we would have to make it again, we really would need a year in advance."
On her dream collaboration:
"I have a dream to collaborate with NASA at some point, because their technology is so advanced. I could really see that I could do things with it."
On curating her exhibit:
"It was a pretty long process, but a really good one. The people from the High Museum came to see my show at the Groninger Museum, which was three or four years back. And since then, we started up the process. Obviously, they took the pieces from that exhibition, but then we added all the new pieces. The selection was really collaborative. It was very common ground in that sense that we had the same idea of the pieces that we wanted in the exhibition. All this time we've been repairing the pieces to make them all really good for the exhibition, and working on the book, working on this section as well, so I'm really excited to see everything coming together."
On how she transports each delicate piece:
"A dress stays on the mannequin when it is being transported and each doll and dress has its own custom-made wooden crate."
On deciding how to display each work:
"We wanted to show the combination between the very abstract pictures where they almost become sculptures, but also show them on a model that is very human-like, like the models that we have on the runway. Only the faces make [them] more abstract. When I design, I don't have the identity in my mind, so we didn't want to give an identity to these women. They are human, but not too real. So that was really finding that balance—that people can see the real proportions, like a lot of mannequins are much slimmer than real people but these are actually very much like the women we show the pieces on the runway."