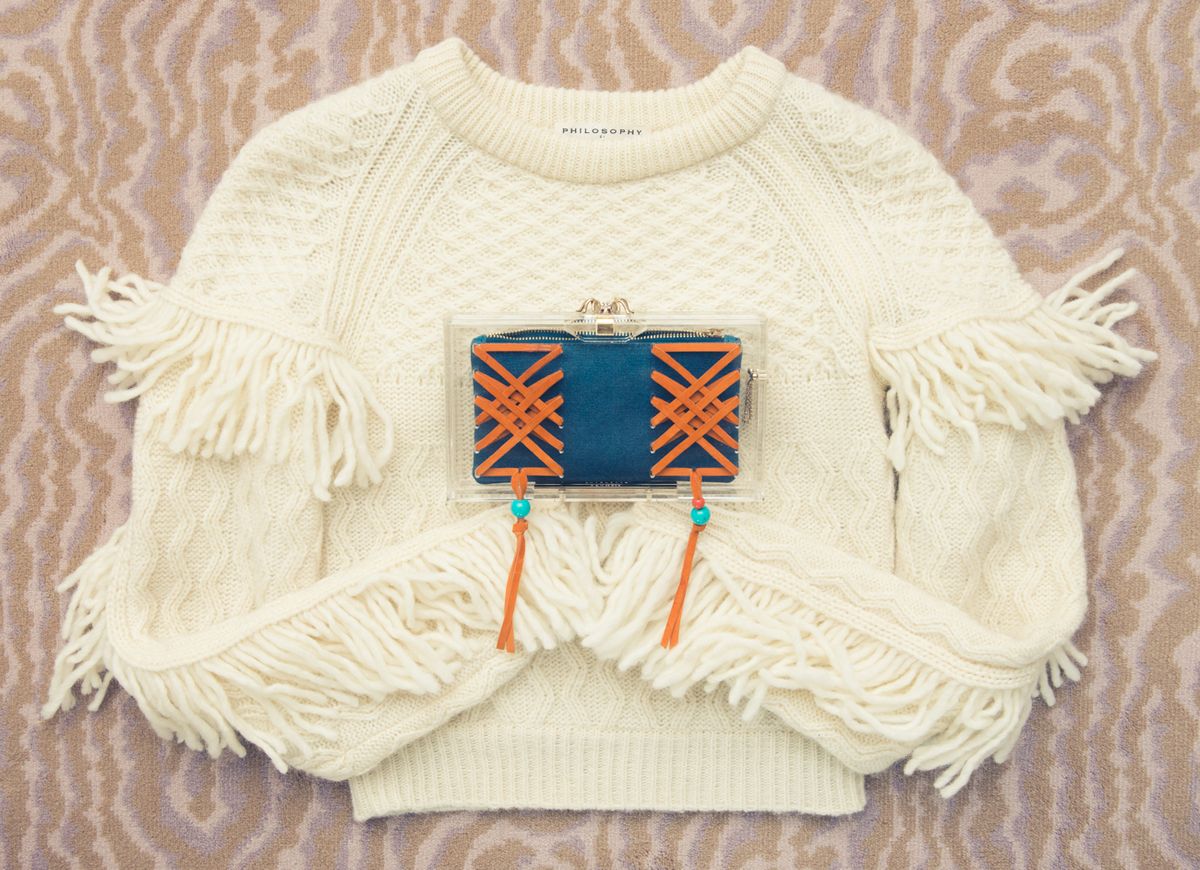 Fashion
This is what cashmere was made for.
As much as we harp on the hectic happenings of the holidays (no, we haven't started our shopping. Yes, we only have ourselves to blame), there is a significant part of this time of year that is just straight up R&R. Like, for example the glorious day(s) of Thanksgiving, where aside from the requisite sitting in for one epic meal, leaves a significant amount of time free of responsibilities. Open for catching up with family and friends (sans screens) all while enjoying good food and drink, lounging about and taking time to remember what we're actually thankful for (besides y'know finding that on-sale Acne jacket). Whether you're venturing back to the suburbs because as Reformation so eloquently put it, "They made you and now you have to go see them" or staying in the city and hosting your own Friendsgiving, take a hot sec to just relax, shut the damn laptop, power down your iPhone, or at least switch to airplane mode, and take it all in. And, because we know you just need to get your packing done at this point, behold our cozy IDGAF-ish post-Turkey outfits :fire:.
---
I'm a warm-weather person. Cold just doesn't quite jive with me—I'm Canadian but what can I say? My goal all winter is to stay as warm as humanely possible at all times. That's why the furrier, chunkier, woolier and the more layers, the better. Bonus points go out for everything in grey and beige, my exclusive color palette for the season. A Stella McCartney faux fur shaggier-than-Walter coat checks all the aforementioned boxes... and then some. And as much as I love hats, I hate static-y hair. Cue the warmest fur earmuffs around. UGH, and this Alice Temperley sweater is everything: charcoal, knitted and chic AF.
Blame it on the tryptophan but after stuffing oneself with multiple helpings of turkey, sweet potato casserole and cranberry sauce (never mind the red wine) there's only one place to go. And that's directly to the couch for a nap, with a warm fire and football as background noise. But first! Off with the holiday clothes you wore solely to make your parents happy and into post-Thanksgiving meal loungewear. Which is ideally a baggy cashmere sweater and super soft "trousers" that are 100% sweatpants trying to be trousers. Then don't leave the house (or the couch for that matter) for the rest of the day. But if you neeeeed to go outside for say, fresh air or um, more wine and fresh rolls for turkey sandwiches (the best part), then have a mohair teddy bear coat (that's again, more like a bathrobe disguised as a coat) at the ready. Happy gobbling, guys!
Meagan Wilson
Senior Editor & Social Media Manager
Coziness is a concept I haven't fully grasped yet. I love comfort as much as, uh, literally any other human, but in terms of being all cuddly and swaddled like an adult baby in cashmere—it doesn't compute. It's like there's a gap in my brain where there should be a compartment for dressing appropriately for the demands of the weather, but here's goes nothing. These palazzo pants are decidedly intended for a resort somewhere and best paired with a bikini top, but they're a cotton-silk blend I imagine likely fits the bill. Not sure how the zip will jive with post-turkey needs, though. I'm trying, okay? These Tibi shoes are literally my dream slide—deceivingly fancy in their wearability. Finally, a candle. Because I can get behind the cozy-comfy appeal of Cire Trudon.
Emily Ramshaw
Senior Editor
This time of year (and in preparation for the feast and subsequent crash that is coming my way later this week), all I want is to be swaddled in cashmere like a baby. And faux fur. And real fur. This The Row wrap-slash-poncho is probably the chicest way possible to get away with wearing bedding as clothes. As a Canadian, there is nothing more fitting to winter in my mind than fur and leather mittens made by a Montreal-based label, WANT (literally). And then there's the Marni scarf, which is likely the most practical purchase I could possibly make, right? I mean, what could be warmer?