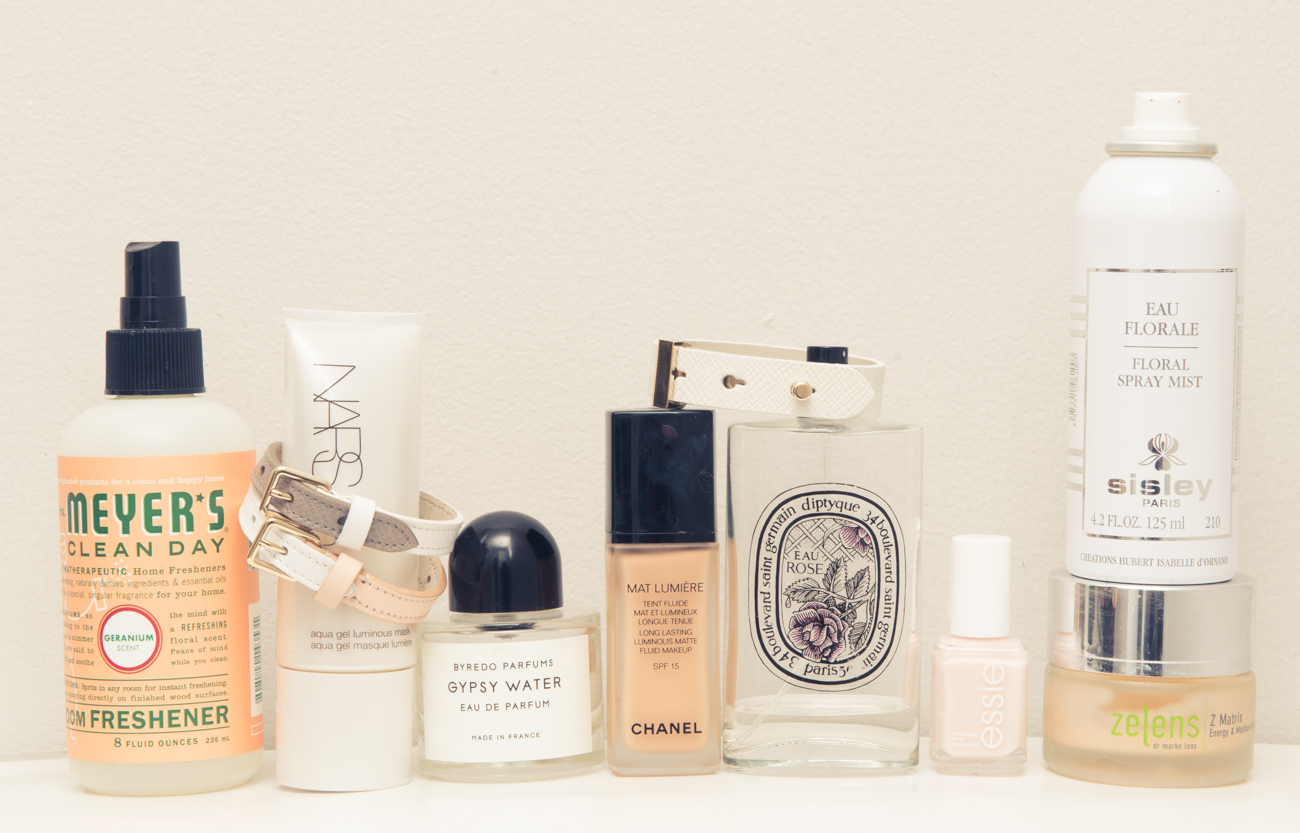 How 16 Beauty Editors Save Their Skin in the Winter
All the moisturizers, oils and balms the biggest editors in the biz add to their daily routines.
We'll be honest, in the winter, our whole beauty and skincare upkeep becomes a little, well, desperate. Granted, most of Cov HQ lives in about the coldest livable climate—so between careful application of piles of moisturizer, serums and balms in the morning and our arrival at our heated (read: DRY AS ALL F*CK) office, we inevitably have to face our commute. Forget public transit flashing incidents and sidewalk-owning dog walkers—all that we can deal with. It's the added obstacle of the elements (wind, cold, rain, snow, freezing rain, ice storms—yeah, actually) that really messes with anything resembling good skin and a normal-ish makeup look.
Then again, we know we're not alone and that there's a whole host of beauty editors in New York (and fine, one in L.A., but she feels our pain, we swear) who deal with the same daily perils and still come out glowing. So seriously, what's their secret? Exactly how do they change their routines come cool down? And, in imitation mode, how should we? Here's what we learned: despite the fact that it's flu season, hand sanitizer is a no-no; never go anywhere without Burt's Bees and Aquaphor; start slathering oil on like you're after baby-bottom skin. Here's to making it through to April without alligator skin.
"I do a few things, most of which revolve around moisturizing!
I love Biologique Recherche's Cream Masque Vermix Masque (just wrote about it in our December/January issue). You're supposed to use it at night—and I do—but I've also taken to wearing it during the day since it's super hydrating AND protective against the elements (no SPF, though). I also pat face oil onto my cheeks in the afternoon, or before I head back out into the cold. My favorite these days is HollyBeth Organics Face & Neck Elixir. It's nourishing but I also like the way it adds a dewiness to my skin.
When I know I'll be outside a lot—skiing, hiking, running from show to show—I'll apply Aquaphor to my skin. A makeup artist taught me that it's a great protectant against windburn. I'd worried that it might make me break out, but so far, so good!
I also triple or quadruple up on my Burts Bees lip balm stash—I usually have two in my purse, one in my jacket pocket and one in my jeans pocket. Yep, that obsessive!"
"When it's cold, I pull out the heavy artillery: The ultimate all-purpose winter fix-everything is Weleda Skin Food. It's the most amazing smelling concoction of six billion ultra-organic essential oils, and if your skin—face AND body—is dry, Skin Food is the cure. Seriously. All people in winter need Skin Food.
When I shower, I finish with the Brown Sugar Body Scrub from Fresh, so I emerge perfectly hydrated, not needing moisturizer.
I use face oil (Intelligent Nutrients Oil Serum) so constantly that my mascara is forever in ruin; it's worth it.
I know baths are drying, but I must take one practically every night anyway, so I fill it with oil—DeMamiel, Tata Harper and Rituals Eucapytus body oils are all in rotation.
I take fish oil every day from Dr. Perricone—it makes a HUGE difference in how moisturized your skin is.
My obsession with Philip B hair products only intensifies when it's dry outside. The original miracle hair oil is AMAZING to work into a ponytail before you go running—it smells so good while you're running, then, after you wash it out, your hair is incredibly shiny.
I avoid hand sanitizers like the plague (antibiotic resistance is going to kill us all) EXCEPT for Burt's Bee's fantastic, cinnamon-ish all-natural spray, which kills everything without triclosan, and without drying out my hands."
"My skin tends toward dryness year round, so when the mercury drops I have to seriously up my moisture game to stave off snake-woman-style desiccation. This year, I started introducing more oils to my regimen: specifically, rose oils, which I apply underneath my moisturizer at night, and occasionally tap on over my makeup during the day. My favorites are the divinely scented By Terry Huile de Rose Firming Lifting Oil, the super quenching Ren 012 Moisture Defense Serum, and the redness-erasing MV Organic Skincare Rose Plus Skin Booster. Because rose extract is both hydrating and anti-inflammatory, these oils leave my skin feeling calm, smooth, and—thankfully—not at all reptilian."
"Think of winter beauty shopping a lot like you would wine pairing—now is not the time for those airy, crisp rosés or a tall glass of Pinot Grigio. Nay, you want a hearty, robust Merlot... or a Malbec that'll make your taste buds sing! It's totally all about comfort. This most pertinently applies to how you cleanse—stripping your face twice a day with foaming washes or "daily scrubs" is not a good idea. I became infatuated with Sarah Chapman's cleansing balm this winter—it's a one-stop shop for makeup removal and pore cleaning, and I actually mean that. (Use a muslin cloth at night if you need a little extra oomph.) I also layer on the oils like it's nobody's business, but that can sometimes be an issue because I have acne-prone skin. Most days, I'll skip serum altogether and keep it simple with a couple drops of Sunday Riley's Artemis Oil, which has lovely lemon myrtle that decongests while all of the other ingredients keep your visage hydrated. You should also grab a does-it-all comfort cream for dry patches (I get them behind my ears and on my torso!). I love Weleda Skin Food, but Shailene Woodley's makeup artist, Gloria Noto, recently recommended Medicine Mama's Sweet Bee Magic, and now my entire beauty department is hooked. Keep it at your desk for cuticles, lips, behind the ears... oh, and maybe a little on the eyelids for a pretty glow."
"Tammy Fender's Spontaneous Recovery Crème gets pulled to the front of the medicine cabinet this time of year. It's kind of like the original sleep mask. You load it on at night and wake up with really hydrated, glowing skin. It also works wonders after a long flight or a long night."
"Between the blasting radiators in my old house and my unwillingness to give up long, hot, drying showers, my skin would be seriously scaly if I didn't change up my skincare routine a bit every winter. I still apply a retinol cream (usually Roc Retinol Correxion Sensitive Night Cream) a few nights a week, but I put it on over my moisturizer (right now I'm loving Caudalie Premier Cru The Cream) so it's less likely to cause dryness or irritation. To keep my body soft and smooth, I always always apply moisturizer (currently: Weleda Sea Buckthorn Nourishing Body Lotion) from shoulders to toes after every shower between the months of November and April. (And I act fast because you get more moisturizing payoff when your skin is still damp.) At night, I slather Biafine over my feet, hands and elbows. It's am amazing cream developed to treat wounds and burns that my (very silky-skinned) French grandmother turned me on to over 20 years ago. I stock up on it at the pharmacy every time I'm in France—but I'm pretty sure it's also available online now."
"I've stopped washing my face…the traditional way, that is! I now use Lancome's Micellar Cleansing Water, which I apply with a cotton pad to remove dirt and makeup. It's much gentler and more moisturizing than my regular cleansing go-to, doubles as a toner and doesn't require wetting or rinsing my face—something I hate doing after an exhausting day."
"Aquaphor: In the winter, Aquaphor to me is like Windex was to the dad in My Big Fat Greek Wedding. I slather it on my lips, use it on dry cuticles and put it in my hair to deal with static and flyaways. It's the perfect product. I have at least 6 small portable tubes in my various bags and stashed in coat pockets, and I have a giant tub that sits on my counter for any emergency moisturizing needs. My motto in the winter? 'Put some Aquaphor.'"
"I normally steer clear of hand creams. They can make my skin feel clammy, which is not pleasant when you're at the keyboard writing all day. This winter, though, I just can't seem to slather on enough of the stuff. My go-to for day is Eau Thermale Avène Cold Cream Hand Cream, a rich but nongreasy formula that hydrates even cracked knuckles and lasts through a couple of hand washings. Before bed, I'm using La Mer The Hand Treatment. In addition to the moisturizing benefits, it contains a brightening complex that combats spots and improves skin tone. Given that hands are a dead giveaway of your age, I think I'll start using it year-round."
"Nothing beats Fresh face masks, and in the winter, I slather on their Crème Ancienne Ultimate Nourishing Honey Mask once or twice a week. Even in bone-chilling weather, it makes my crazy skin soft, and the effect lasts for days. That's because honey is one of the best natural moisturizers: it pulls moisture into the skin for long-lasting hydration, plus it has anti-bacterial properties and enzymes that help keep pores clear—so even though this mask is rich, it won't make you break out. At $140, it's definitely a splurge, but you only need a little bit to cover your entire face, so one jar lasts me all winter and then some. Honestly, this mask makes my skin look and feel so great, I've stopped getting facials.
Then, my cheapie winter must-have is Vaseline Lip Therapy Rosy Lips. It's the most hydrating lip balm I've come across, it's got a slight rosy tint that makes your lips look so pretty and healthy, and at under $2, it's quite possibly the best beauty bargain of all time."
"Herbacin Kamille Hand Cream is a drugstore staple, but doesn't get enough love. It contains a TON of glycerin, which is hydrating and soothing. So if you're prone to cracked knuckles, ragged cuticles, or sandpaper hands, or find yourself washing your hands constantly because you don't want to get the death cold that's going around, this is exactly what you need in your bag at all times, all winter long.
I've never enjoyed using hand-sanitizer—most of them are packed with alcohol and are way too drying. And in the winter, my hands are already plenty dry (see above). But Renouve Anti-Aging Every Day Defense Hand Sanitizer is alcohol-free. The key ingredient is bitter orange peel extract, which has antibacterial properties. It also smells better than 99% of the hand sanitizers out there. (I'm not 100% sold on its anti-aging properties, though. I haven't used it for long enough to say one way or the other.)"
"As someone with dry skin, the first changes to my beauty routine start in the shower. I'm obsessed with Nivea's genius new In-Shower Nourishing Body Lotion. Does anyone enjoy standing around in a chilly bathroom waiting for lotion to soak in before getting dressed? Not me!
I refuse to use a hair dryer (I think they're damaging, I'm lazy, and I like my sleep), so I typically shower at night when it's cold out. I've been using Kerastase Discipline Bain Fluidealiste and Maskeratine to keep my hair smooth, shiny and frizz-free (a must when throwing on a cozy beanie). I'll go about four days between washes and use Amika Perk Up Dry Shampoo if needed.
This past year I fell in love with cleansing oils, and my big bottle of Shu Uemura Ultime8 Sublime Cleansing Oil is still going strong. I've recently added Boscia Tsubaki Beauty Oil and Jurlique Rose Body Oil into the mix. They feel incredibly luxurious and are light enough that I'll continue using them into the warmer weather. My favorite rich face cream is Fresh Crème Ancienne Soft Cream. The texture is almost bouncy and my face looks younger when I use it.
My hands and feet get very dry, and while I'll try anything in arm's reach, I love using Kiehl's Ultimate Strength Hand Salve on both. My current favorite lip balm is a citrusy scented pot of Nuxe Rêve de Miel, but Givenchy Hydra Sparkling Magic Lip & Cheek Balm remains an old favorite for quick errands when I'm not wearing makeup.
Cosmetics-wise, I'm always pretty minimal. I'm loving Tom Ford Cream Color for Eyes in a pinky bronze shade called Platinum and Bobbi Brown blush in Pink Sugar—an illuminating icy color that makes my pale skin look more alive. Tom Ford Jasmin Rouge is the only fragrance I've been wearing lately. When I'm bundled up in bulky sweaters, this deep spicy floral scent makes me feel cozy and feminine."
One of my go-tos for combating extreme winter weather is the Clarins Super Restorative Night Wear Cream. It's a very moisturizing cream meant for more mature skin, but I use it as a mask in the morning. Just apply a heavy coat, let it sit for ten minutes and then use a piece of tissue to blot it off. Your skin will instantly look plumper, refreshed and ready to take on the snow. I also do this on long flights. I frequently start in JFK's frozen tundra and wind up by the pool in L.A. six hours later. It's extremely confusing to my skin and creating a barrier from the dehydrating "plane air" helps my skin adjust to the wild temperature and humidity swings
"Winter came by surprise this season. When I landed in NYC after spending the holidays traveling through warm, sunny Africa, my skin basically had a panic attack. Suddenly, it felt crazy-dry, bumpy and overreactive to my normal product routine. That's when the genius facialist at Spa Nalai (ask for her: Joanna Kwiatkowska!) recommended I cut even gentle scrubs cold turkey for 30 days and gradually re-introduce them just once a week. It's made all the difference in my skin, which has since returned to normal and looks even glowier than before. Skincare-wise I've subbed in Tracie Martyn's foamy Amla Purifying Cleanser and Sisley Botanical Restorative Facial Cream (the best!). But it doesn't stop there. During winter, I also switch up my makeup—all cream everything. The best new addition is RMS Beauty's Lip2Cheek cream in Curious. A few dabs under the apples of cheeks is the world's quickest way to bring a subtle, coral-y prettiness to your face. Plus, it's made with the finest grade of coconut oil, so it doubles as an extra shot of hydration that lasts all day without feeling heavy.
On my body, I'm all about Vaseline's new Intensive Care Healing Serum Advanced Relief (the white one), which basically applies serum skincare technology to your body lotion—more potent hydrators that penetrate more deeply and absorb without a trace. It does the job of those really, really rich body creams without the gross cloying under your winter sweaters."
"I survive on two (beauty) staples in the winter: 1) My humidifier; and 2) Oils. As soon as the humidifier comes out, I start hoarding all the oils from the Glamour beauty closet. I layer them, religiously, with my other products, adding oils to every step of my routine, head to toe. Here's a roadmap...
For hair, I dab on a couple drops of Kahina Giving Beauty Argan Oil on my damp ends before blow-drying. It helps smooth without greasing it up. Easy.
Right now, I'm completely obsessed with Chantecaille's new Rose de Mai face oil—but it doesn't launch until spring and I'm on the last drops of my sample—so I alternate with Estelle & Thild BioDefense Multi-Nutrient Youth Oil. It goes on morning and night, over top of whatever brightening or firming serum I'm using. (Oil can actually help drive other active ingredients into your skin so always apply them on top. Just give it a few before attempting to put on makeup.)
My go-to for body: Rodin Olio Lusso Body Oil; it smells divine—I love the jasmine and neroli—and I slather it on all over (cuticles too) after my morning shower, wait a few minutes then follow with lotion. On the go, I stash the portable Vitamin E pen from Nails Inc in my bag so I can instantly perk up my mani.
Essentially, most oils are amazing multi-taskers and a single one could cover all of my needs. But there are just so many incredible ones out there. I could not be happier about the exploding oil trend!"
"L.A.'s 'winter' might seem like a joke compared to the sub-zero conditions in the rest of the country, but the temps do drop (well, slightly) and, more importantly, the air gets noticeably drier—which means my oily skin kicks into overdrive trying to overcompensate. To combat excess shine, I lock in my nightly skin routine with a nourishing face oil—I love African Botanics Neroli Infused Marula Oil because it smells like a candy aisle and sinks into my skin instantly. Or, on days when my skin look especially dull, I'll use an overnight mask, like Skin Inc. Deepsea Hydrating Mask or Fresh Peony Brightening Night Treatment Mask—both of those guarantee I'll wake up with glowier, less zombie-like skin.
Makeup-wise, I like to mix in a little luminizer with my tinted moisturizer, or apply it on my cheeks before and after moisturizer to give a little glow. Charlotte Tilbury's Wonder Glow is an instant pick-me-up after a night out (or, more realistically, Netflix bingeing on my couch), as is Burberry's Fresh Glow Luminous Fluid Base. I tend to like a more natural lip in the winter (Rimmel's Kate Moss Lipstick in 03 is my cherished nude), or something berry-colored with a sheen—I just discovered Bobbi Brown's Lip Color in Roseberry, a raspberry shade with brown undertones, and I'm obsessed.
I wash my hair with Purely Perfect Cleansing Cream to cleanse without over-drying, and—being the blowdryer-averse beauty editor that I am—I'll just add a bit of Reverie Milk throughout my damp strands (it leaves my parched hair feeling ridiculously soft and healthy). Then, I'll tie my hair into a loose braid, grab a coffee or juice across the street, drive to work, then undo the braid right before stepping into the office. I call it the L.A. version of lazy girl waves."