Career
The creative director on keeping the beauty brand (a little) controversial, her morning routine and why she loves Uniqlo.
When a brand is as relevant today as it was at its inception, close to fifty years ago, you get the feeling they're doing something right. And there's no denying the modern day significance of a beauty powerhouse like Clinique. For starters, we're pretty sure most of you have some association with the brand's cult classics, whether it's that bottle of yellow moisturizing cream on your mom's vanity, the 3-step regimen your friend followed religiously throughout her teens into adulthood, or the Black Honey lipstick devotees (who still carry a tube everywhere). So you can say we were kind of curious to meet the woman who's ensuring that those same products (give or take a few ingredients and modern day antioxidants) stand on their own next to the new HD ready formulas and 24-hour lip crayons.
In this case, that would be Melissa Knapp, who deals with all things creative. A.K.A everything from the look of the ads in your favorite glossies (uh, casting Tavi Gevinson, Hannah Bronfman and Margaret Zhang in their Face Forward campaign? All her.) to the clothes worn by department store consultants everywhere—it's all part of her mission to keep Clinique as fresh and innovative as it was way back when. Even if that means being a bit controversial. Which isn't exactly new for a company that was openly talking about the Pill's effect on skincare in the '60s, y'know?
From her office overlooking central park (office view #goals, BTW) we chatted with the creative director about all this and more; like her morning routine, career advice for those wanting to work in the industry and where she sees Clinique in the future. "We just want to make sure it remains her favorite product, the one that she's going to pass along to her daughter, but she's also going to pass along to her friends." Check, check and check.
---
HER KIND-OF-MEANT-TO-BE CAREER PATH
"I went to James Madison University and I have a BS in Art, specifically in Graphic Design, and I knew I wanted to do that at a very early age. In high school my mom was a huge proponent of me pursuing that in college, so that was a great start. My first job was at Dansk, which is a Danish housewares company that was founded in the '50s. Learning about the craft and aesthetic of modern Danish design really informed my aesthetic at a very, very early age, so I can't thank myself enough for that serendipitous moment where I was exposed to all of that fresh out of college. After that I went to the Arnell Group for a period of time, which at that point was a hot boutique agency and really a breeding ground for the industry's top talent. Now a lot of people that came out of there are either running their own agencies or have top positions in other fields, so that was a really fun and interesting networking place to be early on. I came to Lauder in 2002, and I worked on Prescriptives and Jo Malone, and then I went to work on a think tank that was being created at that time, which would then become what Estée Lauder companies called Beauty Bank. Then I was hired to be the Vice President and Creative Director at Origins, and then this role at Clinique now.
When I came to Lauder I was exposed to a really, really interesting group of people in working on the Beauty Bank think tank, and that was actually when I met Jane Lauder, because she was a marketing executive there. So when she was hired to become the president of Origins, she brought me along to be her VP, and then when she came to Clinique, she brought me along to be her SVP. You can't ask for anything more."
WHAT BEING A CREATIVE DIRECTOR ACTUALLY INVOLVES
"I'm responsible for the look and messaging of everything that the consumer touches—so advertising, packaging, digital advertising, social media, store design, copy, and even down to what the consultants are wearing. 
If I'm not shooting, I usually start the day on a conference call before I get into the office, and then throughout the day, I have a jam-packed schedule where I go from a bunch of different style of meetings. Some might be business focused, and then others might be pure creative conversations. What keeps it all exciting and interesting, beyond the jam-packed schedule, is that it really requires a shift in energy and using different parts of your brain throughout the day—focusing on little increments of time that are about vastly different things, from business to creative, and then within the creative field from packaging to copy. So it's kind of all over the place."
HER MORNING ROUTINE (MORE SOULCYCLE, LESS IPHONE)
"The first thing I do in the morning, I have to say, is check my phone. And part of the reason why is to figure out what type of exercise I'm going to squeeze in, whether I'm going to try to do yoga for an hour, or whether I'm going to try to get SoulCycle for forty-five minutes. I try not to look at my phone for too much before I actually kind of press go and start working, so that I can actually have some quality of life time at home, without getting distracted."
ON KEEPING CLINIQUE RELEVANT (AND A BIT CONTROVERSIAL)
"In general, we want Clinique to be every woman's favorite brand, the one that she uses everyday and gushes to her friends about, the one that's a love mark and she just can't live without. The strongest thing about the brand are the equity pillars that have existed since its founding in 1968. It was founded as being modern, innovative, counter-culture, controversial in certain ways, and always being different. So the struggle is how do we keep those pillars alive and make them relevant in 2015, when the landscape has changed not just in how consumers are purchasing, but what are the conversations they're having? Nothing today is like it was in 1968, so keeping all of those things alive. We were always known as a conversational brand with our consumers, and we would speak to her in controversial ways back then. For example, saying 'does the birth control pill have an effect on your skin?' Yes, it does. In 1968 it was controversial for a beauty brand to be talking about that Obviously if we were to continue that conversation now, it's not relevant because that's a common conversation. So it's just keeping it alive in the current landscape."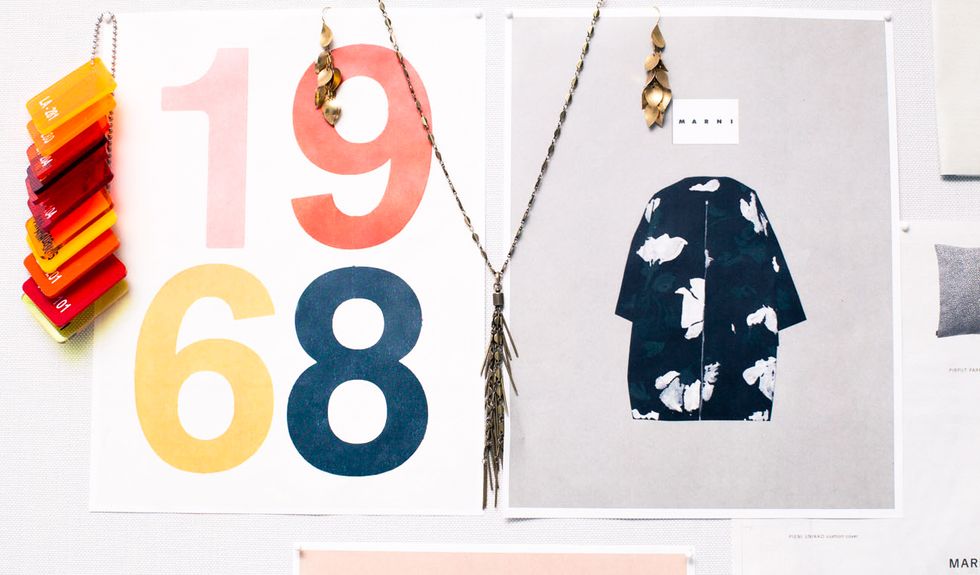 FINDING CLINIQUE IN YOUR MOM AND BFF'S BATHROOM 
"Every woman has touched Clinique, and every woman uses Clinique, and we just want to make sure it remains her favorite product, the one that she's going to pass along to her daughter, but she's also going to pass along to her friends.
 
The main concept of Face Forward is about looking to the future, being optimistic and confident in your own skin. There's a huge link between having great skin and having confidence. We are the number one brand among millennials, so it offered us the opportunity to speak to them in a voice that they could relate to. So we cast Tavi [Gevinson], Hannah [Bronfman], and Margaret [Zhang] because of their interesting stories. They're all so accomplished at such a young age and have forged their own paths. They're truly inspirational. We wanted young women in this campaign to celebrate more than just what they look like. We also felt that they were the ultimate examples of this super-motivated and highly inspirational millennial generation. I mean, I look at that generation and think, 'Wow, I was really lazy!'"
HOW SOCIAL MEDIA IS CHANGING THE BEAUTY INDUSTRY (BY THE SECOND)
"The role of digital and the way the consumer shops has changed how we think about or experience not only online but in brick and mortar retail. And it's just going to continue to evolve. If I think about where we were five years ago, and everything that's changed between five years ago and today, and in the next five years, it's just going to change even more and even faster, exponentially more. So it's about chasing and staying ahead of that, which makes my job right now super exciting.
 
I'm heavily involved in social media. I lead a multi-disciplinary team that crosses many functions. Copy, design, including all of the social and digital design, store design, traditional advertising, as well as operations, which include production and art buying, for instance. So I handle anything that's touching the consumer. All of our creative now starts with digital, which is a vast shift from five years ago. Years ago, a 360 degree campaign was print, TV, out of home, and in-store. Now the new forms of media are not linear and they continue to evolve, as we all know. It means that none of our campaigns will look like one another anymore, and they'll all change as this media landscape evolves."
HOW THEY'RE TELLING CLINQUE'S STORY
"The Wink was inspired by the fact that Clinique was and is, the original editorial brand. Our founder Carol Phillips was a Beauty Director at Vogue, and at that time, she brought the best of what she did, and the professionalism of leading dermatologist, Dr. Orentreich, together. So this is a part of our heritage, and this brand is so rich in stories because of this, that it begged for a medium to tell these stories. You can't tell all of them in an ad or in store. You can tell them in parts and pieces, but we wanted a cohesive place to tell different stories, a digital destination where women can learn about Clinique products, but also things that are relevant in all parts of her life. it's really special, because it's so authentic to Clinique and brings Carol Phillips' original vision to life."
HER ADVICE FOR THOSE ASPIRING TO WORK IN THE BEAUTY INDUSTRY 
"Number one, I would say just go for it! Don't be afraid to take on things that you don't have experience in, because that's how you learn and grow and expand your portfolio. I started in packaging and collateral, but then had amazing store design experience, for example, at Origins, which I'd never done before. But I wasn't afraid to say no to trying. That's the only way you learn, and can move ahead and learn new things."
WHO SHE ADMIRES AND TURNS TO FOR ADVICE  
"I definitely go to Jane [Lauder] for a lot of advice! But I would say I often turn to my husband. He's in advertising and he's a great sounding board, partially because he's not even remotely connected to the beauty industry, so he's a realty check for ideas. In terms of people or brands, Uniqlo is a brand that I admire for being a favorite for basics. Everything about their shopping experience is unique and own-able, and people are excited about their basics—their sweaters, their puffer jackets—but they deliver it in a way that makes it, makes you want to gush about it. They pretty much do an amazing job there."