Career
How @girlwithnojob Made Instagram Her Actual Job
...before so much as graduating from NYU.
When we first set out working on what would come to be social media week, our brainstorming admittedly came with a small degree of fear that the whole thing might come off as, well, vapid.
Why? We can see the Newsweek-y, hand-wringing headlines now (largely because we've already seen them in print): kids making very real, tangibles incomes off of all that time they spent on Instagram? YouTube? Snapchat? How dare they? What is the world coming to?
In a larger sense, whether it's vitriol towards the likes of Tavi Gevinson and Rookie or the Kardashians, anything anyone under the age of 34-ish does, says, or participates in culturally, comes with a serious dose of cynicism. You-kids-get-off-my-lawn-syndrome. Whether warranted or not, the very same kind you would have found a handful of decades ago with your grandparents or great-grandparents probably reacting to music with guitars or tight pants. As we see it, it's all the same shit, different decade.
---
Which brings us to @girlwithnojob. Aside from relying on its founder, Claudia Oshry, for a daily dose of midday or mid-commute LOLs, her handle made it all too easy when it came to thinking of the perfect subject for this week's Deskside. We mean, how could we not? Oshry made that especially painful quarter life-ish crisis, holy-shit-what-am-I-going-to-do-with-the-rest-of-my-life ennui into especially relatable content, which at first, was chiefly in the form of an Instagram account. To then go and monetize it too (and get nominated for a People's Choice Award)? At the very least, our curiosity got the best of us.
Yes, it's all worlds removed from social work, or brain surgery. But ultimately, it's also really just, for the most part, harmless fun. That, and are we really mocking the members of a generation who, after finding themselves in a shitty economy, rather than work an unfulfilling, soul-crushing 9-to-5, decide to use the biggest communications tool since the printing press to pay their rent? And once they get past that stage, potentially create jobs? As Oshry herself says, "I fully intend to take over the world from my bedroom. It's going to be wonderful."
ON HOW IT ALL BEGAN:
"My freshman year at NYU, I got an internship in PR, which I now realize was a huge mistake seeing as how I have zero interest in PR. I started a blog on Tumblr called Girl With A Job, where I basically documented my internship and talked shit about my coworkers. I eventually was 'let go' and changed the name of my blog to Girl With No Job."
 ON WHAT'S CHANGED, 1.4 MILLION FOLLOWERS LATER:
"My life has pretty much stayed the same since becoming @girlwithnojob, except I spend a lot more time on my phone these days. I'll get invited to do cool stuff every now and then, but I still spend my weekends watching Shark Tank with my mom. I'm still in school, so I don't actually need to explain (yet) to people how I make money. I'm not looking forward to graduation in May, when I'll need to start explaining to older people what an 'influencer' is."
ON THE DICHOTOMY BETWEEN STUDYING MEDIA IN SCHOOL & MAKING HER INCOME THROUGH INSTAGRAM:
"A lot of the coursework [at NYU] is super relevant. I'm taking a social media and networking class and, like, it's definitely redundant, but I think it can only help at this point to know more and learn more. I feel lucky that I have this whole thing [GWNJ] to reflect on, and to take my coursework and apply it. I can write my papers about it. So it's definitely been really good material for me.
It's kind of funny I'm in this program [at NYU] that is so modern. I don't think any school has this type of program. It's literally on the cutting edge. But my professor is like 95 years old, and he doesn't even know what Instagram is. It's a weird dichotomy. So when I tried to explain it to him he was like, 'Oh you have a website?' I'm like, 'Sort of.' He didn't get it. I get frustrated in the sense that I don't think older people give what I do credibility. That's why I know my community is just young people and that's why I love it. And I love people who get what I do."
AND ABOUT THAT WHOLE INCOME THING:
"I'm super open about it, because people are always like, 'How do you make money?' and they get all weird. Yeah, I make money for sure, it's something I'm really proud of because it started as just a hobby, and now it's turning into a business I run on my own. I've learned how to do many business-like things! I know how to take a conference call, shit like that I wouldn't have know how to do. So I'm actually really proud of the fact that I make money. People are weird and touchy about it, but I'm not. I'm so proud, I'd like to scream it. I'm making dollar bills!"
ON HER MOST UNEXPECTED (& SURREAL) FOLLOWERS:
"Samuel L. Jackson is my weirdest follower. Harry Styles is my favorite/most famous follower."
ON HER ACCOUNT'S INSANE GROWTH:
"It's been a very steady growth. I've been lucky it hasn't stopped yet. I think when I got my first influential follower, who was Joe Jonas, then I was like, this is legit. Then it was I guess by word of mouth that more and more people, and cool people and influential people started following me.
I do promote my Twitter and my Snapchat and my Facebook through the Instagram because that's where I have the biggest following. So basically just trying to grow the other channels through the one big channel I have."
ON HER IRL SELF COMING THROUGH THE ACCOUNT'S VOICE:
"Really organically did my personality and my real persona come through the Instagram page. People on their own started reaching out to me to do interviews, people found my personal account and found out what I looked like and recognized me on the street. Really, only in New York. It was very organic in the way that happened.
It's definitely a delicate balance. I know it definitely deterred some people but if that's something that bothers them, I don't want them in my community anyway. But I definitely think it's helped create a brand for me. I hate that word 'brand' because it's so corporate. It just helped to solidify my community, just to let people know that there's a real person. Like, when I talk about just sitting all day, eating pizza and watching Netflix, I actually do that. I'm not like a 5'10 model who weighs 100 pounds. I'm chubby and my photos reflect that."
ON HER POSTING STRATEGY:
"The word 'strategy' is a little serious for what I do. But basically, I post 3-5 times a day. I never post before noon (EST time) because people just aren't on their phones before noon. I don't know why or how ,but there's very little engagement in the morning. And then I usually will go until 10 or 11 o'clock at night. I'll never post when I'm out or drunk, because I'll write the dumbest caption ever.
Weekdays are just always better. I think people are actually living their lives on the weekends, and they're not on their phones. You have to think about when you are your phone, so the evening commute is big. 5 P.M., 6 P.M., people are on the train or in a cab, they're totally on their phones. Lunch hour people are their phones. People are on their phones, at work all day. Whenever everyone's at work, you're bound to get likes.
The self-deprecating photos always do the best, which is, like, so sad. My most liked photo is this one. I'll usually be able to tell within the first three minutes if the post is going to be successful. And then if I can tell the engagement is low, I'll just delete it."
ON THE THINGS SHE CAN'T LIVE WITHOUT:
"Diet Raspberry Snapple [is my favorite drink]. It is CRACK. Recently I've been living in my Adidas Stan Smiths. I got them customized to say @GWNJ on the sides so all I do is Snapchat them all day! I take my makeup off with Neutrogena makeup remover wipes. They smell like heaven and make my face shine like the top of the Chrysler building. I physically cannot live without them.
My favorite show is definitely Friends. Such a basic answer, I know, but IDGAF. Also anything on Bravo. Andy Cohen is a genius and pop culture icon. The best snacks for binge watching are chips (Baked Lays, Ruffles and Cheetos) and Ritz cracker,  but they're very crunchy and sometimes I crunch so hard I can't hear the Netflix. It's a tough dynamic."
ON CONQUERING YOUTUBE (IT'S A WORK IN PROGRESS):
"YouTube is so hard. I record it literally on my iPhone, and then it just comes out blurry, so now I want to get all these tools and Final Cut. It's so difficult to literally produce a 30-second video. But I love the results, I'm obsessed with my makeup tutorials, I think they are really funny. So yeah, it literally took me weeks. Who has time for that? But then again, the rewards are so much bigger. Like fucking, Tyler Oakley was on the Today Show today and Michelle Phan is on a billboard that I walk by literally everyday to school. The reward is just so much bigger on YouTube. I want to focus my energies on that, and Snapchat, because I think Snapchat is the easier, more mobile version of YouTube. I think it's an emerging platform so I'm putting a lot of my energy into Snapchat.
You get such limited information with Snapchat, though. All I know is how many views I get. I don't know how many followers Kylie Jenner has, so I don't know what I have in relation to her. I don't even know how many users there are, so I definitely have a lot more than the average person but I don't know if I have a lot in terms of, like, Kylie Jenner. [Being on Snapchat] is a cool transition because its all me, its just pictures and videos of what I do everyday. So it's totally different than my Instagram, and I think my first videos did really well which is something I'm really excited about."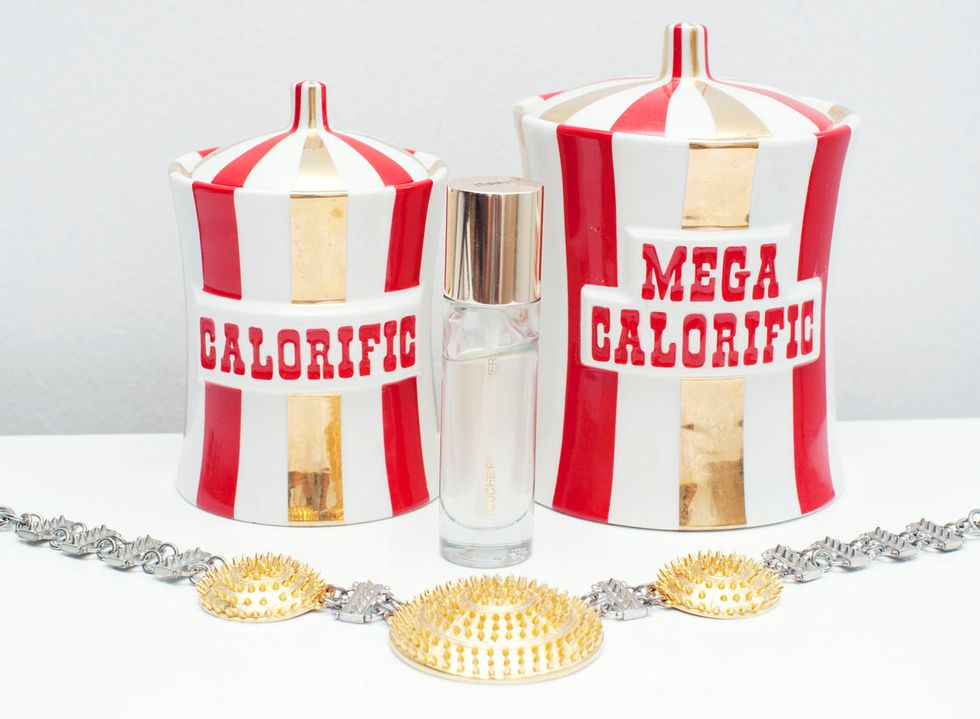 ON HER FAVORITE PLACES IN NEW YORK:
"I love the movie theater on 84th Street, because the chairs recline and they have free refills. Sometimes I just go there to take a nap. I love Gemma on Bowery because the food comes out super quick and I saw Gigi Hadid there once. I also spend an unhealthy amount of time at Catch Restaurant/Rooftop. They have the best music and I think the bathroom attendant there is my soul mate."
ON THE BEST ADVICE SHE'S EVER RECEIVED:
"The best advice I ever got was from my mom. She told me to never lose my neshama, which is Hebrew for soul or spirit. No matter how big or successful Girl With No Job gets, I don't want to lose my neshama–the exact thing that made me successful!"
ON WHAT SHE'D BE DOING WITHOUT @GIRLWITHNOJOB:
 "I like to think that I'd be the nation's leading neurosurgeon or something like that, but I'd probably just be working a 9-to-5, wishing I was Kylie Jenner."
ON HER PLANS POST-GRADUATION:
"That's the place I am at now, because I have one more semester until I graduate, and I don't even know. I think it can only be good things, so either if I want to go into digital media or social consulting. I have this huge background that would take someone coming out of college years to acquire, so I'm really proud of that, and I'm definitely going to use that to get me further. But at the same time, then I become Girl With A Job, and I don't want to explain it to people—and I don't know what I'm going to do! Because it's my persona, when I meet people, literally the first thing they say is 'Do you have a job?' and it's always in a judgemental way. But since I'm a student I feel like that's been my answer—like 'No, I'm still in school'. Then they're like 'Oh, okay.' So I don't know, it's different to not being in school when I don't have that answer.
What isn't next? I fully intend to take over the world from my bedroom. It's going to be wonderful."