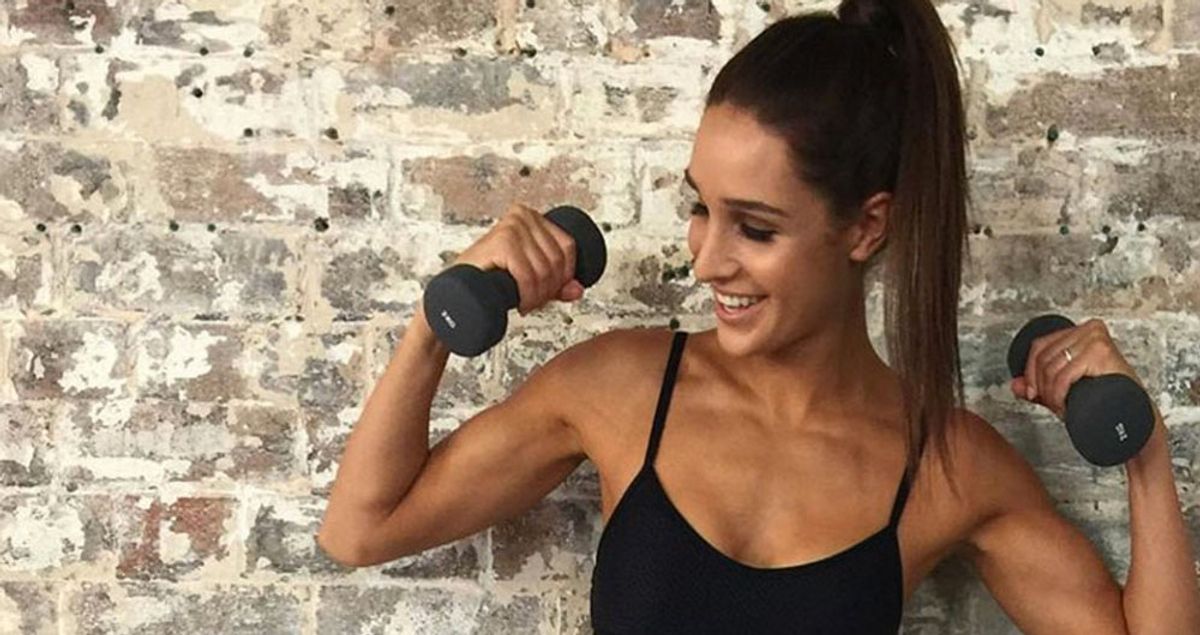 Wellness
The trainer behind your (and 3.8 million others) favorite Instagram fitspiration.
If there is one thing that is more addictive than watching adorable puppy videos on your feed (guys, we're so on board with this!), it's looking at before and after transformation fitness pics. We'll admit, we too have found ourselves an hour into a deep dive only to try to retrace our swipes as to how we ended up here in the first place. But, then again, there is something kind of inspiring and relatable about it all—especially when it's the result of a healthy change, you know, as opposed to some cayenne-lemon-juice-or-cabbage-soup diet (uh—been there, done that.) And if there is anyone that knows about doing things the right way, it's Kayla Itsines, whose Bikini Body Guide program is exactly the antithesis to a fad. And it works, too.
Let's just say, Itsines has found the magic formula of positive motivation + targeted fitness goals + nutritious eating plans that have = to thousands of her 3.8 M followers and clients to share their progress for all of social media to see. We mean, there's something to be said about that, right? So we had to catch up with the 24-year-old (!!) Australian to talk what it really means to be healthy, making to-do lists, and ordering tiramisu.
---
General Wellness

"For me, wellness is when a woman can feel confident in the skin she is in. It's about having a healthy balance of all of the things you love in life! Keeping real and consistent with a healthy lifestyle helps me feel healthy and happy!
I don't really have one specific health product that I use every day. Rather, I aim to try and do at least one thing that makes me happy on a daily basis. For example, train clients or see my family.
Nourishing my body with whole foods and maintaining regular exercise gives me the energy I need to stay healthy, fit and strong. I always aim to include rehabilitation sessions into my weekly routine as I believe it's vital part of my training.
I have become so much fitter and stronger. Although I played a lot of basketball when I was growing up, I did not look after my body like I do now. A combination of the healthy foods I eat and the consistent exercise regime I maintain gives my body energy that it THRIVES on.
As I mentioned, I didn't take care of my body properly when I was young. I thought that if I kept active and played sport it meant I was 'healthy'. It was only when I started exercising regularly and also nourishing my body with foods that energize me that I realized that being healthy is so much more than just keeping active. It's an equal balance of eating healthy foods, regular exercise and doing the things you love. So I think the idea of 'healthy' has changed as it's not only about health and fitness but involving yourself in activities that make you happy. Such as surrounding yourself with positive and supportive friends and family."
Mental Health

"I try to make sure that I incorporate a healthy balance of all the things I love into my life. This includes friends, family, work and my favourite hobbies etc. Personally, I think it's unhealthy to have too much or too little of something in your life. Something I do to help with a healthy balance is to write a daily or weekly to-do list. This way you can keep track and make sure that you're fitting in all the things that are important to you."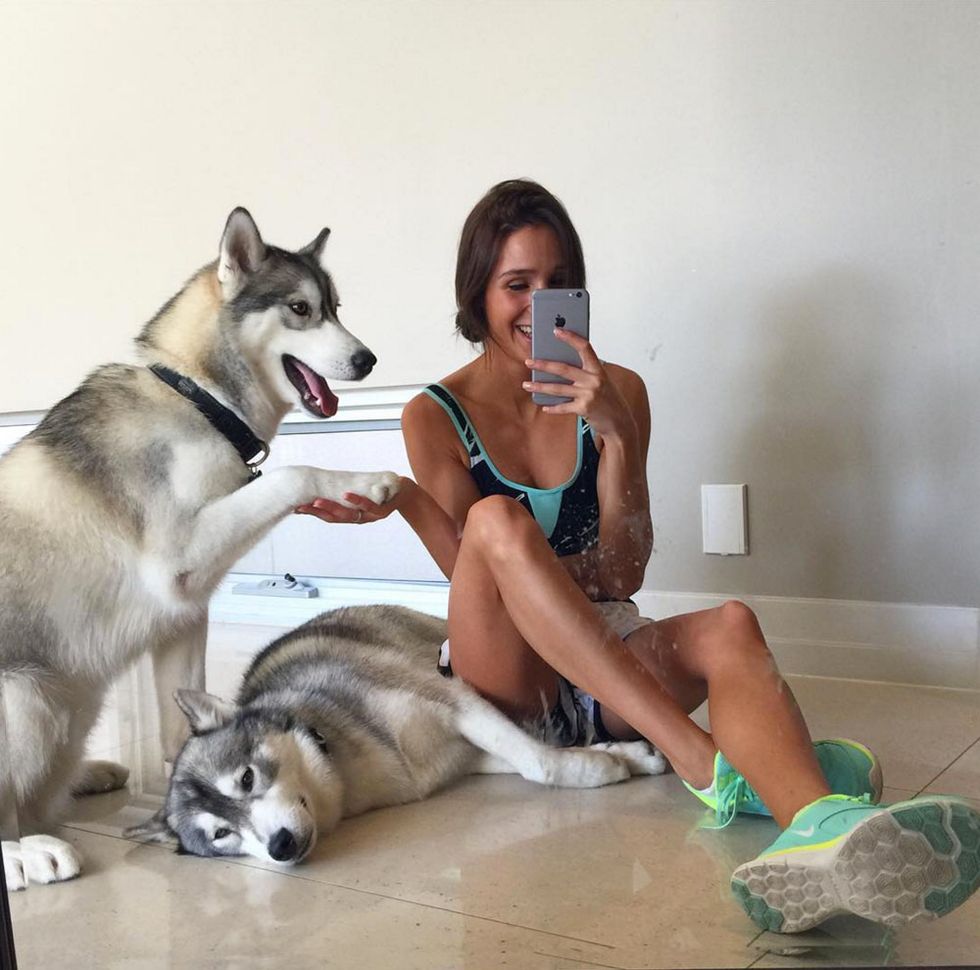 Travel

"I try to fit in as much walking as I can, but this can be hard because I'll usually have a busy schedule when I'm away for work. I do a lot of bodyweight exercises from my Bikini Body Training Guide, as they require minimal equipment and I can do them in my hotel room! It's great to keep active when you're travelling, even if you've had a really busy day. It can positively affect your mood and your energy levels!"
Eating

"I drink a lot of water. It may sound boring, but it works for me!
I love cooking a traditional Greek soup called avgolemono for my partner, Tobi, and I. This is a fluffy chicken and rice soup. I eat a lot of whole foods, so I make a lot of different styles of homemade salads and yiros when I'm at home. For a yiros, I'll use a whole meal wrap with lean meat, cucumber, lettuce, peppers and tomato. I make a homemade tzatziki for the dressing with low-fat Greek yoghurt, cucumber, garlic and mint.
Some of my favourite snacks to choose from are acai bowls, mango, tuna, Greek yoghurt and mixed berries.
[My biggest guilty pleasure is] tiramisu! If I see it on the menu I usually just want to skip straight to dessert!! However I'm lactose intolerant, so I can only have it every now and then. This probably isn't a bad thing!
If I cook breakfast myself, I like to have poached eggs on rye toast with avocado, cherry tomatoes and sometimes I'll add cooked baby spinach. If I'm out for breakfast at a local cafe, I'll order baked eggs or Bircher muesli."
Fitness

"[My favorite way to break a sweat is with] one of my 28-minute high intensity resistance training sessions. I also love skipping to warm up for a workout—it's really fun to try new jump techniques.
I don't usually eat huge meals right before I workout, so before I exercise I will usually have a snack, for example a piece of fruit, yoghurt and berries, etc. I will definitely opt for a big refueling meal after a workout—whether it's breakfast, lunch or dinner. I try and incorporate foods from all five food groups to ensure that my body is receiving a good combination of macro- and micronutrients."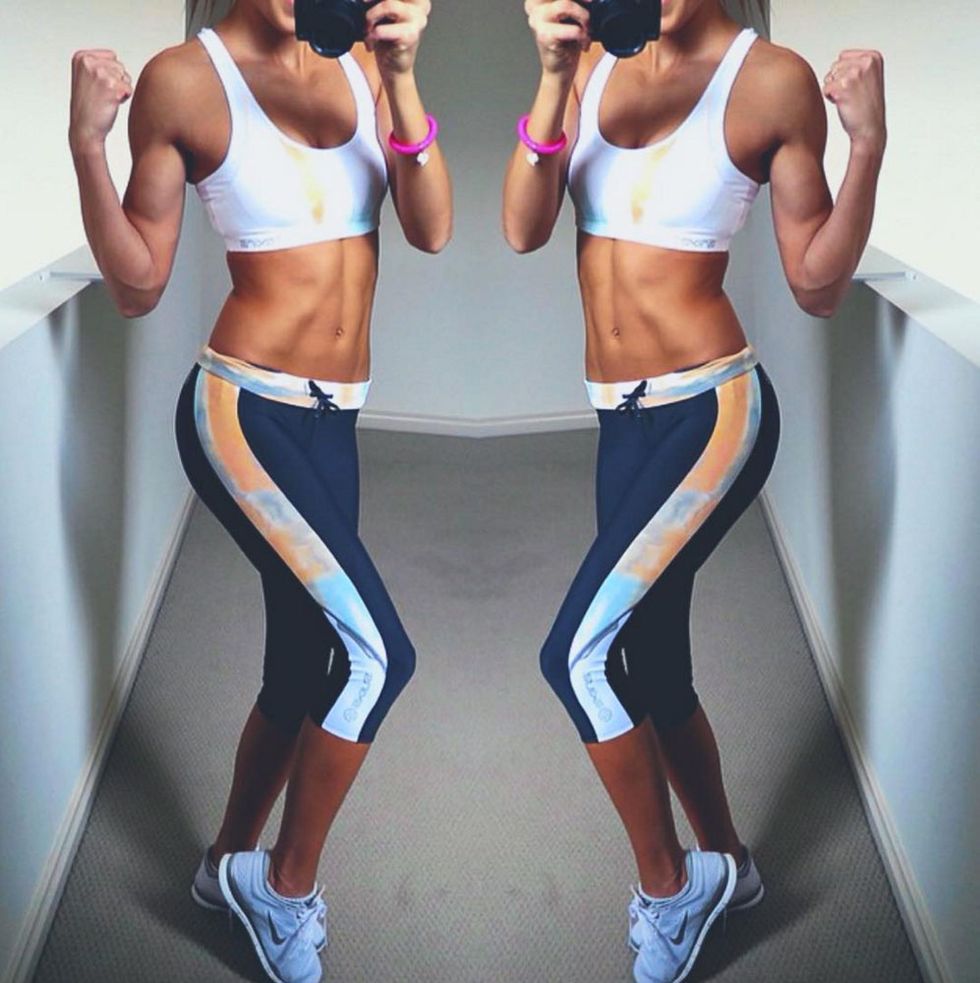 Advice for anyone looking to be healthier

"I always recommend setting yourself realistic goals and to take progress photos. There's nothing more motivating than seeing positive results and personal progress from your own hard work, dedication and sweat! It's also important that you try to focus on you and your goals, as tempting as it is to compare yourself to others. All women are unique and beautiful in their own way and deserve to feel confident."
All photography courtesy of @kayla_itsines