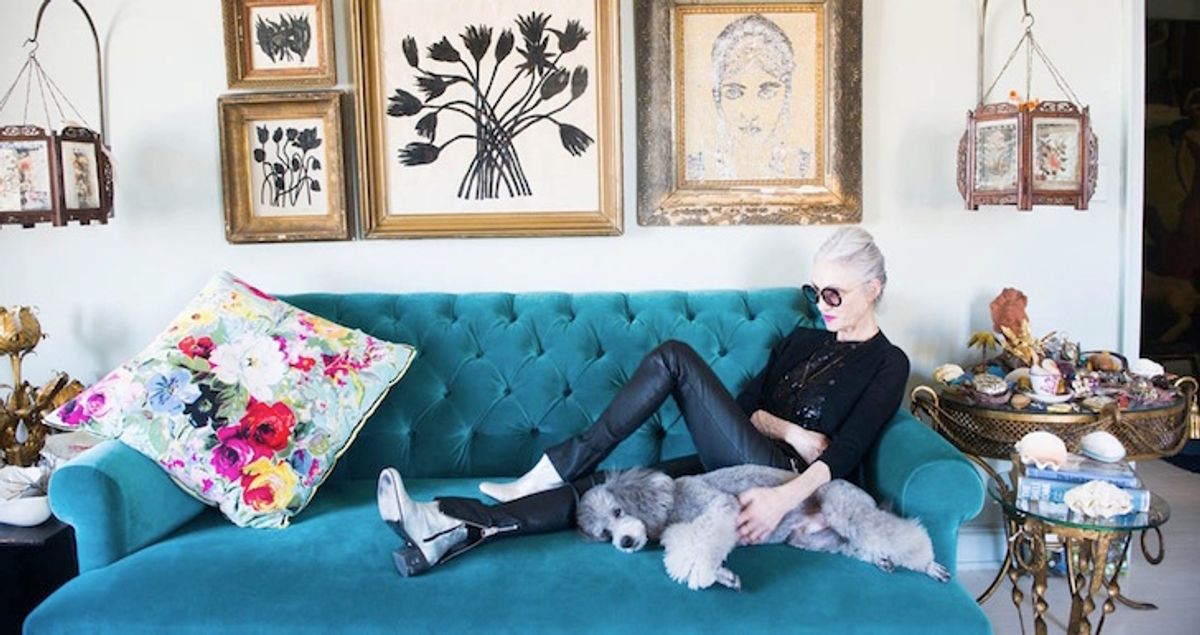 Fashion
We've turned into sheet mask wearing binge watchers.
Just a second ago, we were all jeans shorts in the park, spending every waking minute sans jackets, enjoying aaaaaaall of the outdoor activities. But this sudden temperature drop has us hiding under our duvets, clutching the Apple TV remote and a bowl of popcorn (it basically has its own spot on the food pyramid for us). Besides, all of our favorite shows are back this month, so between Scandal (P.S.: tweet with us on Thursdays?) and binge watching Friends reruns on Netflix, we've been pretty damn busy. Like really: who needs apple picking when there's masking (blackheads begone) to be done and wine (new tumblers call for a celebratory bottle right?) to be drank from the haven of our cozy apartments. Yeah, we thought so. Bonus points for turning off your iPhone. It's a FOMO-free zone, promise. 
---
Meagan Wilson
Senior Editor & Social Media Manager
My ideal doing-nothing, binging-on-Netflix night looks a little something like this: sitting around clad in a cozy, cotton sweatshirt, like the Opening Ceremony one above, a candle burning (Feu de Bois smells exactly like a crackling fire), with a mask slathered on as needed. This Caolion one from Korea (gee guys, this whole Korean skincare thing is really taking off!) heats up upon application, destroys congested skin (in a good way), and I sort of love the existential line of questioning (Where is Pore?!) on the packaging. As for my binge-watch material of choice? Anything Anthony Bourdain (rn you'll find both No Reservations and Parts Unknown on there), Portlandia or Pretty Little Liars. Best enjoyed with a tequila and grapefruit soda or a big bottle of Merlot.
Alicia Cesaro
Editorial Assistant
It's kind of ironic that my picks this week closely resemble that of a How To Survive Canadian Winter Starter Pack. In my opinion, you don't really require a goose down parka and insulated boots as much as you *really and truly* neeeeeed Apple TV, cashmere turtlenecks, super hydrating sheet masks (the dry skin though) and an abundance of candles. Oh, and bottles of Bordeaux. Lots of Bordeaux. So in the spirit of autumnal activities, I plan on spending a whole Saturday locked away in my apartment with the aforementioned essentials and not one single ounce of guilt, because it's not even sunny out and there's no beach to go to, so whatever.
Emily Ramshaw
Senior Editor
This has been my post-fashion week plan: sitting in my basement in the half dark watching Ally McBeal, like, all weekend long. It sounds sad, but it's wonderful. You should try it. There's nothing like an emotionally adrift Calista Flockhart to make you feel like you have your shit together by comparison. I mean, I don't even hallucinate, so she's way more levels of crazy. And add to that a bottle of Malbec, an absurdly expensive sheet mask and the coziest robe in existence, and this is my hibernation version of heaven.
Guys, I spotted the first deciduous leaf turning orange today and I don't know how to feel about it. Part of me loves sweater-weather, but the other knows that six months of frigid hell will soon be upon us... which means that I'm currently preparing for hibernation. Luckily, just when I thought I had watched every single crime drama Netflix had to offer (what can I say, I'm a sucker for Law & Order), they release Narcos (THANK YOU!). So you know where to find me this weekend, under this alpaca throw—it's about the warmest thing I could find, I just wish it came in duvet size—binging on the Colombian drug lord drama, face masking with wine. And the fact that I drink $13 bottles of cab sauv means I could hypothetically afford an $80 wine glass like this one, right?