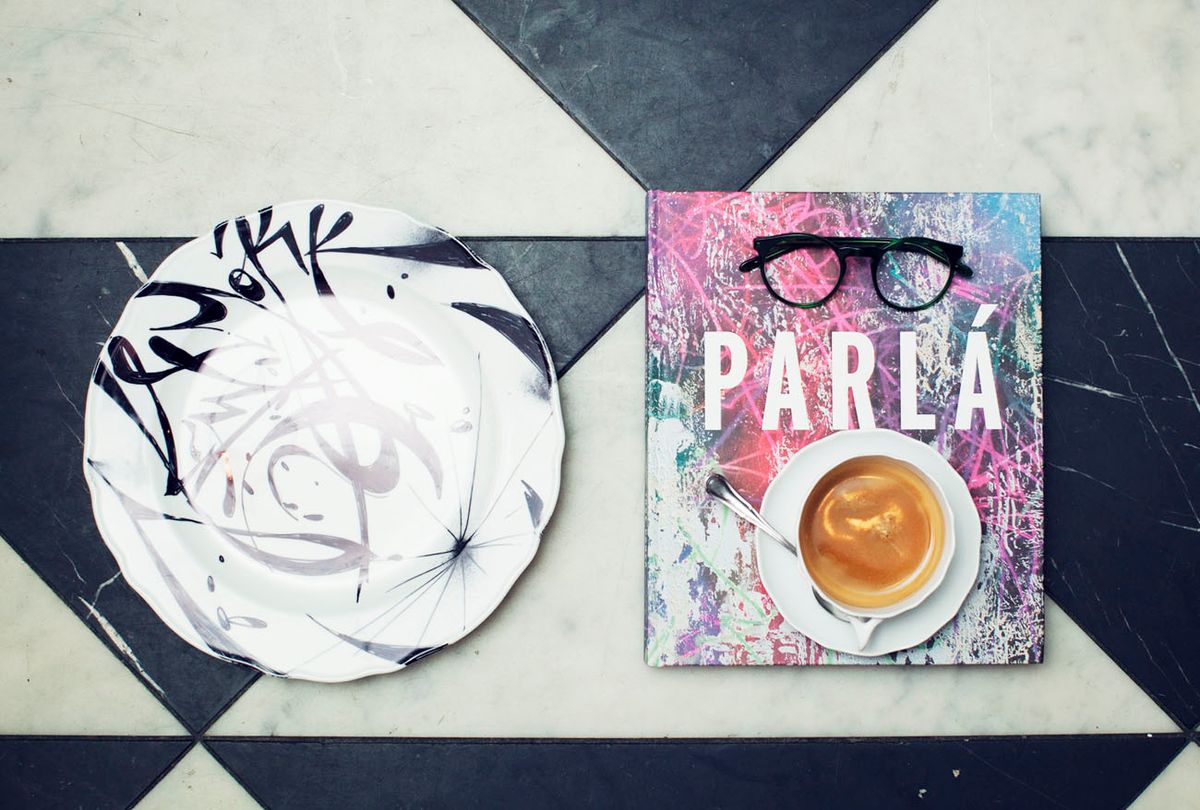 Career
Maitre'd and Manager, Sant Ambroeus. New York
When Garance Doré, Brian Atwood, Carine Roitfeld, Pharrell and Bella Hadid (we mean, we could go on and on. But let's just say it's pretty much everyone you need to know or want to be seen with) are among your regular clientele, you must be onto something. It can't only be the orecchiette al pomodoro (although, we'll admit, we're relatively addicted to the stuff) that keeps drawing in the biggest names in fashion and art to Soho's landmark Milanese restaurant, Sant Ambroeus. It may just be it's maitre'd Alireza Niroomand, whose charismatic nature and eccentric style (he's even in Kate Spade's fall campaign alongside Karlie Kloss. NBD) have transformed it into something more than just your typical Italian eatery. As in, even the décor is courtesy comes courtesy of his artistic friends and clientele (see those painted plates :point_down:. Yeah, more on that below). So we sat down with the man behind it all to talk the perks of the job, the secret to creating that :100: environment, and following your instincts, always.
---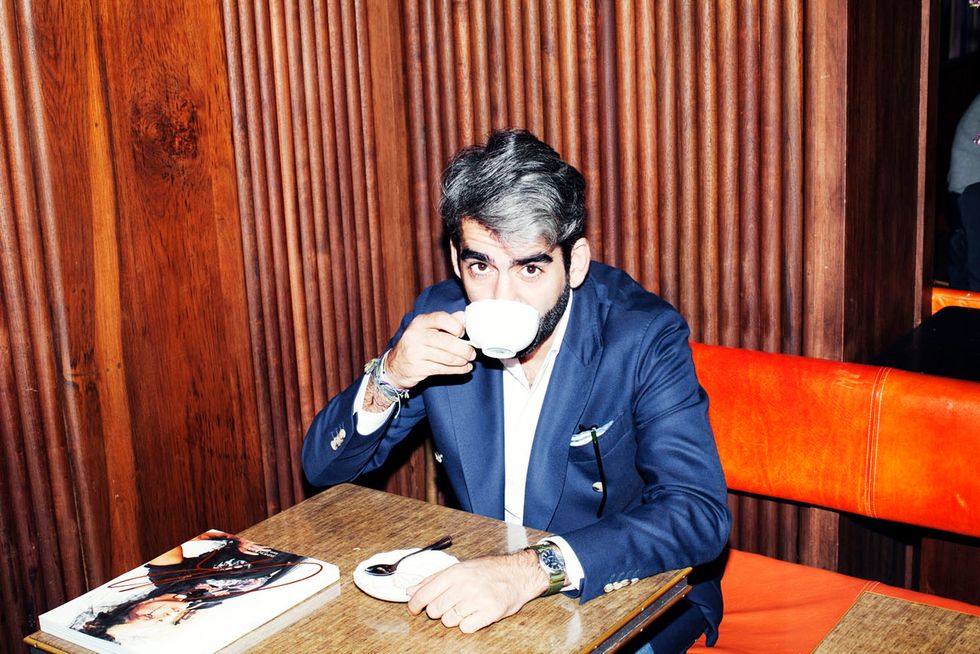 ON WHEN HE DECIDED HE WANTED TO BE IN THE HOSPITALITY INDUSTRY:

"From a very young age, I was hosting at home. Whenever my parents were hosting dinners at home, I was helping. To me, it came very naturally and that's why today I don't feel it's a job. I feel like I'm just at home."
ON THE SERENDIPITOUS MOMENT THAT BROUGHT HIM TO SANT AMBROEUS:

"It was meant to be. That's how I really feel because four years before Sant Ambroeus, I was at home taking care of my kids. I had decided to take a sabbatical because the previous restaurant I was managing was such a crazy place, so when my first baby was born, I decided to quit. I started my own business. I was always in contact with the owner, Gherardo Guarducci., who I really love. We were always in touch but nothing ever came up. He never needed me but we always kept the conversation open and when they decided to open up the one in Lafayette, they approached me. At first I wasn't sure that I wanted to go back to that business because I had such a bad memory from the previous experience but I decided to take a leap of faith."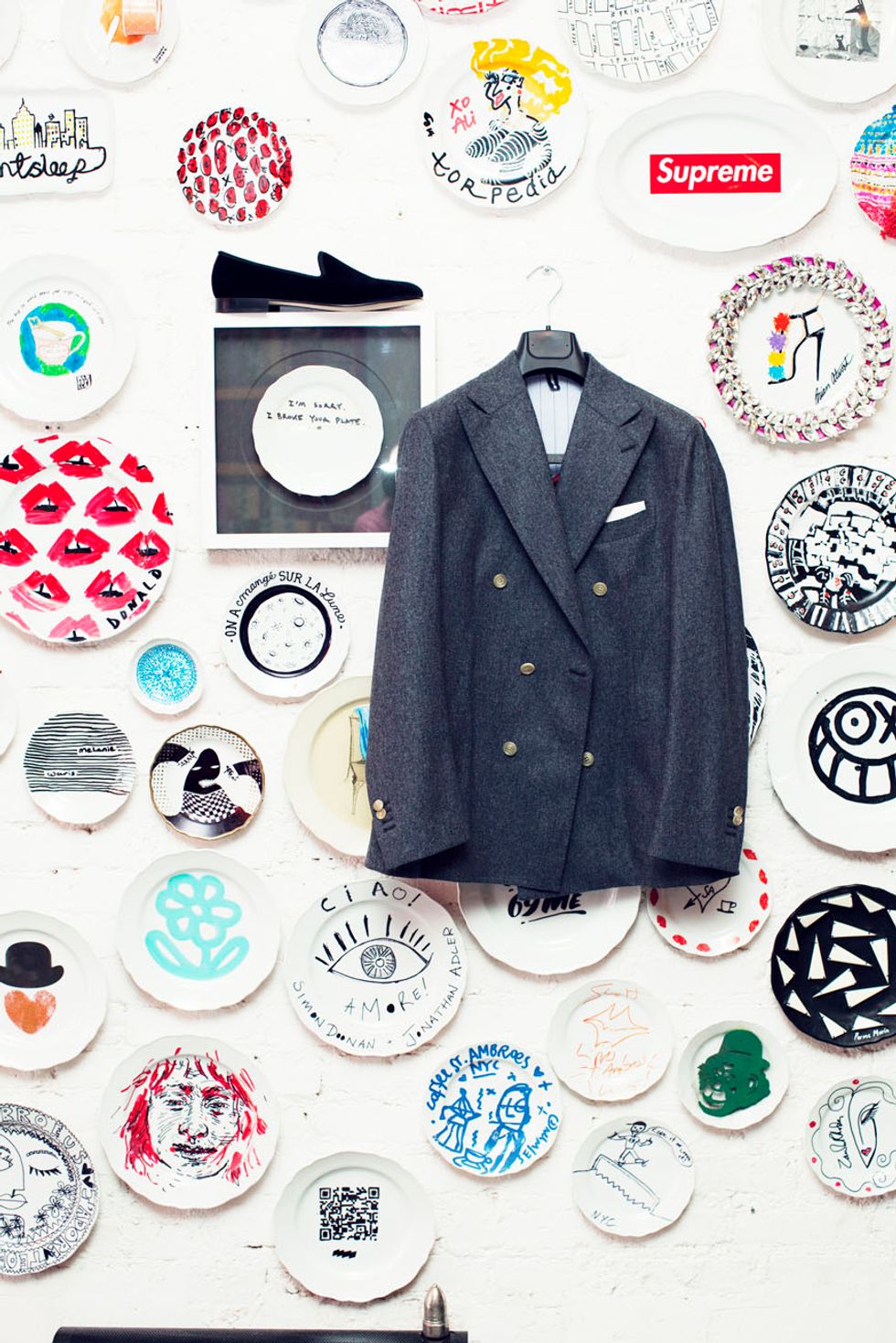 ON THE BEST PART OF THE JOB:

"Meeting people that I admire. There is something about it, I don't know if it's energy but I get to meet all the people I really want to meet."
ON THE MOST SIGNIFICANT MOMENT THUS FAR:

"I would say the one year anniversary was a good thing to remember. We held a crazy party where I invited the best and brightest. We had people such as Garance Dore, Leandra from Man Repeller was doing our Instagram, I had Donald painting our windows, we had a marching band that came up in the restaurant. So it was definitely very different from parties that I've attended. That night I was worried I was going to get fired because it was very much improvised and very last minute and very spontaneous. I wasn't sure if the owners were going to like it and it was really borderline out of control but it didn't get out of control."
ON HIS 9-TO-5:

"My typical day would be my kids waking me up in the morning, hanging out with them for a little bit before they go to school.  First thing I have to come to work, but honestly to me it doesn't feel like coming to work. I feel like I'm excited to come, [it's like] going from my house to my other house. I'm lucky to have two residences in New York—I have one uptown and one downtown. I see all my friends so it doesn't feel that bad. At work, I basically shake a lot of hands, give a lot of kisses. Usually my day will include Instagram because whenever I post something stupid, people have fun. I come here, work a little bit, hang out with my friends, take a break. In the afternoon I usually take breaks and I go see my friends in the neighborhood. I have a lot of friends with artists studios, so that's where I go and get inspired. Sometimes I pinch myself. I'm fortunate that I have all these people here. But it's really like choreography; you have to be careful who you seat next to who."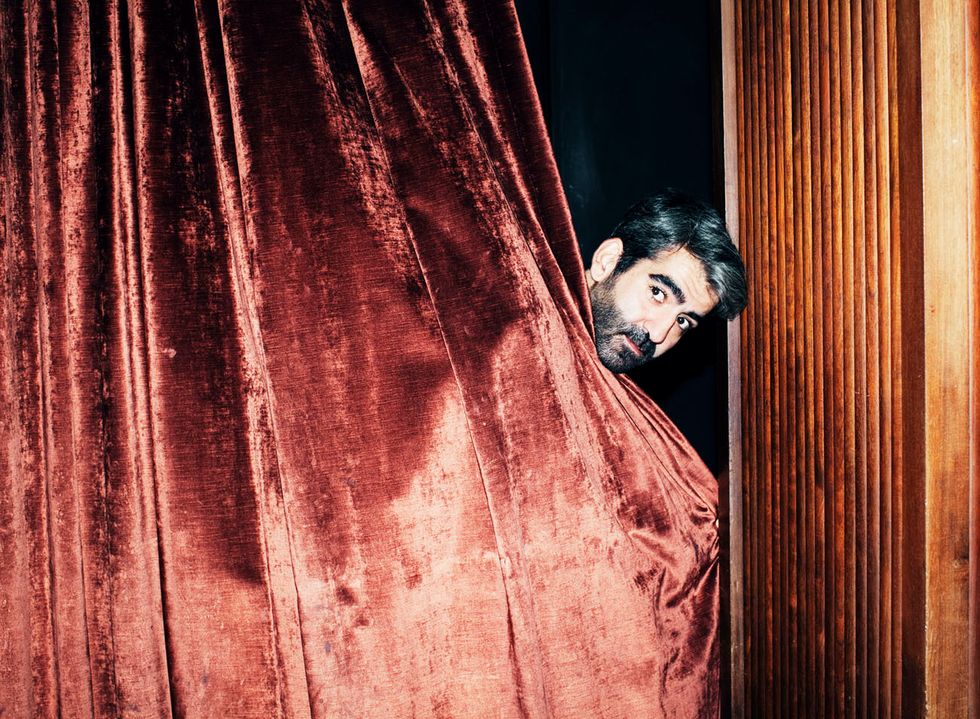 ON CREATING THE ENVIRONMENT:

"You would have to come the restaurant to experience it. I usually say something silly and stupid to make people laugh. I feel like if we make people laugh, then they'll be more forgiving. If you make them laugh, they're like, 'oh, your just so cute, it doesn't matter.' It's also relaxes the atmosphere because people come from work—we live in New York where there's a high energy and a high level of stress, so I feel like when they come to the restaurant it's a time for them to put it on pause. A lot of people appreciate it. Sometimes when two people are having lunch together, if they're on their phones, I usually go and take their phones away and they get really surprised and then they say 'thank you'. They laugh because they're not used to it."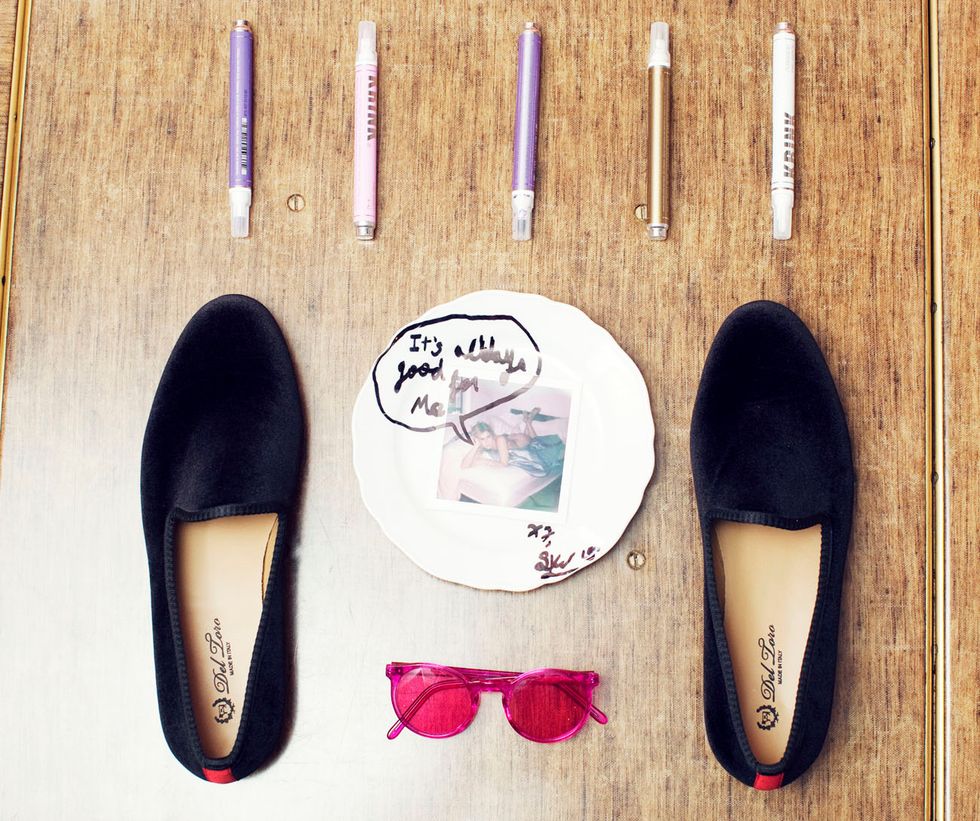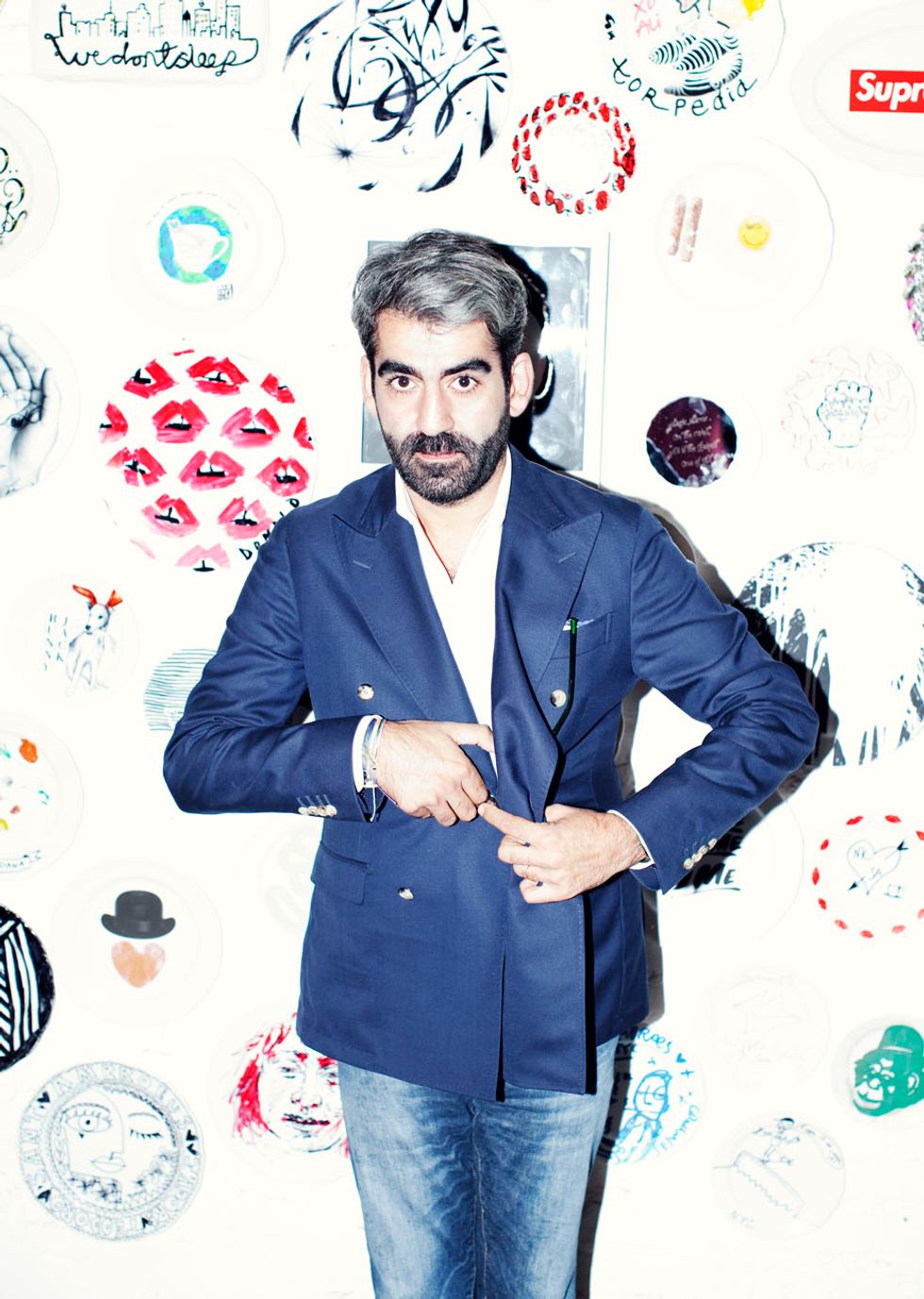 ON HIS PERSONAL STYLE:

"I get it from my father; my father was a very sharp dresser. I remember always looking up at him. When I first opened the restaurant, my father was a big client of a French company called Cremieux and then in the first or second week of opening the restaurant a man came in to the restaurant and he commented on my style. He's like 'I love how you dress' and I found out that he was the owner of the company that my father used to dress from. One thing lead to another, and I became his brand ambassador, so I do believe in destiny. I really love to dress,  my closet is way bigger than my wife's closet. I'm ashamed to say it."
ON WHERE HE LIKES TO SPEND HIS TIME IN NEW YORK:

"Usually on my days off, I go to friends places or shopping, There's one [restaurant] in the neighborhood that's been such an influence to me, a restaurant called Jack's Wife Freda. They're such a good couple, they're one of the first people I met in the neighborhood because I knew how important they were here. I went and introduced myself and we became friends. I love Uncle Boons, it's a Thai place where I send everyone—it's an amazing, amazing Thai restaurant. For shops, it's Cremieux, that's the only thing I wear in suits because I'm faithful to him."
ON THE BEST ADVICE HE EVER RECEIVED:

"Follow your instincts."
ON THROWING A MEMORABLE DINNER PARTY:

"Have my wife cook it. [Laughs]. The best tip for a successful dinner party is the casting; who you invite, different people with different backgrounds. Good food, good friends and good setup."