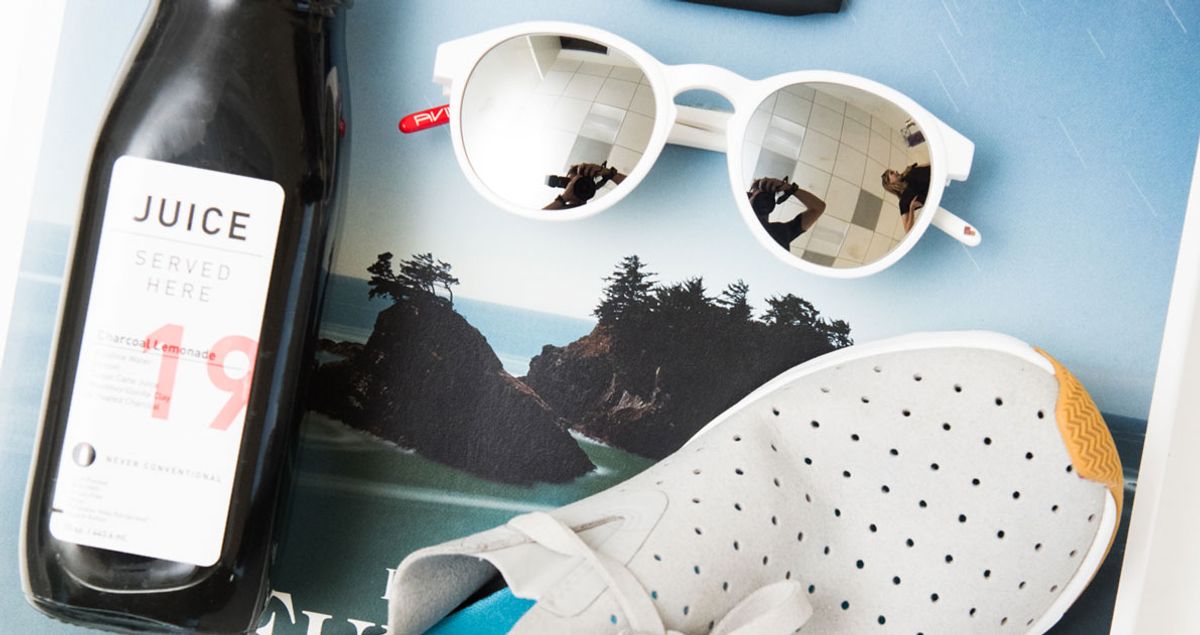 Wellness
The Co-Founder & CEO of our favorite workout wear resource on meditation, Korean day spas & the best yoga pants to up your chances of meeting a hot entertainment exec in while in downward dog.
Stephanie Mark
It's a well-established fact around TC HQ that, these days, it's difficult to find a reason to ever change out of our gym clothes. But, then again, our game has been significantly upped, thanks in large part to Carbon38, which has effectively caused us to shed our oversized t-shirts and holey cotton tights (frightening, we know) in favor of mesh leggings by Michi, Adidas by Stella McCartney perforated tanks and Beth Richards sports bras. So when it comes down to it, we don't change because, well, we look (and definitely feel) about a 1,000,000 times better in the aforementioned get-ups than our old standard of skinny jeans.
And if anyone can relate to us, it's Carbon38's co-founder and CEO Katie Warner Johnson. We mean, if anyone can walk the fitness-clothing-as-fashion walk, it's the former Physique 57 trainer. Herein, she talks about her desire to be an "earth mother who eats gojis, sips rosehip tea and meditates three times a day," her bedtime alarm, her class-hopping habit and her seriously enviable workout wardrobe (duh).
---
General Wellness

 
"[My definition of wellness is] making it through the day in one piece! I mean, I strive to be an earth mother who eats goji's, sips rosehip tea and meditates three times a day, who can stay calm in a fire, crush it in the board room and look like a Victoria's Secret Angel on the beach. But I am not quite there. Let's say I am a work in progress. So I will settle for reasonably good health, family like a rock, pretty rad friends, an AWESOME job and limitless horizons.
 
When I was in college, healthy to me only meant being skinny. I consumed Splenda by the bucketful and sprayed I Can't Believe It's Not Butter on anything that wasn't nailed down. I also only slept four hours a night and drank Franzia. The horror! Today, I eat more vegetables than a farm animal and haven't touched artificial sweetener in about 5 years. I have a bedtime alarm set for 9:45 and a bi-weekly appointment with a trainer. I visit the doctor quarterly (overkill, I know), but I realize that now is the time to invest in longevity. These relatively small daily adjustments add up over time—I aim to live forever and look hot in my spandex while I'm at it!"
Mental Health

 
"[I use an] app to stay sane! Calm provides guided meditation through its app. I try to start my day with a 20-minute zen fest. It seriously feels like plugging into the charging station. I am totally revved and ready to kill it at life after that lovely, magic woman of the app talks in my ear. The choice of scenes is pretty rad too—you can meditate to the soundtrack of a sunset beach, mountain lake, rain on leaves or silent clouds. My favorite is rain on leaves—rain is so rare where I live!
 
My eyes flutter open every morning at 5:29. It's kind of annoying, but highly productive. My alarm sounds at 5:30. I make myself an apple cider vinegar and oregano oil shot, wash my face, throw on one of the below outfits and head to my sweat session. I get home and hit the shower, throw on a fluffy white robe and boil tea and eggs. I consume breakfast, check email, read the Skimm and skim the WSJ. I slip on an little back dress and my favorite jacket, and I am ready!
 
At night I drag myself home and face plant… with a few steps in between. Those steps are: pour myself a cup of Calm tea, sip and wait for my bedtime alarm to sound. I then shovel in a handful of vitamins and probiotics, wash my face, floss (I learned from Oprah that flossing and wearing your seat belt can extend your life expectancy by 10 years), brush my teeth, read a few pages of the trashy murder investigation novel noted below and pass out.
 
I did not grow up in a naked house. I still use the high school locker room trick of changing into your sports bra while wearing a t-shirt when at the gym. I throw a robe on as soon as I get out of the shower when I am alone in my own home—I feel all of this buildup is necessary to understand why what I am going to tell you next is so crazy. I went to a Korean spa when I first moved to LA. Because that is what you do. I was so jazzed to get a scrub, detox tea soak, ice bath, steam and dry sauna, facial and mani-pedi for $90. The pamphlet showed beautiful women wrapped in fluffy towels. When I walked in to the main bathhouse NO ONE WAS WEARING ANY CLOTHES. It was a full on naked fest. But I had pre-paid so there was no turning back. One of the attendants actually plucked my towel from my clammy hands and I was forced to run through the establishment in my birthday suit to plead for another one. Needless to say I emerged one layer of epidermis lighter and clean as a whistle, while rocking nonexistent pores, a dewy glow from sweating and soaking out all of my toxins, and my best gel mani to date.
 
[My favorite indulgence is] doing nothing! Running a business takes every ounce of energy, guts and brainpower. I wake up thinking about top line and go to sleep recalculating margin. So when there is that golden day when I can shut off my phone and close the computer, I head down to the beach with a trashy novel (the Dublin Murder Squad series by Tana French is currently loaded in full on my Kindle), some rosé in a S'Well bottle and a big 'ole tube of Beauty Counter sun block and lay there by the waves for hours."
Travel

 
"I keep a log of everything I consume and present it to my trainer once a month. That really holds me accountable when I am standing in the middle of Hudson News deciding between Smart Water and dried fruit or a Twix and a Diet Coke. Lucky for me, most of my business trips take me to NYC or SF, both of which have excellent fitness scenes, so I don't have to look far for a yoga class or running trail. But the food thing is a challenge. I usually throw in the towel while on the road and am then really diligent about what I put in my body once I get home."
Eating
 
"Water and I have had a tumultuous relationship. Drink too much and you'll be running to the loo at the most inopportune times; drink too little and you'll be fighting a splitting headache by the afternoon. I found this app, Water Logged, that sends me reminders of when to drink. I have it timed to consuming 17 ounces four times in a workday. It helps me time my bathroom breaks, too! I have a 17 ounce S'Well water bottle that I fill up all day long. And I get my step count up from all that water cooler trekking! Win-win!
 
I have Crohn's so there is a lot I shouldn't eat (doesn't mean I always follow the rules). That being said, I usually cook all my meals on Sunday for the week ahead. Breakfast is 2 poached eggs, ½ an avocado smashed with chili flakes and a drizzle of EVOO and sprinkle of Himalayan pink salt, alongside a cup of jasmine green tea. Lunch is steamed broccoli, shredded roast chicken and quinoa (no seasoning, so boring). Dinner is salad with grapefruit, basil, mint, miso and a piece of roasted fish. When I am being fancy and want to impress dinner guests I make coconut milk-poached halibut, with roasted red peppers and black quinoa and a killer paleo honey almond cake for dessert. I can never have the same guests over for dinner twice, because the menu doesn't change. 
 
[Favorite snacks?] Truthfully? Cupcakes. The birthday cake with chocolate frosting from Magnolia is a favorite. Lucky for me, there is always a birthday in the office and we are down the street from Magnolia Bakery's LA location. When I am behaving, I LOVE the chia pods you can pick up at Whole Foods. The vanilla cinnamon is a staple. [My coffee order is a] large chai latte with almond milk and honey.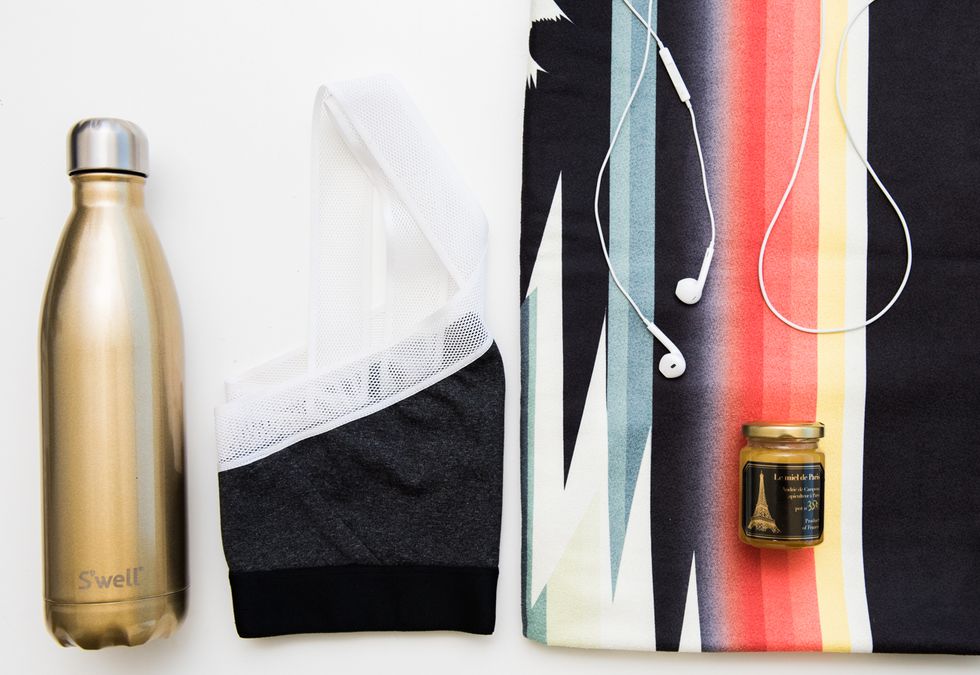 Fitness
 
"We host Thursday afternoon 'collabs' at the office. We usually have a yoga class or calorie blasting boot camp or dance cardio session taught by one of our FANTASTIC ambassadors (all the women modeling product on our site are fitness professionals and athletes and make up our ambassador community). It's pretty awesome to set aside an hour every week to sweat as a group. It reminds you that, with a strong community around you, you can conquer the world. I am so lucky. My team is EVERYTHING.
 
Lucky for me, I have a rock star group of instructors who represent Carbon38, so I studio hop. My personal favorites are Mary Miller's class at StudioMDR, Erika Hood's at Body By Simone, Aree Khodai's at Aura Yoga and Lacey Stone's at Flywheel. I also go to Equinox.
 
Three days a week I run a 5-mile loop by the ocean. Sunday mornings I usually do an 11-mile trail run in the fire roads up around Los Liones. LA is pretty rad.
 
What I wear when I workout is my favorite question *she said while rubbing her hands together, eagerly*.  Lucky for me I have a workout closet to rival Khloe Kardashian's—you should see the Carbon38 sample room. What I put on depends on the activity.
Saturday morning Maha Yoga (when the probability of downward dogging next to the chiseled mystery entertainment executive is at it's highest):
Running along the ocean in Santa Monica (also with high probability of Silicon Beach techie hunk run-in):
6 AM training session with Josh (usually too early to impress, but I always like to be prepared):
Advice for anyone looking to be healthier
 
"Start small. Trying to overhaul your wellness regimen overnight will almost always end in failure and a half-eaten roll of cookie dough."