The 5-Step, 5-Minute Mini Facial
As demonstrated backstage at Stella McCartney with Sunday Riley.
Fashion Week
In the fashion world, there's pretty much nothing quite as simultaneously thrilling and anxiety-provoking as being backstage before a fashion show. It's just about as high stakes as it gets in our world, and tensions are high—everything and everyone is in a perpetual state of running late, including, almost always, the model opening the show. Between the dressers, publicists, makeup artists, hair team, journalists, photographers and models walking the show, there's approximately one million people in what suddenly feels like a very tight space. In other words, it's basically the very last environment you'd expect a full-blown facial to be going down in. 
And yet, virtually every season backstage at Stella McCartney, the Sunday Riley team manage to do that. And just like that, the vibe and environment backstage instantly follows suit and falls into a certain state of chill. As certified, full blown SR addicts we were all too eager to watch the magic go down (their Artemis oil is actual magic in a bottle, BTW) and nab some serious genius five minute facial tips—what Buzzfeed and Pinterest have informed us are to be referred to as "hacks". For instance: did you know pairing their Ceramic Slip Cleanser with cult favorite Good Genes serum makes for a detoxifying and hydrating face mask? All the better to justify stocking up on both. We also got a demo (and may have slipped a few gratuitous, ahem, samples in our bags) of their brand-spanking-new Blue Moon Tranquility Cleansing Balm. With a name like that, how could backstage not feel like it just took a collective deep breath? It's basically Xanax in skincare form. It's also just the thing if you, like pretty much everyone else, suffer from seriously dry skin right in the fall and winter months. It's loaded with Cocoa and Moringa Butter to hydrate and cleanse without stripping, and smells like a spa visit with an application process that encourages self-care—massage it in and remove with a warm, wet towel and you'll see what we mean. All together now: ahhhhhhhh.
---
---
The 5-Step, 5-Minute Facial: A How-To
---



What You'll Need…



· Sunday Riley Blue Moon Tranquility Cleansing Balm· Sunday Riley Ceramic Slip Cleanser· Sunday Riley Good Genes Treatment· Toner· Facial mist· Warm water· Facial towel
— Step 1 —



Make-up removal time! Backstage, the team used Sunday Riley's Pro Cleansing Water, a micellar cleanser, exclusive to professional use. But don't fret: you can get the same effect by using their Blue Moon Tranquility Cleansing Balm.


— Step 2 —



The team backstage massaged the Blue Moon balm into the skin and removed using a warm facial towel.


— Step 3 —



Mixing three pumps of Good Genes All-in-One Treatment together with two pumps of Ceramic Slip, the combination was left on models skin for 5-10 minutes before rinsing off. Ceramic Slip's French green clay detoxifies and draws out impurities while minimizing the look of pores, while Good Genes' Lactic Acid helped to renew the look of skin and plump up fine lines. Genius, huh?


— Step 4 —



The pros backstage then swiped Pro Flower Acid Toner all over to mildly exfoliate and refresh the skin.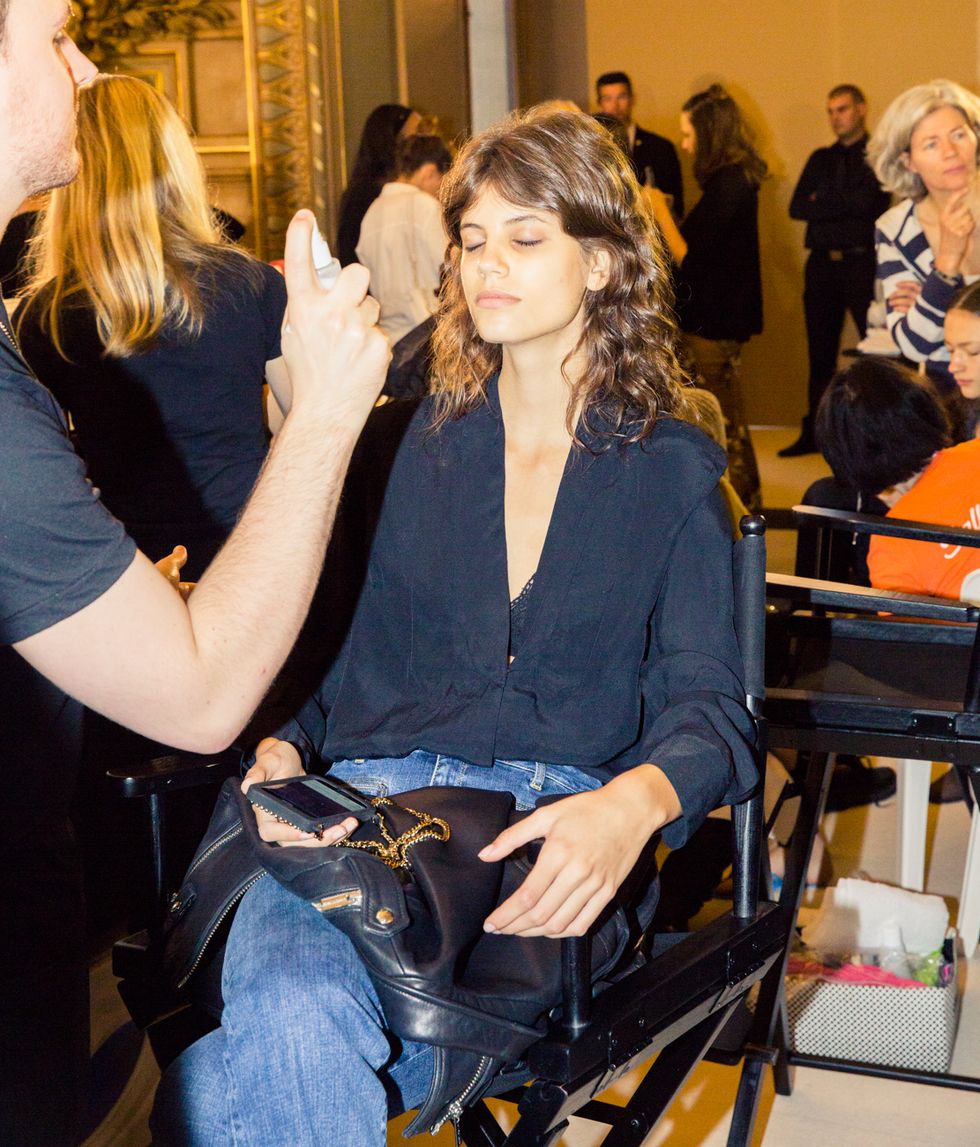 — Step 5 —



The very last, pre-makeup step? Finish with a spritz of your favorite facial mist (Sunday Riley's Pro Luminous Gel Mist was used here).