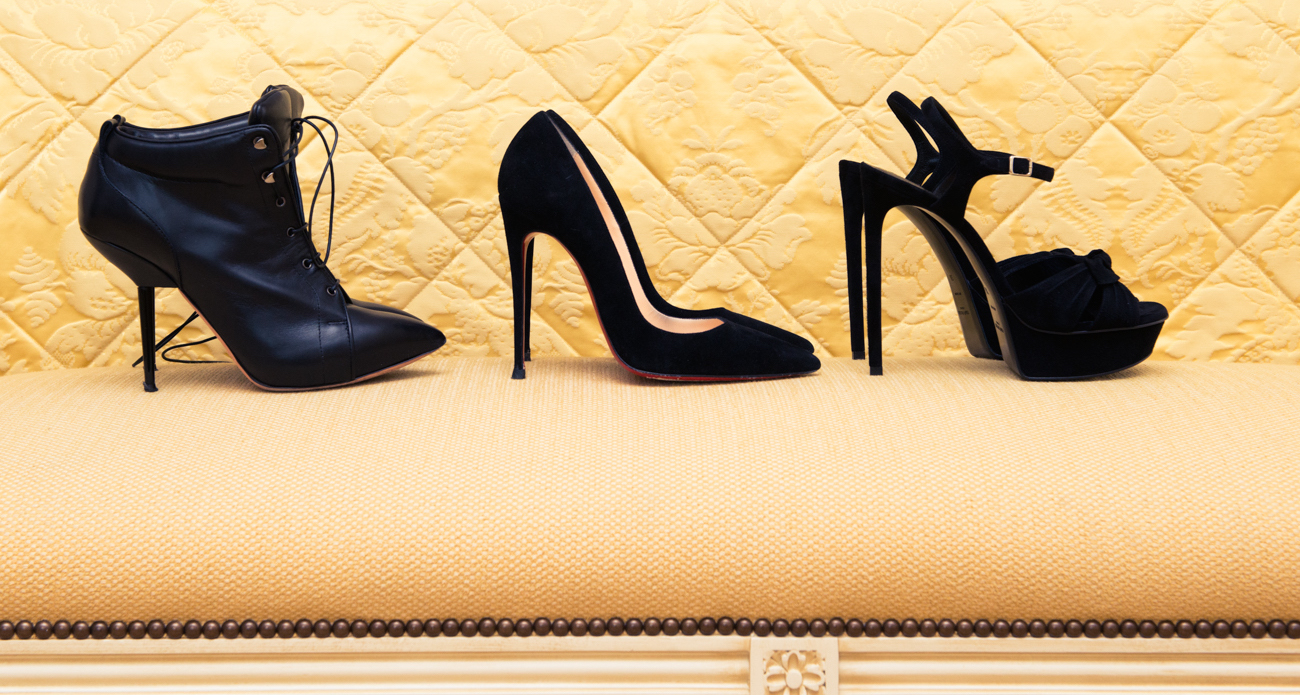 Editors' Picks: Paris Fashion Week Edition
Oui Oui.
Fashion month is almost over and it's bittersweet—our feelings are somewhere between relief and desperation (what are we going to look at online when all the street style galleries are gone?!). But first, Paris. Which, let's admit it, is the biggest fashion week of them all. We mean, practically every other show is worth checking on Style.com Vogue.com. And because we can't wear what's actually coming down the runway, we'll settle with everything that's currently available online by the same designers. All that dressing like a Parisian stuff is just nonsense. All you really have to do is this.
Meagan Wilson
Senior Editor & Social Media Manager
The only way to describe how I feel about my editor's picks this week is with a string of hyperbole-laden fashion girl phrases. The Laurence Dacade ankle-boot-Mary-Jane-hybrids are literally just the thing to add the right edge and weight to this Vetements dress that I'm pretty sure every street style-y type ever will be shot in over the next few days. I don't know how they made florals feel intimidatingly cool, but, well, they did. I'm pretty much the only person in the world who's favorite color is yellow (I also don't like Nutella, or peanut butter, so maybe I'm also some anomaly from another planet), which means that this Balenciaga tote is pretty much catnip to me.
Alicia Cesaro
Editorial Assistant
I know what you're thinking...two dresses? But why? Is this some sort of new thing where I attempt a new take on fall layering? The short answer: no. The long one: if I had it my way, an ideal Parisian day would be spent traipsing all over the city in this amazing suede mini, then running home to scarf down a baguette with comté, some cab franc and to swap dresses for this Giambattista Valli beaut. I mean, just take a look at those floral macramés. All while keeping the block-heeled Laurence Dacade boots in tact and adding nothing more than a swipe of lipstick before heading out into the city of lights for cocktails in the Beef Club basement. Because it's Paris, so low maintenance is key, right?
P.S. Can you tell I've been daydreaming?
Noah Lehava
Senior Editor
I'll take any excuse to get all cozy in this big Chloé sweater and the Toronto weather today is totally helping my cause. Guys, it's effing freezing. I bet it's reaallll nice in Paris right now. Not jealous at all, I swear :smirk:. Anyways...I've been eyeing this Loewe knotted bucket bag for what feels like forever, so maybe I'll finally sell a limb to own it. And this Valentino dress? Ugh, it's so pretty it hurts. How do you say 'gimme' en français? 
Emily Ramshaw
Senior Editor
Dries is my favorite designer going right now and I'd happily exist wearing his clothes and his clothes only. These purple velvet boots? Perfection. That said, I can't say no to this minimalist Valentino skirt (a bit of a respite from their microfloral game that I can get behind) and this patchwork Chloé satchel. Maybe it's not so at home on the streets of Toronto, but j'adore anyway.
Renée Rodenkirchen
Videographer & Photographer
Guess what? It's officially time to stop season pushing; I'm ready to squeeze those legs back into pants. And why not the pants that my dreams are made of? I need these (drool). Like NEED them now on my body. And I've decided Paris fashion week won't be complete without them. Pair them with this Ellery handkerchief shirt and some kick-ass Saint Laurents and we're talking some serious biznass.
Bisous mes chéries! :kissing_heart: :kissing_heart: