Hair
Not as simple as it seems.
Swimming? Tangles. Sleeping? Tangles. Anything that involves wind and/or basic head movement? You catch our drift. Welcome to the world of having more than three-inch long hair. While we like to think we've moved past our childhood detangling spray days (Johnson's No Tears, anyone?) and have our hair management down to a deep-conditioned, well-combed science, the art of brushing is a little more complicated than it seems. And with tools on the market for upward of $250 (ahem, Mason Pearson), it's clearly something of a commitment—a.k.a., we should probably be doing it right.
---
So in an attempt to get our Marcia Brady brushing on, we turned to the pros—George Northwood, Shai Amiel and Liz Rosenzweig—to break down the dos and don'ts of proper detangling. Oh, and did we mention the above tend to the tresses of Alexa Chung, Rosie Huntington-Whiteley and Zendaya? Yeah, get out those notepads, kids.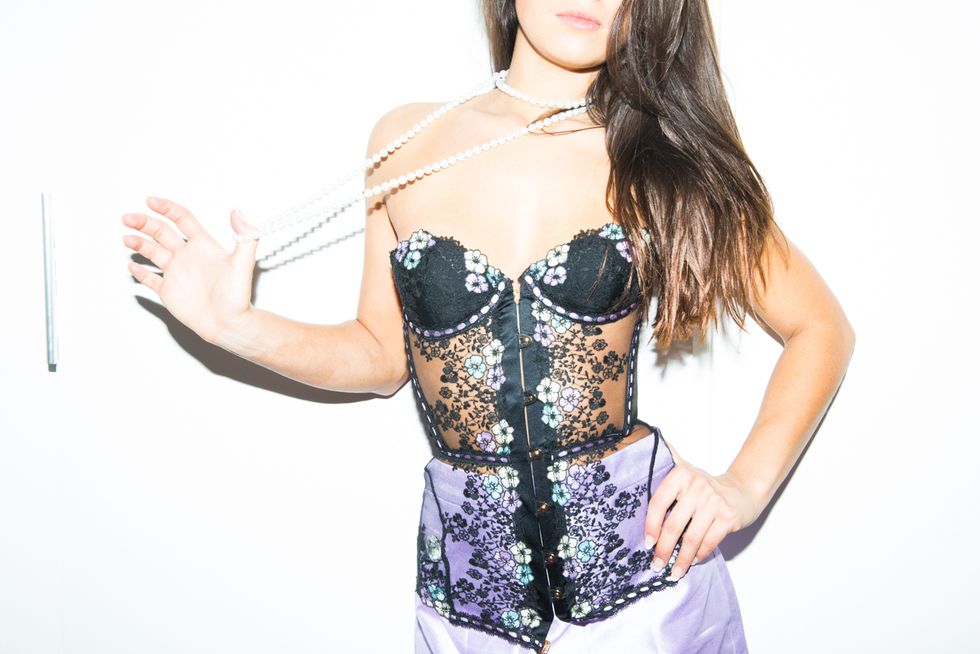 "When your hair is wet, it's much more fragile than when dry. Water weakens the hair, which makes it more prone to breakage while brushing. I use the Laight & Mercer Hairbrush for Wet Hair when I get out of the shower on clean wet hair to prep before I add product and blow dry."
—Liz Rosenzweig, Founder, Laight & Mercer
 
"Never brush hair from dripping wet. Towel dry first, apply your leave in conditioner and then brush. The best brush for wet hair is a Tangle Teezer. Be very gentle with the hair when it's wet, as this is when lots of damage can occur. For dry hair, use a Mason Pearson bristle brush."
—George Northwood, Celebrity Hairstylist & Founder, George Northwood salon
Starting From the Bottom
(:wave: Drizzy)
"I prefer to start [brushing] from the ends and work my way to the roots."
—Shai Amiel, Celebrity Hairstylist & Owner, CAPELLA Salon
"If your hair is very thick, separate hair into sections and brush from the bottom, never from the roots. If you have fine hair, take extra care when brushing."
—George Northwood
"It is best to detangle curls with your fingers to avoid breakage. Using your fingers is the safest way to detangle hair, as hard bristles can rip through your hair. [The best time to do so is] wet while the conditioner is in the hair. Silicone free conditioner is best."
—Shai Amiel
"The Laight & Mercer Hairbrush for Wet Hair uses a nylon bristle, which is extremely flexible. This bristle is so flexible that it bends over knots gently and therefore does not pull at fragile wet hair. Our Hairbrush for Dry Hair uses boar and nylon bristles. The nylon bristles gently separate strands, while the boar bristles are good for dry hair because they distribute your hair's natural oils throughout, leaving it soft and shiny."
—Liz Rosenzweig
"[I use] Spray Pureology Colour Fanatic on towel dried lengths and ends, this will act as a leave in conditioner and give hair extra reinforcement for the brushing process."
—George Northwood
"I made sure the cushions of the Laight & Mercer brushes were extra-large with full bristles so that they cover a lot of hair at once. The handles are also easy and comfortable to hold. We recognize that everyone has very different hair types, so these brushes are designed as a one size fits all—they work on all types of hair."
—Liz Rosenzweig
"For styling hair, I recommend a ceramic brush. The ceramic heats up when it's in contact with the drier and will act like a straightening iron, leaving hair super smooth."
—George Northwood


"I then use my Hairbrush for Dry Hair when my hair isn't looking too hot (when it's gotten tangled or when I wake up in the morning). The Hairbrush for Dry Hair is also great to style with since you can use it with a blow dryer."
—Liz Rosenzweig