Skin
You tweeted & Olivia Palermo, Beyoncé & Jimmy Fallon's dermatologists answered.
Illustration
Meghann Stephenson
---
Hands down, the very best part of our job is that after we raid the homes of our subjects, we occasionally get to call them friends. And now that the sentimental part is out of the way, we'll admit another, equally sweet perk: that we also get to have them on speed dial anytime a query to do with their related field pops up in our day-to-day. Surprise midday pimple? Send an email to Dr. Lancer's team in L.A. and wait for their answer before proceeding to pop it (you do it too!). We mean, if it's good enough for some 70+ celebrities pre-award season (according to ELLE), it's prooooobably good enough for us normal humans, too.
Simply put, we figured it was only fair to share the wealth—and ask our Twitter followers everything they'd ever wanted to ask a dermatologist-to-the-stars. Full disclosure: one of our editors may have slipped some qs in there, too. Turns out you have a lot of questions, and we were more than happy to hook it up, tackling everything from adult acne, what to eat for good skin, chemical peels and even why society hates on aging. Shit got deep, and our derms were game. Here goes!
P.S. Want us to ask a professional, uh, something, well, anything? Shoot us a Snap, tweet, Instagram or Facebook comment and we'll see how we can hook it up. 
How often should I be applying topical acne creams?
Just in the A.M., P.M., or BOTH?
- @CarlyBrown17
"When starting any new treatment, begin with applying once a day, in the evening. Applying a treatment product twice a day at the outset can cause redness, dryness, irritation and peeling. Ease into all new products, and as your skin builds a tolerance, then you can work up to a twice daily application if it's needed."
- Dr. Lancer
 "It depends on the acne cream. Strong creams like retinol or Retin-A should be once a day."
- Dr. Lisa Airan
"To treat acne most effectively yet gently, start out by using over-the-counter anti-acne remedies that contain either exfoliating, pore-clearing salicylic acid or bacteria-banishing benzoyl peroxide. I recommend looking for products that contain bisabolol, an active ingredient derived from Chamomile Extract that helps soothe redness and reduce inflammation. Sulfur is also a powerful ingredient, which controls the oil that feeds the bacteria and can be found in my Clarifying Colloidal Sulfur Mask. Start out applying once a day to avoid irritation. Application at night is best as skin releases oils at night, so any drying from acne product is negated."
- Dr. Dennis Gross 
"Acne creams are all different. Retinols are once daily. Benzoyl peroxide or salicylic acids may be once or twice daily. The same for topical anticbiotics. It is important not to let the skin get too dry or irritated; that will not benefit your acne."
- Dr. Patricia Wexler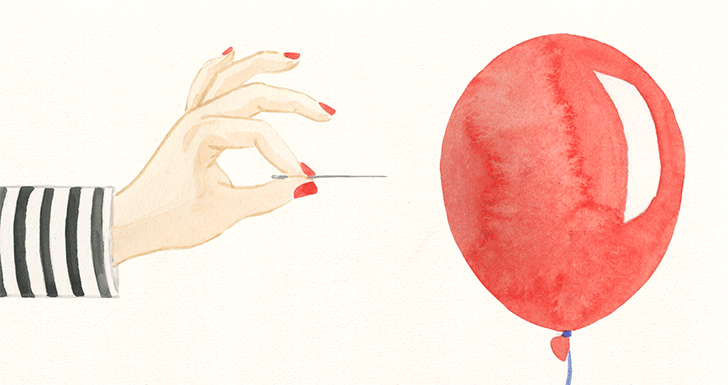 How do you treat adult acne?
- @thisistabs
"Adult acne is typically a manifestation of an internal imbalance of some kind, whether hormonal or dietary, rather than a topical cleanliness issue. I typically treat adult acne with an elimination diet; no dairy, no 'white' foods like bread and pastries, no added sugar, and no red meat.  The elimination portion of the diet is balanced out by adding significant quantities of fresh greens and lean protein which help to feed the skin.  These lifestyle changes are buttressed by a topical regimen designed to keep the pores clear without overdrying the skin."
- Dr. Lancer
"It depends on how severe it is. If the acne is very severe, oral antibiotics with topical retinoids are recommended. Sometimes just using a Clarisonic skincare brush with an acne brush head and changing from more oily to less oily skincare products will cure the acne."
- Dr. Lisa Airan
"To treat acne most effectively yet gently, start out by using over-the-counter, anti-acne remedies that contain either exfoliating, pore-clearing salicylic acid or bacteria-banishing benzoyl peroxide, such as my
All Over Blemish Solution
. Again, products that contain bisabolol soothe redness and reduce inflammation. Sulfur also controls the oil that feeds the bacteria."
- Dr. Dennis Gross
"Adult acne may have many causes: stress, cosmetics, hair products, oral medications such as anti-depressants, laxatives, chemotherapy, or Polycystic Ovarian Syndrome. Depending on the cause, you may require anti-biotics, hormonal manipulation such as BCP or spironolactone, a water pill which decreases the amount of free testosterone in the blood; topical antibiotics such as erythromycin, clindamycin, BPO, SA lotion or gel; or peels at home or in the office, more intensive office treatments are available."
- Dr. Wexler
For how long should I use a product to see results?
When I'm not seeing results, I don't know whether I should move on to the next product or if I haven't used it for long enough.
- @M_nica
"Typically, I tell my patients they need to make it through one full month of daily use to see results. Taking a 'before' picture of yourself often helps when you are looking to monitor changes in the skin. All my patients are photographed each time they come to the office; it creates a clear chronology of improvement to look back on."
- Dr. Lancer
"If you use a product for 90 days and don't see results; switch to a new product."
- Dr. Airan
"I usually recommend using the product for 4-6 weeks which is the window in which you should typically see results. If you aren't seeing any results after a little over a month, it's probably time to see a dermatologist who will prescribe the appropriate course of action for you."
- Dr. Gross
What are the best foods to eat for your skin?
- @NJAEclectic
"Cruciferous greens. Kale, swiss chard, broccoli, brussel sprouts as well as arugula, spinach are the best sources of nutrients for your skin. Lean proteins like chicken and white fish come in as a close second."
- Dr. Lancer
"Red wine is a great antioxidant, and dark chocolate helps to improve skin hydration and overall complexion."
- Dr. Airan
"Food is usually only a factor in acne, or rosacea, a condition associated with acne, dilated blood vessels and difficulty with flushing. Spices, shellfish, caffeine and alcohol will cause a flare and should be avoided."
- Dr. Wexler
How do you combat an oily face hours after applying makeup?
- @ivysoclassy
"Oily skin is, counterintuitively, often caused by overly-dry skin. Make sure your cleanser isn't stripping your skin and your moisturizer is delivering enough hydration."
- Dr. Lancer
"Oil papers can be used to blot the face. Using an oil-free moisturizer before applying makeup can help with shine."
- Dr. Airan
"Oily skin is common in the T-Zone areas; there are facial masks which are designed to treat these area. Clay is commonly used. Primers mattify and absorb oil throughout the day and keep oil blotting pads for those extra touch ups. Sometimes the oil is created by over drying the skin, and glands, sensing your dry, which make it secrete more oil as a rebalance effect. Instead of over drying, try to absorb the excess oil."
- Dr. Wexler
How many times a year should you do a chemical peel?
- @kmcme17
"It is entirely dependent on your skin type and the reason for the peel. For example, a light glycolic or lactic acid peel could be done up to six times a year, whereas PDT, a peel paired with light therapy to cure precancerous lesions, really should only be done once or twice in a lifetime. To treat average signs of aging, I recommend patients receive a light chemical peel every few months."
- Dr. Lancer
"You can do chemical peels as often as once a month."
- Dr. Airan
"I recommend a chemical peel every 4-6 weeks. A professional Alpha Beta Peel results in an immediate improvement in skin texture, firmness, vibrancy and radiance with the first treatment. With series (3-5), the appearance of fine lines is diminished and pores, acne, acne scars, scars, rosacea, and hyperpigmentation are visibly reduced."
- Dr. Gross
"All peels are different. Glycolic peels can be done daily, in mild concentration if followed by barrier repair lotions. Stronger concentrations may be done weekly or monthly. The strongest of peels are done in physician's office and strength with frequency determined by doctor."
- Dr. Wexler
Why isn't the aging woman beautiful?
Powerful? Deserving of respect?
- @m_jay_smith
"I don't believe that there is a single aging woman who does not deserve respect, command power, or radiate her own unique beauty. Women are fascinating creatures, and aging is not something to be ashamed of, though the media may tell you otherwise. I am of the school of thought wherein aging is natural and beautiful, and caring for one's self and one's skin over a lifetime is only innate for someone who values their health and wellness. An interest in anti-aging does not make you weak or less of a person, nor does it mean you are not attractive if you choose to age without cosmetic interference; though, choosing to ignore the health of your skin, proper sun protection, and your own health certainly does not make you powerful."
- Dr. Lancer
"Women of all ages, are beautiful, powerful, strong, and should always be respected."
- Dr. Wexler
How long after applying prescription acne products (Adapalene) should you wait before applying serums, moisturizers etc.? Most effective products for reducing acne scarring?
- @aliciacesaro
"All products can be layered, and it's best to apply serums, treatments etc., while the skin is still ever so slightly damp or tacky. Applying a product on 'tight' feeling, very dry skin, may prevent the product from fully penetrating. If you find that you are very dry between applying products, a facial mist can help maintain surface moisture.
Retinol and glycolic acid are going to be your two best options. Retinol is the most effective, but can be harsh on sensitive skin types, and I usually advise my patients ease in with only one or two applications per week, building up until their skin can handle a daily application."
- Dr. Lancer
"I would wait a few minutes before applying serums. The most effective treatment for acne scarring is laser resurfacing with a fractionated laser."
- Dr. Airan
"1-2 minutes.
Acne scars result when too much collagen in a particular spot forms when a wound in your skin is healing. UV rays in sunlight can cause acne scars to darken and may even slow down the healing process. That is among the many reasons why I stress the importance of wearing sunscreen, 365 days a year. To minimize the appearance of acne scars, look for non-prescription creams or serums that contain the following skin lightening and anti-inflammatory ingredients to minimize the appearance of scarring: Bearberry extract (corrects hyperpigmentation), Mulberry extract (with skin lightening benefits), Azelaic Amino Acid (fades dark spots and brightens skin), Licorice Root Extract (lightens and is an anti-inflammatory), Vitamin C (an antioxidant with powerful skin lightening properties that protects against UVA damage and free radicals), Retinol (helps boost collagen production and increase cell turnover), Lactic Acid (a naturally-occurring Alpha Hydroxy Acid that helps speed up cell renewal)."
- Dr. Gross
"10 minutes.
Scarring can be magnified by depressed scars and pigmentation, or keloids. Retinoid are certainly part of almost every program, as well as a hydroquinone, and a mild cortisone. Microdermabrasion and glycolic peels can both even pigmentation and surface irregularities."
- Dr. Wexler